My boyfriend's birthday is on New Year's Eve so December is always a bit of a nightmare when it comes to thinking up present ideas, especially when I know it won't get far into December before my mum and sisters start asking for suggestions.
This year, however, I managed to come up with something which I not only knew Will would love but benefited me as well - perfect! I instructed my sisters to get him a voucher for NOPI, a restaurant Will had been going on about wanting to try for months.
On Saturday we headed there for lunch and were only disappointed by the fact that we didn't run into Yotam Ottolenghi while we were there.
One of the really lovely things about NOPI is that most of the menu is made up of small plates so we were able to sample five different dishes.
We started off with burrata, blood orange and lavender honey.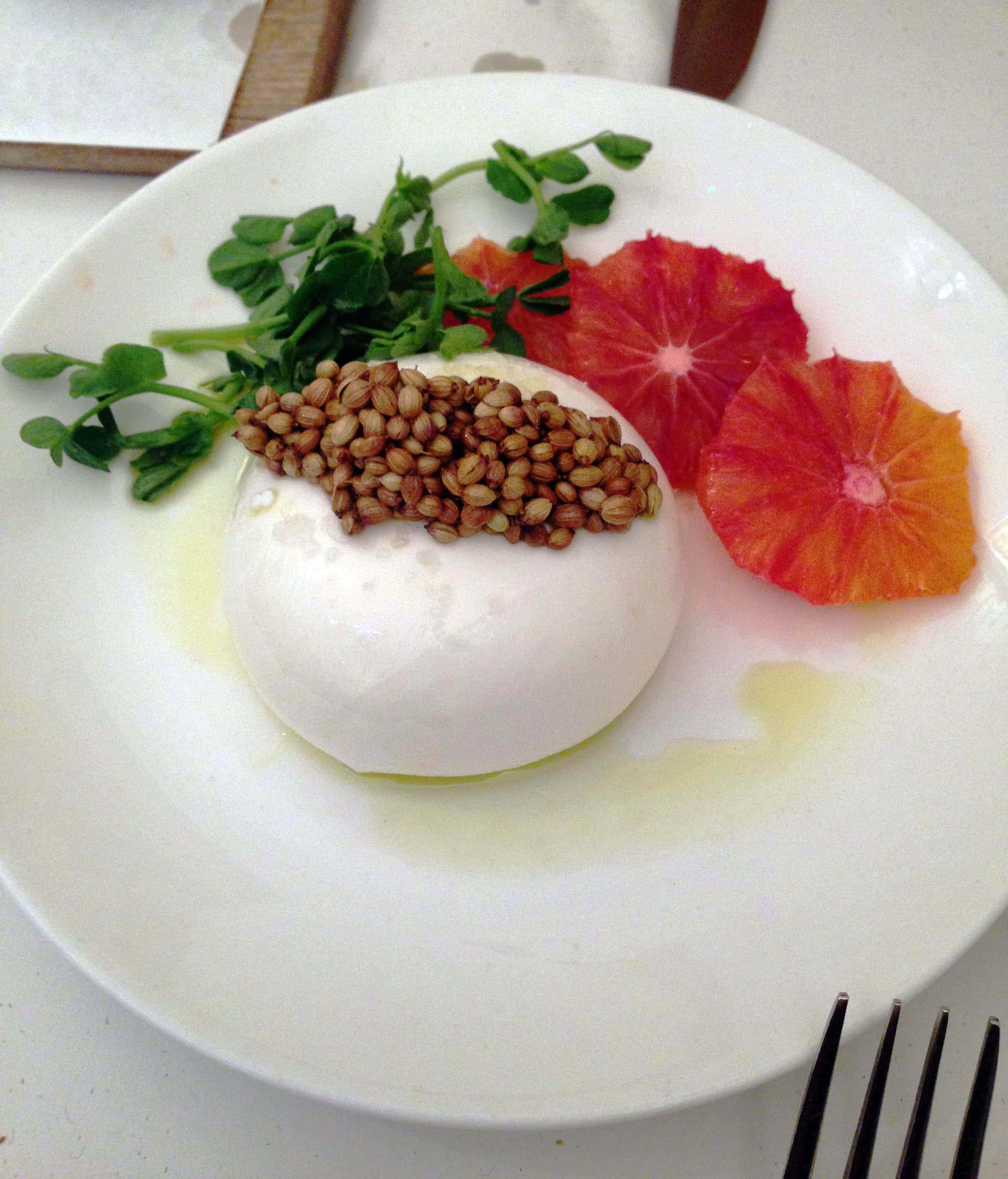 The first time I tried burrata was on a pizza last summer when we were in Italy for my sister's wedding. This dish was much more refined and we loved the combination of the sweet blood orange and honey with the really savoury, milky flavour of the cheese. It was topped off with a sprinkling of coriander seeds which added a lovely citrusy note.
The second dish was my favourite of the meal; sea bream, celeriac purée and spiced cauliflower.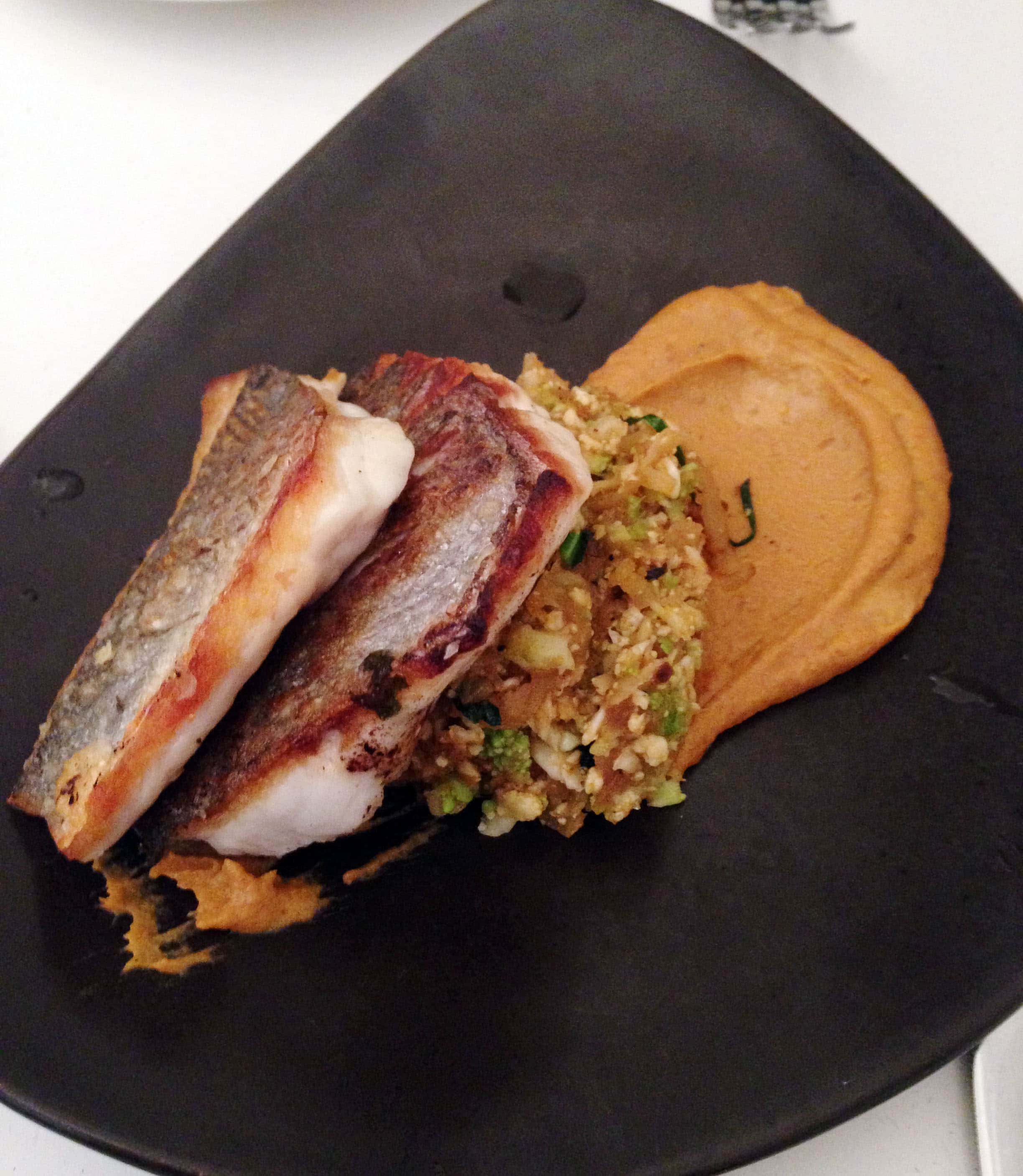 This was just the loveliest combination of perfectly cooked fish, amazingly smooth purée and delicious flavourful cauliflower. I've always thought that any food I don't like comes from never having had it cooked really well. This dish is  a perfect example of that - I've never been a fan of cauliflower and yet this was by far my favourite dish and has got me thinking of how I can put together my own version of this cauliflower at home!
Third up was venison, caramelised yoghurt, peanuts and blackberries.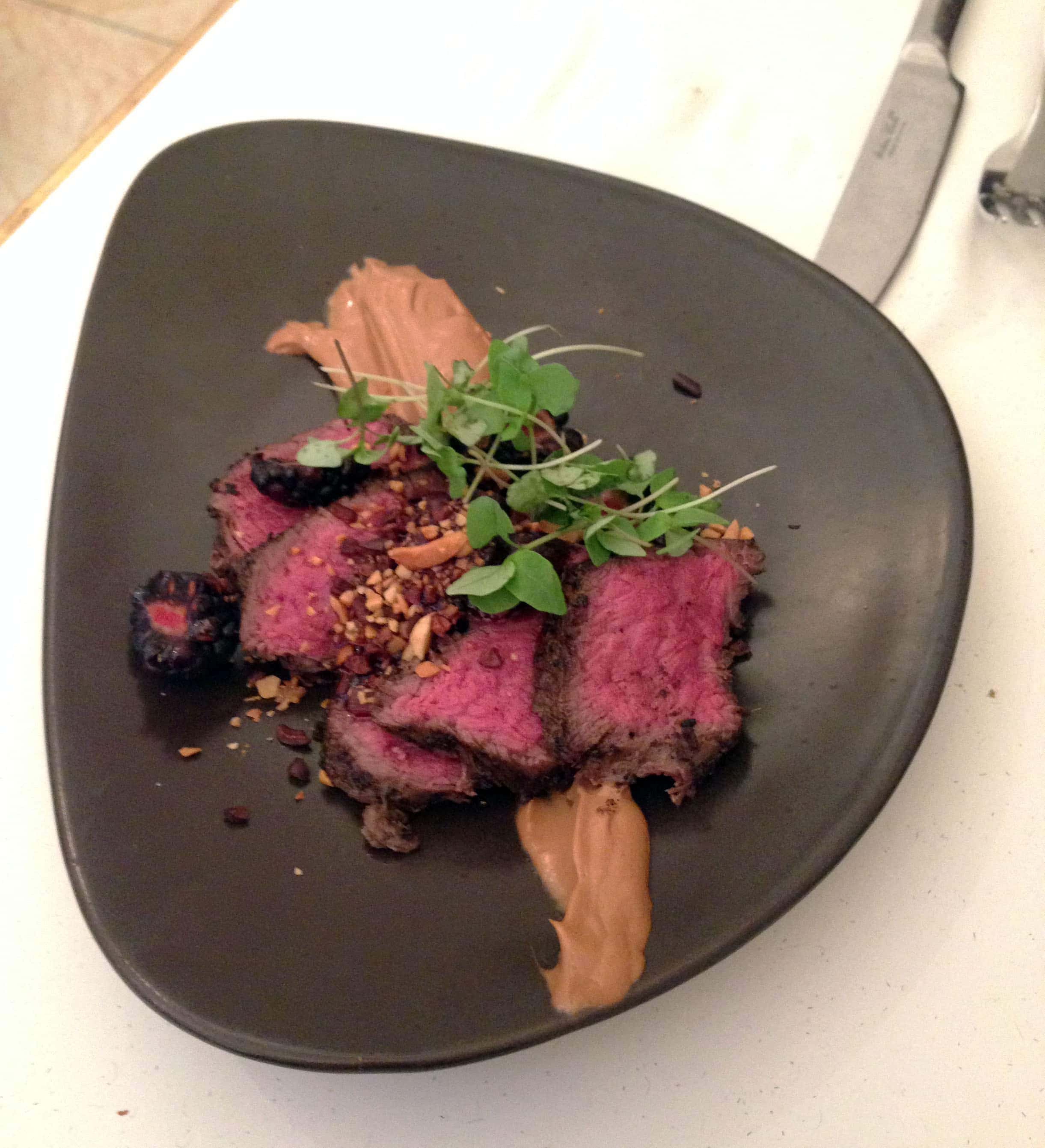 Having long ago been put off venison by only ever being served it overcooked I wasn't convinced by this one at first read of the menu. Will had been of the same opinion until he had a perfectly cooked venison dish at his work Christmas meal a few weeks ago so he convinced me to give it a go. I'm so glad I did because now I finally feel like I understand what the big deal about venison is! The other interesting element on this dish was the caramelised yoghurt - I've never tried anything quite like it but I really enjoyed the mix of sweetness from the caramelisation with the sourness from the yoghurt.
The final dish was the pork belly, pineapple long pepper chutney and winter sour greens.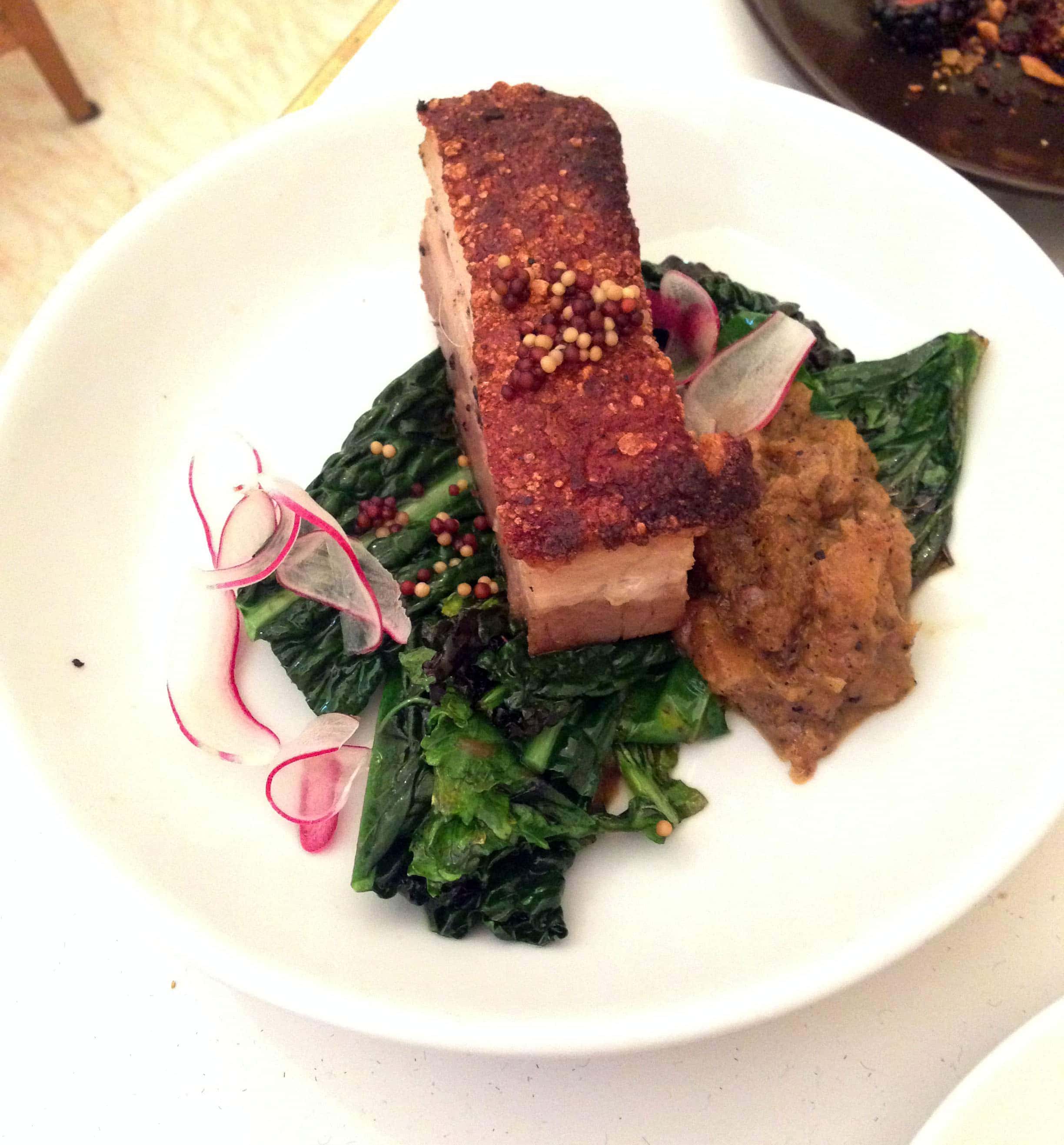 This was probably my least favourite of the meal but only because everything else was so good! What did make this dish special was the perfect crackling on top of the pork and Will loved the greens.
We also had the truffle polenta chips, parmesan and garlic aioli which were delicious.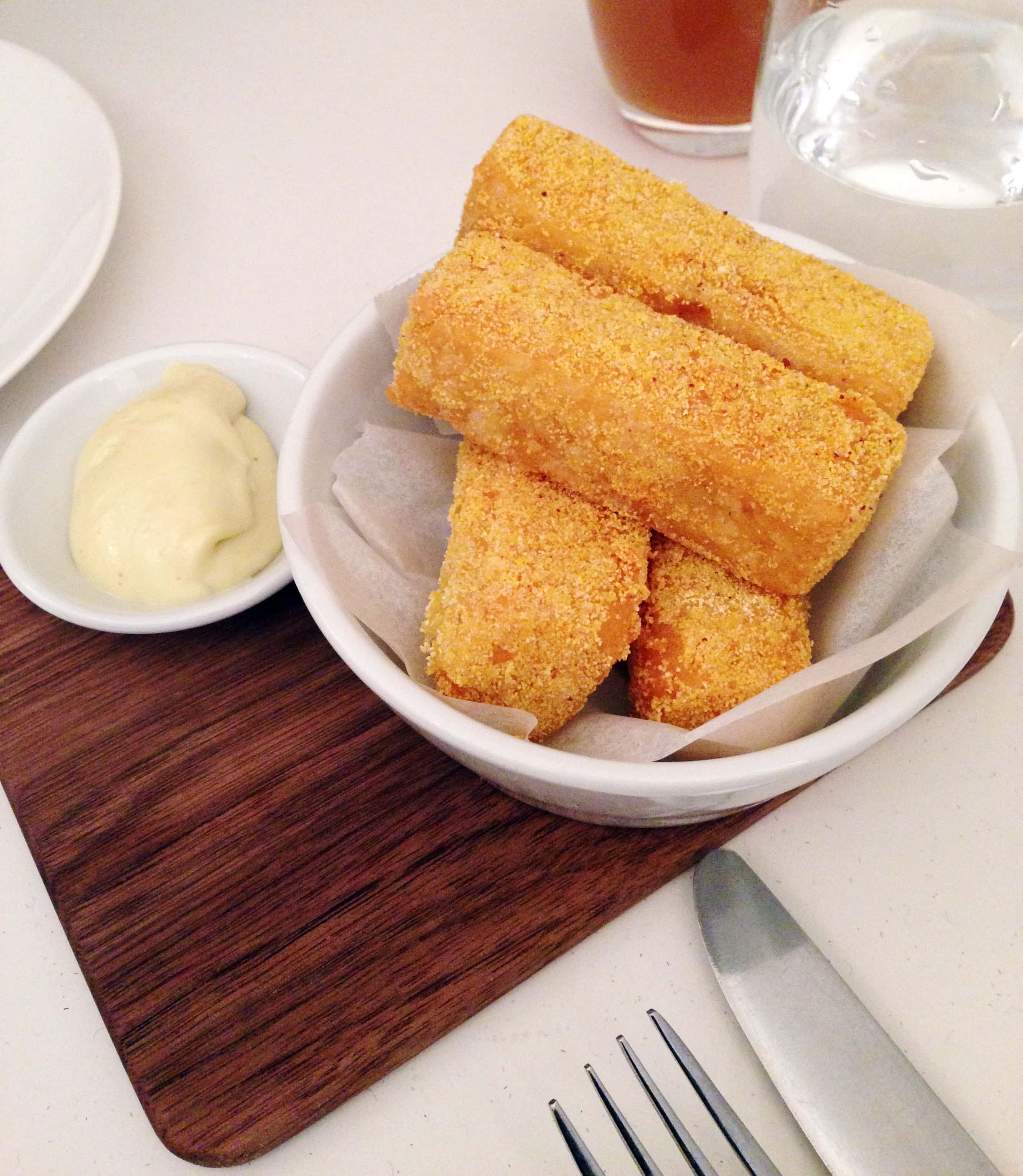 Once you get to know me you'll see that I have a minor garlic obsession - however much garlic a recipe suggests, I standardly double it - so the insane garlicky flavour of this aioli was perfect for me.
All in all, a great trip to NOPI!
x