This baked aubergine in tomato sauce recipe is a wonderful vegetarian dinner. Serve with a hunk of crusty bread and a side salad for a filling meal.
I love to cook with aubergine (or eggplant to some of you). It's one of my favourite ingredients because it's so versatile.
I know some people can be a bit grossed out by it but I honestly believe that you just haven't had it cooked right. It takes on whatever flavours you put with it so well and can have the most amazing texture if it's prepared and cooked properly.
Easy aubergine recipes are some of my favourite to prepare when we're trying to eat healthily or skip the meat a bit more. Find some of our favourite aubergine recipes here and keep scrolling to get this baked aubergine in tomato sauce recipe!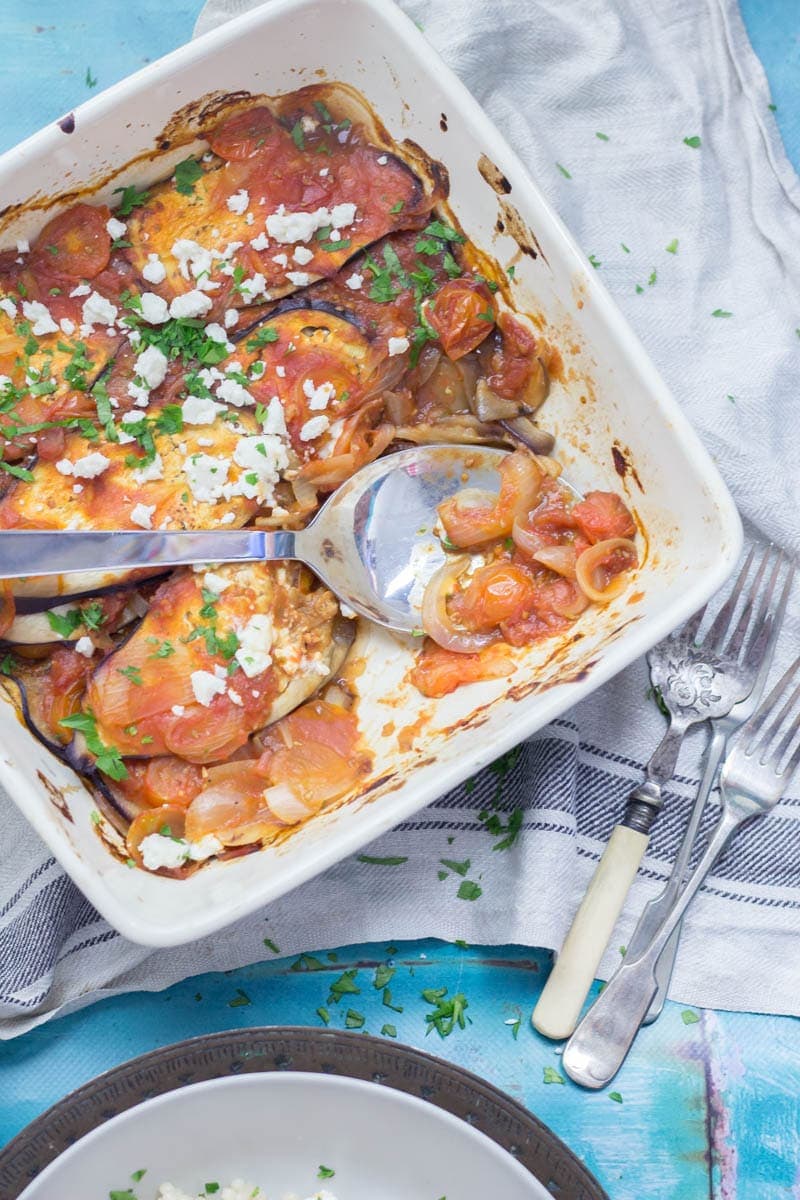 How was the weekend team? We have had the most wonderful time. Friday night I went out with a friend I used to work with and we had a lovely dinner and catch up.
Then I scurried back home as quickly as possible because it is officially freeeeezing. The temperature has suddenly dropped which is fine when I'm cuddling up inside but not so much when I have to go to work. Blergh.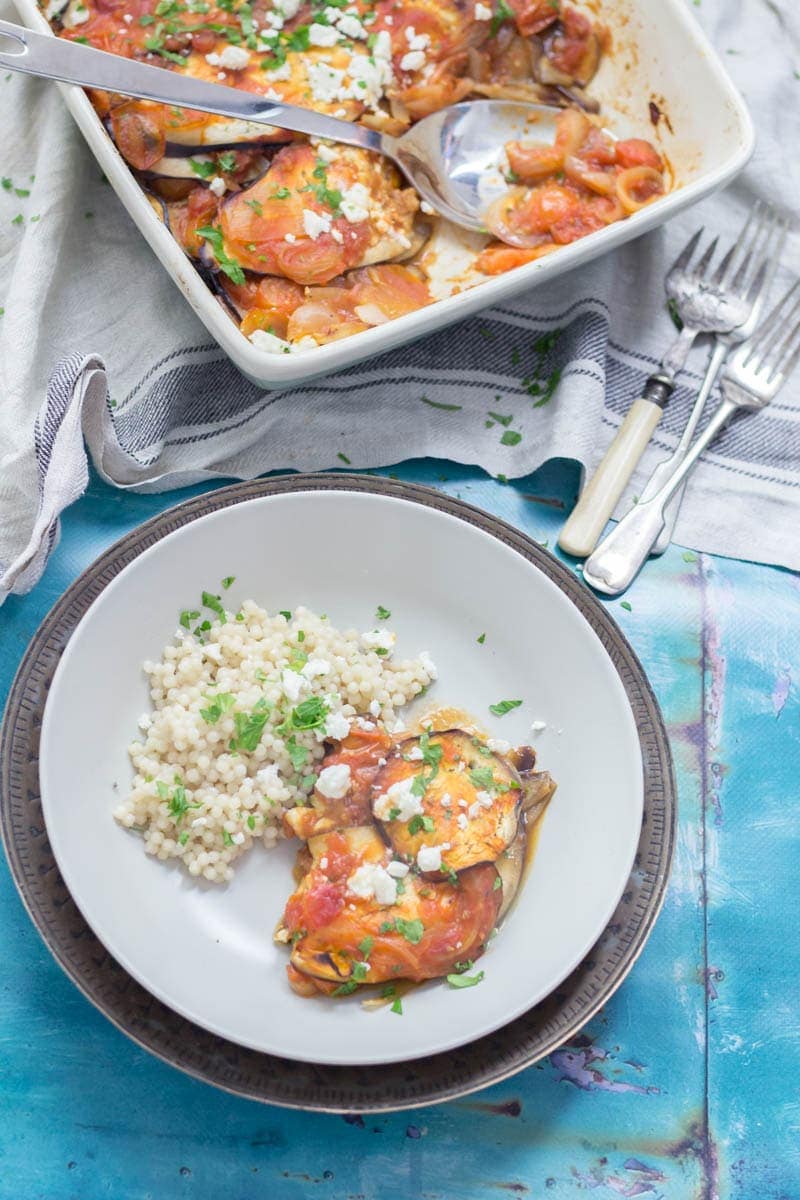 We spent all day Saturday living the Christmas dream and cooking amazing food including slow cooker short ribs. We put up our tree and decorated it and the rest of the flat.
We put up some photos which I've been meaning to do for ages and got ready for our friends to come round for dinner. Then we went out to a Christmas market and got mulled wine and generally felt super festive and happy.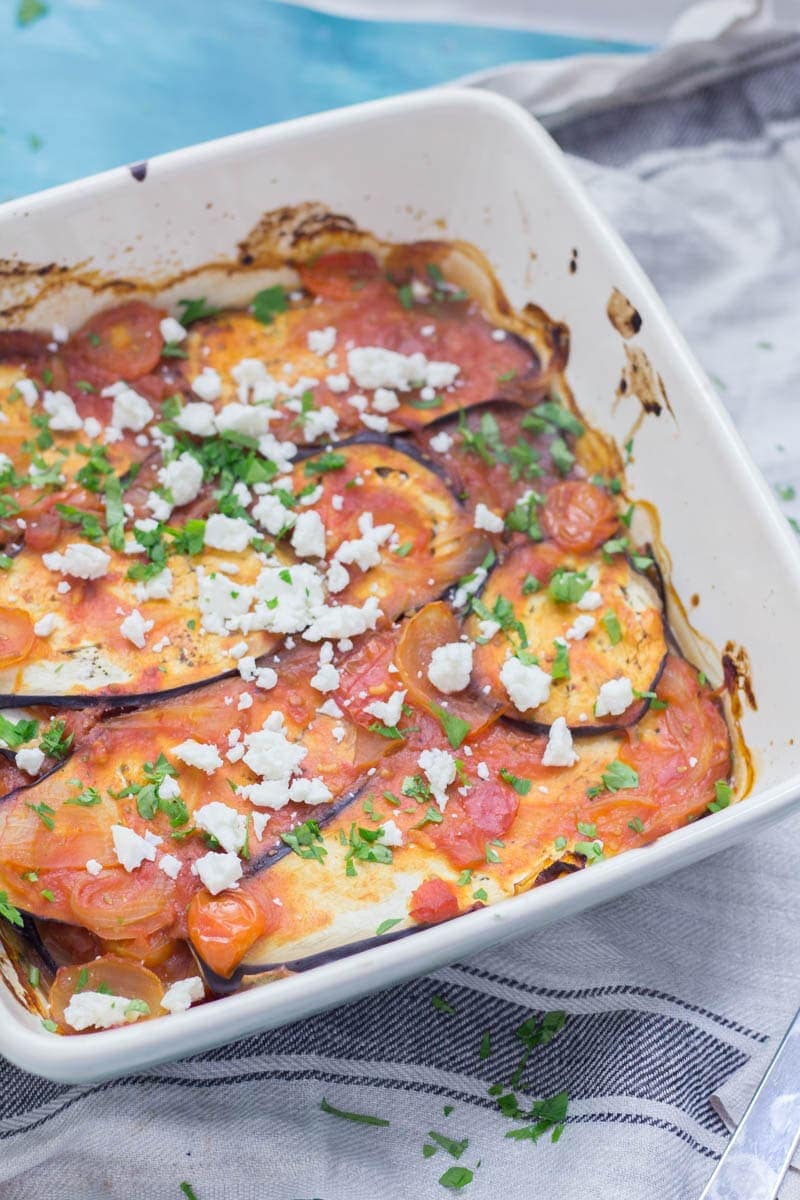 Sunday was spent in our pyjamas watching TV. Basically it was ultimate joy. Now I've only got a few days left at work before I can spend two solid weeks with my boyfriend and my cat and my family. I really cannot wait.
Especially because I've suddenly been struck with a horrible cold and cough. Really not the way I was hoping to spend my last week at work.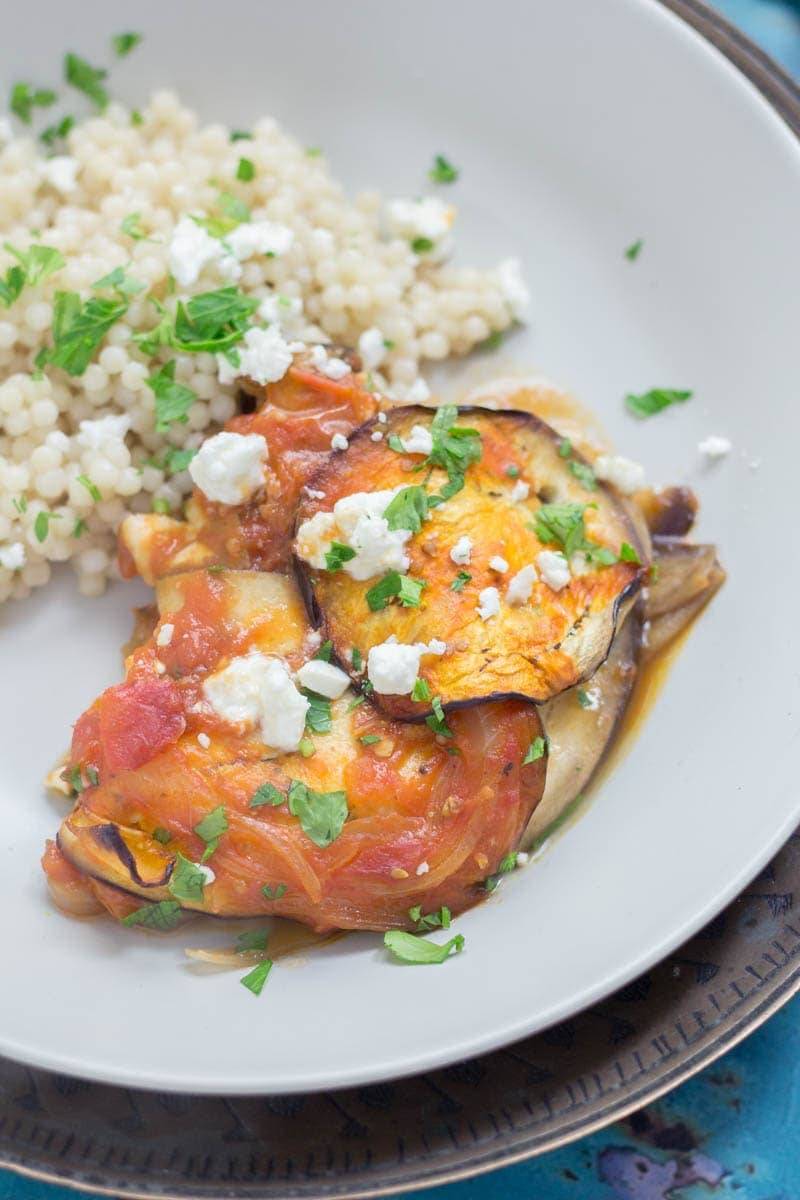 So let's chat about this aubergine bake recipe for a sec. This is a glorious vegetarian dinner. It's really so simple but packs a huge amount of flavour, especially since aubergine are really just like flavour sponges that suck up all that garlic, tomato goodness and make it taste so good!
Once this baked aubergine in tomato sauce is out the oven you just need to top it with a sprinkling of feta and parsley for a really tasty dinner.
Why we love this recipe:
This is one of my favourite healthy recipes. It's almost completely made of vegetables but still manages to be totally filling and satisfying
This way of cooking aubergine causes them to act like little flavour sponges that takes on all that delicious rich tomato flavour
It also makes great leftovers which only get more delicious as the flavours are left to develop
Ingredients:
Olive Oil
Onion
Garlic
Chopped Tomatoes
Cherry Tomatoes
Aubergines (Eggplants)
Keep scrolling to get the full recipe for baked aubergine in tomato sauce...
HOW TO COOK AUBERGINE:
For this recipe you thinly slice the aubergine lengthways so that you can layer the strips in a baking dish. For this I use a mandoline which is one of my favourite kitchen gadgets but if you don't have one then you can just use a sharp knife. Once you've layered the aubergine with the sauce then you bake it in the oven for about 45 minutes and it comes out perfectly cooked.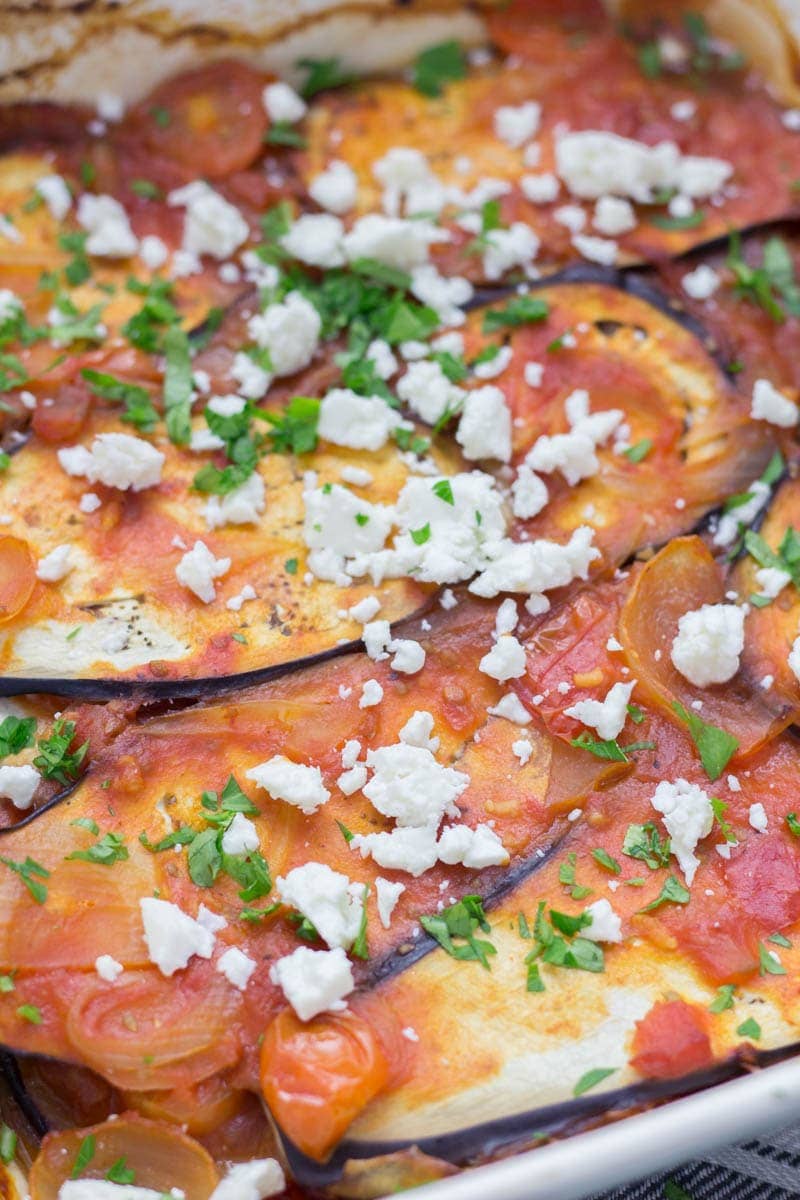 It really is such a simple dish. It works amazingly as a side dish if you're making something meaty. It would also be perfect as part of a meze with plenty of bread and various dips.
Here I've served it as a main dish with some giant couscous on the side which works perfectly as a filling weeknight dinner.
HOW TO MAKE IT:
Preheat the oven. Cook the onion in a frying pan over a medium heat then add the garlic, cherry tomatoes, chopped tomatoes and seasoning.
Layer the sliced aubergine and tomato sauce alternately in a baking dish and cook for 45 minutes.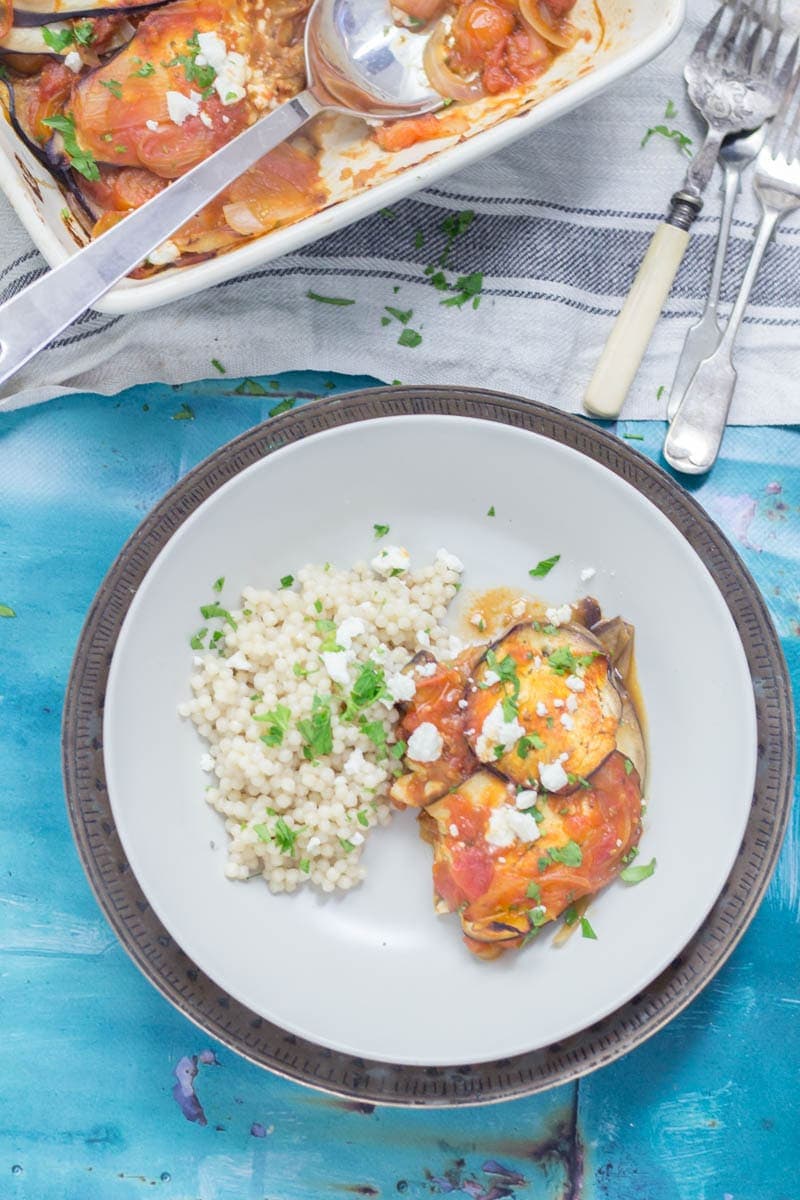 What to serve it with?
I love this baked aubergine served sprinkled with some crumbled feta and plenty of crusty bread. Alternatively, if you're avoiding carbs, then you could have it with a big green salad.
Want more? Try these other aubergine recipes!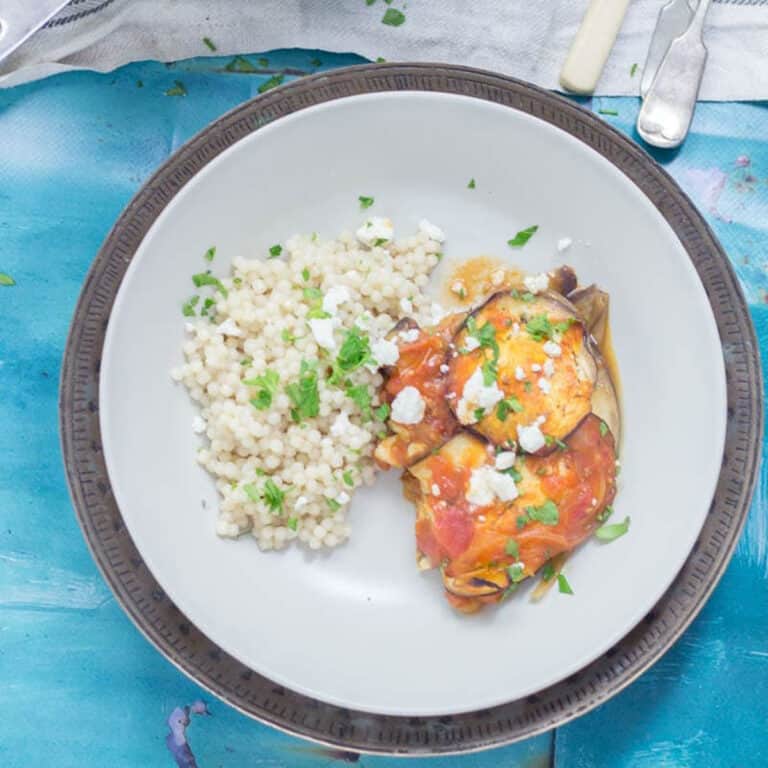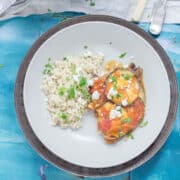 Baked Aubergine in Tomato Sauce
This baked aubergine in tomato sauce recipe is a wonderful vegetarian dinner. Serve with a hunk of crusty bread and a side salad for a filling meal.
Print
Pin
Rate
Ingredients
1

tablespoon

Olive Oil

2

Onions

sliced

3

cloves

Garlic

crushed

1

400g tin

Chopped Tomatoes

250g

Cherry Tomatoes

halved

3

Aubergines

cut lengthways with a mandolin

Salt and Pepper

Feta, Chopped Parsley and Crusty Bread or Grain of your choice

to serve
Instructions
Preheat the oven to 200°C/390°F. Heat the olive oil in a frying pan over a medium heat. Add the onions and cook until softened. Add the garlic, cherry tomatoes, tinned tomatoes and salt and pepper to taste. Cook for 10 minutes.

In a large baking dish arrange a layer of aubergine slices and top with a layer of tomato sauce. Repeat this process until you've used all of the ingredients, finishing with a layer of tomato sauce.

Place in the oven and cook for 40-45 minutes. Serve topped with chopped parsley, crumbled feta and alongside a grain of your choice.
Nutrition Facts
Baked Aubergine in Tomato Sauce
Amount Per Serving
Calories 170
Calories from Fat 36
% Daily Value*
Fat 4g6%
Sodium 159mg7%
Potassium 1200mg34%
Carbohydrates 32g11%
Protein 5g10%
Vitamin A 500IU10%
Vitamin C 35.9mg44%
Calcium 86mg9%
Iron 2.3mg13%
* Percent Daily Values are based on a 2000 calorie diet.
Notes
Nutrition information is an estimate and will vary depending on the exact ingredients used.
Like the look of this recipe? Make sure you pin it for later?