Review of the brilliant Bob's Burgers Burger Book from the creators of the show and the Bob's Burgers Experiment blog. Also featuring two recipes for sides!
Let's stop talking about food for a second and instead discuss the genius that is Bob's Burgers. I really hope you watch this show. It is utterly hilarious. I started watching it a few years ago and binged on the first few seasons before getting Will hooked. For some reason Will stopped watching with me after a while but my love remains undying. If you watch the show you'll know that each episode features a different 'Burger of the Day' which has a brilliant pun for a name.
Thanks to the fact that Bob's Burgers is not only hilarious but also about a burger shop means that somebody had the genius idea to write a whole blog devoted to creating the burgers of the day from the show.  As Cole Bowden says on his website; 'I take the punderful name from Bob's Burger of the Day chalkboard, come up with a recipe for it, and make it. I haven't made a bad one yet (mostly).'
So the blog is created and it's brilliant and then the wonderful creators of the show get wind of it and they all decide to work together with some professional chefs to make The Bob's Burgers Burger Book. And then Will buys me this cookbook for my birthday.
And then we make burgers.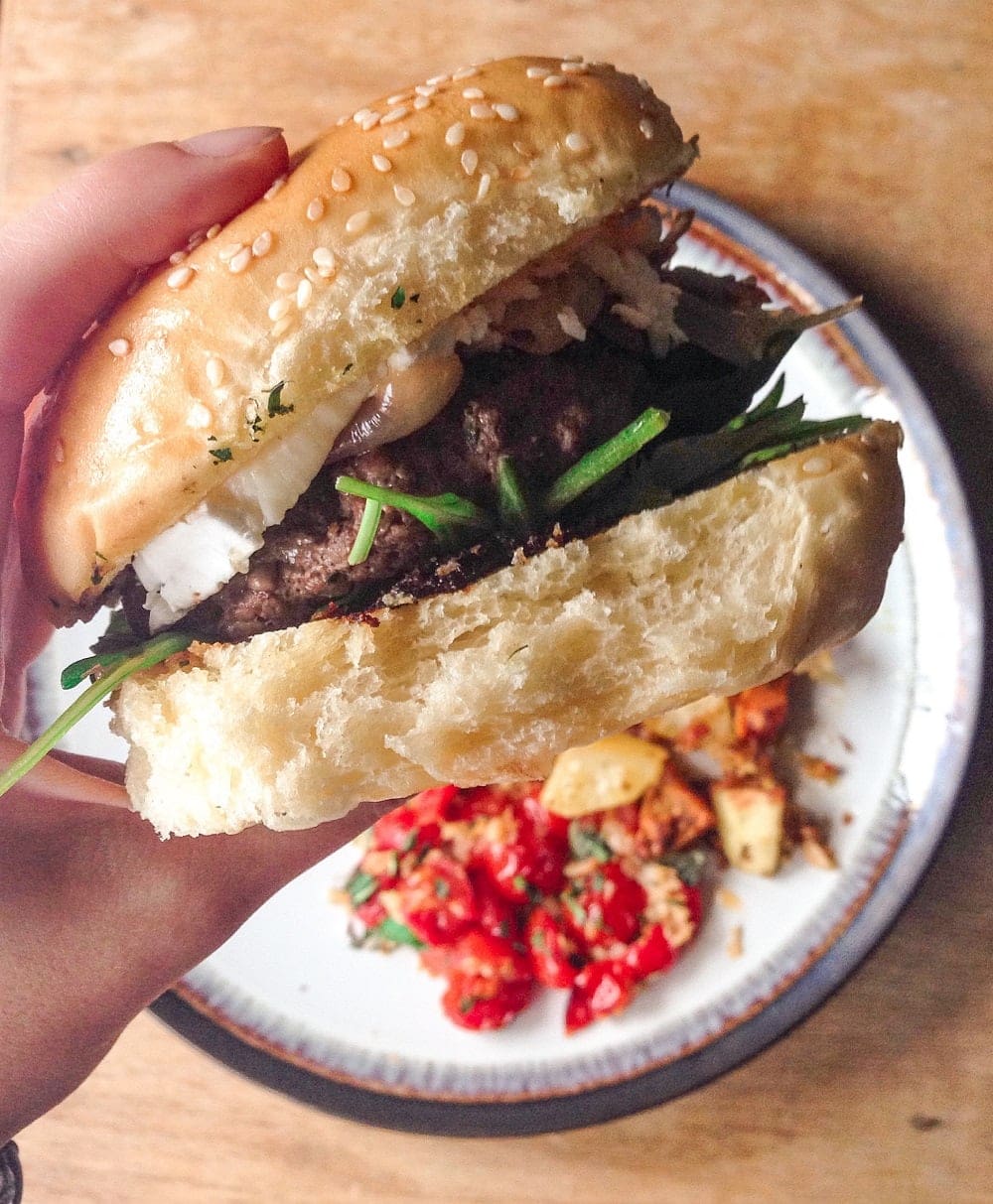 This is the Hit Me With Your Best Shallot burger. A beef burger with rocket, caramelised shallots with red wine vinegar and goat's cheese. We recently got a new cast iron skillet (another birthday present from Will) which we've been itching to use and this burger presented the perfect opportunity.
Peel and chop the shallots and cook them gently in butter with some sage and rosemary until they're brown and soft. Add a bit of red wine vinegar before removing the shallots from the pan and using it to fry the homemade burgers. Spread your burger bun with some goat's cheese, top with some rocket, the burger and some of the shallots. I served the whole thing with some parmesan roasted potatoes and a cherry tomato and basil bake (recipes below).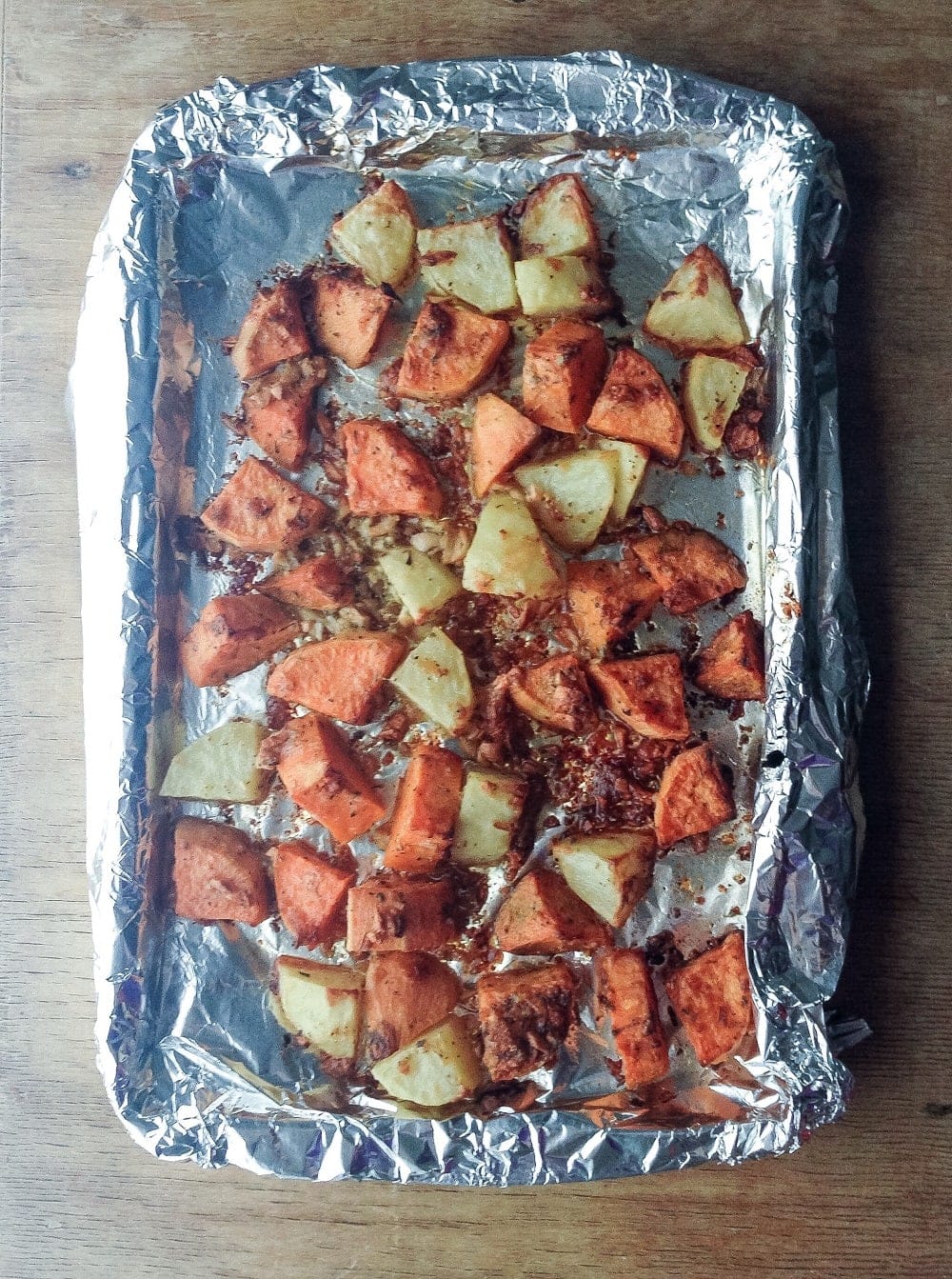 The cookbook itself is brilliant. It would have been easy for this book to be a half baked attempt to make a bit of extra cash featuring some rubbish recipes and a few jokes but in reality it's so much better than that. The book begins with an introduction from the creators of Bob's Burgers which is predictably hilarious. Then comes a great guide for how to make and cook the perfect burger AND how to make the perfect fries. The recipes have been worked on by professional chefs while retaining the essence of the recipes which Cole created. I got through the book with 22 recipes bookmarked to try including Bet It All On Black Garlic Burger (with black garlic mayo), Free to Brie You and Me Burger (stuffed with brie, topped with caramelised onion) and A Leek of Their Own Burger (feta and garlic stuffed lamb burger with braised leeks).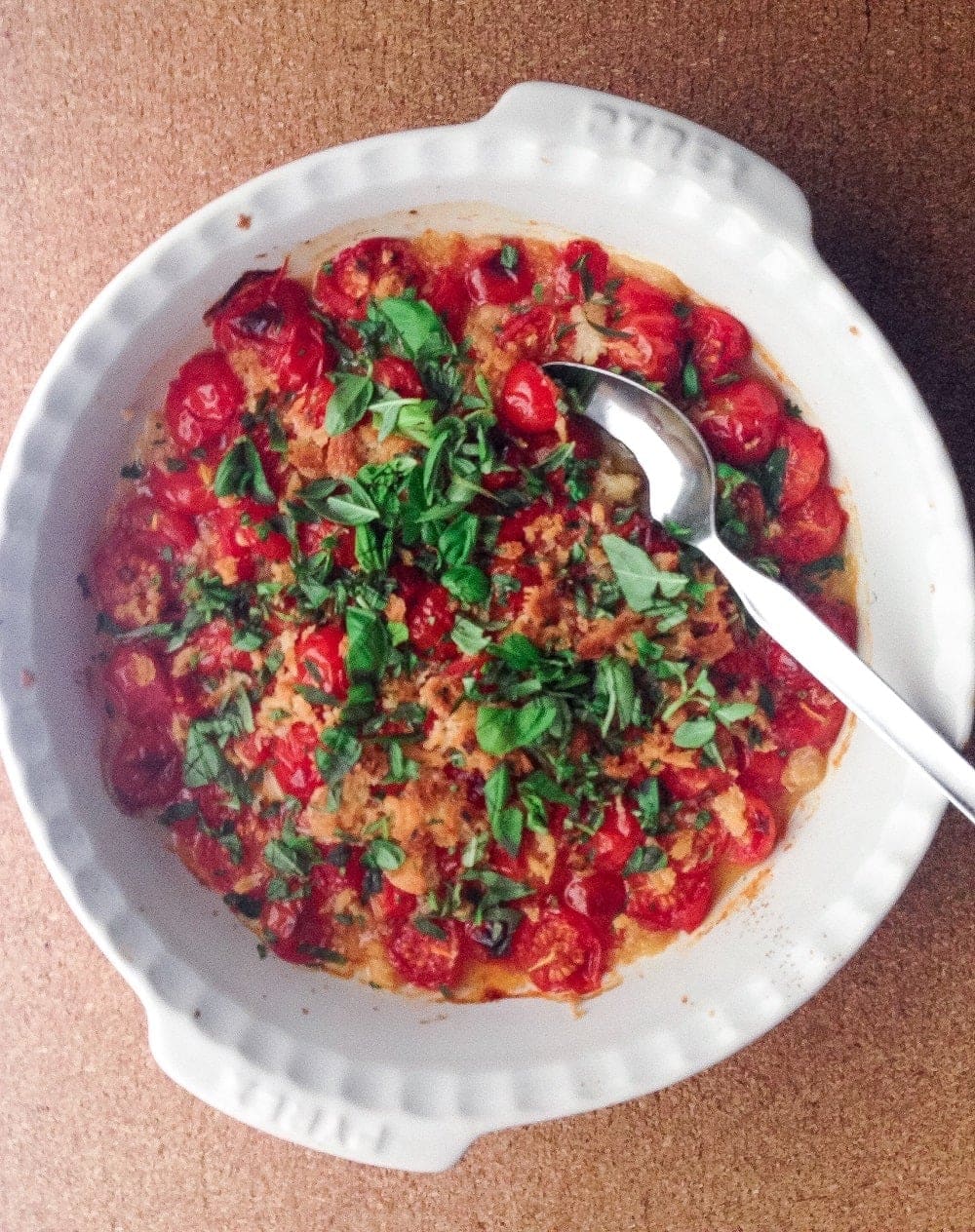 Below I've included recipes for two great burger sides. For the burger recipes you should go and buy the book!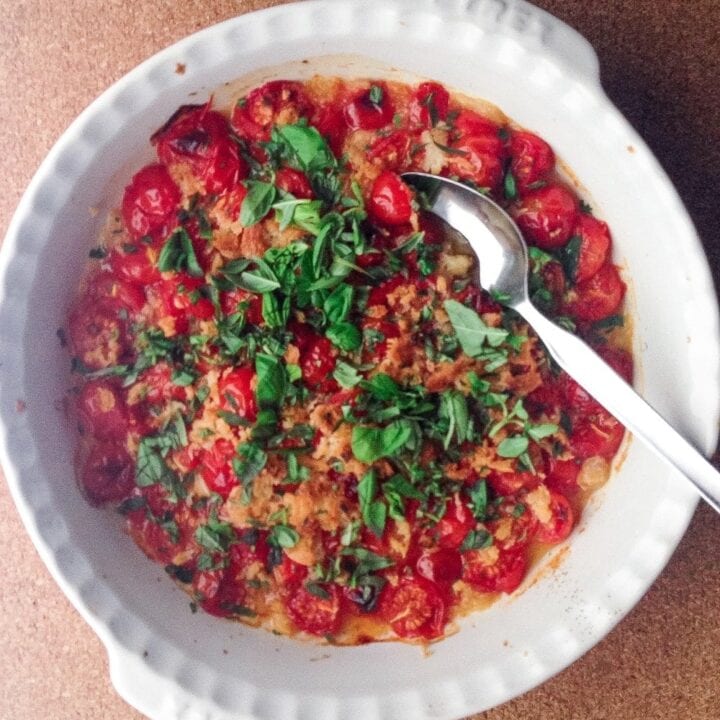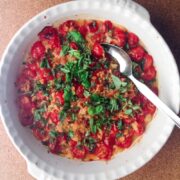 Parmesan Roasted Potatoes and Cherry Tomato & Basil Bake
These are two great sides to go with just about anything. Full of buttery garlic flavour and a good hit of carbs and veg.
Print
Pin
Rate
Ingredients
Potatoes
1

Large Potato peeled and chopped into chunks

1

Sweet Potato peeled and chopped into chunks

1

tablespoon

Olive Oil

2

tablespoon

Butter melted

4

tablespoon

Parmesan grated

½

teaspoon

Salt

½

teaspoon

Mixed Herbs
Tomatoes
500

g

Cherry Tomatoes halved

3

cloves

Garlic crushed

1

tablespoon

Olive Oil

Handful Panko Breadcrumbs

2

tablespoon

Butter melted

2

tablespoon

Basil chopped
Instructions
Preheat the oven to 200°C.
For the Potatoes
Place the potatoes in a bowl with the olive oil, butter, salt, parmesan and mixed herbs and mix everything together until fully coated. Place everything on a baking tray lined with foil and cook in the preheated oven for 20 minutes.
For the Tomatoes
Place the cherry tomatoes in a baking dish with the garlic and olive oil. Mix everything together and place in the oven for 12 minutes. Remove from the oven and top with the breadcrumbs and butter. Return to the oven for another few minutes until the breadcrumbs have browned. Once it's finished cooking top with the basil and serve.
Enjoyed this review of the Bob's burgers burger book? CHECK OUT SOME MORE COOKBOOK REVIEWS BELOW!
K FOOD BY DA-HAE AND GARETH WEST
the Saffron tales by yasmin khan