A review of the Bone Daddies cookbook with a sweet and spicy Thai ramen recipe adapted from the book perfect for an easy weeknight dinner!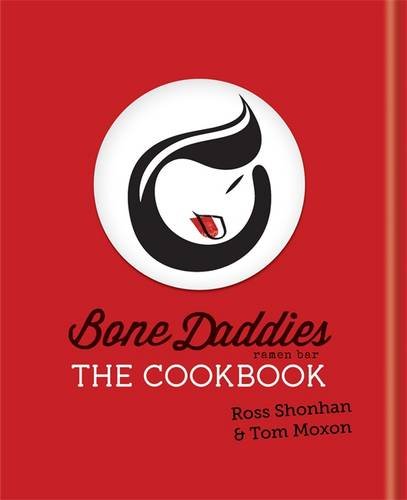 So the main thing you notice when you pick up the Bone Daddies cookbook for the first time is that it is backwards. Apparently this is the traditional Japanese way. Which I can totally get on board with but it takes a bit of getting used to. Will found it pretty stressful when he was trying to cook from it, I think because the recipe we chose to try involved flipping to different pages which can be a bit confusing when the pages aren't where you expect them to be I guess!
The next thing you'll notice about this cookbook is how it's full of super bright photos which draw you in from the moment you open the first page (once you've remembered to flip it over that is). There are also some cute little illustrations to show you extra steps here and there.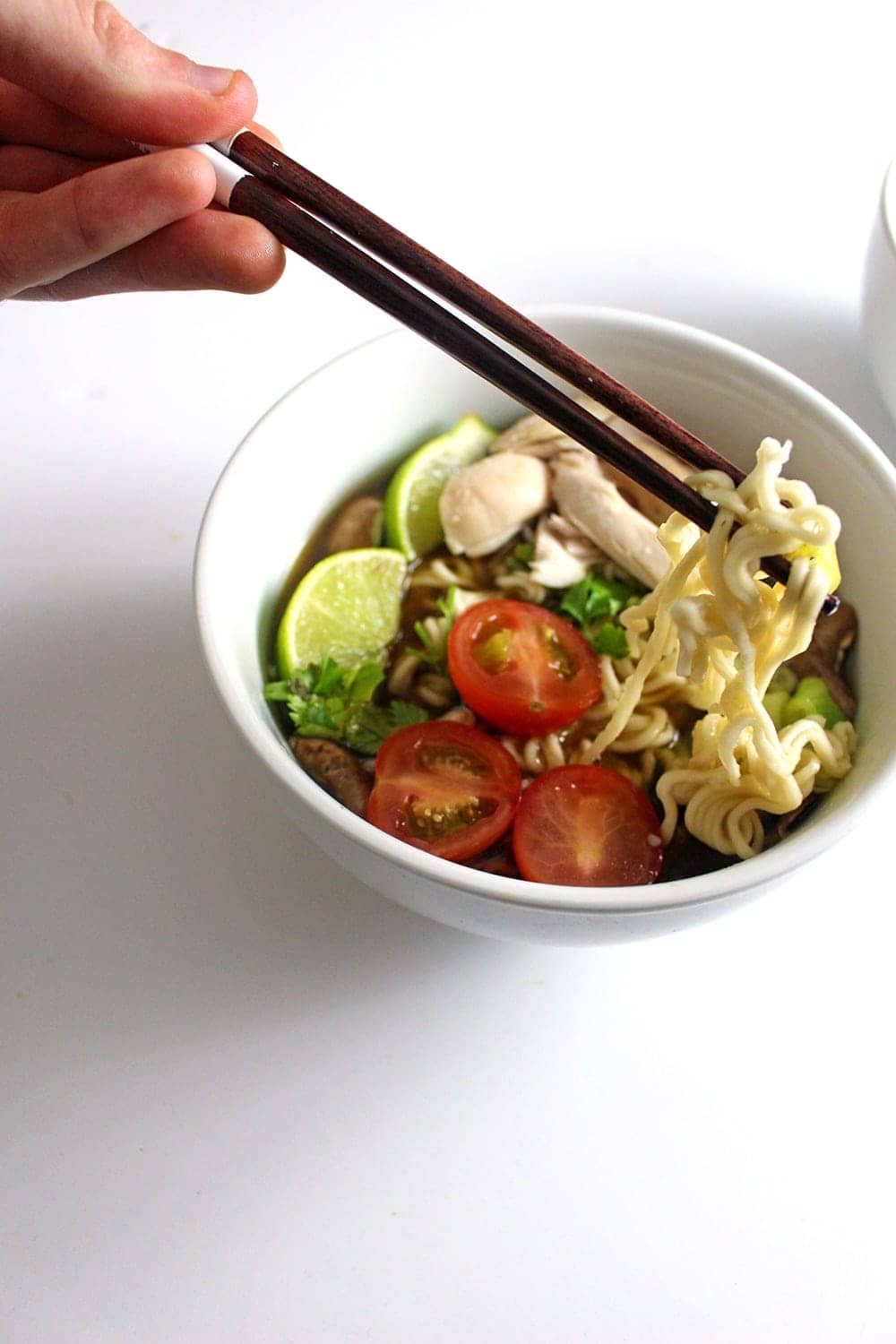 I've never really cooked much Japanese food. This isn't because I don't want to. I really enjoy trying out new things and if there's anything I can get down with it's copious amounts of noodles. I love me a noodle.
No, the reason we don't really cook Japanese food, I'm ashamed to admit, is pure laziness. We never get round to going and buying the slightly more obscure ingredients that aren't sold by the supermarkets we do our orders from. And it's not even like it's hard to find somewhere that stocks unusual ingredients! One of the many benefits of living in such a multicultural city like London. So we are definitely planning on dragging ourselves out on a Saturday morning more regularly to hit up our local Asian supermarket and get the ingredients we need to make all the deliciousness encased in this backwards cookbook!
The first recipe I was drawn to trying from this book was the Thai ramen. Something about the wonderful fresh ingredients it uses made me really excited to eat a big bowl of it. Since we're yet to gather all our required ingredients we were forced to wing it slightly and I thought I'd share with you the much less legit version of this recipe that we ended up making along with an urge to go and buy this cookbook. It's lovely!
Other recipes I'm excited to try from this are sweet spicy pig bones with barbecue sauce, salmon kara-age bun with chilli ginger mayo, cabbage and cucumber pickle and sing mai mazemen.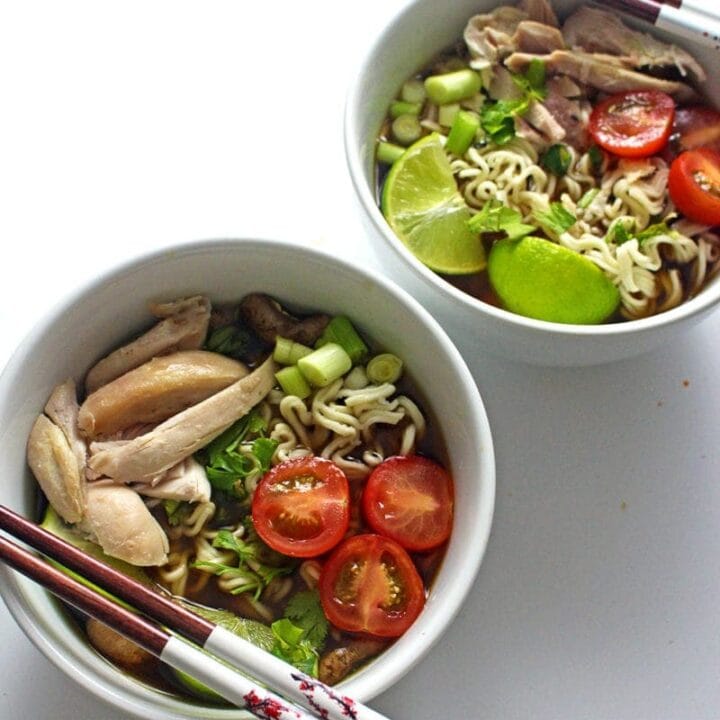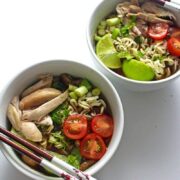 Thai Ramen
We adapted the thai ramen from the Bone Daddies cookbook to make it slightly quicker and to suit our tastes. Make sure you buy the book to try out their version!
Print
Pin
Rate
Ingredients
Thai Tare
50

ml

Soy Sauce

1

teaspoon

Caster Sugar

10

ml

Mirin

1

tablespoon

Fish Sauce
Ramen
2

tablespoon

Red Onion

finely sliced

4

tablespoon

Thai Tare

500

ml

Chicken Stock

1

Leek sliced

150

g

Chestnut Mushroom

sliced

200

g

Noodles

(they say Tokyo wavy noodles) cooked according to packet instructions

1

Lime

quartered

4

Cherry Tomatoes

halved

1

Green Chilli

sliced

100

g

Cooked Chicken

shredded or chopped

Leaves

Coriander

for serving

1

Spring Onion

sliced
Instructions
Make the Tare
Add the soy sauce and the sugar to a saucepan and heat over a low heat until the sugar has dissolved. Remove from the heat and add the fish sauce. Set aside until ready to use.
Make the Ramen
Soak the red onion in cold water for 15 minutes then drain. Put the chicken stock into a saucepan and place over a medium heat. Bring to a boil and add the leek and mushroom then reduce to a simmer and cook for 10 minutes. Split the tare and stock between two serving bowl sand mix together. Share the rest of the ingredients in the order they're shown in the ingredients list between the bowls topping with the coriander leaves and spring onion. Squeeze the lime quarters over the ramen before adding to the bowl. Serve
Nutrition Facts
Thai Ramen
Amount Per Serving
Calories 482
* Percent Daily Values are based on a 2000 calorie diet.