Saag aloo is one of my favourite take away dishes! Now you can make your own version quickly and easily in a pressure cooker or instant pot so you can have this vegetarian dish any night of the week.
Since Will and I got a pressure cooker we've been experimenting with different dishes to make in it. We've found that curries are one of the things that come out really well in it. There's something about cooking under pressure that seems to lock in extra flavour.
I've already posted this awesome pressure cooker curry with potato and aubergine a few weeks ago and we've been making it regularly ever since. And if you want to try something other than curry then give this pressure cooker pasta with Mediterranean vegetables a go. YUM.
Click here to pin this recipe for later!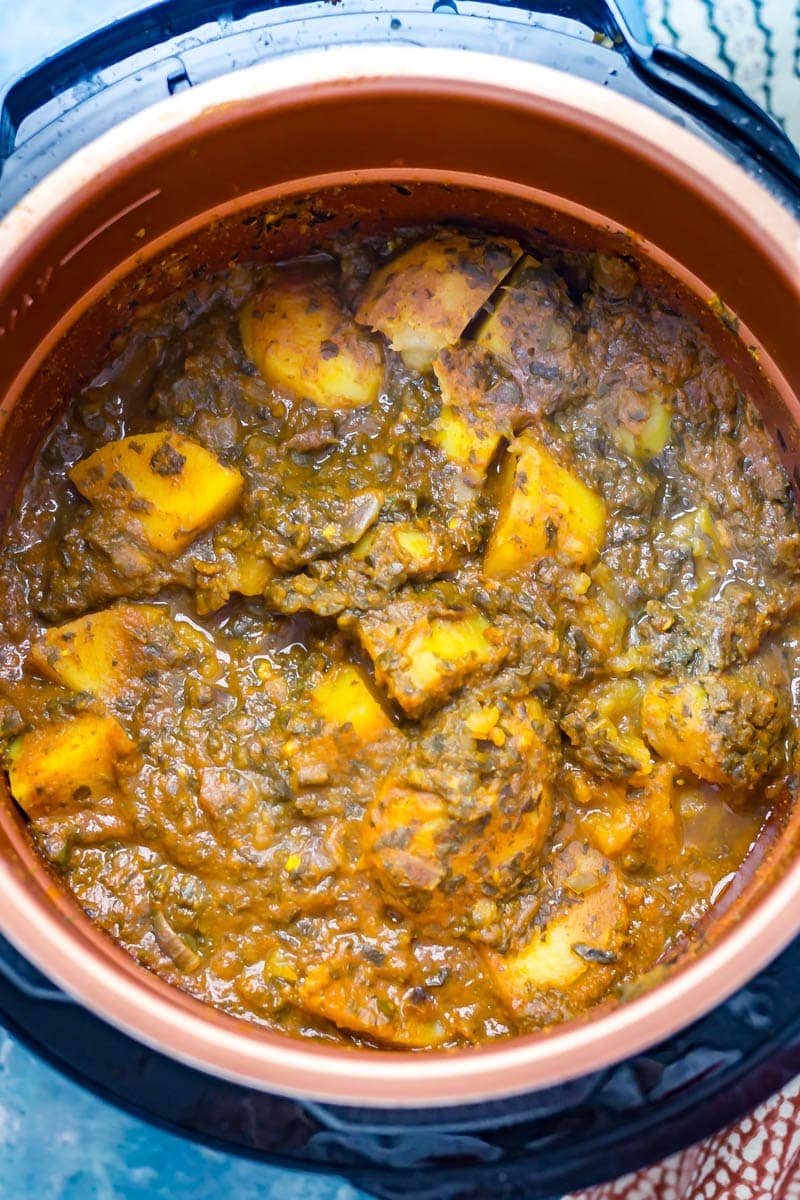 My all time favourite take away is Indian food. If we're going to treat ourselves to take out then we nearly always get pizza or curry. Pizza if we just want pure carbs on carbs and curry if we want flavour and spicy comfort.
When I was still at university and Will would come to visit me we'd always order from the same Indian take away, we'd always order the same thing (including a side of saag aloo) and it was so super delicious.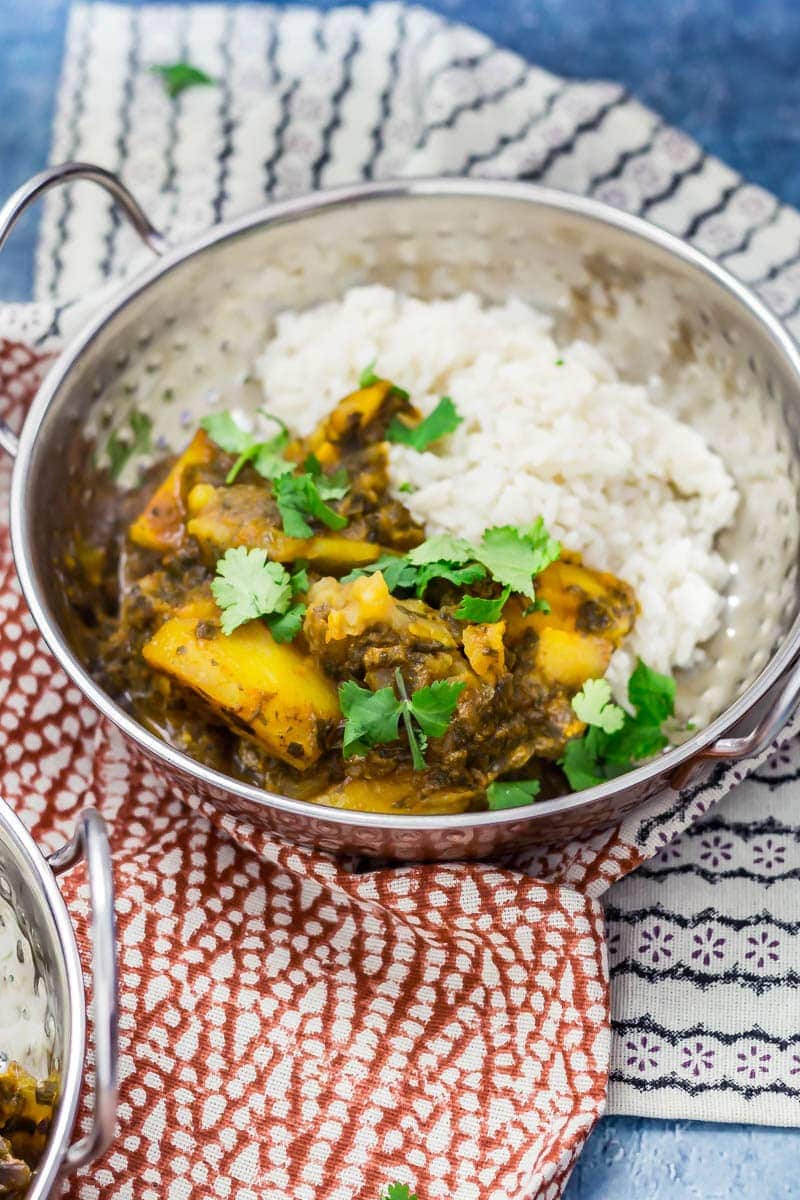 Then when we moved to London it took us so long to find a good option for Indian take away. Like years. And it was awful because we just kept ordering and being disappointed and it was the worst.
Finally, we've now found somewhere that does delicious curries and is one of our favourite places to get food from. But the one plus side in all this is that it meant we got pretty good at making our own versions of our take away favourites like this recipe.
What is saag aloo?
It's a curry made from potato cooked in a spinach based sauce, popular in Punjabi cuisine.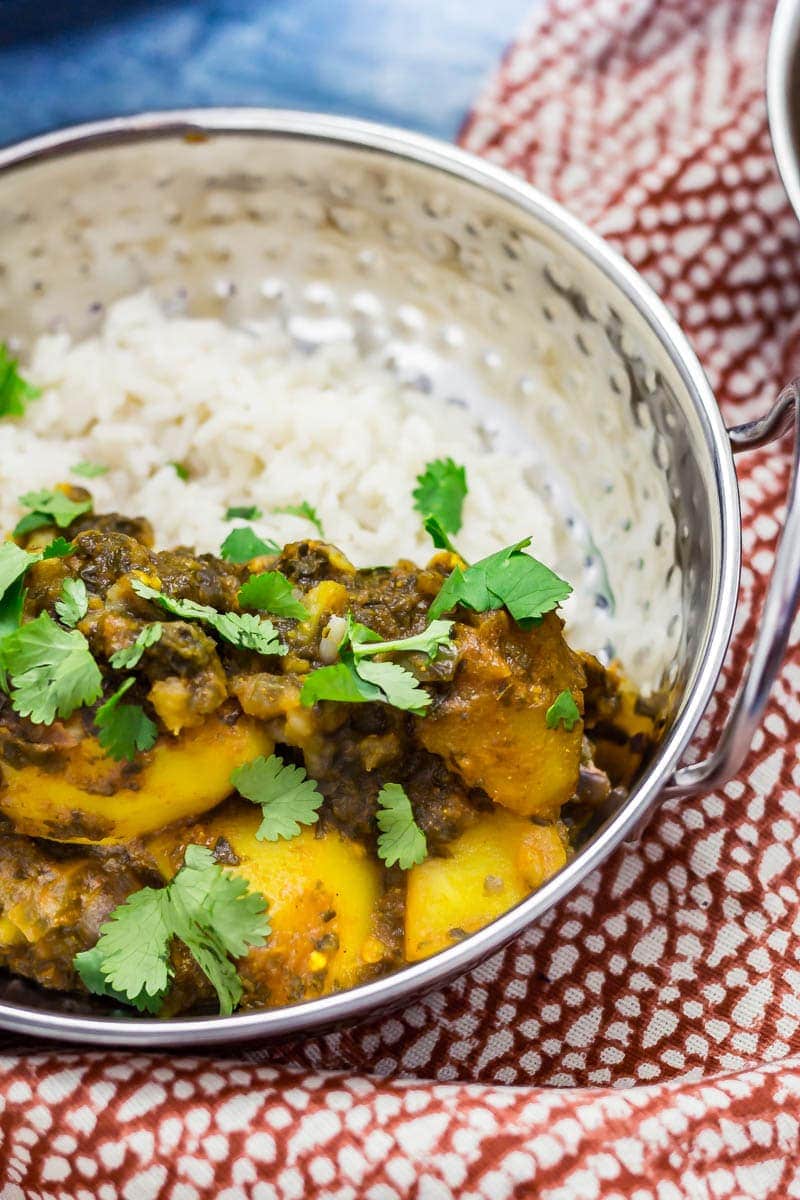 We always get this dish as a side to our take away curries but I love it so much that for this we decided to make it the main part of our meal.
Why we love this saag aloo recipe:
First off it's so quick to make because it's made in the pressure cooker but even if you don't have a pressure cooker it's still quick to make on the stovetop (scroll down for instructions)
It's suitable for vegans which makes it great for a weeknight
It's healthy and full of vegetables
It works as a side dish with other curry dishes or as a main dish served with rice
INGREDIENTS YOU NEED TO MAKE THIS POTATO & SPINACH CURRY:
Olive oil
Garlic
Red Onion
Green Chilli
Frozen Chopped Spinach
Ginger
Potatoes
Dried Coriander
Cumin: We used ground cumin but you could toast cumin seeds and then grind them if you prefer
Turmeric
Salt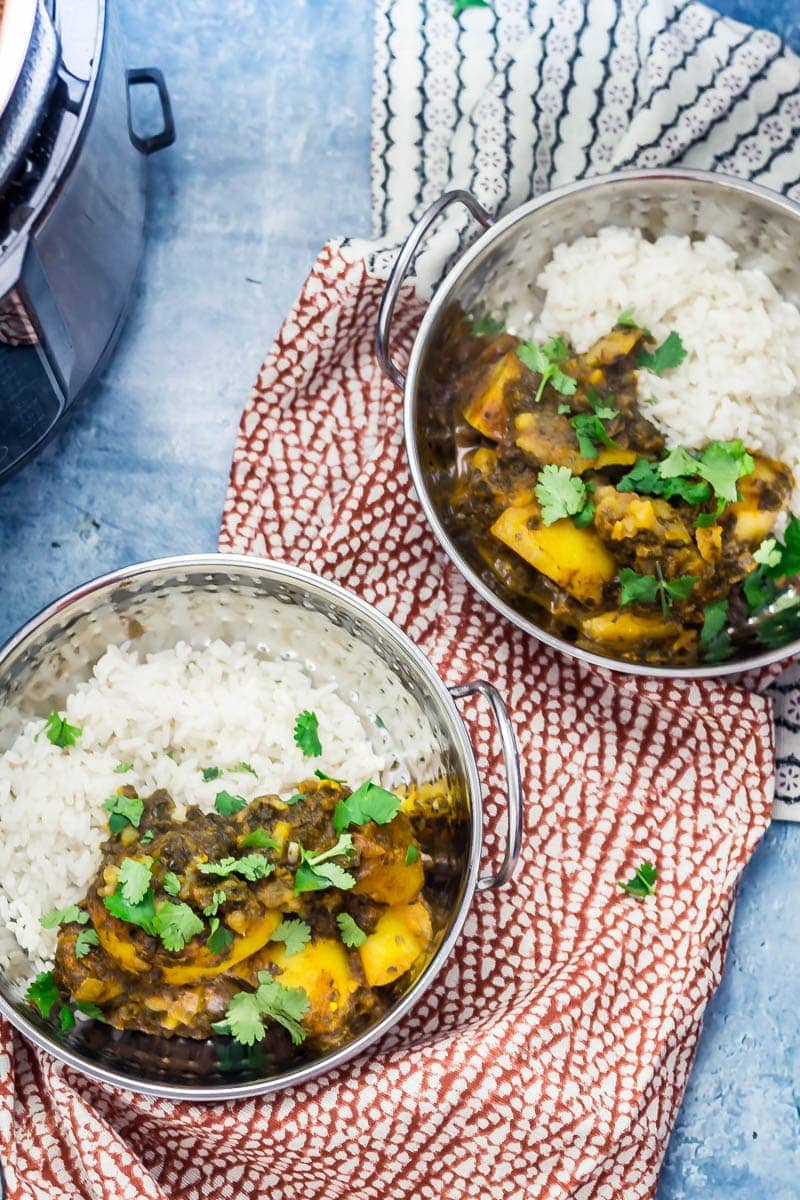 One of my favourite things about this curry is the way the spinach kind of becomes part of the sauce and helps to add bulk to it plus it's healthy!
I replicated this in my halloumi curry with spinach as well to create one of my favourite curry sauces.
Can you make this recipe in a slow cooker?
Yes! This would work in a slow cooker really well. If you have a slow cooker which has an insert you can put on the hob or has a browning function then fry off the garlic, onion, chilli and ginger first then add the spices, potato, spinach and add a little water (about 50ml/1/4 cup).
Otherwise just add all the ingredients (apart from the olive oil) to the slow cooker with the water. Cook on medium for 3-4 hours, depending on what size you cut your potato.
Can you make this curry on the stovetop?
You totally can. Simply heat the olive oil over a medium heat and add the onion, fry for a couple of minutes then add the garlic, ginger and chilli. Fry until everything is soft then add the potatoes and spices, stir until everything is coated in the spices.
Add 500ml of water or stock and cook until the potatoes are soft (you might need to add a little more liquid if it looks dry). Add the spinach a couple of minutes before the potatoes are done.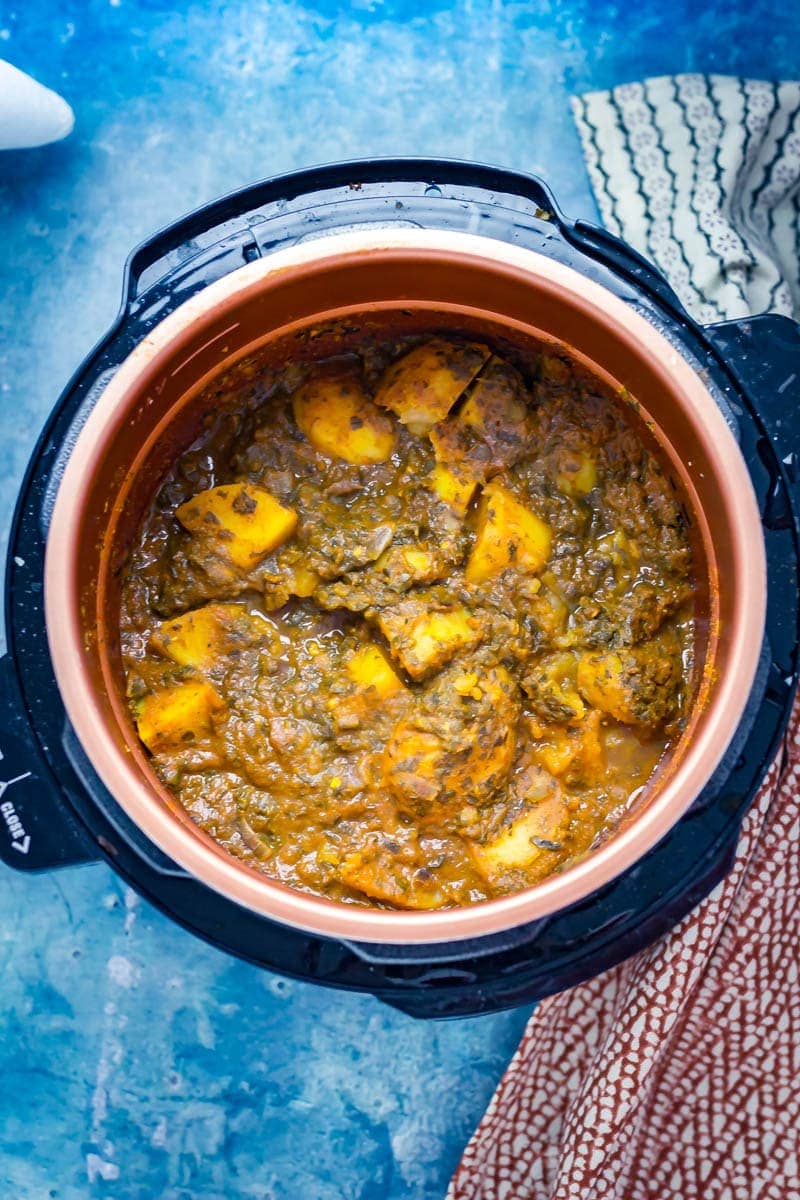 So we played around with this recipe a few times because it's quite tricky to get potatoes not to turn to mush in a pressure cooker. We found that 3 minutes worked the best and the texture of the potatoes actually turned out really nicely.
We use a pressure king pro for this but any instant pot or pressure cooker will work. If you have the same pressure cooker as me then make sure you grab my favourite pressure king pro recipes before you go!
Is this recipe vegan?
Yes! It's vegan so everyone can enjoy it!
Can I use frozen spinach in this recipe?
Absolutely! I like to use frozen chopped spinach because it mixes in perfectly with the sauce plus it's cheap and I can keep it on hand so I can have this curry whenever I fancy it!
If you prefer to use fresh spinach I would roughly chop the leaves and add them to the pressure cooker after everything else has cooked. Return the lid to the pot and allow a few minutes for the spinach to wilt before serving.
Can you freeze saag aloo?
We have successfully frozen this recipe. The potatoes can take on a slightly different texture but it still tastes great! Simply pack up in Tupperware containers and place in the freezer once completely cooled. Defrost thoroughly before reheating.
Is this recipe healthy?
This recipe is really healthy. Full of vegetables and spices it's really a great healthy alternative to a takeaway version.
Is this recipe spicy?
My recipe only uses one chilli so it's pretty mild but if you wanted to up the spiciness just add another chilli!
Is this curry gluten free?
This recipe is completely gluten free.
Can you reheat it?
You can definitely reheat it, once it's made you can keep it in a container in the fridge for 4-5 days. The flavours just develop and get even more delicious as time goes on!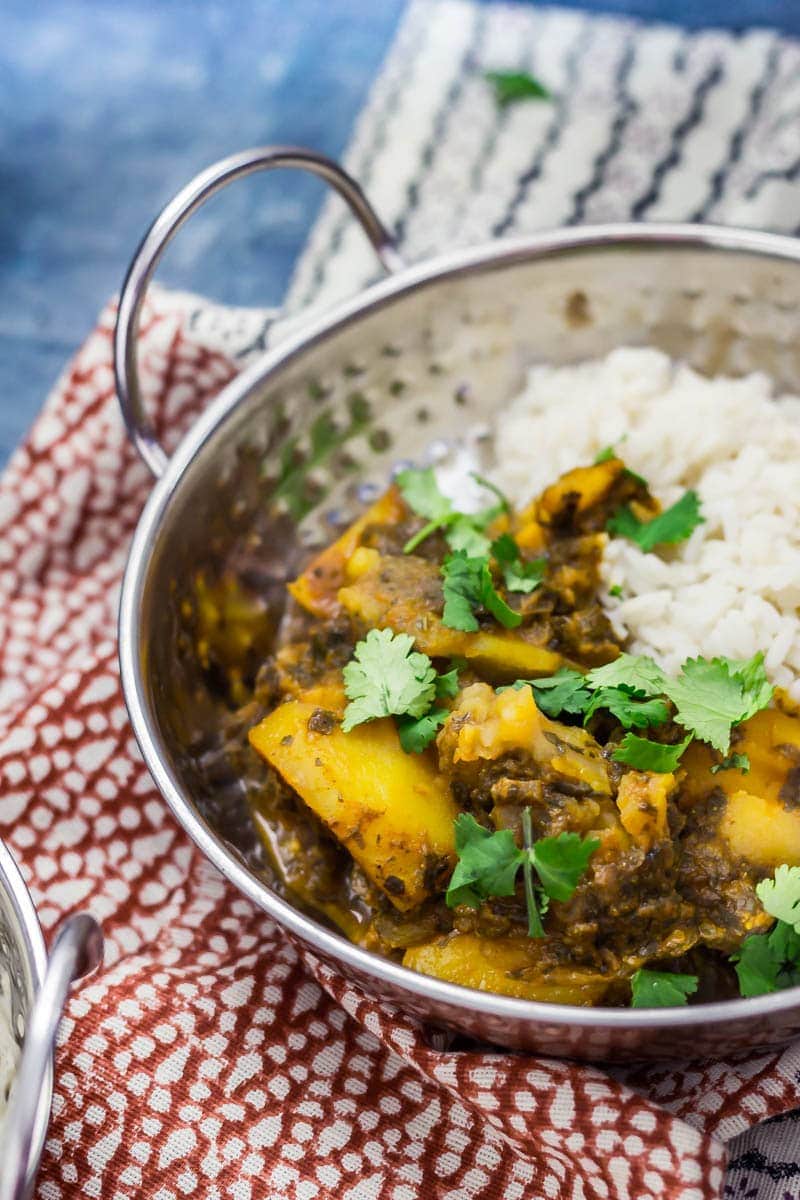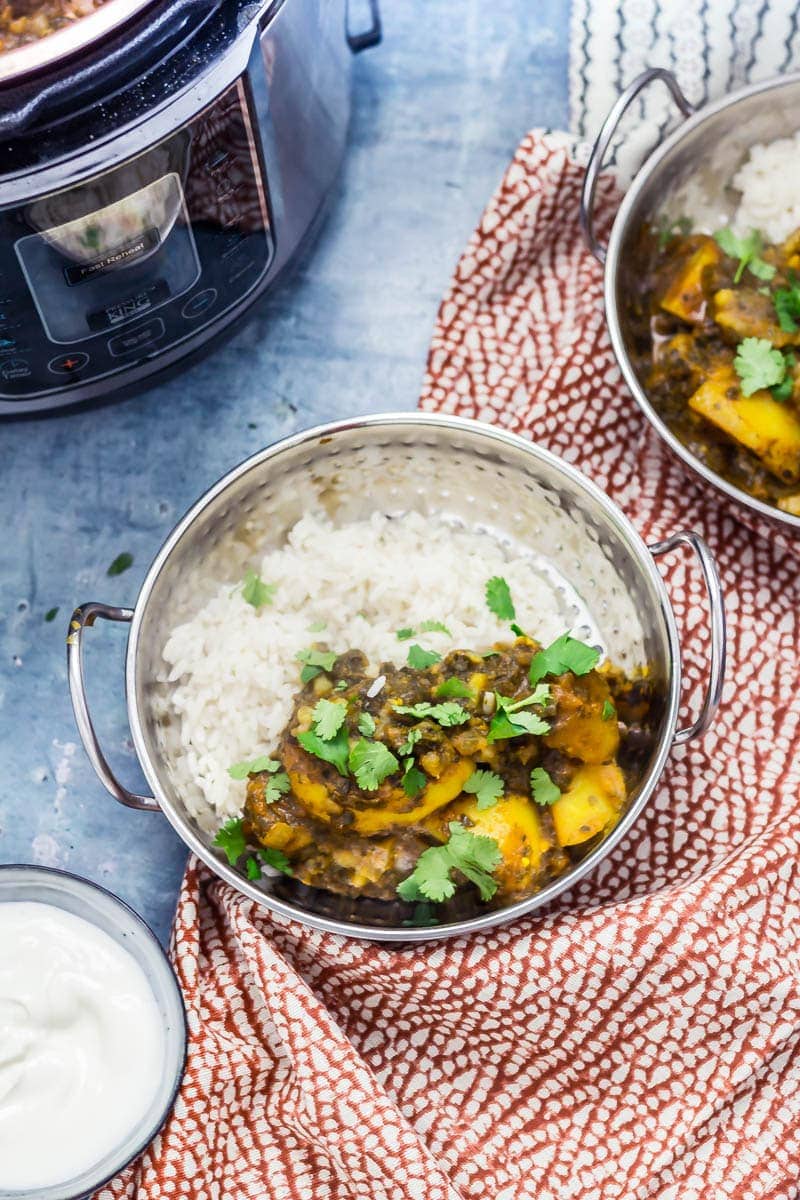 Want more? Get all my other vegetarian recipes before you go or try one of the below:
Or try all of my other pressure cooker recipes!
How to make saag aloo: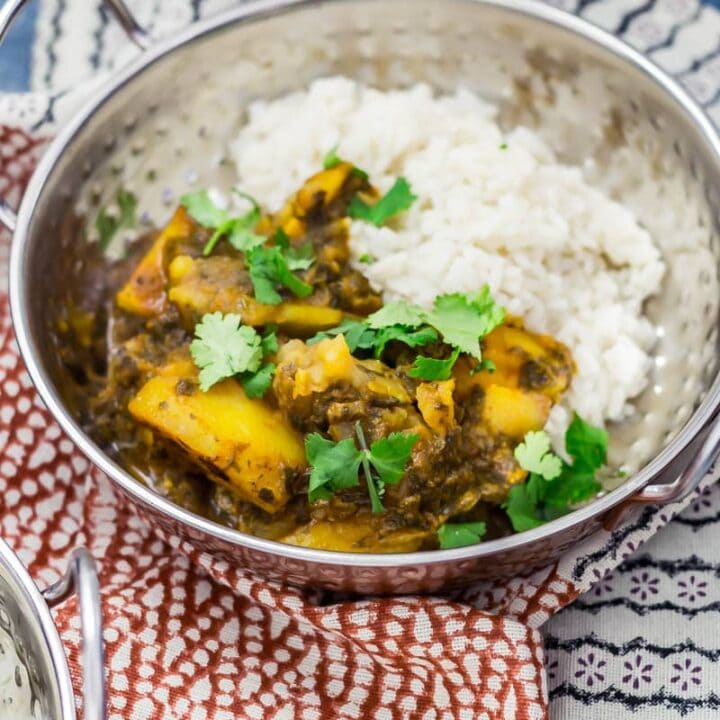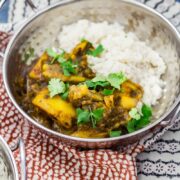 Easy Pressure Cooker Saag Aloo
Saag aloo is one of my favourite take away dishes! Now you can make your own version quickly and easily in a pressure cooker or instant pot so you can have this vegetarian dish any night of the week.
Print
Pin
Rate
Ingredients
1

tbsp

Olive Oil

3

cloves

Garlic

crushed

1

Red Onion

chopped

1

Green or Red Chilli

finely chopped

1

teaspoon

Ginger

grated

300

g

Frozen Chopped Spinach

used frozen spinach leaves if you prefer

6

medium

Potatoes

chopping into chunks

1

teaspoon

Coriander

1

teaspoon

Cumin

1

teaspoon

Garam Masala

1

teaspoon

Turmeric

Salt

Water

as needed

Fresh Coriander

to serve
Instructions
Put your pressure cooker on the saute setting and add the oil. Once the oil is hot add the onion, garlic, chilli and ginger and cook for a couple of minutes until softened.

Add the potatoes, coriander, cumin, garam masala and turmeric. Stir so that everything is coated in the spices, season with salt to taste. Add the spinach and enough water to reach the minimum line on your pressure cooker.

Cook on the stew setting for 3 minutes. Release the pressure and serve the saag aloo with rice and chopped coriander leaves.
Nutrition Facts
Easy Pressure Cooker Saag Aloo
Amount Per Serving
Calories 224
Calories from Fat 36
% Daily Value*
Fat 4g6%
Sodium 121mg5%
Potassium 1384mg40%
Carbohydrates 39g13%
Protein 9g18%
Vitamin A 8795IU176%
Vitamin C 38.1mg46%
Calcium 188mg19%
Iron 10.4mg58%
* Percent Daily Values are based on a 2000 calorie diet.
Notes
Nutrition information is an estimate and will vary depending on the exact ingredients used.
Did you make this recipe?
Make sure you follow The Cook Report on Instagram and tag #TheCookReport so we can see what you've made!
---
Equipment you need to make this recipe…
---
Like the look of this recipe? Make sure you pin it for later!