This simple skillet pizza makes perfect use of your cast iron skillet & combines salty prosciutto with creamy mozzarella & garlic oil for a delicious dinner.
Hey chaps, how's it going?
Another Monday over with. I can't believe we're half way through August already. My sister is having a baby in November and I just know he'll be here before we know it! Not that I'm complaining, having a baby nephew to look forward to meeting definitely makes me feel better about the year flying by.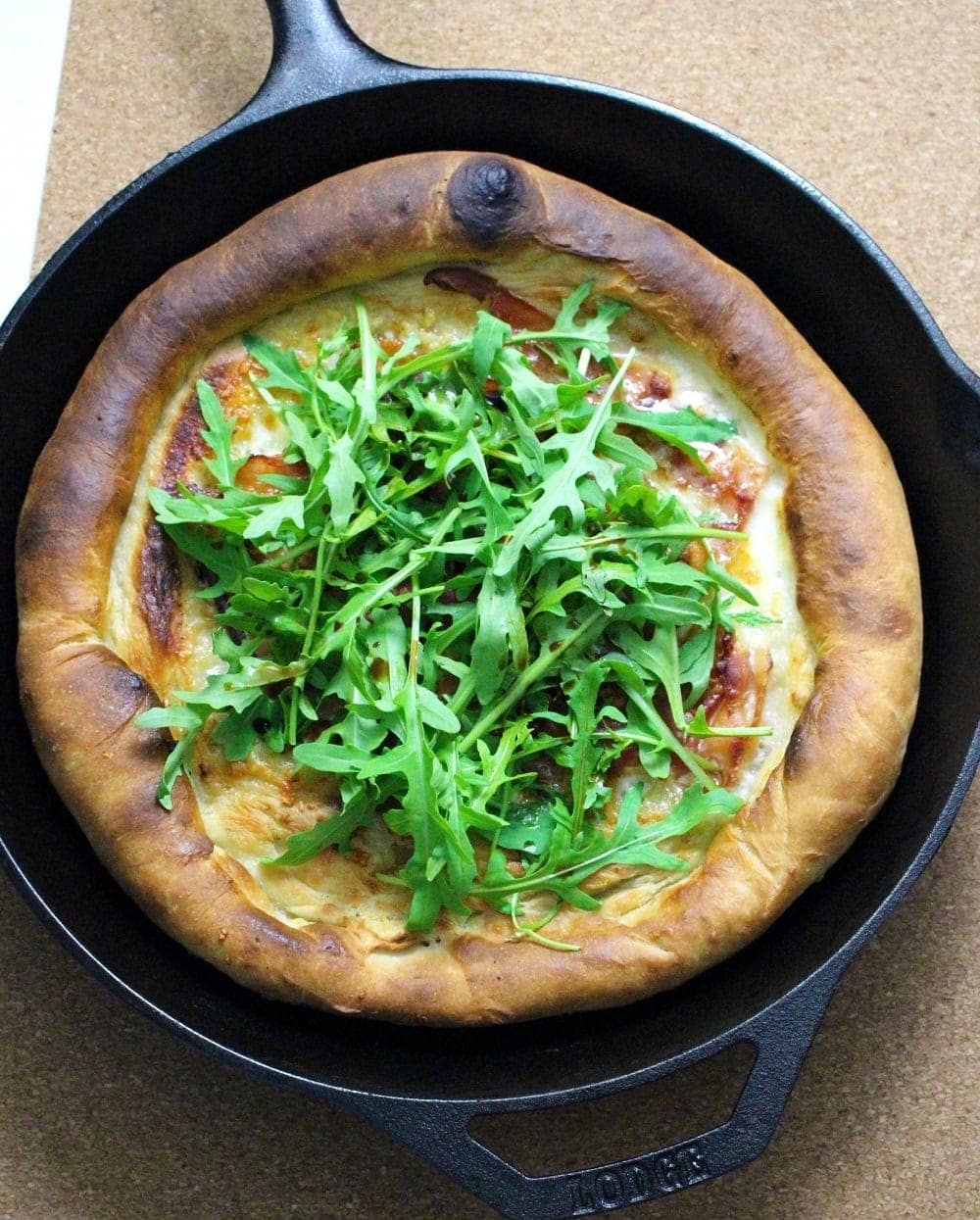 So to make this Monday a little better I'm giving you the gift of pizza. Because pizza fixes everything. And this isn't just any pizza. It's got a perfect chewy crust with a crispy base thanks to the searing heat of the cast iron skillet.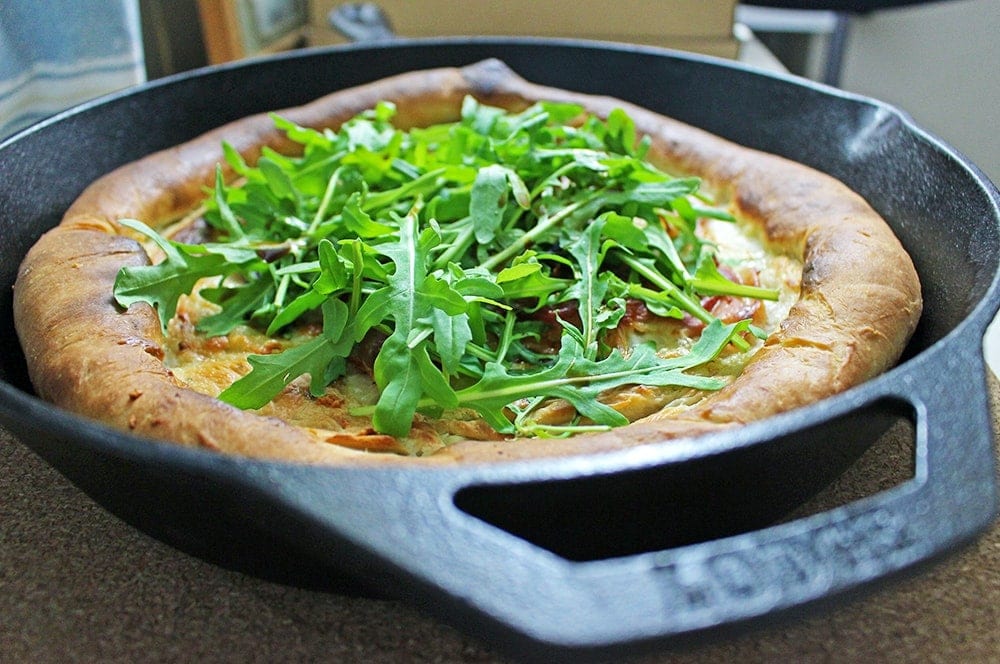 Once the base was in the pan we brushed it with garlic oil which permeated through the whole pizza and made everything so perfectly garlicky (I love garlic in case you couldn't tell). Then there was slices of prosciutto and mozzarella to go on top before baking and it comes out all crispy and brown.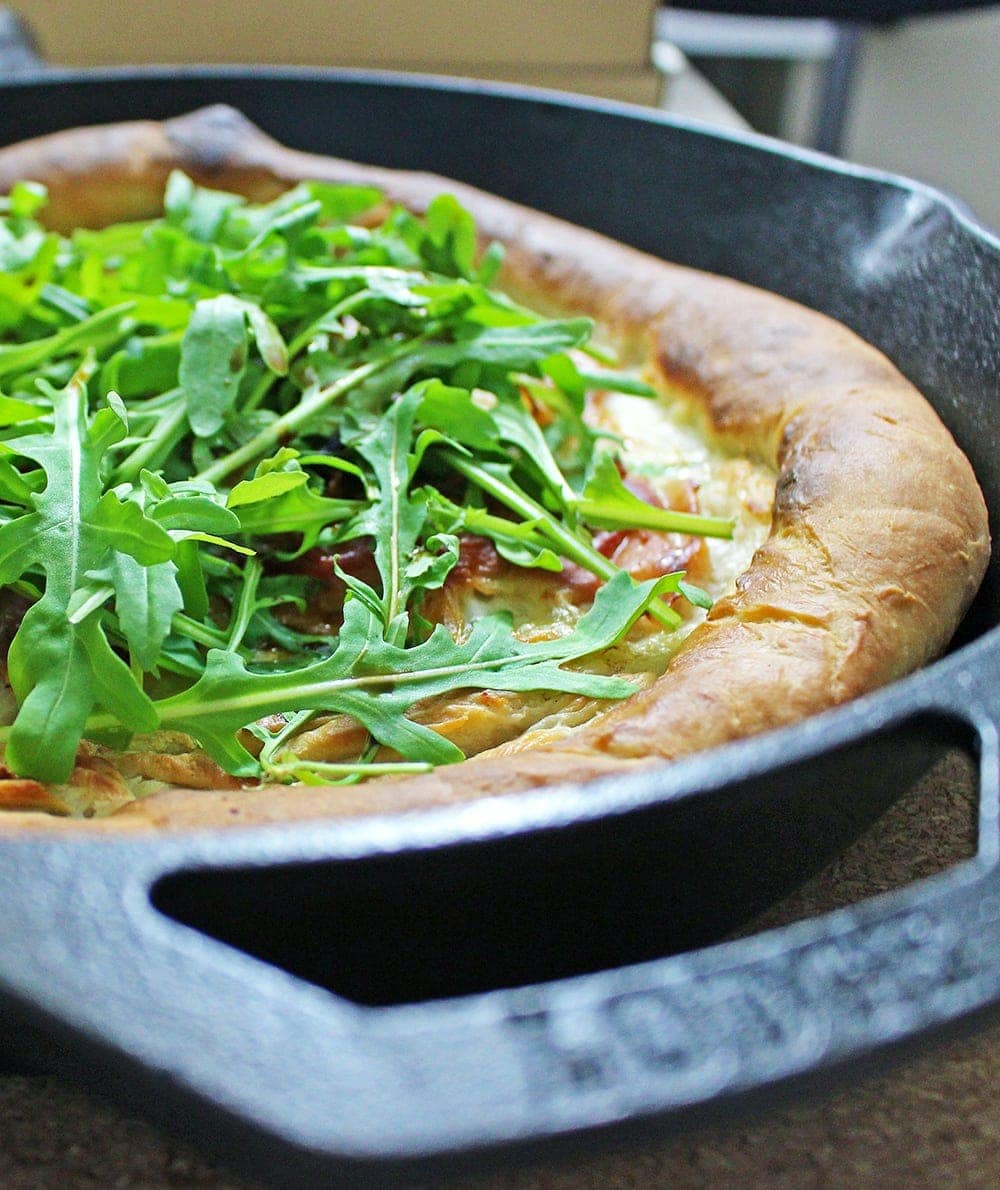 Finally a big old handful of rocket nestled on top and drizzled with a hearty helping of balsamic vinegar. We found that the way to ensure a crispy base is to heat the skillet on the hob until it gets really hot before putting it in the oven. That helps to replicate the effect you would normally get from heating the tray or pizza stone in the oven before you cook the pizza. This would also be so so good with a stuffed crust, just sayin.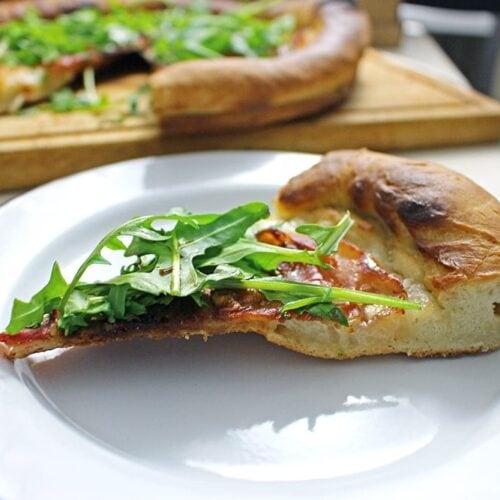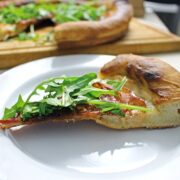 Prosciutto & Rocket Skillet Pizza
This simple pizza recipe makes perfect use of your cast iron skillet and combines salty prosciutto with creamy mozzarella and garlic oil for a delicious dinner.
Print
Pin
Rate
Ingredients
For the Pizza Dough
350

g

Bread Flour

1

tablespoon

Sugar

2

teaspoon

Sea Salt

¾

teaspoon

Dry Active Yeast

1 ½

tablespoon

Olive Oil

230

ml

Warm Water
For the Toppings
1

tablespoon

Olive Oil

3

cloves

Garlic crushed

1

Ball of Mozzarella sliced

4

slices

Prosciutto

Handful Rocket

Balsamic Vinegar
Instructions
Mix together the water, sugar, salt and yeast in a large bowl and wait until it starts to foam a little then stir in the flour. Knead into a soft dough and then place in an oiled bowl and leave to rise for a couple of hours somewhere warm.

Once the dough has been proving for a couple of hours remove it from the bowl and knead for a minute. Roll out to a big enough size to fit the skillet then gently lift it into the skillet making sure to leave a slightly thicker crust around the edge. Preheat the oven to 200°C.

Mix the olive oil with the garlic and use a pastry brush or the back of a spoon to spread the garlic oil across the dough. Add the slices of mozzarella and prosciutto and then place on the hob over a high heat for about 5 minutes to allow the skillet to get really hot. Place the pizza in the oven for about 18-20 minutes. Remove from the oven and top with the rocket and a sprinkle of balsamic vinegar.
WONDERING WHAT TO DO WITH THE LEFTOVER INGREDIENTS YOU'VE GOT FROM MAKING THIS prosciutto & ROCKET SKILLET PIZZA?
If you're anything like me then you're always looking for ways to save money and avoid food waste so I want to make sure you've get plenty of ideas on how to use up any ingredients that are leftover from my recipes!
Mozzarella is one of the four cheeses in this butternut squash and spinach lasagne! Use up the prosciutto in this courgette risotto.