Oh my god POLENTA. Isn't it just the best? Whenever we're cooking basically anything at the moment Will asks me what I want with it and the answer is always polenta. It took me a while to get on board with it to be honest but then, as with all good things, I realised that the key to polenta is plenty of cheese and butter.
Also, Will gets the credit for the chicken on this one. The flat smelled unreal when we got home from work thanks to Will slow cooking it before he left in the morning.
My other favourite accompaniment is usually roasted veg. It's versatile and you can add whatever you want to it which means it's an easy way to be healthy. Although does that get cancelled out by the cheesey, buttery polenta?!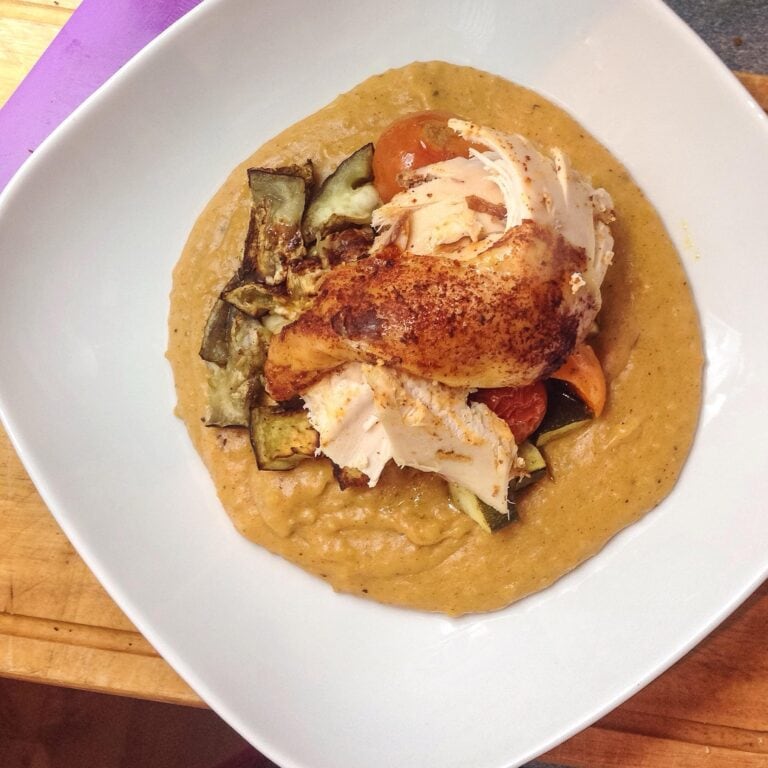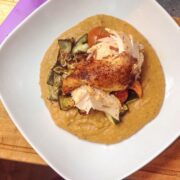 Slow Cooked Chicken With Roasted Veg and Polenta
Come home to this paprika coated slow cooked chicken and then make this easy roasted veg and creamy polenta for a simple week night dinner.
Print
Pin
Rate
Ingredients
Slow Cooked Chicken
1

Small Chicken

1

teaspoon

Smoked Paprika

1

teaspoon

Cayenne Pepper

2

cloves

Garlic

crushed

1

Onion

chopped

2

Carrots

chopped in half

2

sticks

Celery

chopped into thirds

Salt and Pepper
Roasted Vegetables
2

tablespoon

olive oil

1

Aubergine

chopped into bite size pieces

1

Red or Yellow Pepper

sliced into strips

1

handful

Cherry Tomatoes

1

pieces

Courgette

chopped into bite size

2

teaspoon

Cumin

Salt and Pepper
Polenta
200

grams

Fine Polenta

500

ml

Milk

500

ml

Juices from the chicken or chicken stock

1

handful

Cheddar Cheese

grated

2

tablespoon

Butter

Salt and Pepper
Instructions
Place the onion, carrot and celery in the bottom of your slow cooker. Mix together the cayenne pepper, smoked paprika and a good dash of salt and pepper in a bowl and set aside. Pat dry your chicken then rub the garlic, followed by the dry spices all over the skin. Place in the slow cooker on top of your veg and cook on low for 8-10 hours.

About half an hour before your chicken is ready, pre-heat the oven to 180°C (fan oveand begin preparing your veg. Once everything is chopped add it to a large bowl and sprinkle on a tablespoon of the oil along with the cumin and salt and pepper. Mix together thoroughly. Use the rest of the oil to grease a large baking tray, add the veg and place in the oven for about half an hour.

Remove the chicken from the slow cooker and leave to rest for a few minutes while you start the polenta. There should be lots of lovely juices which have been released from the chicken so drain the contents of the slow cooker and throw away the veg that's left over. Measure how much juice you have and then top that up with chicken stock so that you have the 500 ml needed for the polenta.

To make the polenta pour the chicken juice/stock mix into a large saucepan with the milk and place over a medium heat. Once it's started to come to a simmer add the polenta and quickly mix with a whisk to prevent any lumps forming. Leave that to cook, stirring regularly for about 15 minutes.

Place your slow cooked chicken in a tray and place in the top of the oven, above the veg, for 5-10 minutes to allow the skin to crisp slightly. Check the veg, if it looks cooked you can remove it from the oven and keep it warm while everything else finishes cooking. When the polenta is thickened, add the grated cheese and butter, season well and stir to make sure everything is incorporated and the butter is melted.

Once the skin has crisped to your liking, remove the chicken from the oven and carve enough for 4 people (you may have some left over which can be no bad thing!). Split the polenta between 4 bowls, top with the roasted veg and some chicken and serve!
Enjoy! x