The Orchard is our favourite brunch spot. It's just over the bridge from where we live and it does an amazing full english, veggie full english AND eggs benedict. I've been holding off doing a blog post about it because I figured brunch wasn't enough to base a review on (although maybe I was wrong about that!).
Anyway, when it was my birthday a few weeks ago my mum took us for lunch at The Orchard and having eaten a meal other than brunch there I decided I was finally allowed to write a blog post about it!
So let's start with a bit about the restaurant itself. The staff at The Orchard are completely lovely. So are the surroundings. Big windows across the front of the restaurant which they open wide when it's warm out (rarely obviously).  Lots of wooden furniture and big tables scattered around a central wall made up of a giant bookshelf and a fish tank.
Breakfast is the most important meal of the day and The Orchard know how to do it excellently.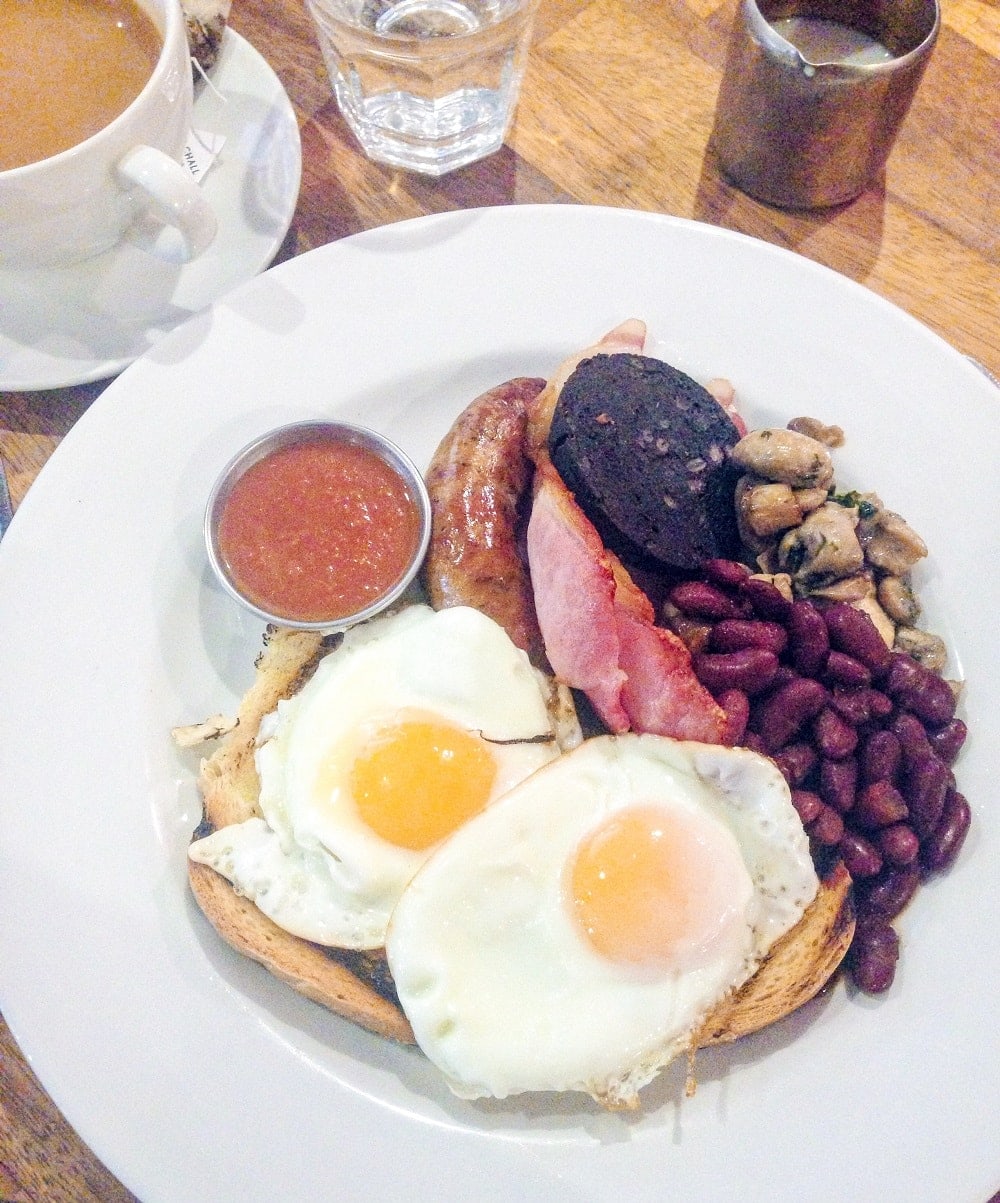 Here's their full English (apologies for the graininess of the photo!).
Consisting of 'Smoked back bacon, Cumberland sausage, black pudding, fried mushrooms, two eggs cooked to order, house made baked beans and ketchup, toast'.  I really wish I could get on board with black pudding. I always feel like I'm missing out on something awesome but then I try it and I can't get passed the whole blood thing. Maybe one day I'll grow out of it. Anyway, after I've deposited the black pudding on Will's plate I'm ready to tuck in. The Orchard's full English consists of all the classics. Meaty goodness in the shape of bacon and sausages, fried mushrooms and eggs however you fancy them. As much as I'm a sucker for Heinz it's nice to have a bit of a change sometimes and the house made beans and ketchup are sweet and tangy.
Not in the mood for meat? No problem. I may like The Orchard's veggie full English even more that the meat version.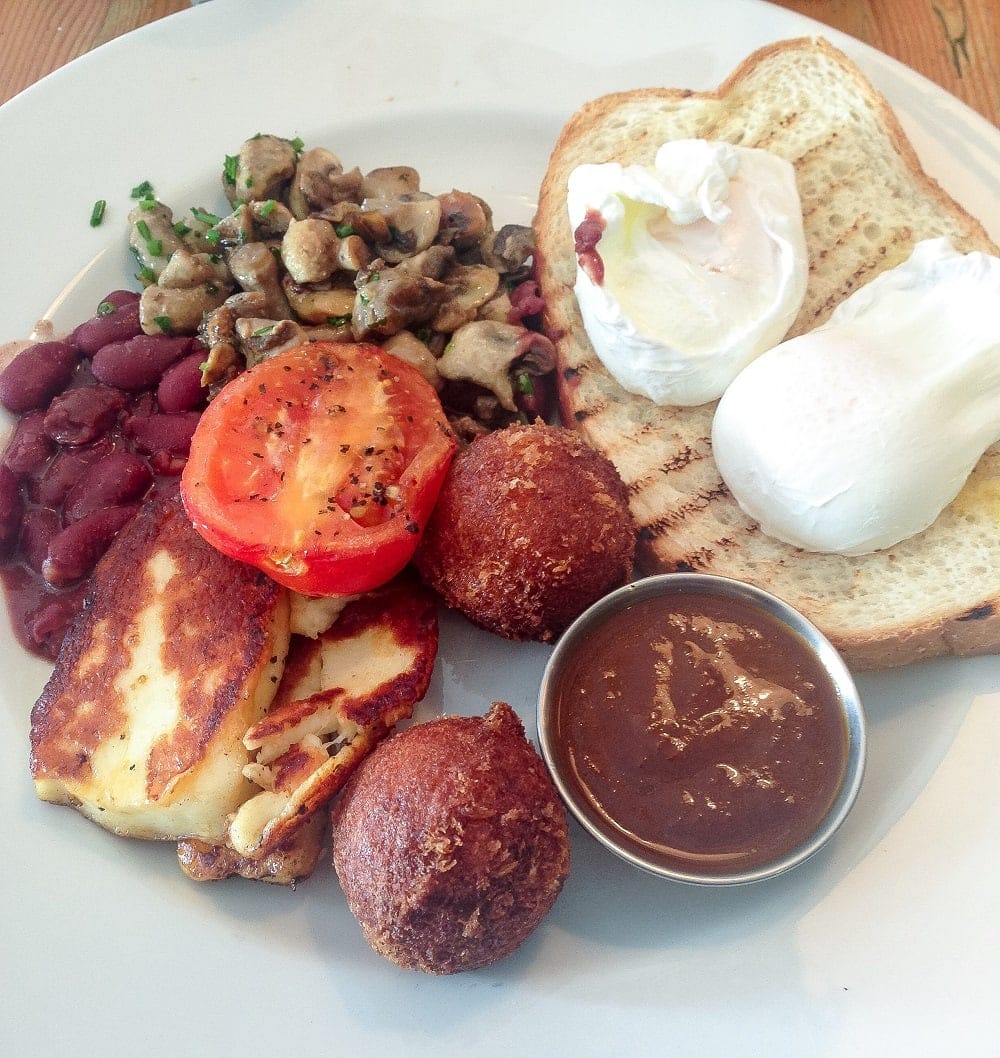 'Fried Halloumi, sweetcorn croquette, roasted tomato, fried mushrooms, two eggs cooked to order, house made baked beans and ketchup, toast'. More of the eggs, beans and ketchup but this time with halloumi (oh lordy, is there anything better than fried halloumi?) and delicious sweetcorn croquettes. I just love a croquette of any kind.
My other favourite brunch classic is of course eggs benedict/royale/florentine (all of the above, let's be honest). All of which are so good at The Orchard I've never managed to get a photo before they've been devoured.
So now onto lunch.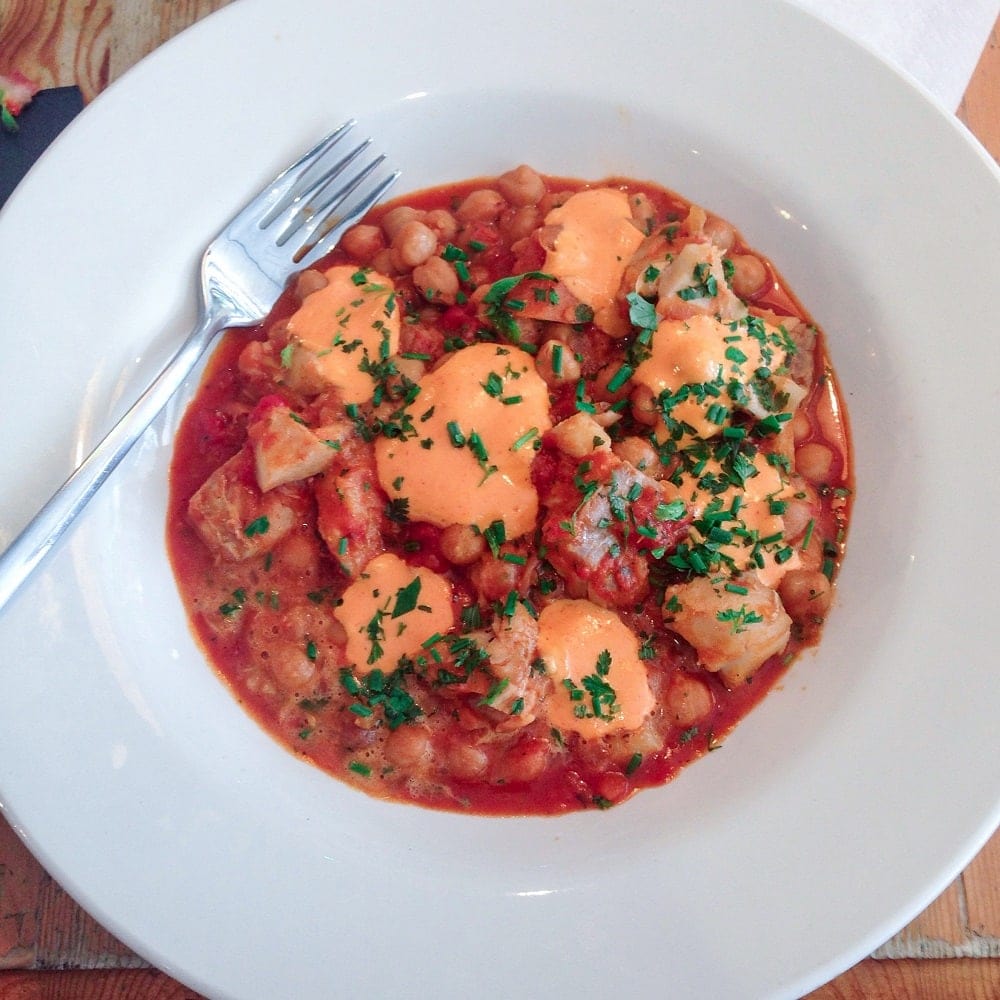 Oh man this was a good lunch. Coley, chickpeas, paprika stew topped with aioli. This was completely delicious. It had a great depth of flavour while still being light and healthy tasting.
Our lunch time trip also featured a 'Salad of Norfolk asparagus, Jersey Royals, pine nuts, basil, Puy lentil dressing'.
And '8oz beef burger with aioli, salad and fries' topped with cheese.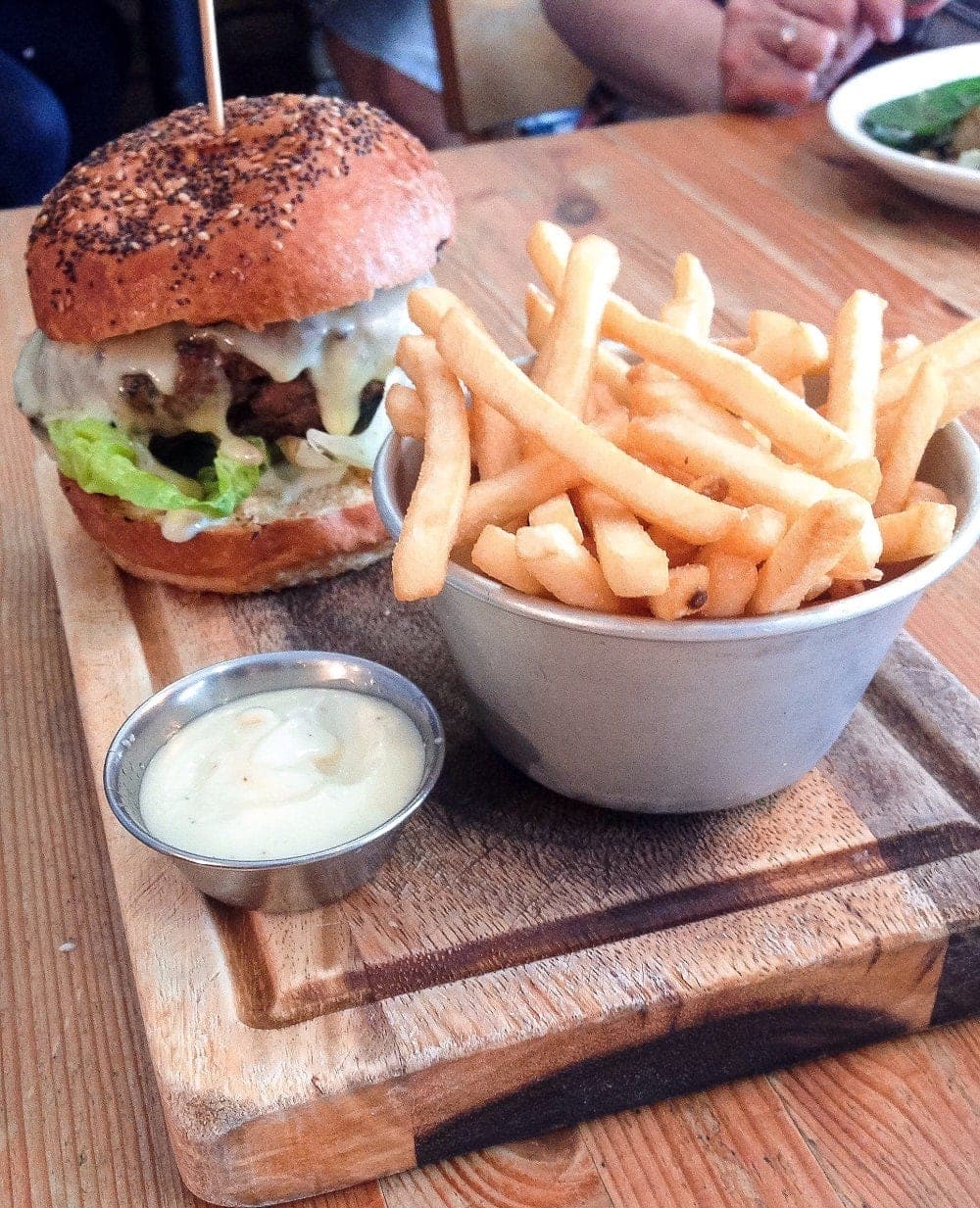 Both of which received appreciative reviews from my mum and Will. I also treated myself to a cocktail (I mean, it was my birthday after all) and they serve a range of local beers.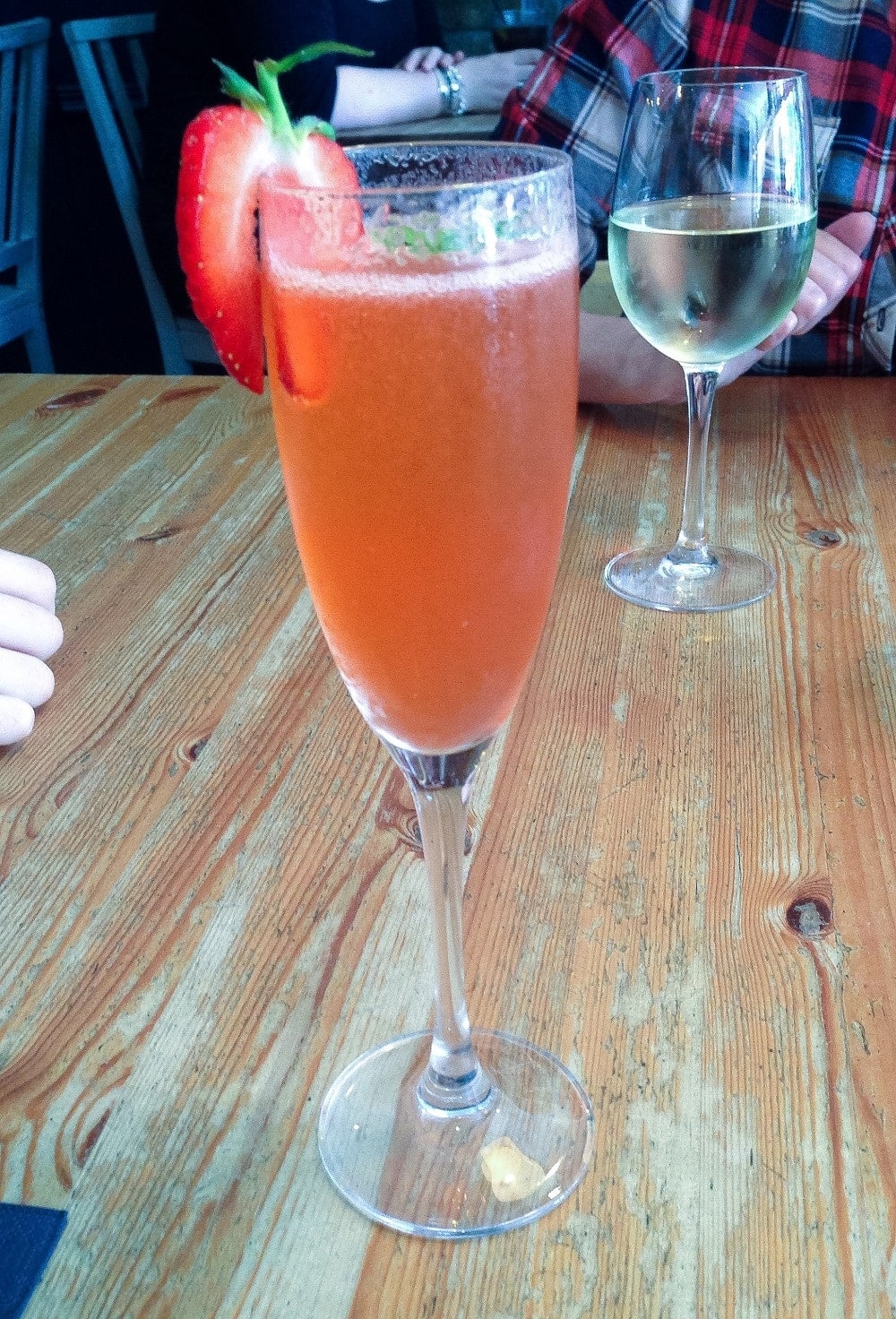 Since we moved to Brockley a year and a half ago we've been to The Orchard multiple times and we've always had great food and great service. Don't miss this fab local restaurant if you're in South East London!
Check out some more restaurant reviews below!
Mr Bao, Peckham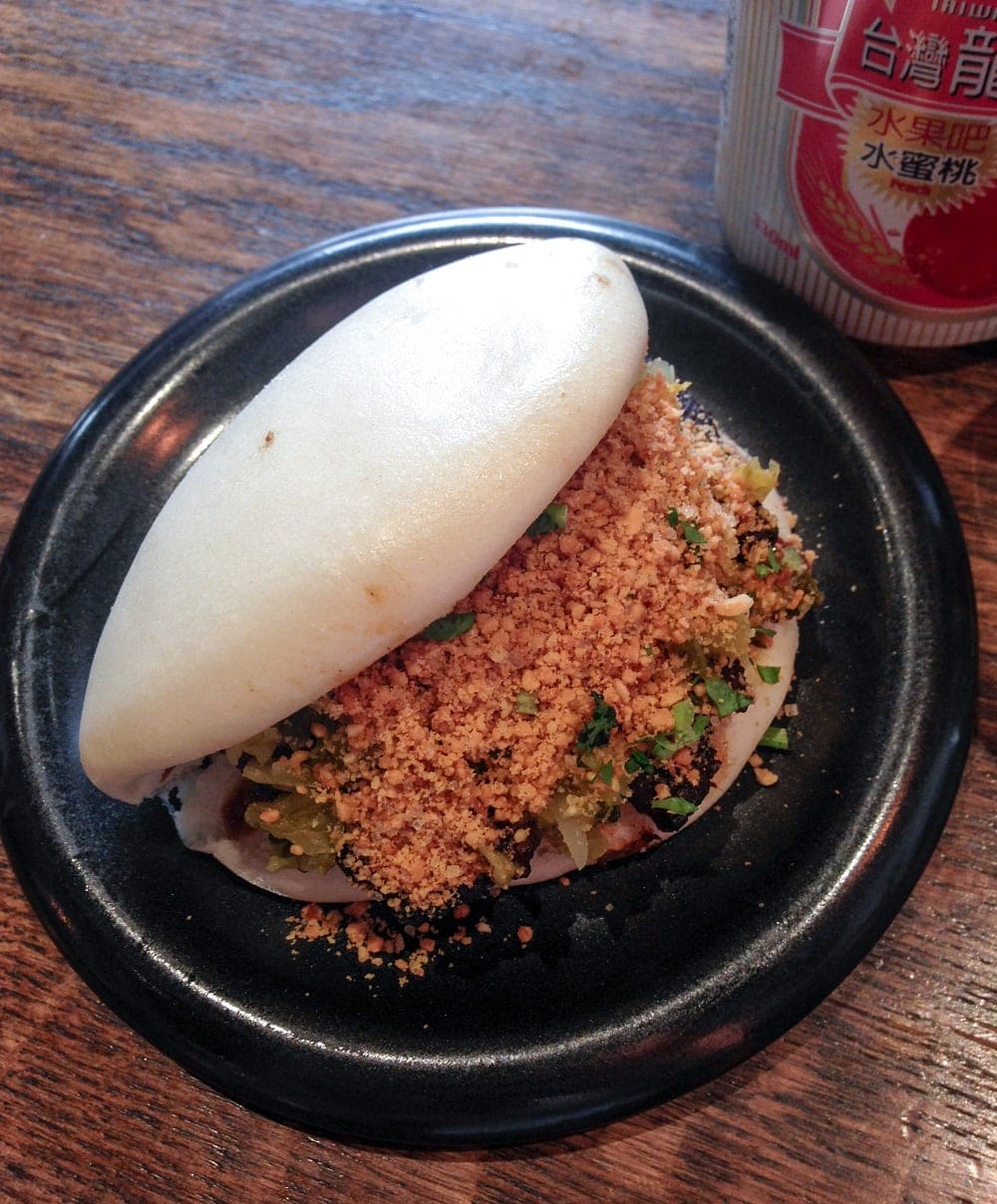 Noak Bakehouse & Brew, Brockley