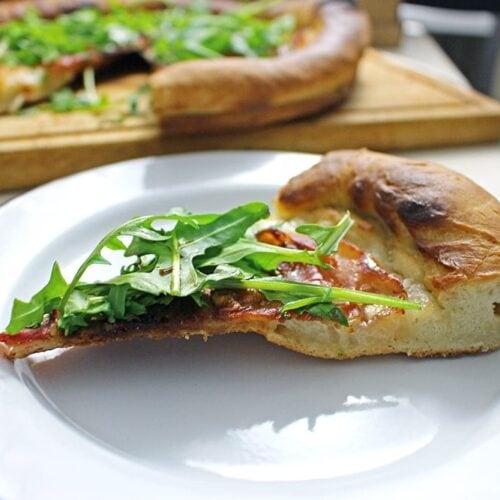 Print
Prosciutto & Rocket Skillet Pizza
This simple pizza recipe makes perfect use of your cast iron skillet and combines salty prosciutto with creamy mozzarella and garlic oil for a delicious dinner.
For the Pizza Dough
350

g

Bread Flour

1

tablespoon

Sugar

2

teaspoon

Sea Salt

¾

teaspoon

Dry Active Yeast

1 ½

tablespoon

Olive Oil

230

ml

Warm Water
Mix together the water, sugar, salt and yeast in a large bowl and wait until it starts to foam a little then stir in the flour. Knead into a soft dough and then place in an oiled bowl and leave to rise for a couple of hours somewhere warm.

Once the dough has been proving for a couple of hours remove it from the bowl and knead for a minute. Roll out to a big enough size to fit the skillet then gently lift it into the skillet making sure to leave a slightly thicker crust around the edge. Preheat the oven to 200°C.

Mix the olive oil with the garlic and use a pastry brush or the back of a spoon to spread the garlic oil across the dough. Add the slices of mozzarella and prosciutto and then place on the hob over a high heat for about 5 minutes to allow the skillet to get really hot. Place the pizza in the oven for about 18-20 minutes. Remove from the oven and top with the rocket and a sprinkle of balsamic vinegar.