These slow cooker chipotle chicken quesadillas are the perfect weeknight dinner. At the end of the day just shred your chicken and fry up some quesadillas!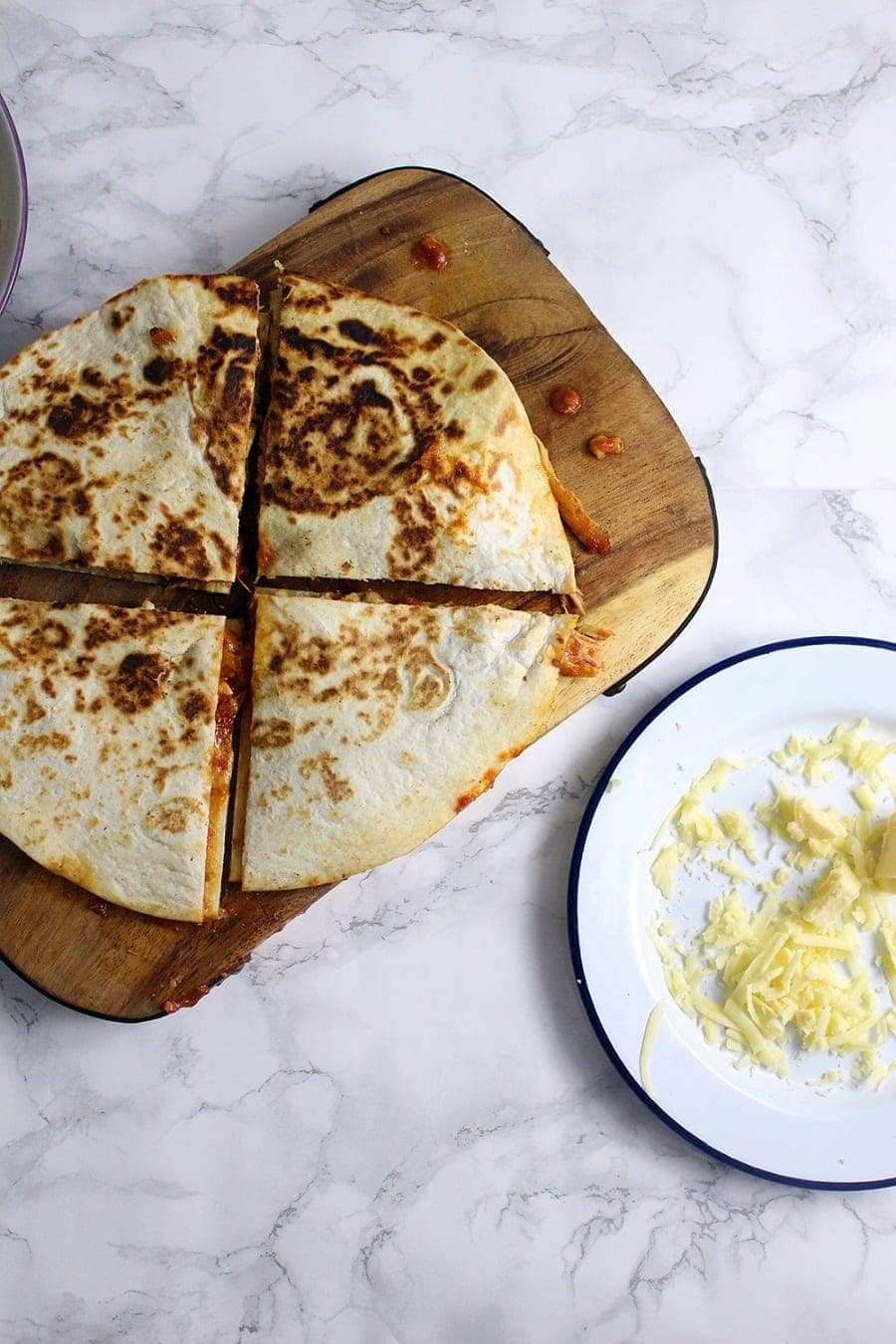 Mexican! Slow Cooker! Chicken! Quesadillas! Yay!
These are all good words which lead to an easy and delicious dinner. I've always loved quesadillas.
Even back in my uni days I'd make a half-assed student version with ham and cheese or sometimes tuna if I was feeling fancy(!)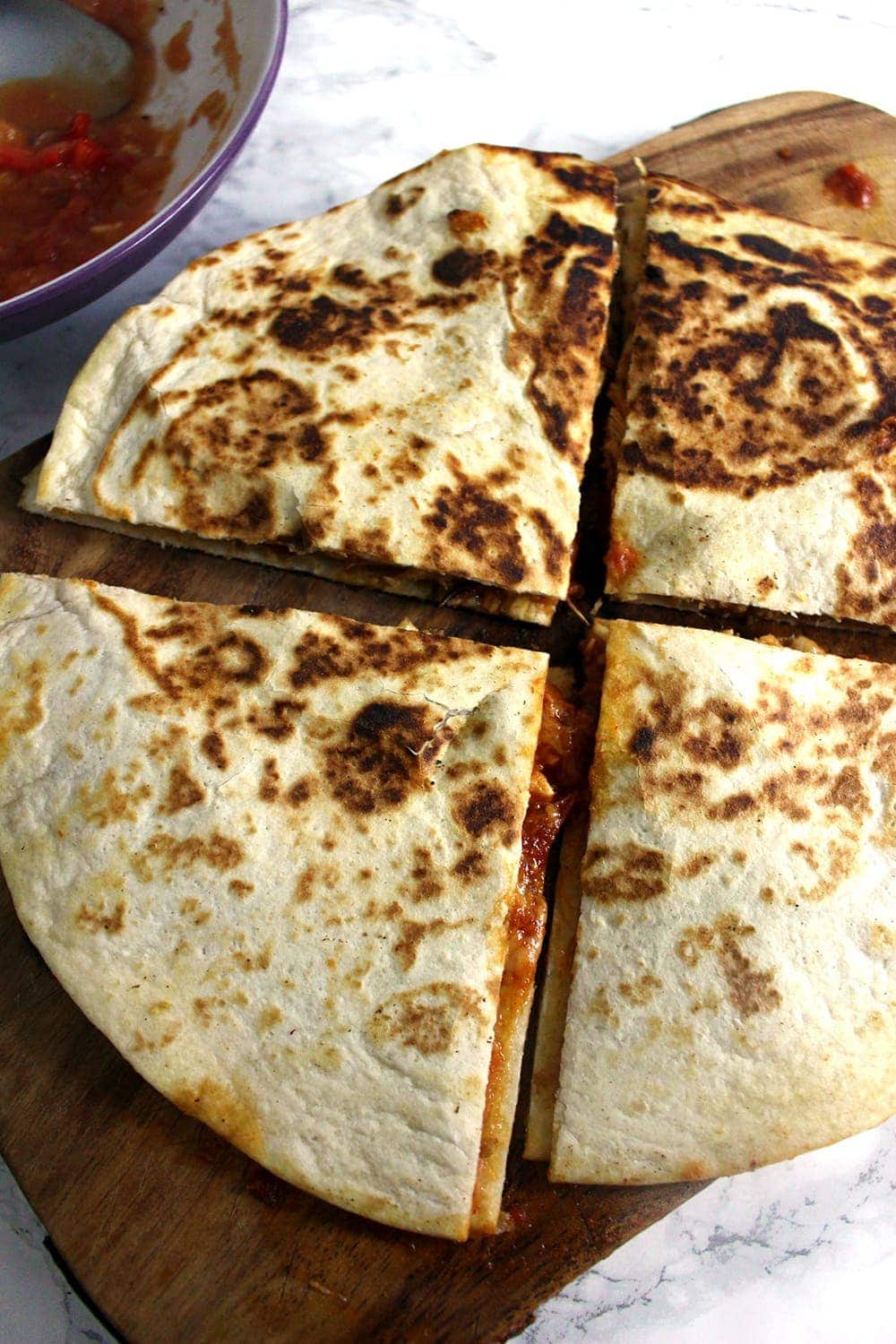 Now that I am super good at being a real life grown up we slow cook chicken and use it to make slow cooker chipotle chicken quesadillas and basically win at dinner.
We were discussing the other day how hard it is to take a picture of shop bought wraps that looks half way decent. They're just so anemic looking and they tend to look crap however many delicious bits of meat or artfully sprinkled coriander leaves you add.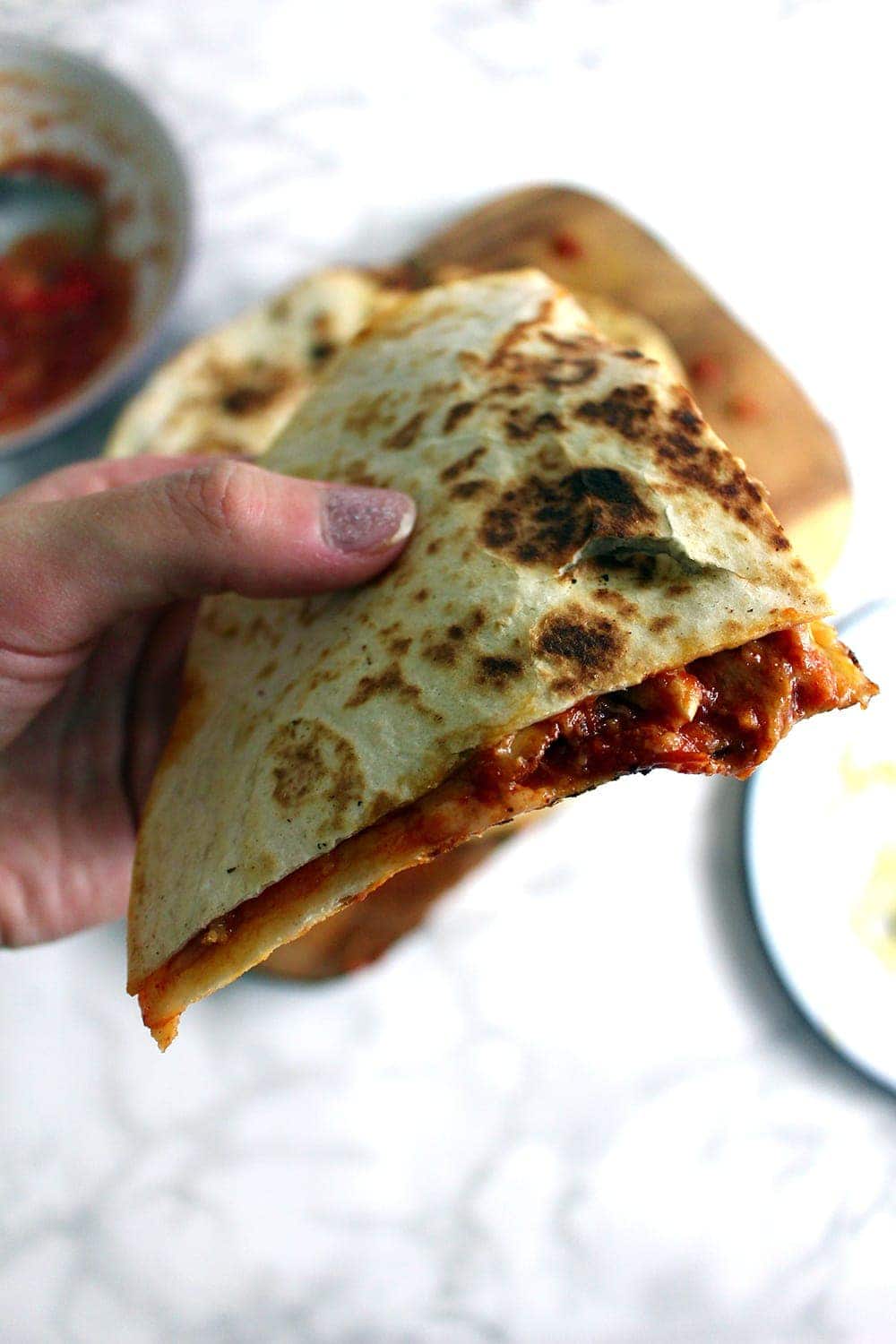 But wait a minute, I think I've discovered the secret which everyone else figured out forever ago.
You need to fry up those bad boys, get some colour on them and they suddenly go from drab and depressing to certifiably tasty looking (I hope).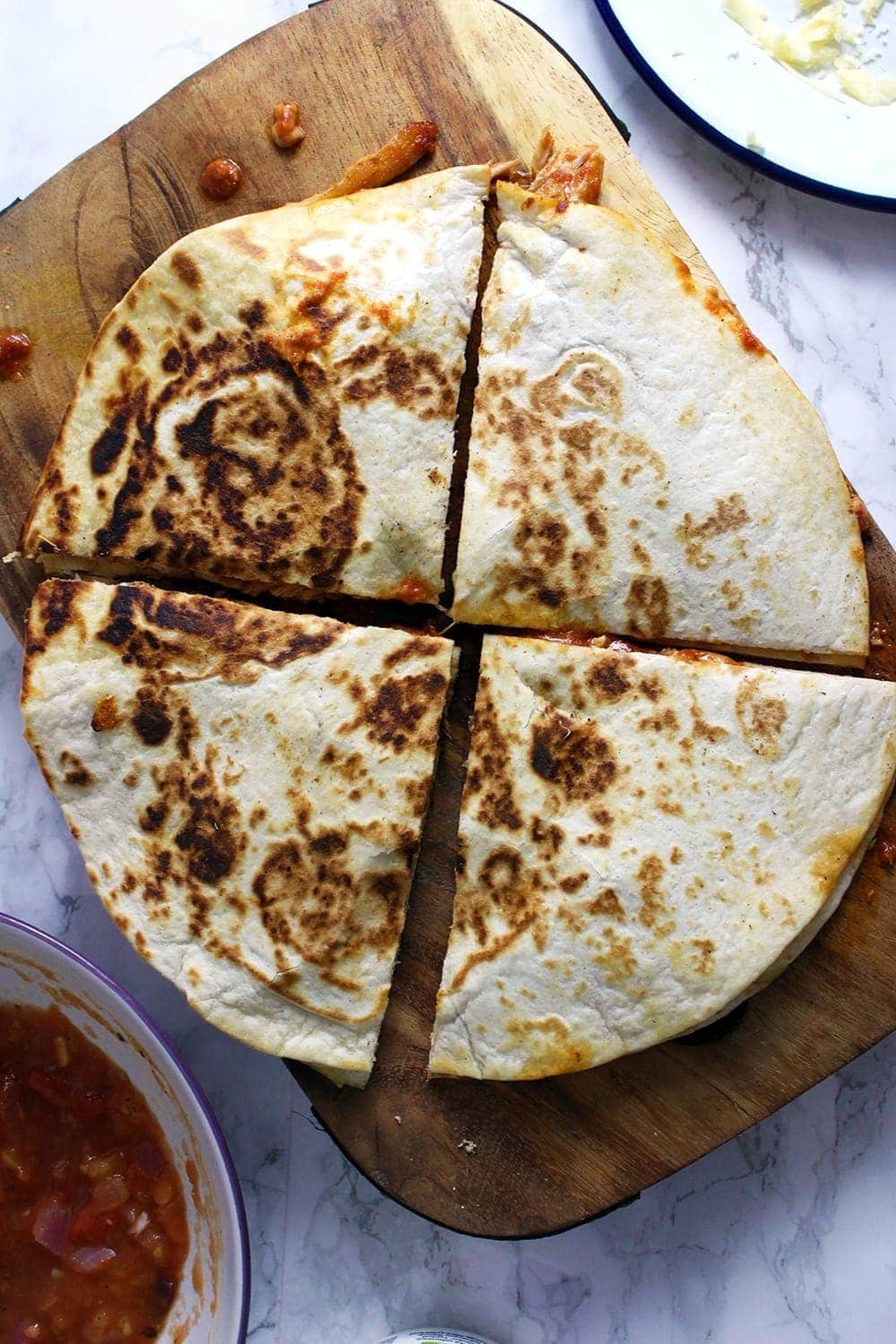 The chicken is slow cooked in a mixture of dried chipotle chillies, barbecue sauce, chopped tomatoes and spices on low for six hours.
After it's finished cooking you just remove and shred the chicken then brown it in batches in a pan before throwing it on a tortilla.
Blend up that amazing chipotle sauce you've just cooked the chicken in and drizzle it over the chicken. Top it with grated cheese and fry in a hot pan for a couple of minutes each side.
I've got really into sour cream recently so you need plenty of that on the side plus some salsa and whatever else you fancy!
WONDERING WHAT TO DO WITH THE LEFTOVER INGREDIENTS YOU'VE GOT FROM MAKING THESE SLOW COOKER CHIPOTLE CHICKEN QUESADILLAS?
If you're anything like me then you're always looking for ways to save money and avoid food waste so I want to make sure you've get plenty of ideas on how to use up any ingredients that are leftover from my recipes!
Use leftover chicken to top a pizza! How about this chicken, mushroom, pepper and black garlic pizza?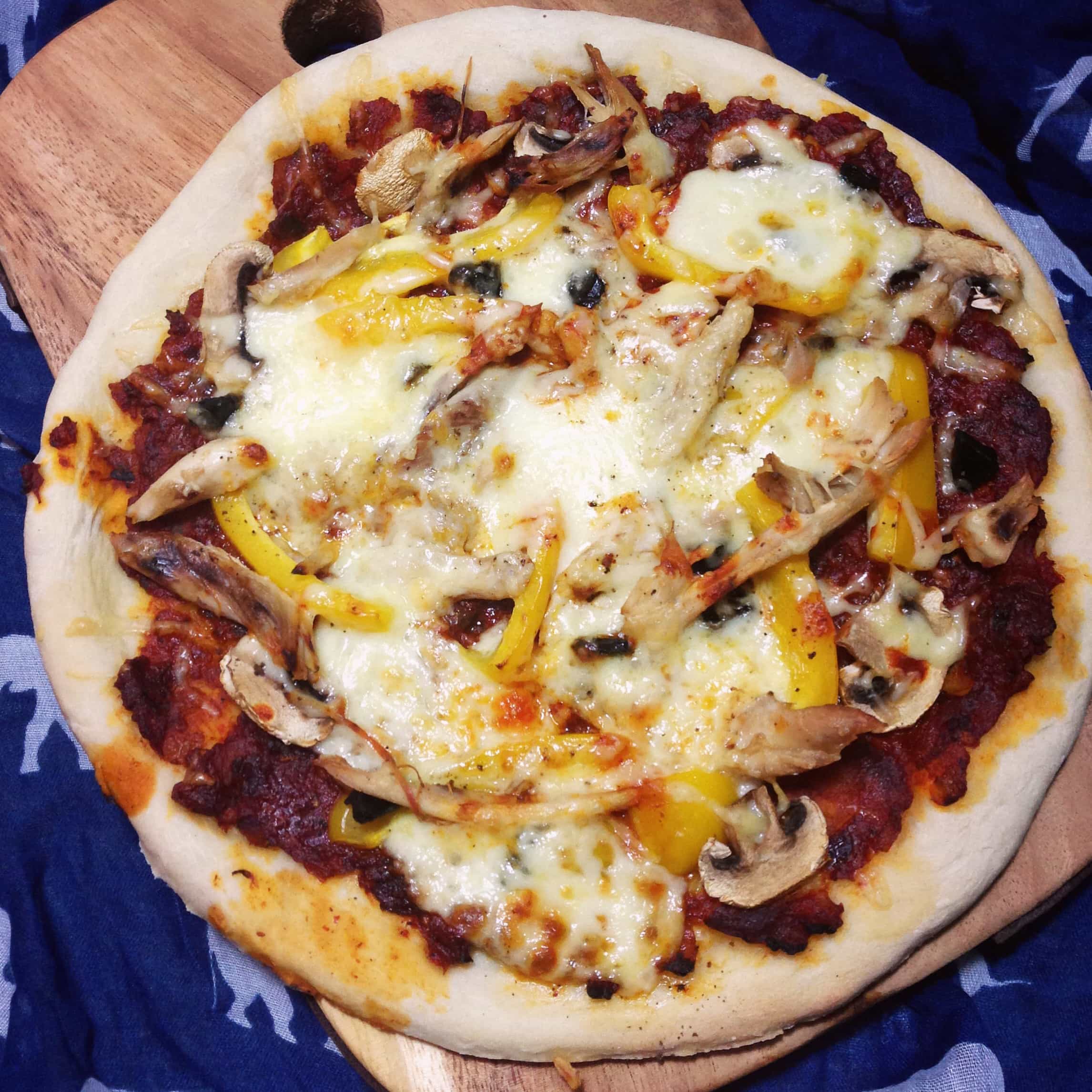 Use leftover cheddar to top this chorizo huevos rancheros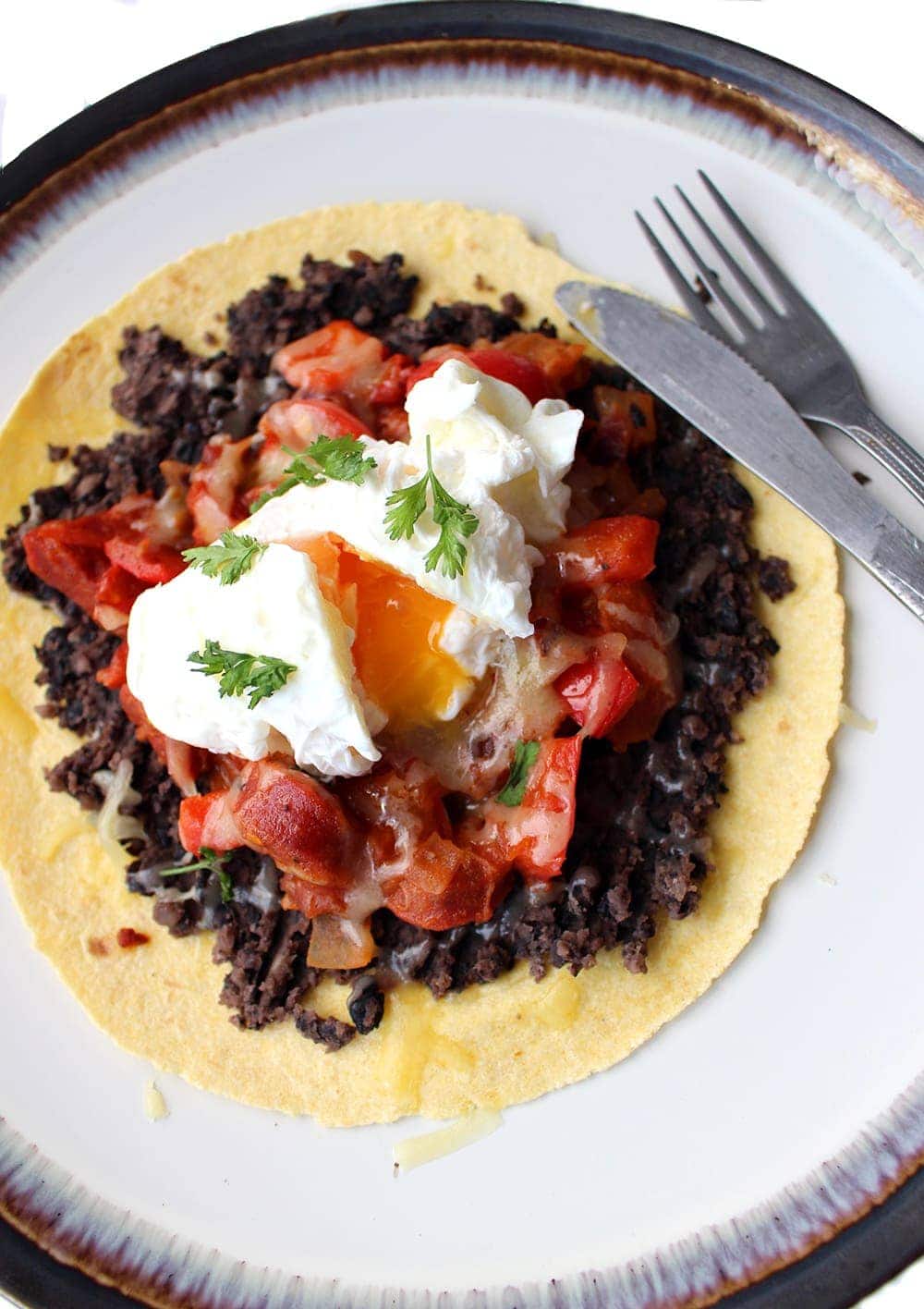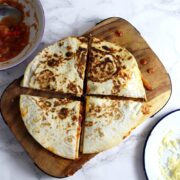 Slow Cooker Chipotle Chicken Quesadillas
These slow cooker chipotle chicken quesadillas are the perfect weeknight dinner. At the end of the day just shred your chicken and fry up some quesadillas!
Print
Pin
Rate
Ingredients
For the Chicken
1

Whole Chicken

about 1.7 kilo

3

Dried Chipotle Chillies

1

tablespoon

Chipotle BBQ Sauce

or use ordinary if you can't get chipotle

4

cloves

Garlic

roughly chopped

1

can Chopped Tomatoes

2

teaspoon

Smoked Paprika

2

teaspoon

Cumin

2

teaspoon

Sugar

1

teaspoon

Oregano

1

teaspoon

Cayenne Pepper
For the Quesadillas
8

Flour Tortillas

200

g

Cheddar Cheese grated

Sour Cream

1

Lime
Instructions
Place the chillies in a small saucepan of water and boil for 5 minutes until softened. Remove from the heat and once cool enough to handle remove the seeds and stems. Roughly chop. Place them in the slow cooker with the chicken, chopped tomatoes, bbq sauce, garlic, sugar and spices. Cook on low for 6 hours.

Once the chicken is cooked remove it from the slow cooker and shred the meat. Reserve the bones to make stock if you're so inclined. Add a squeeze of lime juice to the lovely chipotle sauce that's in the slow cooker then blend up using a stick blender or pour it into a normal blender. Set aside while you assemble your quesadillas.

Heat a little oil in a frying pan over a medium high heat and crisp up some of the chicken (we used about half the chicken for our quesadillas and had lots of yummy leftovers), this will take about 5 minutes. Remove the chicken from the pan (but leave the pan on the heat) and assemble your quesadillas by topping one tortilla with some of the chicken, a drizzle of the chipotle sauce and a quarter of the cheese followed by another tortilla.

Add a tiny bit more oil to the pan. Place the quesadilla in the pan and cook for 2-3 minutes then flip and do the same on the other side. Set aside and repeat with the rest of the ingredients. Serve with salsa, sour cream and whatever else you fancy.
Nutrition Facts
Slow Cooker Chipotle Chicken Quesadillas
Amount Per Serving
Calories 539
* Percent Daily Values are based on a 2000 calorie diet.