This veggie enchilada skillet is super healthy and full of spicy Mexican flavours! Perfect for a weeknight vegetarian dinner and great for leftovers too.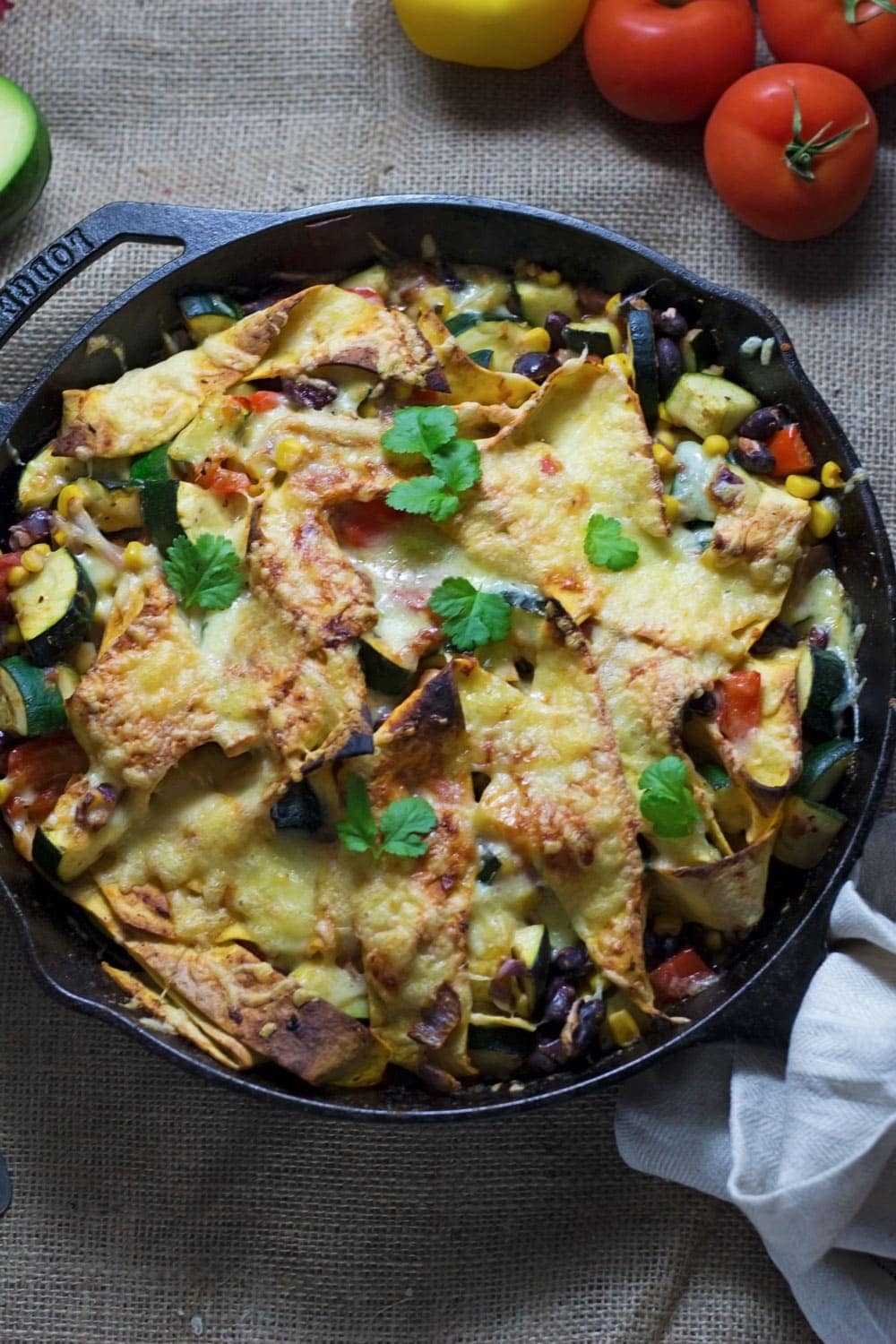 Up until fairly recently I've always been all about the Mexican food. It would always be my first choice for favourite cuisine and enchiladas were my number one meal. My sister worked in what was probably the closest you could get to a Mexican restaurant in Birmingham when I was growing up. I remember going there for my birthday when I was a teenage and going mad on fajitas. The food was fine but I always longed for the chance for something a bit more authentic closer to home.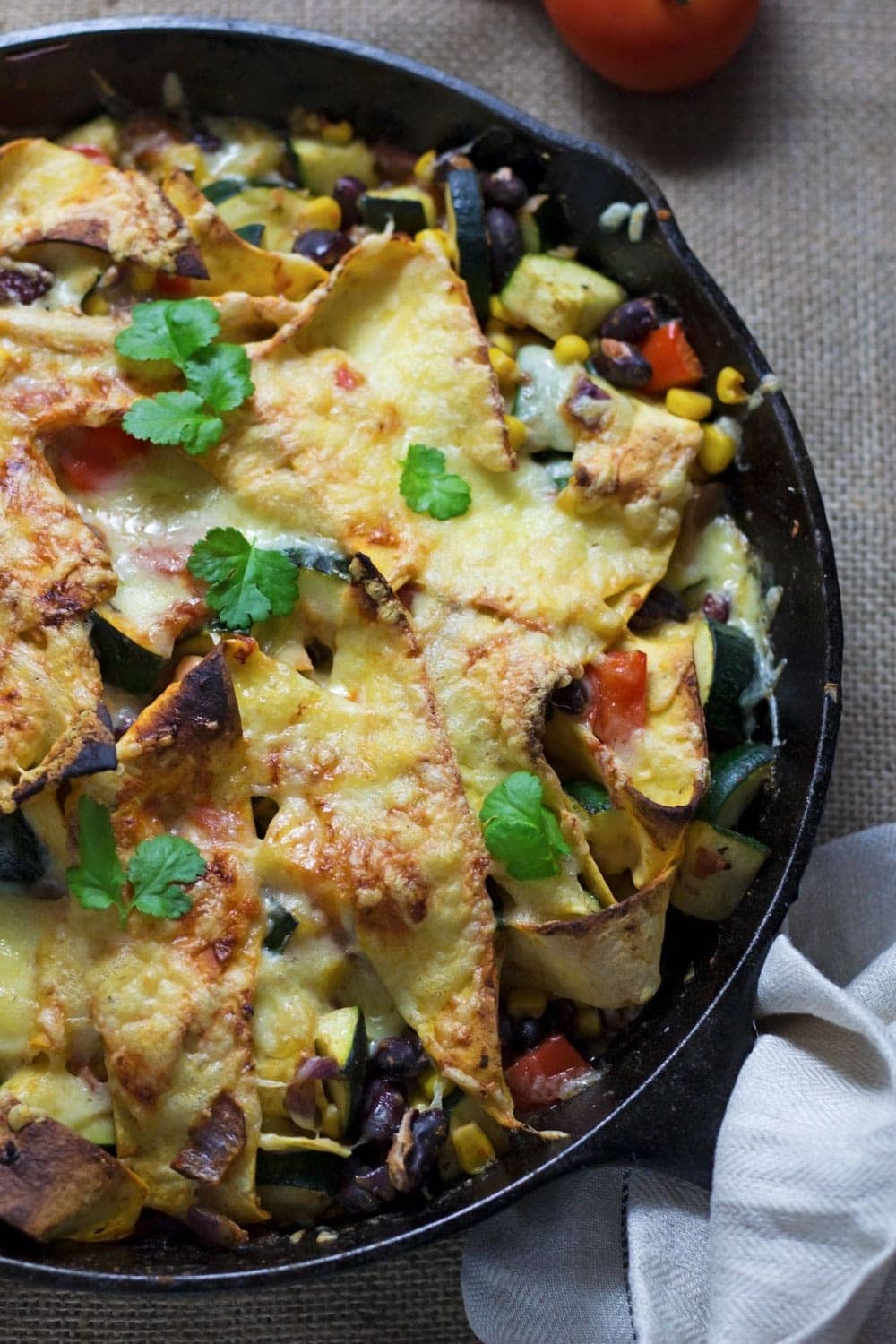 When I was 10 we went on a family holiday to California to visit my sister who was studying there. We went to a Mexican restaurant in San Diego and it pretty much changed my life. That was the moment I realised how insane Mexican food could be. So I guess in a way it also ruined my life because I wasn't ever going to find something like that over here. I honestly haven't ever had anything that comes close in the UK. Anyway, I try my hardest to recreate my beloved Mexican food in my own kitchen.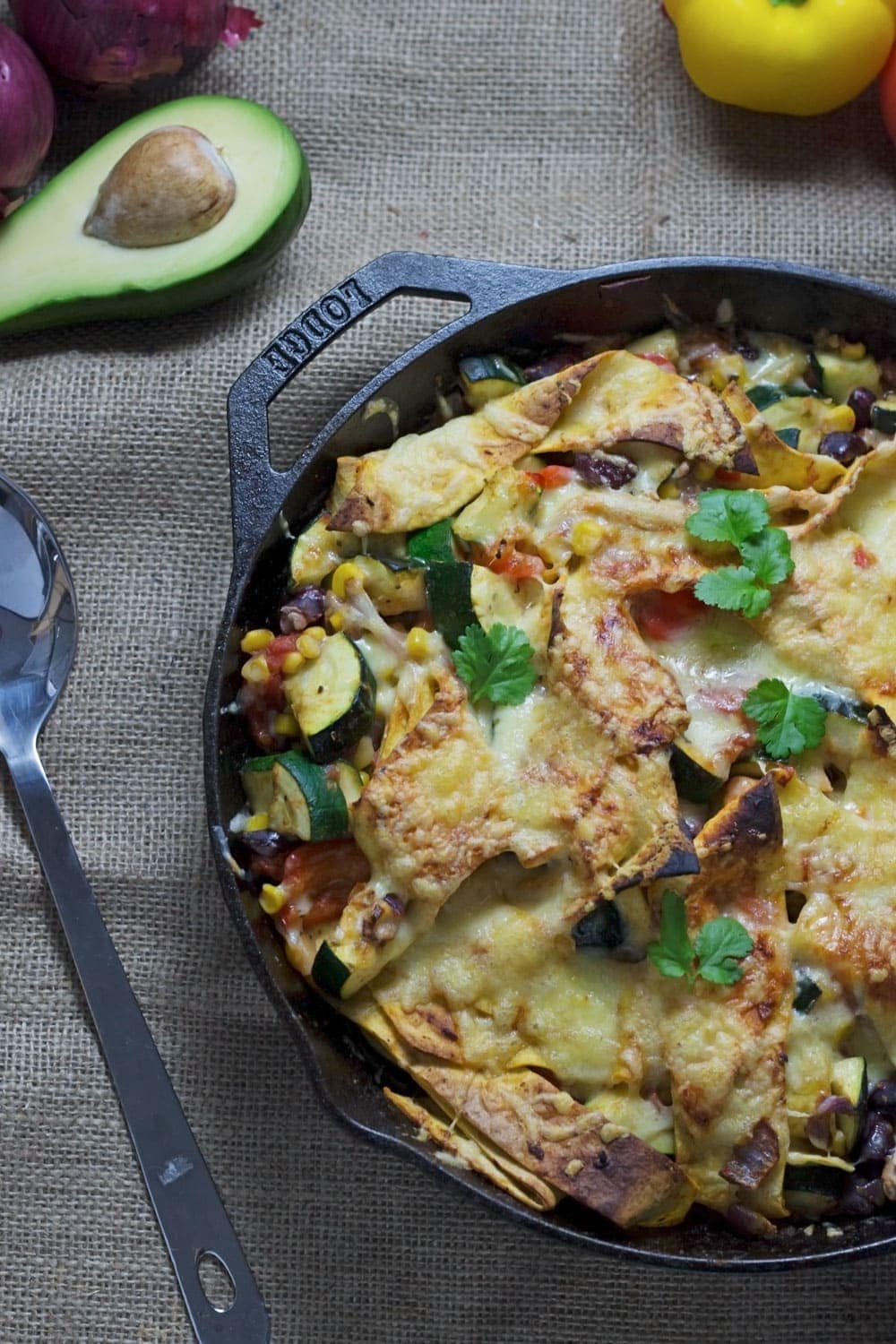 When I was a teenager I used to love making chicken enchiladas. These enchiladas were pretty insane. Slathered in sour cream, coated in a whole brick of melted cheese. They were delicious but probably not the healthiest of Mexican food you could find. This veggie enchilada skillet is the perfect antidote to those enchiladas of my youth. Packed with vegetables, strips of corn tortillas, black beans and a simple enchilada sauce. And there's still cheese, don't panic. I saw the original recipe on the beautiful A Couple Cooks blog and couldn't wait to try my own version. Most things are pretty similar I've just changed up the quantities and added a few extra spices to suit our tastes.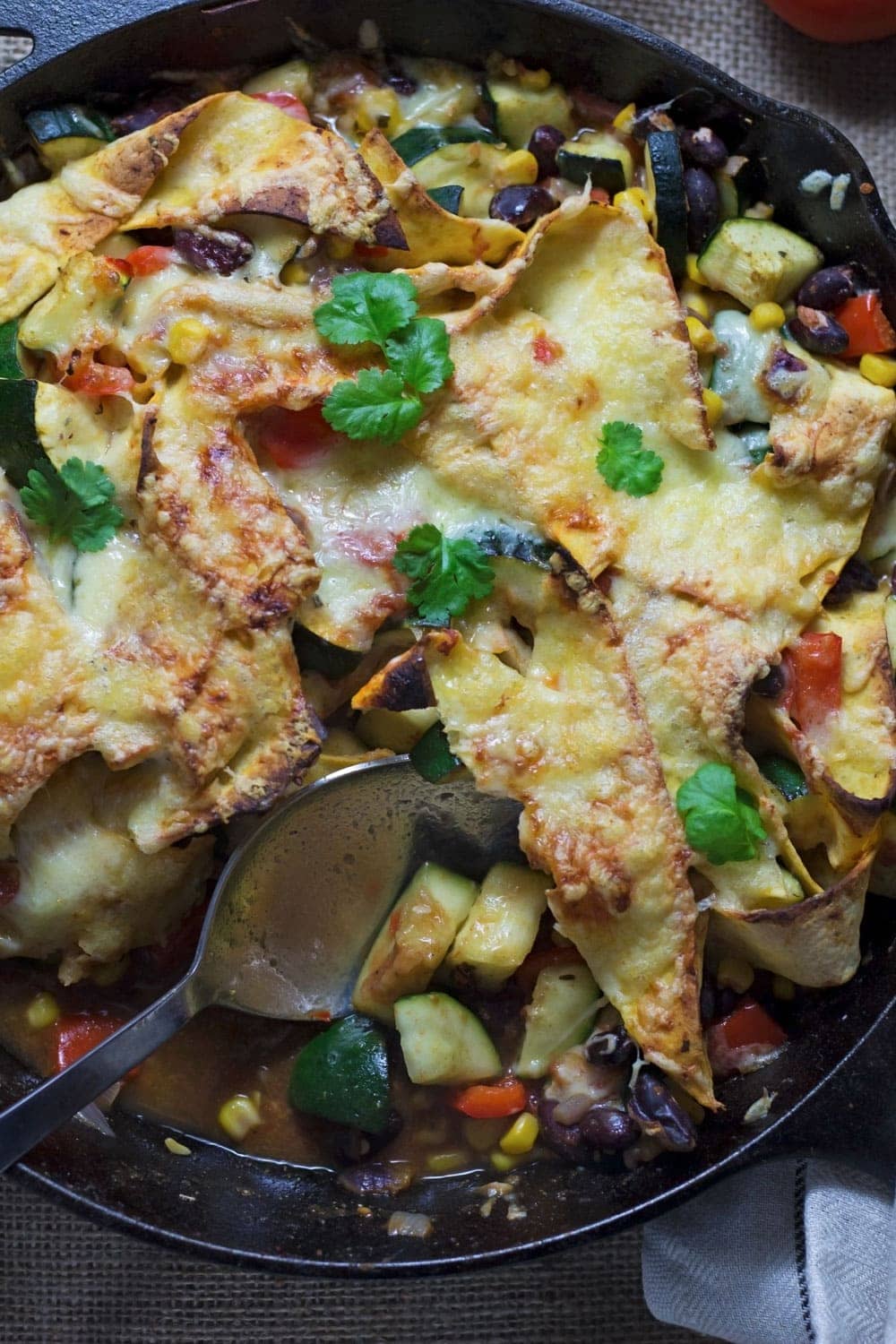 Veggie Enchilada Skillet
This veggie enchilada skillet is super healthy and full of spicy Mexican flavours! Perfect for a vegetarian weeknight dinner and great for leftovers too.
Ingredients
3

tbsp

Olive Oil

4

cloves

Garlic crushed

1

Red Onion chopped

2

Courgette chopped

1

Red Pepper chopped

Salt and Pepper

1

tsp

Cumin

1

tsp

Dried Oregano

1

tsp

Ground Coriander

1/2

tsp

Cayenne Pepper

1 320

g

tin Sweetcorn drained

1 400

g

tin Black Beans drained

6

Corn Tortillas cut into strips

400

ml

Passata mixed with 1 tsp each of ground cumin

ground coriander and smoked paprika

200

g

Cheddar Cheese grated

Bunch Coriander to serve
Instructions
Heat the grill to medium high. Heat the olive oil over a medium heat and add the onion. Cook for two minutes then add the garlic and cook for another 30 seconds.

Add the courgette, red pepper, cumin, oregano, coriander, cayenne pepper and a good sprinkling of salt and pepper to the skillet. Cook for 5 minutes.

Stir in the tortilla strips, sweetcorn, black beans and passata then top with the cheese. Place under the grill until the cheese has browned to your liking. About 5 minutes. Sprinkle with the fresh coriander before serving.
Nutrition Facts
Veggie Enchilada Skillet
Amount Per Serving
Calories 421
* Percent Daily Values are based on a 2000 calorie diet.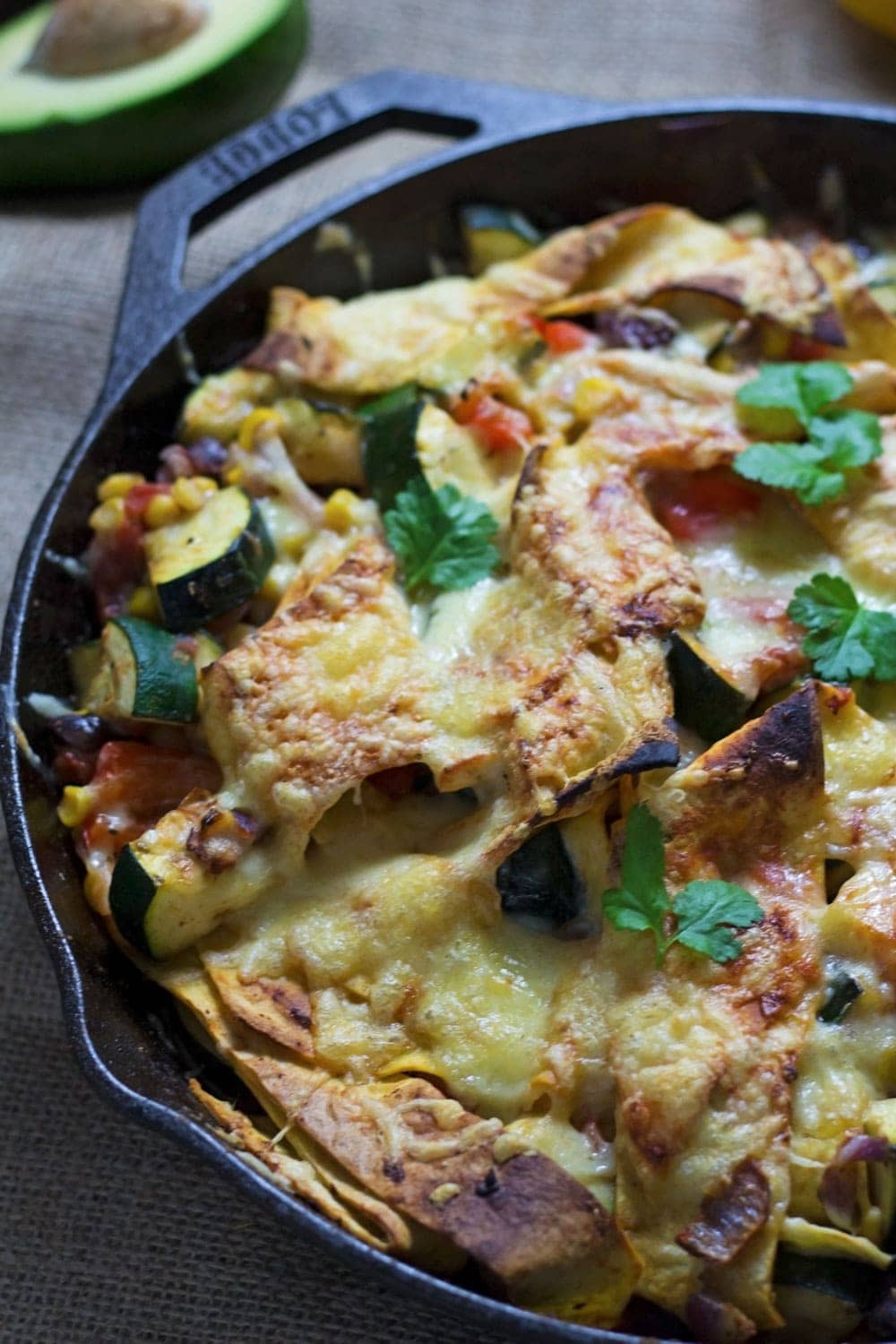 WONDERING WHAT TO DO WITH THE LEFTOVER INGREDIENTS YOU'VE GOT FROM MAKING THIS VEGGIE ENCHILADA SKILLET?
If you're anything like me then you're always looking for ways to save money and avoid food waste so I want to make sure you've get plenty of ideas on how to use up any ingredients that are leftover from my recipes!
Courgette & Prosciutto One Pot Pasta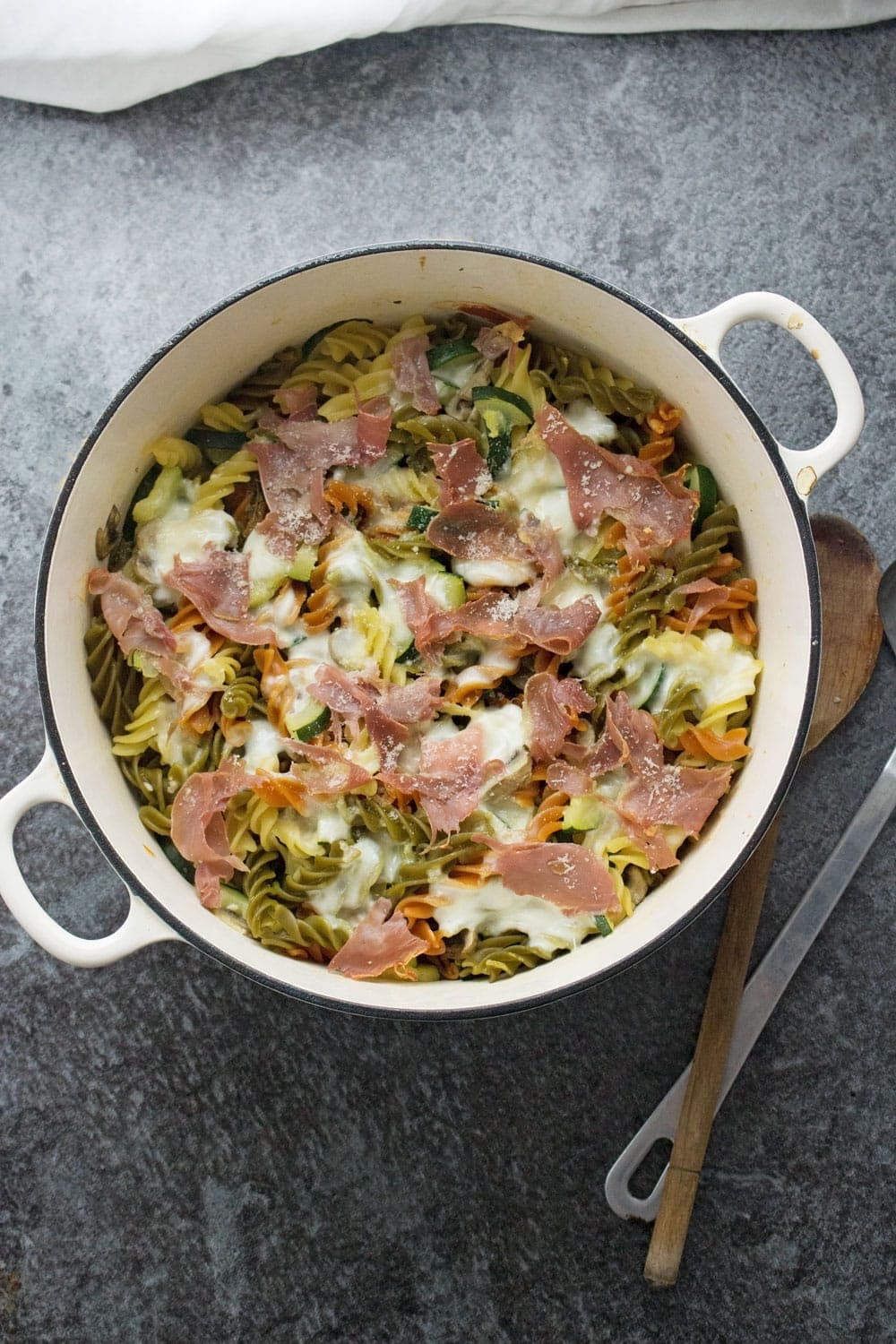 Spicy Chicken Burrito Bowls with Cheesy Polenta