This asparagus & pancetta baked pasta is a perfect family dinner which also makes great leftovers eaten cold the next day.
I really wish I could be eating exclusively light summery food but alas the weather at the moment is complete rubbish. Seriously, we've had about four days of proper warmth and sunshine so far this year (it's even raining outside as I write this) and I need carbs and comfort food to keep me warm.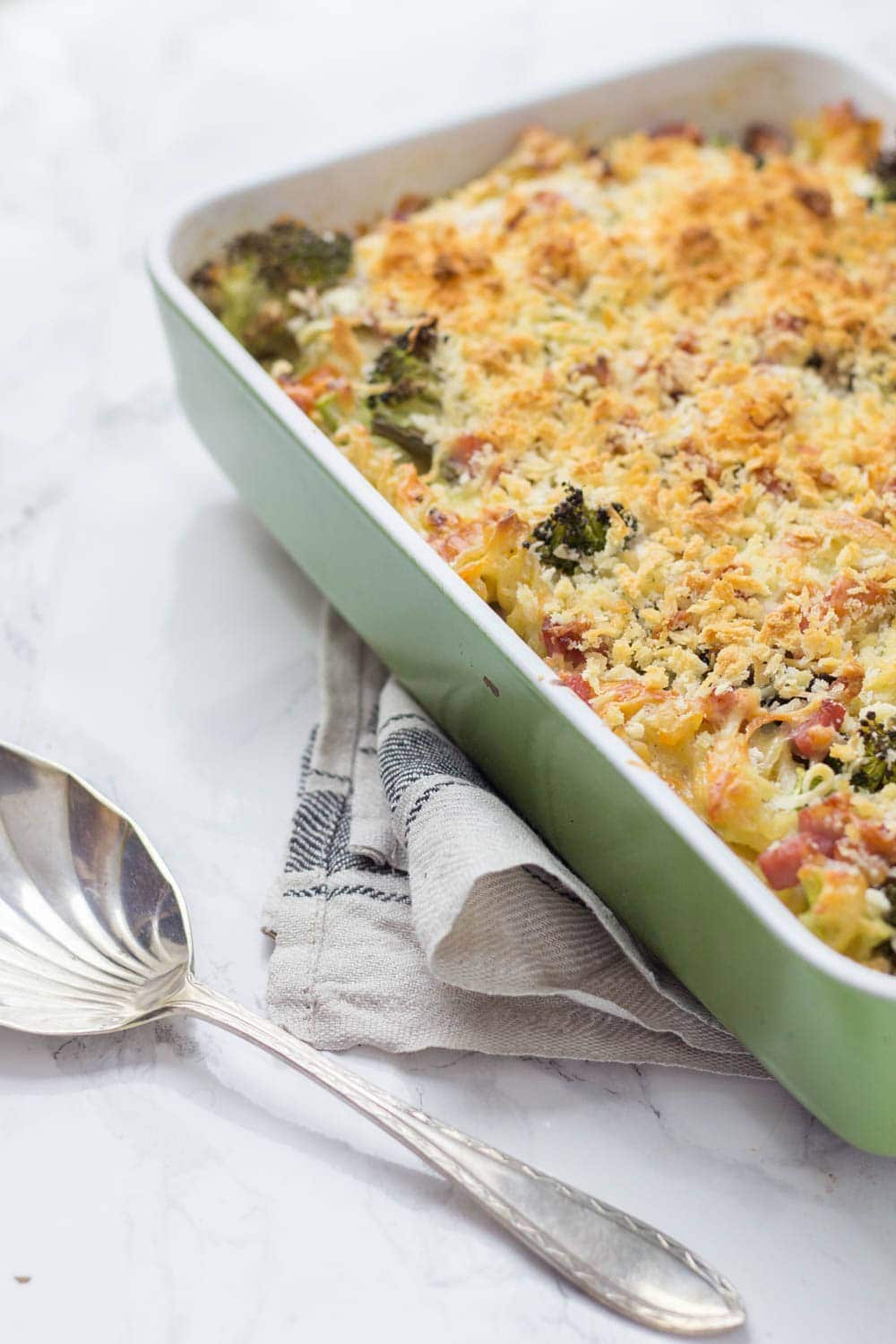 Even so, ingredients like asparagus only turn up good this time of year so they must be used even if it is mixed in to hot, cheesy, gooey baked pasta.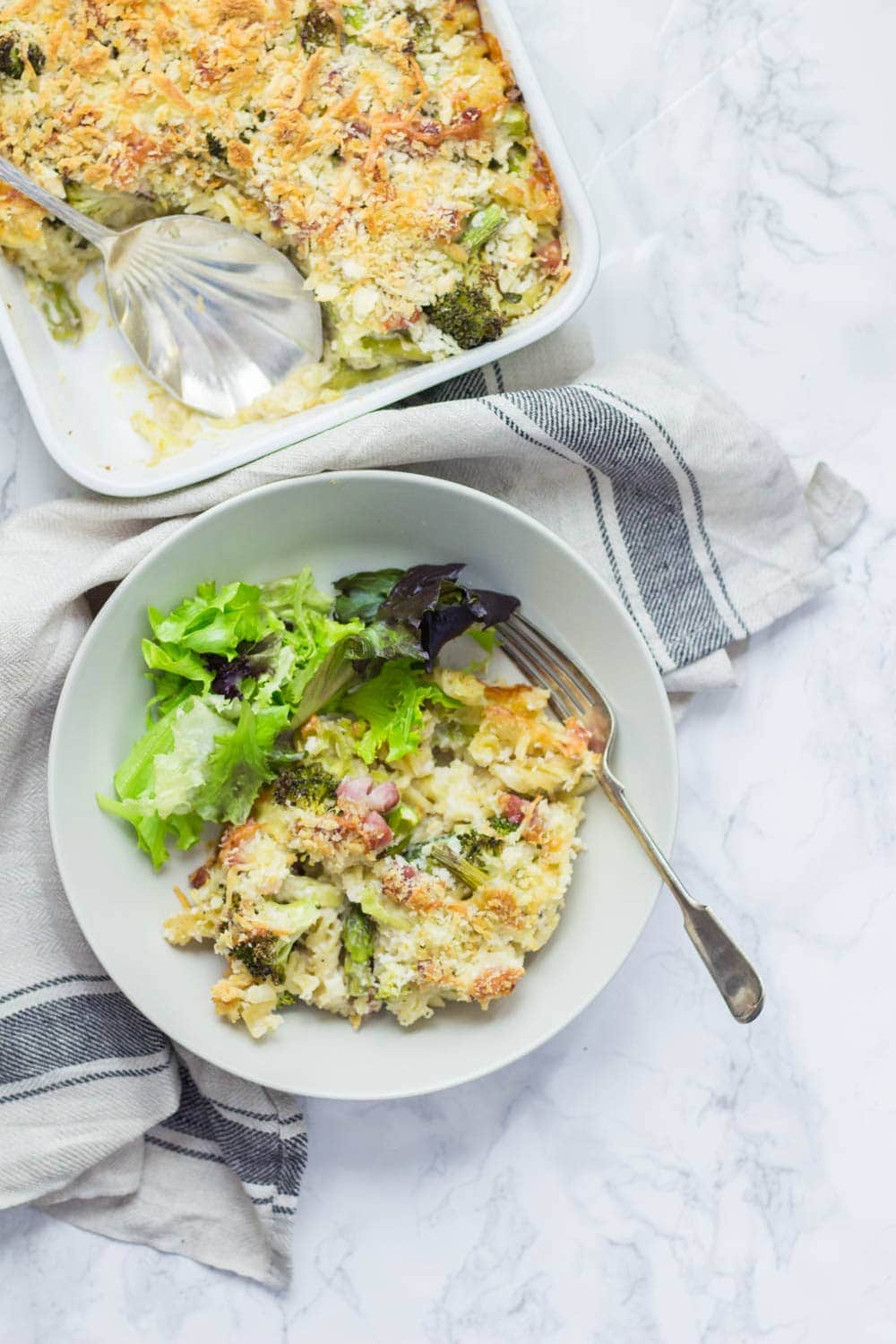 This asparagus & pancetta baked pasta recipe was inspired by a recipe from one of my new cookbooks (I've had many, many new cookbooks recently, a round up is imminent); As The Romans Do  by Eleonora Galasso. The one from the book is pretty similar to this but Eleonora's takes a little more time (which I'm sure benefits the flavour and eating experience). However, I decided to embark on making this on a weeknight after my first day at a new job so my desire to spend multiple hours in the kitchen was pretty much zero. So I figured I'd make a few adjustments to enable this to be made in less time while still keeping in all of that amazing flavour.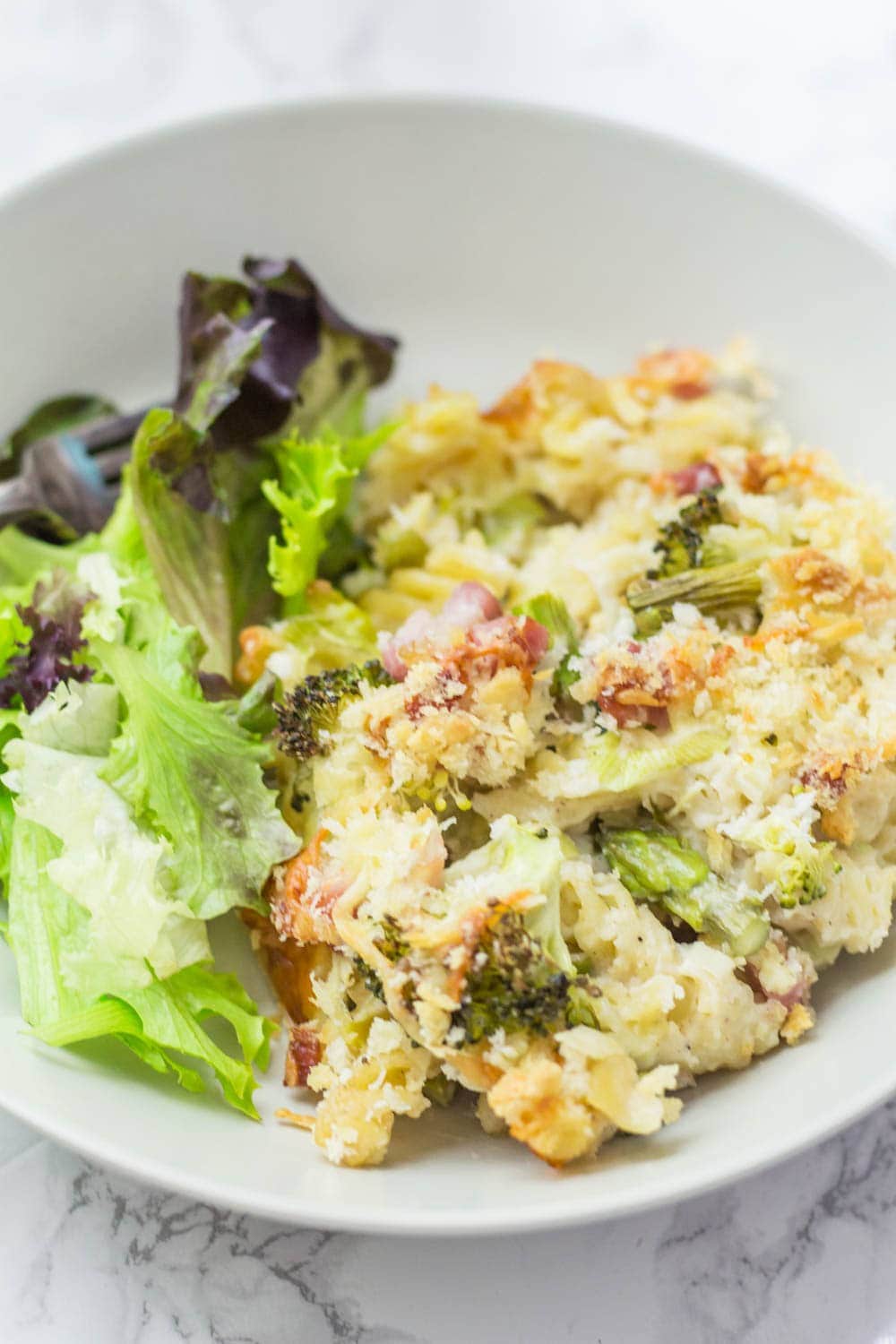 I also added in some broccoli to supplement the asparagus because we didn't have as much as the recipe asked for. Also because broccoli is one of my favourite vegetables. In the end this took me about an hour to put together and does involve a little bit of multitasking to get the sauce, pasta and the leeks ready to go at the same time. Totally worth it though because once you've got it in the oven you can sit back for 20 minutes and chill before indulging in some delicious pasta goodness.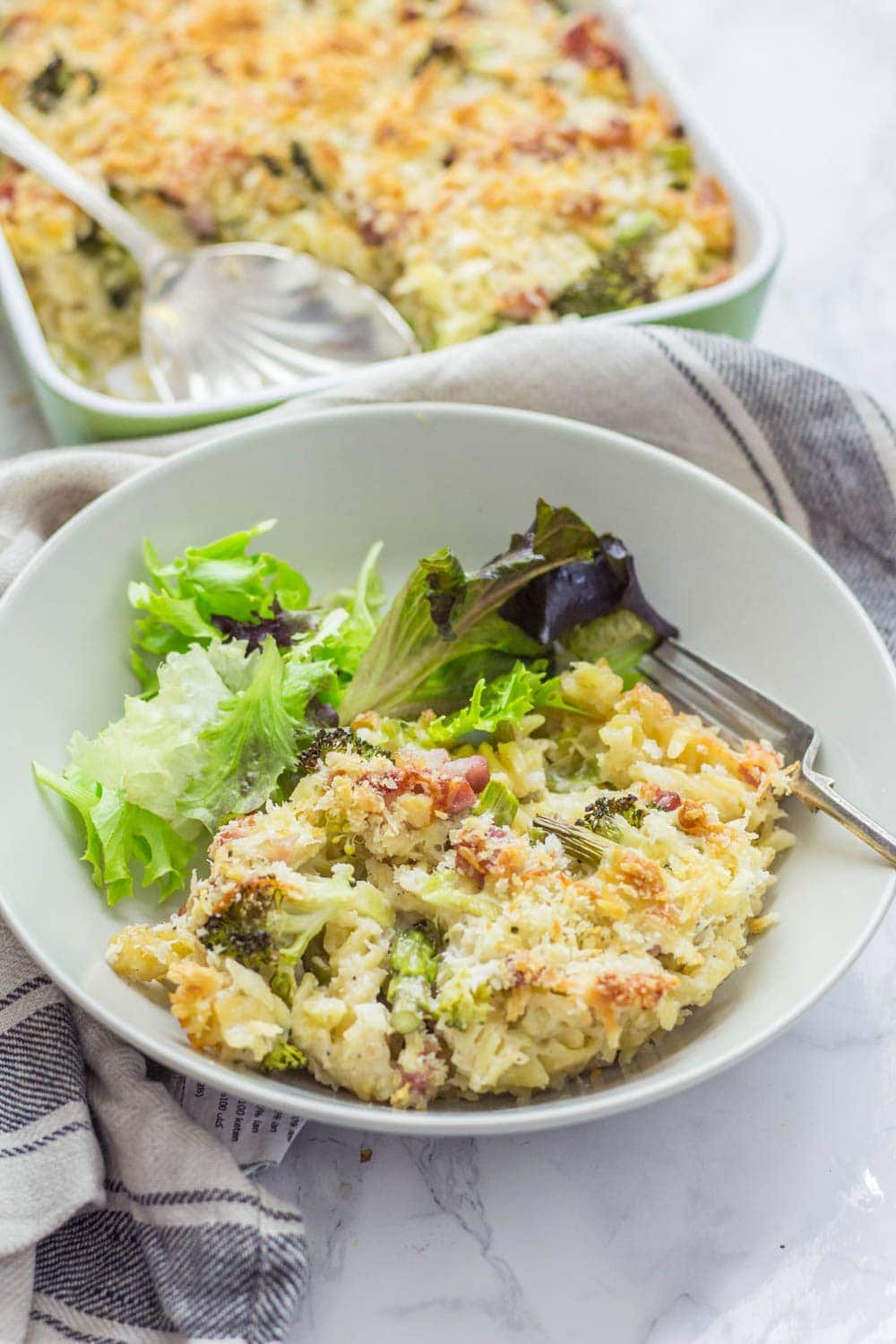 Asparagus & Pancetta Baked Pasta
This asparagus & pancetta baked pasta is a perfect family dinner which also makes great leftovers.
Ingredients
100

g

Asparagus Tips

chopped into 1cm chunks

1/2

head

Broccoli

2

tbsp

Olive Oil

2

Leeks

trimmed and sliced

100

g

Unsalted Butter

500

ml

Milk

1

tsp

Ground Nutmeg

100

g

Plain Flour

400

g

Short Pasta

150

g

Cheddar

150

g

Pancetta cubes

3

tbsp

Panko Breadcumbs

Salt and Pepper
Instructions
Preheat the oven to 180°C. Heat the olive oil over a medium heat and cook the leeks until softened. Remove from the heat and set aside.

Heat the milk in a small saucepan. In another saucepan melt the butter before adding the nutmeg and flour, stirring together to make a roux. Add a little salt before slowly beginning to pour in the warm milk, stirring constantly. Once the sauce is smooth and thick, bring to the boil briefly before removing from the heat.

Cook the pasta for about half the time it instructs on the packet. Place the drained, cooked pasta, leeks, sauce and half the broccoli and asparagus into a large bowl. Mix everything together before tipping into a large, greased baking dish. Scatter the rest of the broccoli and asparagus over the top of the pasta followed by the pancetta and the cheese.

Cook for 20 minutes in the preheated oven. Remove, sprinkle over the breadcrumbs and return to the oven for another 5 minutes until browned. Serve.
Nutrition Facts
Asparagus & Pancetta Baked Pasta
Amount Per Serving
Calories 649
* Percent Daily Values are based on a 2000 calorie diet.
WONDERING WHAT TO DO WITH THE LEFTOVER INGREDIENTS YOU'VE GOT FROM MAKING THIS ASPARAGUS & PANCETTA BAKED PASTA?
If you're anything like me then you're always looking for ways to save money and avoid food waste so I want to make sure you've get plenty of ideas on how to use up any ingredients that are leftover from my recipes!
Garlic Pasta with Broccoli, Chickpeas & Chorizo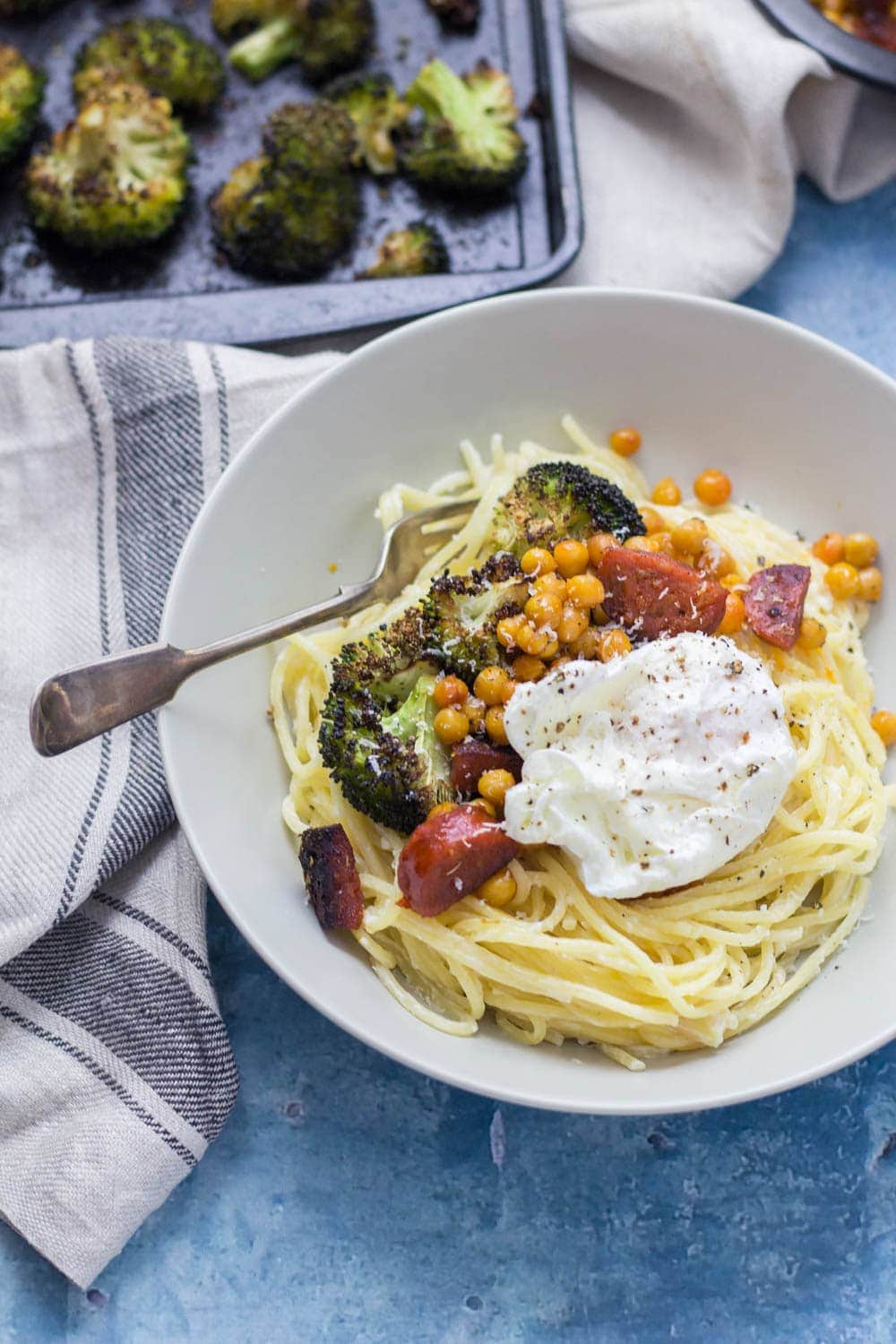 Cashew Nut Curry with Halloumi & Broccoli