This quick and easy broccoli pesto is a fun twist on a classic pasta dish. Great for adding an extra vegetable to your dinner!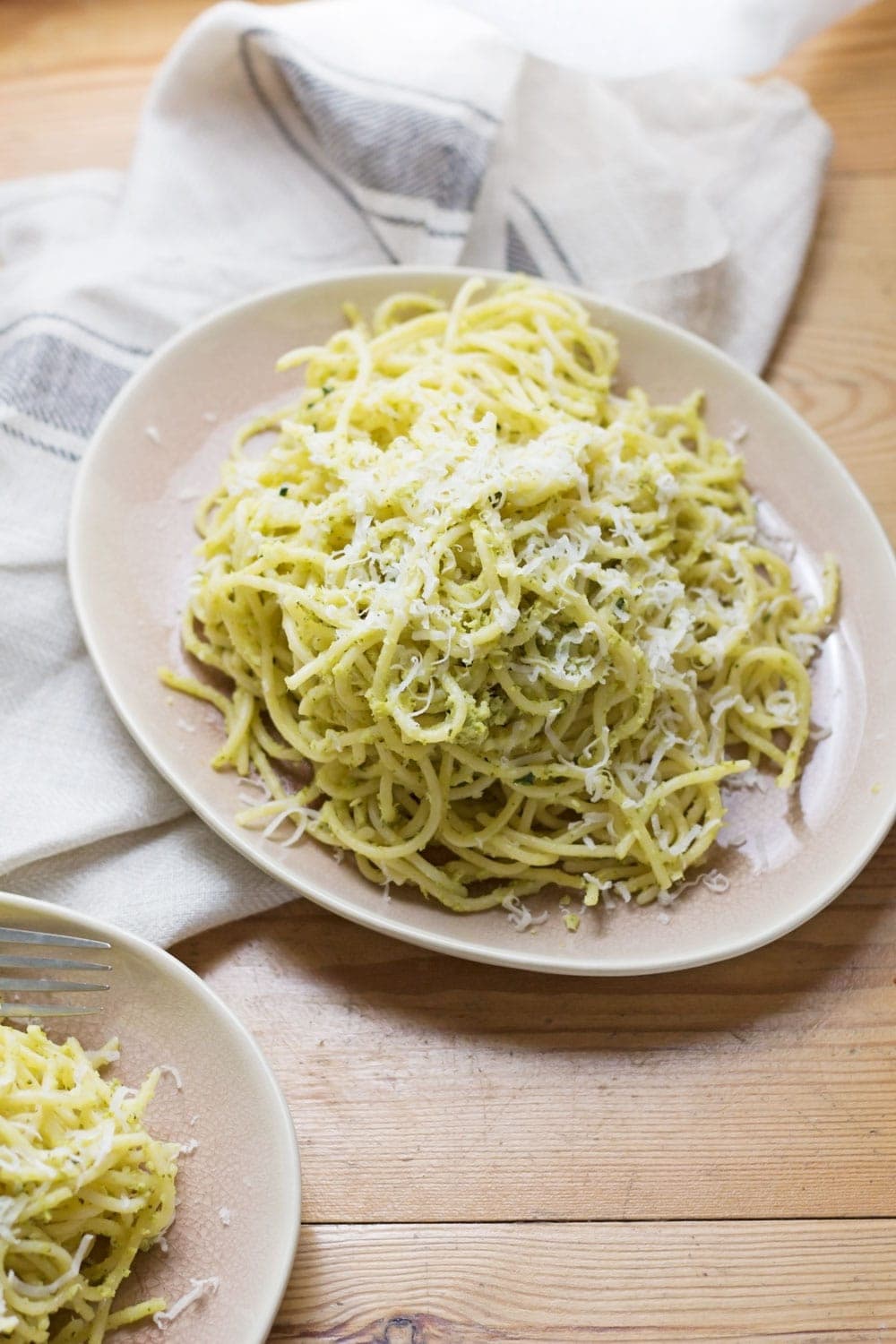 I really really love broccoli. I find it weird that broccoli seems to be the go to vegetable of reference when people talk about how awful greens are. It's the best one, right? I could take or leave peas or cabbage but give me some slightly overcooked broccoli and I'll be happy.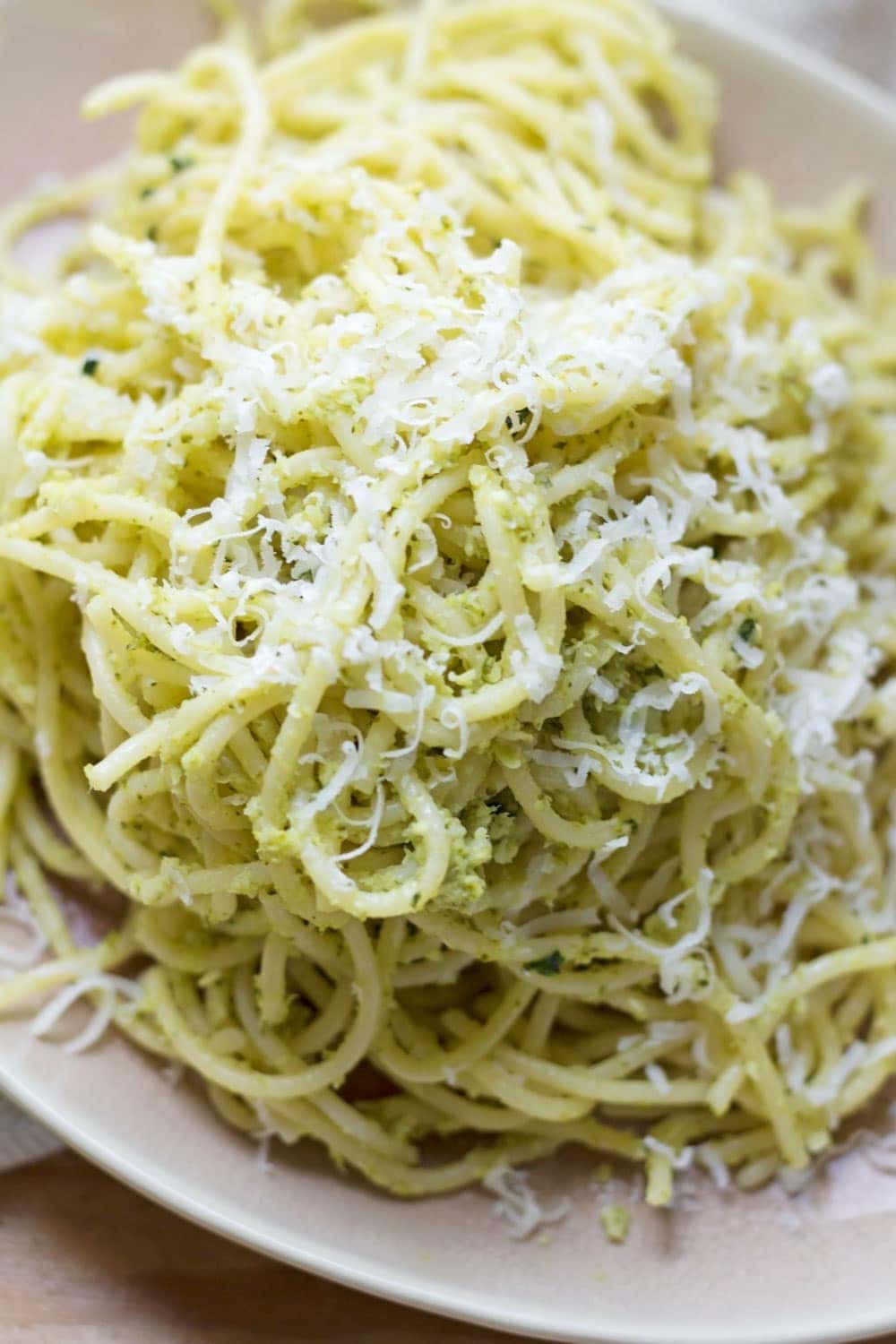 So this broccoli pesto is like my dream dinner. A handful of my favourite ingredients whizzed together in a blender and mixed through hot spaghetti. Topped with a shower of finely grated parmesan. Yes! It's so easy, so tasty and is on the table in like no time at all.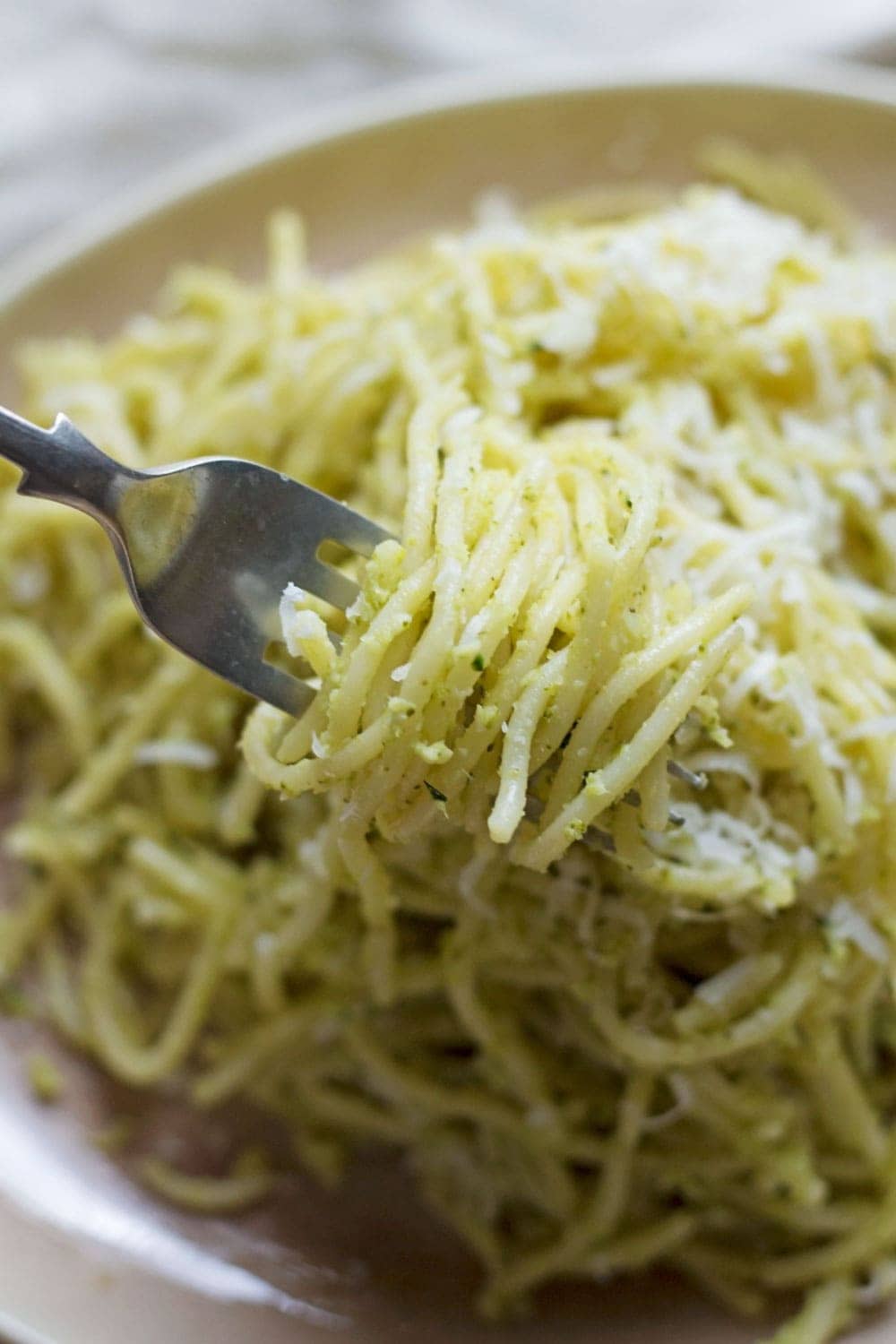 Pasta is one of those things I feel like I need to eat at least every couple of weeks. It's so comforting and so easy that it's perfect for every situation. Spaghetti is something I wasn't really into until fairly recently. Too much faff when you could be stuffing your face with forkfuls of pasta without having to do any of this twirling nonsense. But now I can appreciate the unique benefit of a longer pasta. It feels more luxurious somehow and it's probably prettier to photograph which is always a win for me!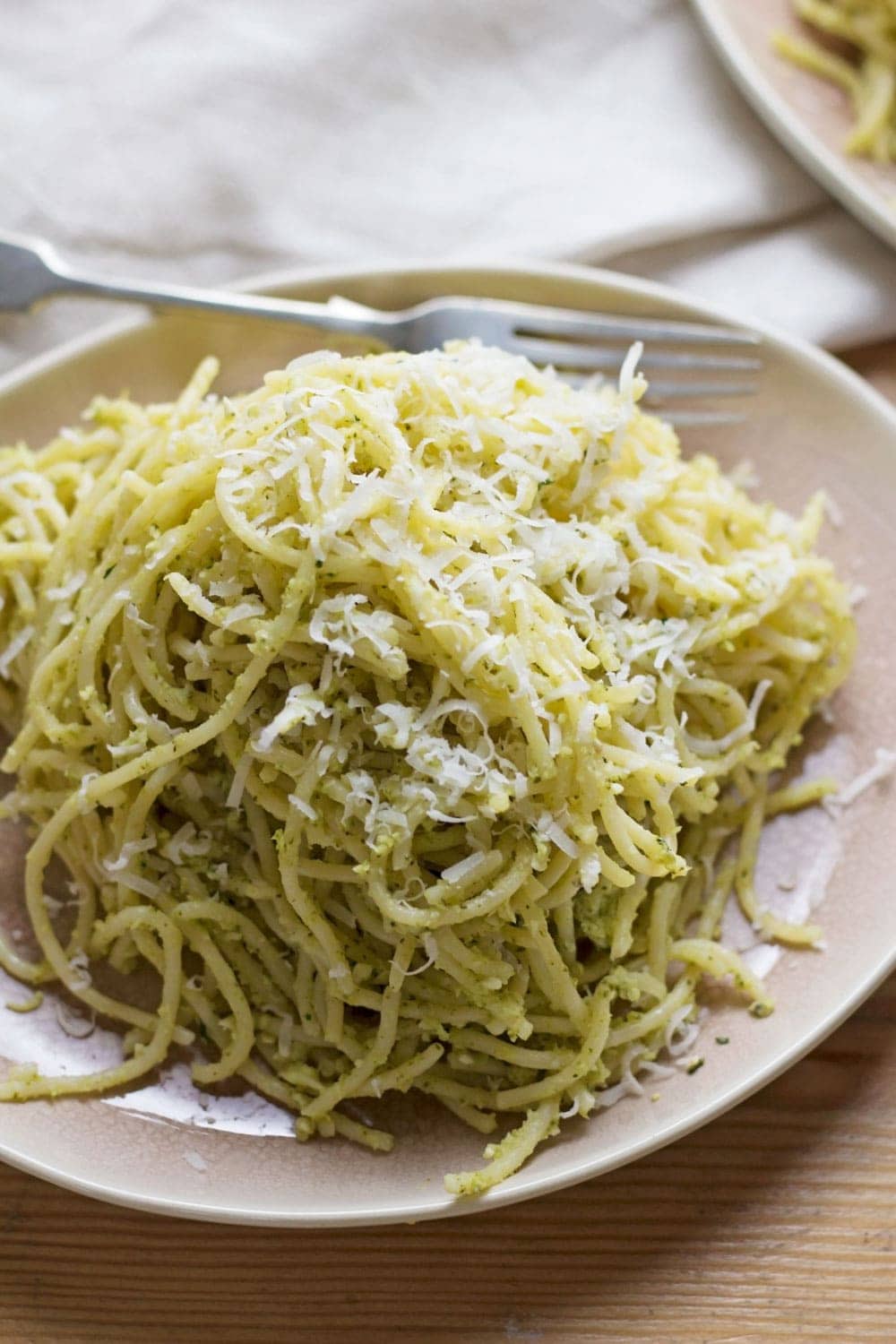 There's loads of other stuff you could do with this broccoli pesto sauce!
Try serving it with something other than spaghetti or pasta. It'd be great stirred through quinoa similar to this green quinoa. Or how about with some white beans, oh man that'd be so tasty!
If you fancy trying it with a different nut. You could easily switch the pine nuts out and make it with walnuts and almonds for an extra nutty flavour.
If you want it without basil then try a different leafy herb like mint or coriander or even a couple of handfuls of spinach.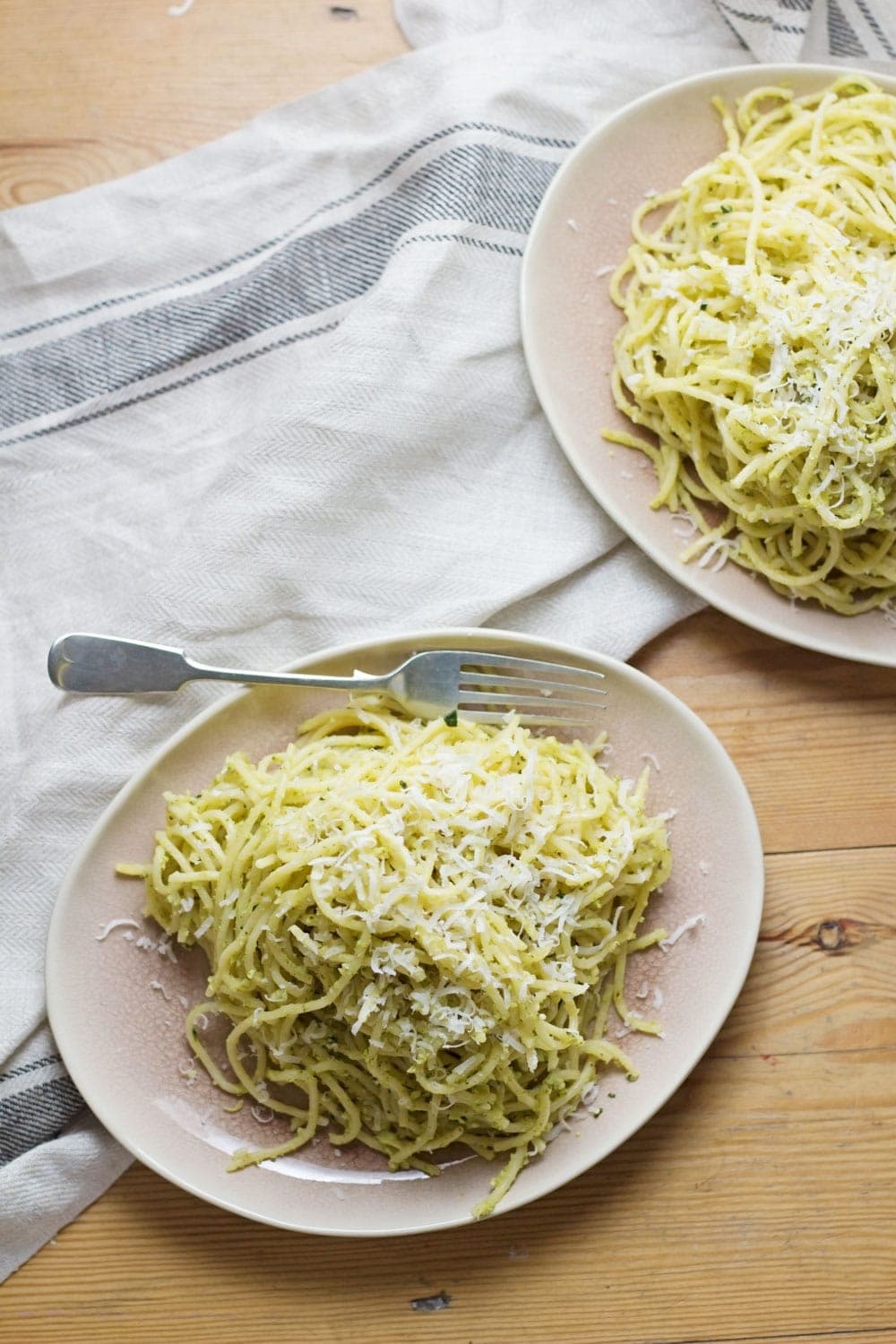 Broccoli Pesto with Basil & Pine Nuts
This quick and easy broccoli pesto is a fun twist on a classic pasta dish. Great for adding an extra vegetable to your dinner!
Ingredients
500g

Spaghetti

300g

Broccoli

cuts into florets

50g

Pine Nuts

5

tbsp

Olive Oil

3

cloves

Garlic

crushed

10g

Basil Leaves

about 2 handfuls

50g

Parmesan

Juice of half a lemon

Salt and Pepper

to taste
Instructions
Bring a large pot of salted water to the boil. Add the broccoli and cook until tender, about 7-10 minutes. Drain and using the same pot boil another lot of salted water. This time add the spaghetti and cook according to the packet instructions.

While the pasta is cooking make the pesto. Put the broccoli in a blender and blitz until it's chopped. Don't worry about it being smooth at this stage. Add the olive oil, pine nuts, garlic and basil and blitz again. Now it should be pretty smooth so add the parmesan, lemon juice and a sprinkling of salt and pepper. Blend one final time until you've reached your preferred texture.

Stir the pesto through the drained pasta and top with an extra shaving of parmesan.
Nutrition Facts
Broccoli Pesto with Basil & Pine Nuts
Amount Per Serving
Calories 491
* Percent Daily Values are based on a 2000 calorie diet.
Equipment needed for this recipe:
I use a food processor like this one. We have one of these pots which is really handy for cooking batches of vegetables and pasta.
WONDERING WHAT TO DO WITH THE LEFTOVER INGREDIENTS YOU'VE GOT FROM MAKING THIS BROCCOLI PESTO WITH BASIL & PINE NUTS?
If you're anything like me then you're always looking for ways to save money and avoid food waste so I want to make sure you've get plenty of ideas on how to use up any ingredients that are leftover from my recipes!
Cashew Nut Curry with Halloumi & Broccoli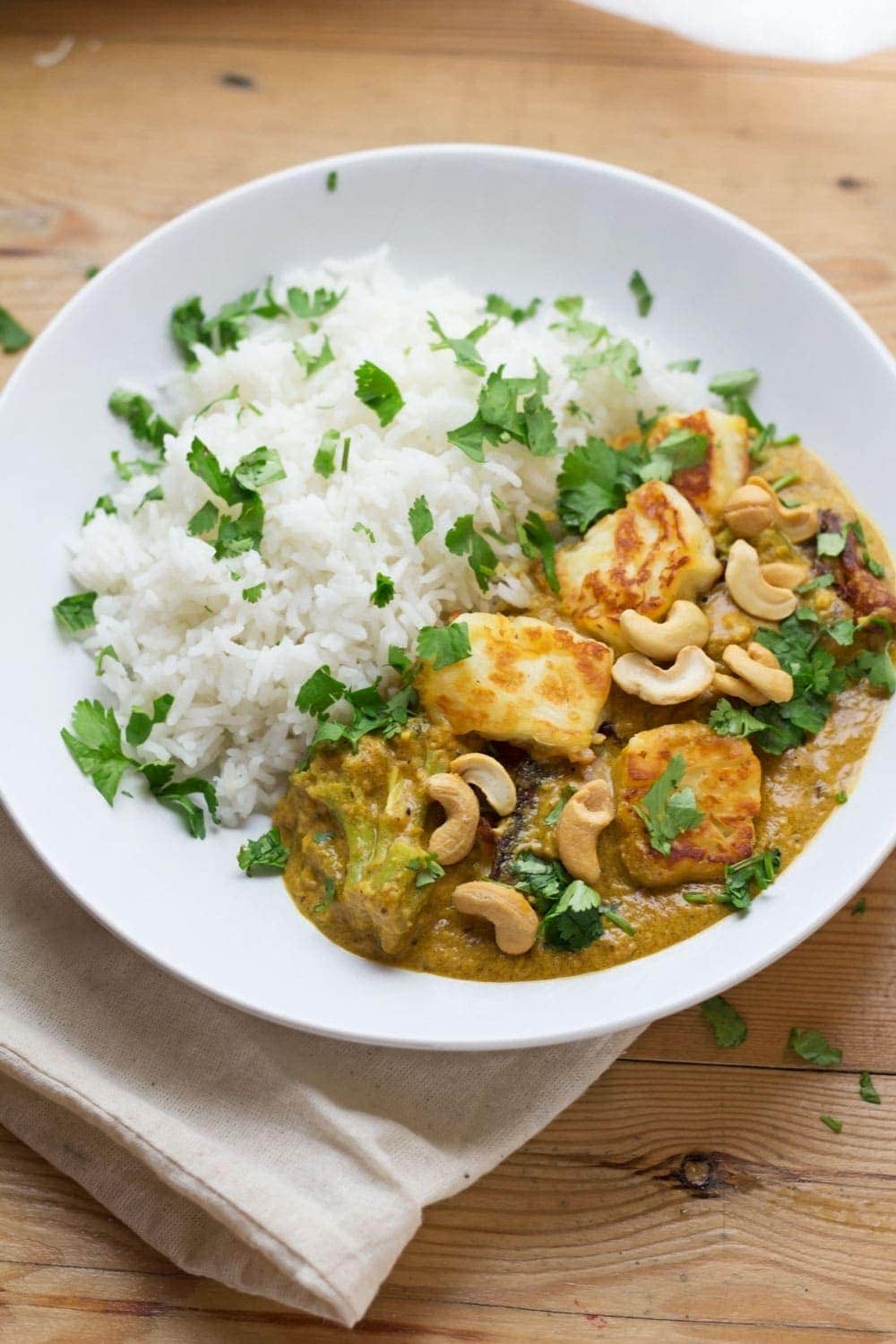 Veggie Quinoa Bowls with Chickpeas & Pine Nuts