This garlic pasta is a simple weeknight meal packed with garlicky flavour and topped with delicious roasted broccoli, crispy chickpeas and chorizo. Finished with a poached egg.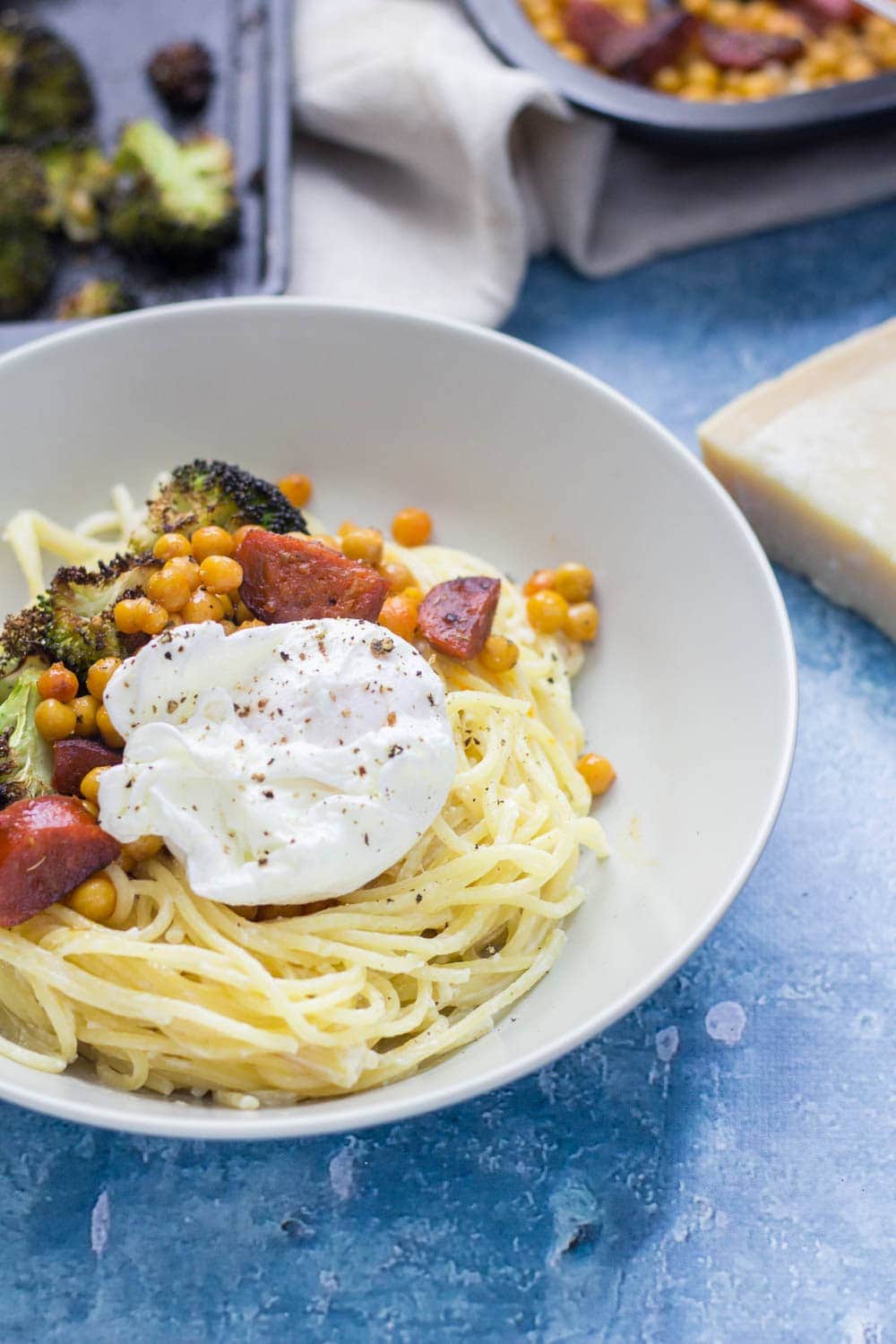 This garlic pasta recipe is super simple but is jazzed up with some yummy toppings. The broccoli and chickpeas end up lovely and crunchy which gives the dish great texture and the egg yolk adds an extra creamy coating to the pasta.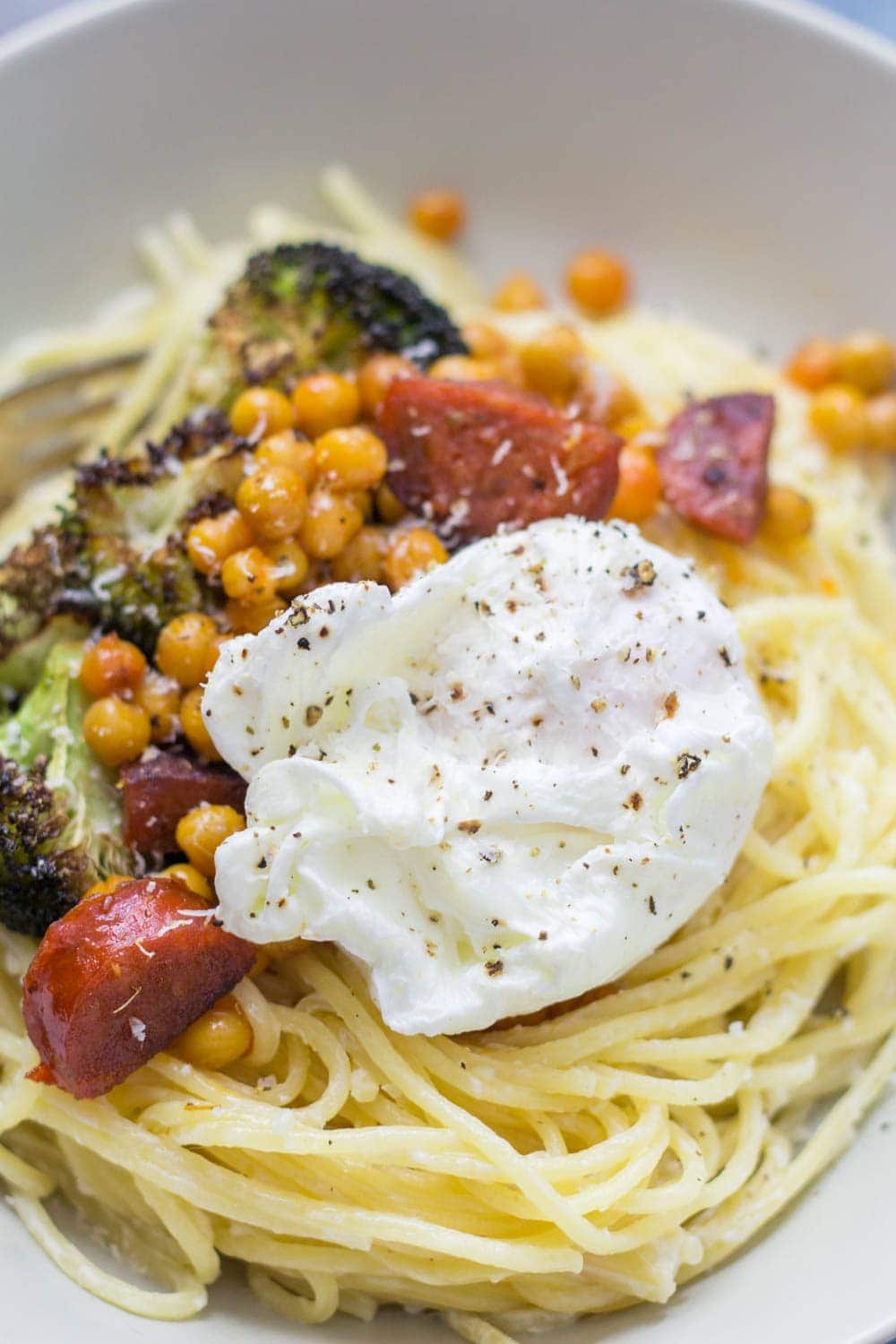 Broccoli has always been one of my favourite vegetables. When I was little my Nana used to make the best chicken casserole in the crock pot and the broccoli would be added at the beginning of cooking. So by the time we ate it hours later the broccoli was like mush. Now, as an adult, that's been the only way I've really liked broccoli for the longest time. I guess it just reminds me of that favourite meal. Anyway, the only other way I've come to like it is roasted like this until the tops get all charred and crispy and the stalks are still soft. So good.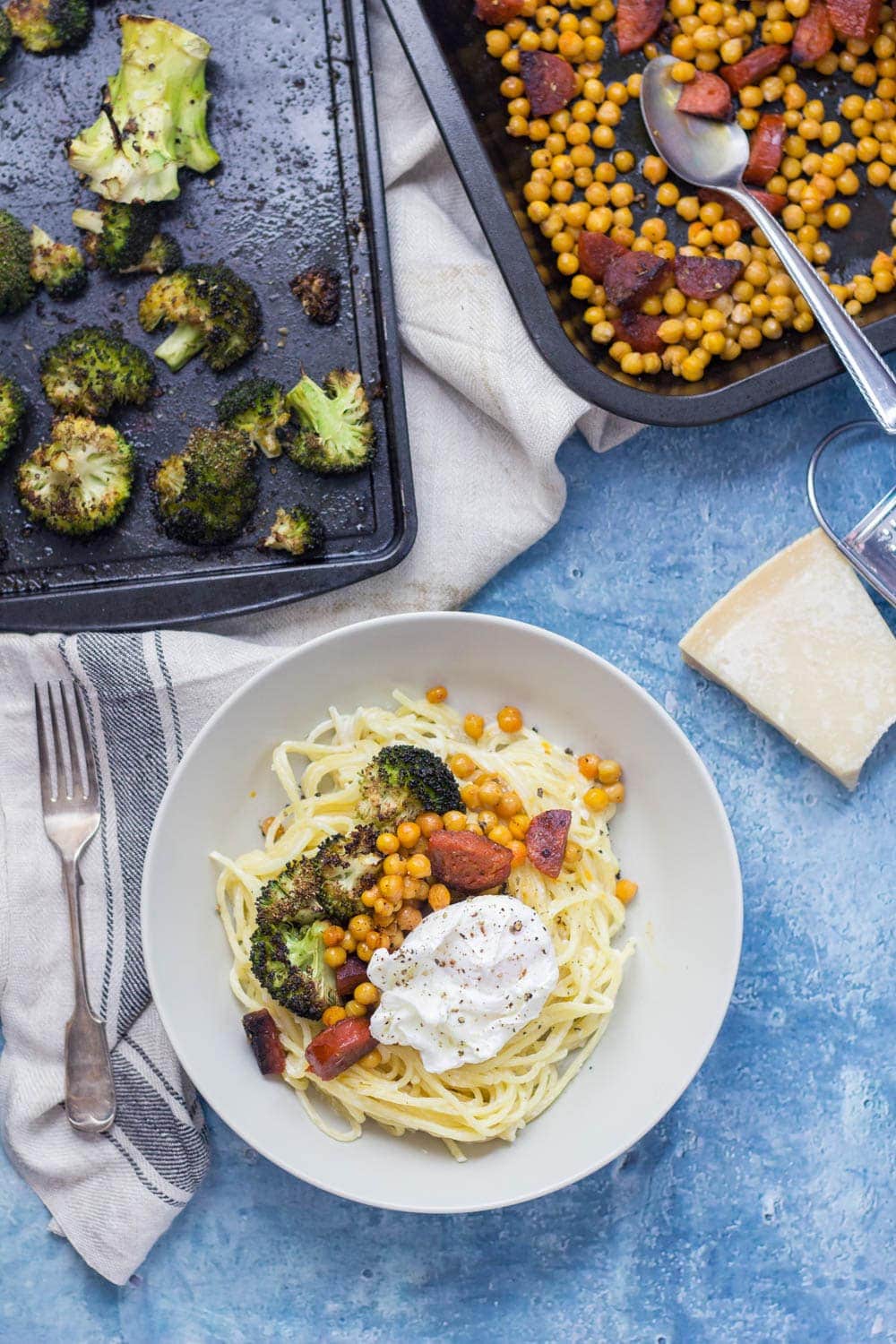 The other best part of this dish? The chickpeas! Roasted chickpeas are crispy on the outside, still a little chewy on the inside. These are great for a snack as well. Try roasting them with all kinds of spices. My favourite is smoked paprika. Once they're roasted they'll last for a few days in an airtight container.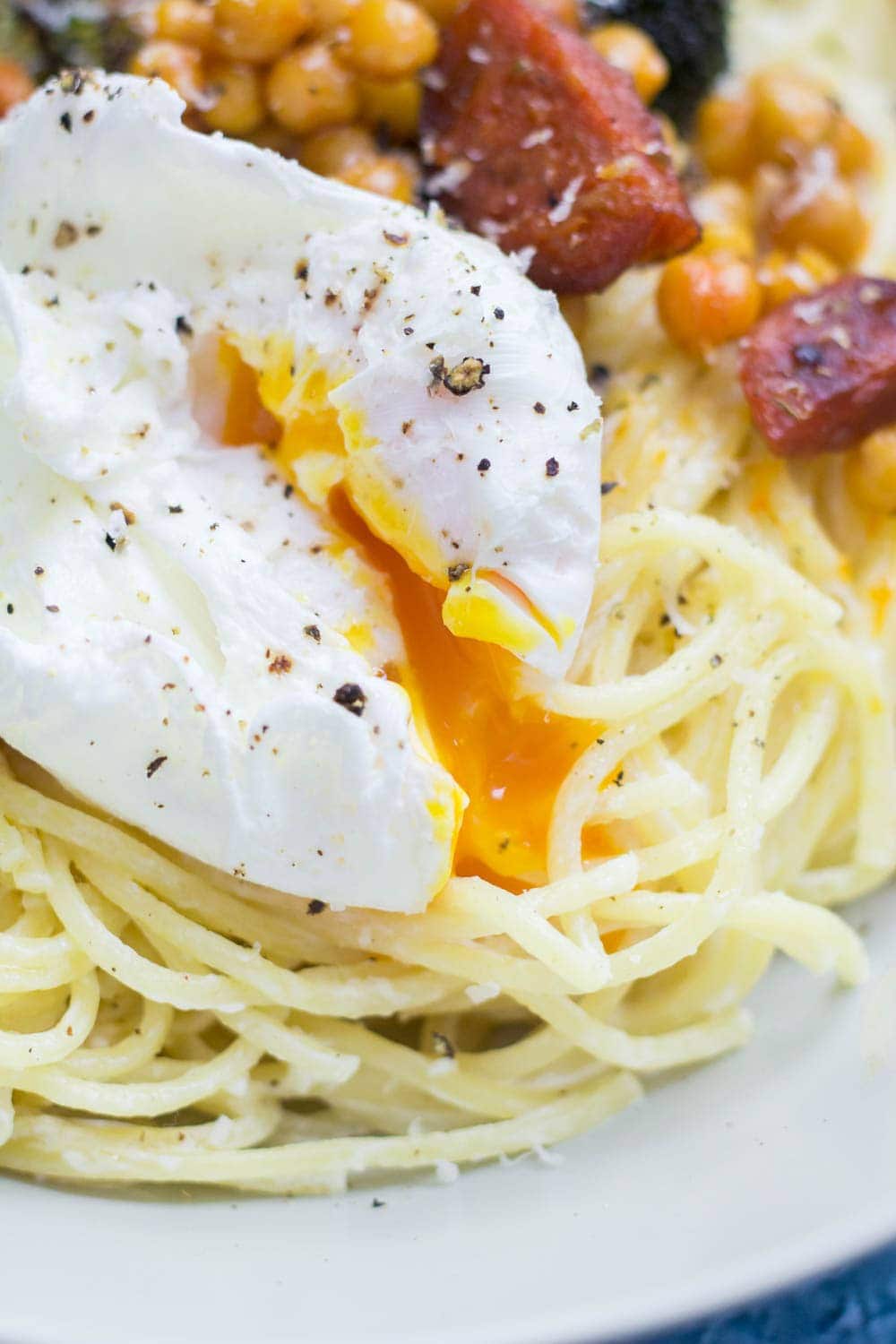 I'm so glad it's nearly the weekend. I have lots of eating planned this weekend which I'm sure you'll hear all about. Hopefully some blog worthy eats and some South East London food discoveries!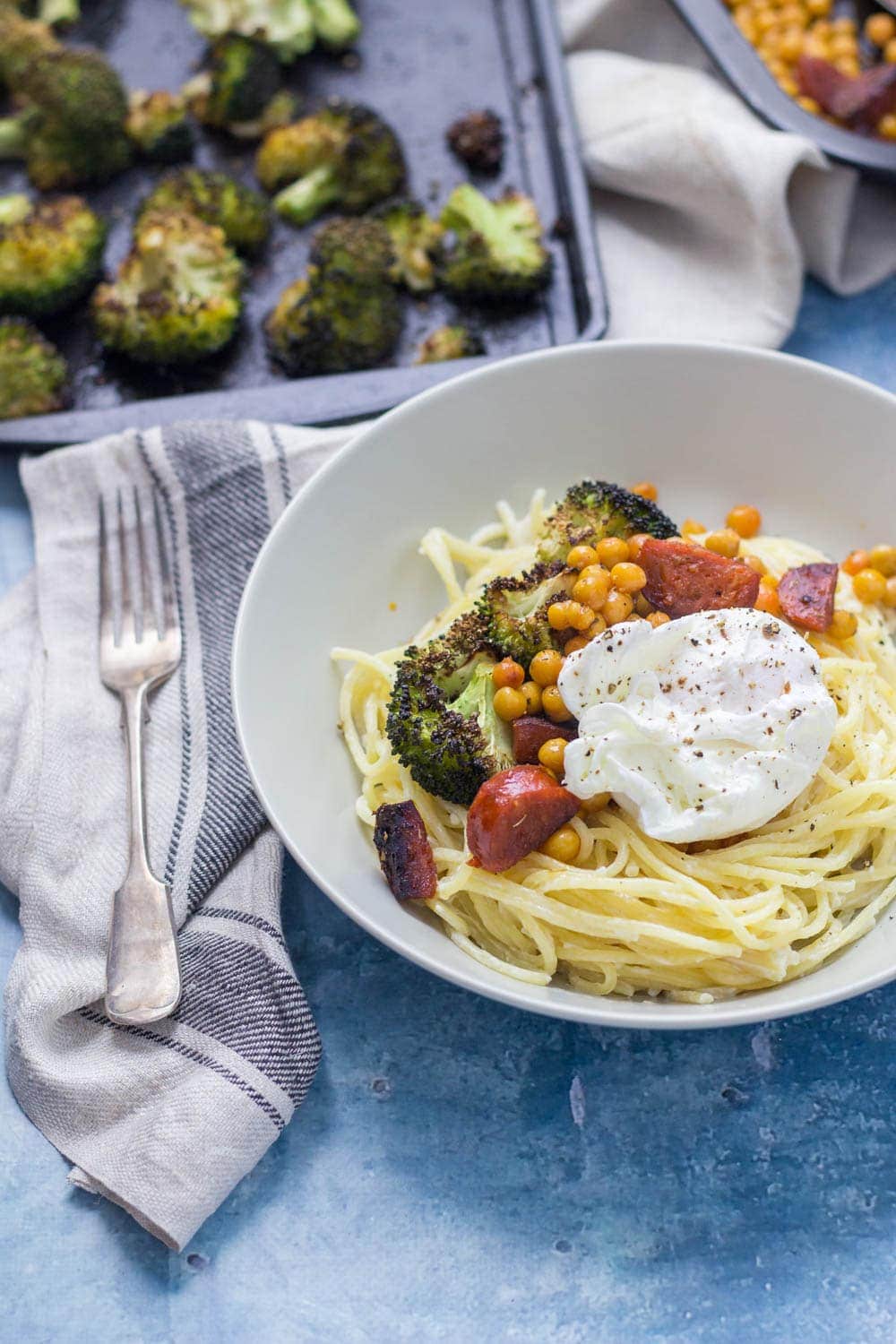 Anyways, I hope you enjoy this pasta dish! Let me know if you make this or any of my other recipes.
Garlic Pasta With Roasted Broccoli, Chickpeas and Chorizo
This garlic pasta is a simple weeknight meal packed with garlicky flavour and topped with delicious roasted broccoli, crispy chickpeas and chorizo. Finished with a poached egg.
Ingredients
For The Roasted Toppings
1

Head of

Broccoli

broken into florets

1

400g tin

Chickpeas

drained and rinsed

2

tbsp

Olive Oil

Salt and Pepper

100

g

Chorizo

chopped

1

tsp

Dried Oregano

1

tsp

Dried Thyme
For The Pasta
400

g

Pasta

whatever cut you prefer

50

g

Butter

5

cloves

Garlic

crushed

250

g

Cream Cheese

4

tbsp

Milk

30

g

Parmesan

grated

Salt and Pepper
To Serve
Parmesan

4

Poached Eggs

Black Pepper
Instructions
Preheat the oven to 200°C. Cut the broccoli into florets and spread onto a baking tray. Add the chorizo and drained chickpeas and drizzle with the olive oil and a large sprinkling of salt and pepper. Mix everything together and place in the oven for 30 minutes.

When the broccoli, chorizo and chickpeas are about halfway through cooking boil the pasta. Heat the butter in a frying pan over a medium heat. When the butter has melted add the garlic and cook gently for a few minutes before adding the cream cheese and milk. Let everything melt together slowly, stirring occasionally. Once everything is mixed together add the parmesan and a good sprinkling of black pepper.

When the broccoli and chickpeas have been roasting for 30 minutes remove from the oven and give them a good shake. Sprinkle on the oregano and thyme and return to the oven for 5-10 minutes.

Drain the pasta and mix with the sauce, I did this in a separate bowl to avoid getting it everywhere! You'll now have time to make your poached eggs before removing the roasted broccoli/chickpeas/chorizo from the oven.

Place the coated pasta in 4 bowls. Top with the broccoli, chickpeas, chorizo and a poached egg. Sprinkle over plenty of grated parmesan and black pepper. Serve immediately.
Recipe Notes
You could easily make this vegetarian by leaving out the chorizo and switching to vegetarian parmesan.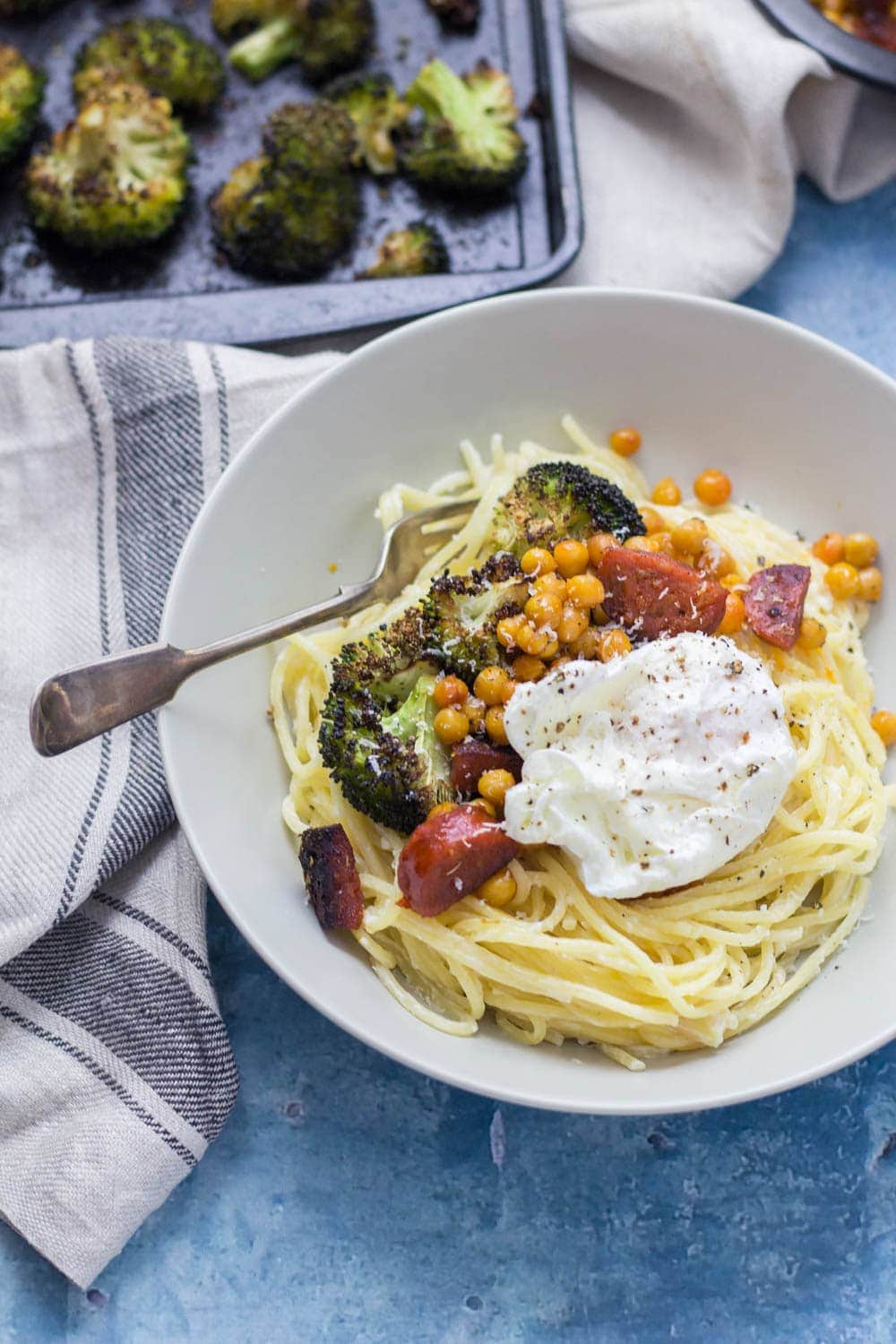 WONDERING WHAT TO DO WITH THE LEFTOVER INGREDIENTS YOU'VE GOT FROM MAKING THIS GARLIC PASTA WITH ROASTED BROCCOLI, CHICKPEAS AND CHORIZO?
If you're anything like me then you're always looking for ways to save money and avoid food waste so I want to make sure you've get plenty of ideas on how to use up any ingredients that are leftover from my recipes!
Moroccan Chickpea and Lentil Soup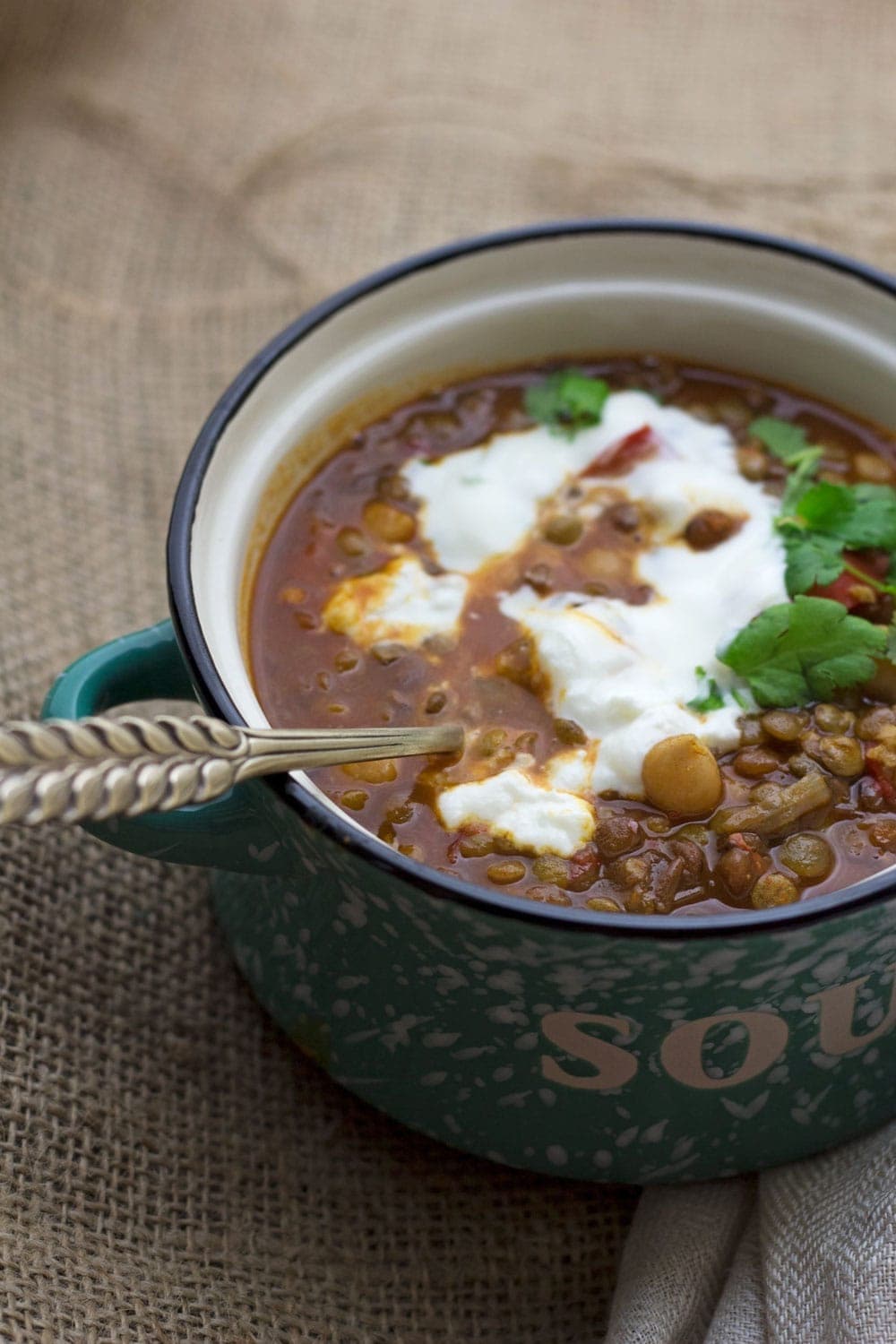 Chickpea Quinoa Veggie Burgers