This meal is made up of some of my favourite things. Lamb would probably be my favourite meat (although that changes pretty often!) and Turkish food is one of my favourite cuisines. Gozleme are like pasties but A LOT better because they're filled with loads of yummy spices and pine nuts.
Will is half Turkish so we're always keen to try out new Turkish recipes. I've basically just decided to adopt this as my own food heritage since I am nothing but English and Welsh!
We went over to Will's parents today and his dad gave us this rice recipe. We could basically just eat a whole saucepanful of it on its own, something about the onion and pine nuts cooking in the rice means that it tastes a million times better than normal. Also, apologies for the rice measurements, I though about going and weighing it out but this is how we always make rice and as long as you have double the amount of water to rice then this should turn out perfect every time.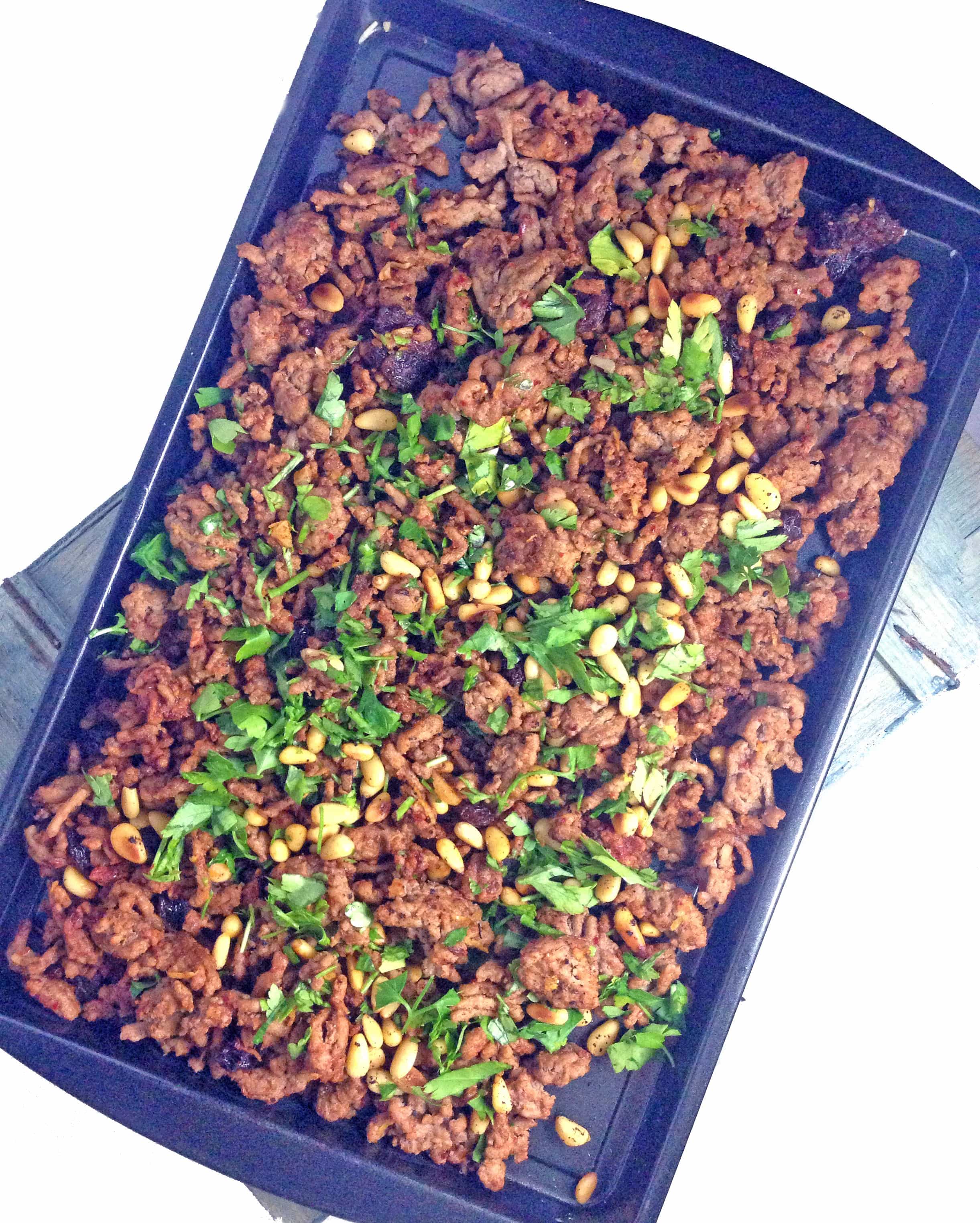 Although this recipe has a long prep time that's really just because the dough needs to prove for 2 hours. What we actually did is made the dough in the morning before we went out for the day and left it in the fridge. Then when we got home the rest of the recipe was pretty quick to get done.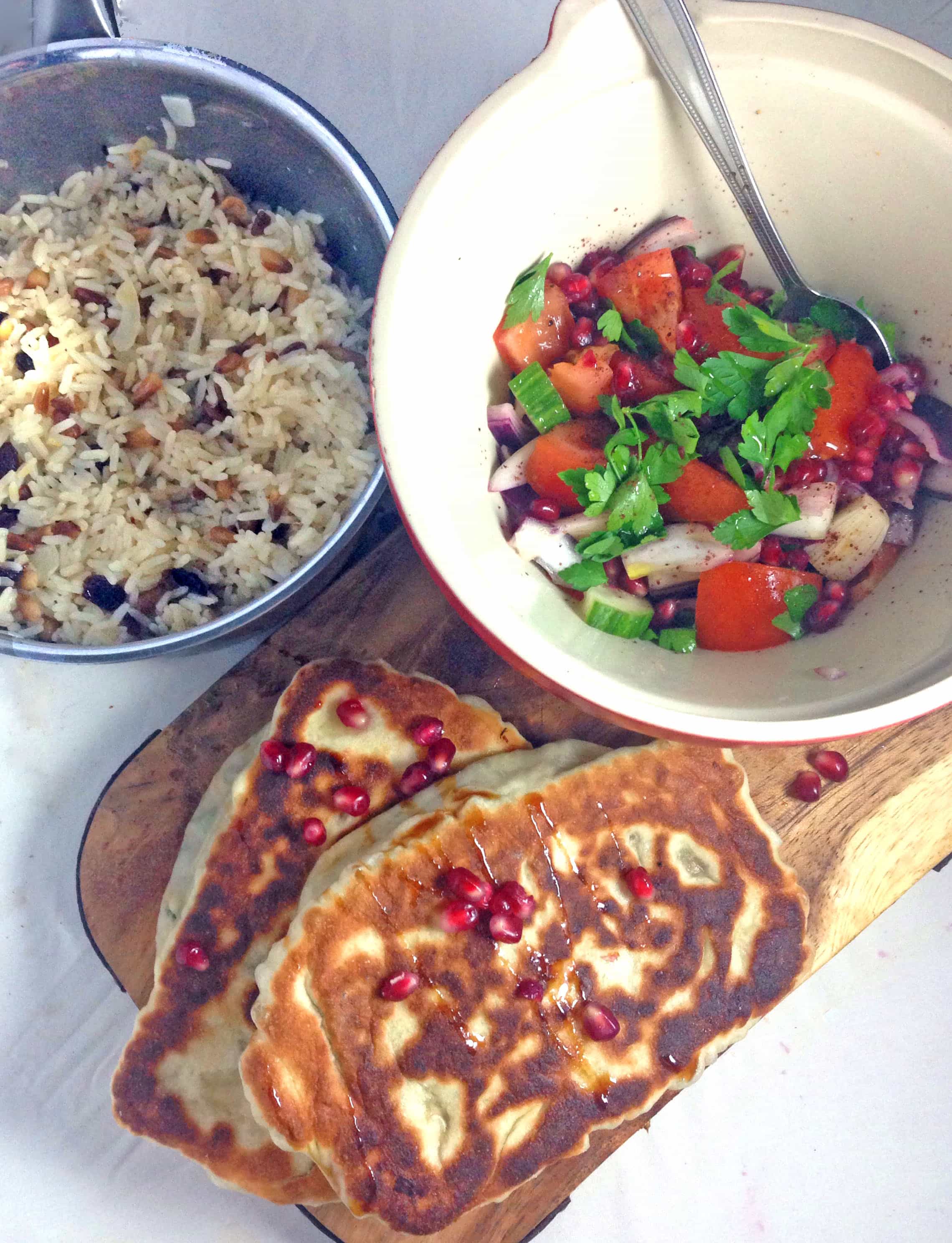 Now that I've tried a classic gozleme I'm excited to try out some different ideas. I'm thinking these would be great filled with grilled vegetables and some feta or even halloumi instead of the lamb.
Will's dad has also promised to send us some other ideas of Turkish dishes to try so I'm sure they'll be featuring on here pretty soon!
I hope you all have excellent Mondays, I've got a gozleme waiting for me in my lunch box so that'll significantly improve things!
Enjoy x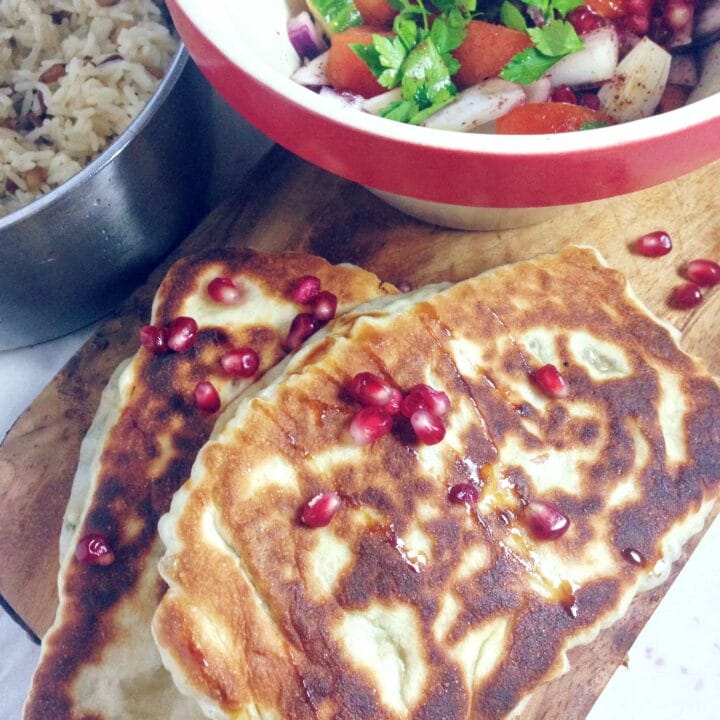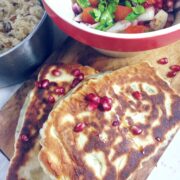 Lamb Gozleme With Salad and Pine Nut Rice
Gozleme are delicious parcels with chewy pastry and a spiced lamb filling. Served with a refreshing salad and nutty rice.
Print
Pin
Rate
Ingredients
For the Dough
250

g

Plain Flour

½

teaspoon

Instant Yeast

1

teaspoon

Sugar

175

ml

Warm Water

1

teaspoon

Salt

Olive Oil for frying
For the Filling
1

tablespoon

Olive Oil

500

g

Lamb Mince

3

cloves

Garlic chopped

2

teaspoon

Cumin

2

teaspoon

Aleppo Pepper

1

teaspoon

Cinnamon

Zest of a Lemon

2 ½

tablespoon

Sultanas

1

tablespoon

Tomato Puree

2

tablespoon

Coriander

50

g

Pine Nuts

toasted

For the Rice

1

tablespoon

Olive Oil

1

Onion

50

g

Pine Nuts

1

mugful Rice

2

mugfuls Water

1

handful Sultanas
For the Salad
1

large Tomato chopped

½

Red Onion chopped

¼

Cucumber chopped

1

tablespoon

Olive Oil

Juice of 1 Lemon

1-2

teaspoon

Sumac

Pomegranate Seeds

Leaves

Fresh Coriander
To Serve
Greek Yoghurt

Pomegranate Molasses
Instructions
First make the dough. Place all the dry ingredients in a bowl making sure that the yeast and the salt don't touch because the salt will kill the yeast. Make a well in the centre and pour in the water. Mix everything together until you get a wet dough (you may need to add a little extra flour to make the dough come togethethen turn out onto a floured surface and knead for 10 minutes. Place into an oiled bowl and leave to prove for 2 hours somewhere warm.

Make the filling for the gozleme. Heat the olive oil in a frying pan over a medium-high heat. Add the lamb mince and fry until brown. Tip the lamb into a bowl and then place the frying pan back on the heat with a little more olive oil. Add the garlic and let it brown for a minute. Add the spices, lemon zest, sultanas, tomato puree and the lamb back to the pan with a tablespoon of water. Tip the lamb mix out onto a tray and spread out to cool. Add the toasted pine nuts and coriander.

While the filling is cooling start the rice. Heat the oil over a medium heat in a large saucepan. Add the pine nuts and toast for a couple of minutes, add the onion and fry until softened. Add the rice and water. Cover the pan and leave for 15 minutes until all the water has been absorbed.

Take the dough from the bowl and place on a floured surface. Cut into Roll out each ball of dough into a large rectangle. To fill, place a quarter of the filling into the bottom half of each rectangle, leaving a few centimetres then fold the top half over and press and fold the edges together so that they're sealed.

When the rice is nearly ready heat a little olive oil in a frying pan and then fry your gozleme for a few minutes on each side until they're golden brown. Put all your salad ingredients in a bowl and mix together. Stir the sultanas into the cooked rice. Serve the hot gozleme with the salad, rice, yoghurt and a drizzle of pomegranate molasses.