This Korean pork banh mi has meatballs cooked until crisp on the outside then topped with gochujang mayo, carrot, cucumber and quick pickled onions.
Oh I don't know if this even qualifies as a banh mi. I've actually never eaten one, just drooled over them on instagram. However, I'm told by the internet that banh mi just translates to bread in Vietnamese and this definitely features bread so that's something.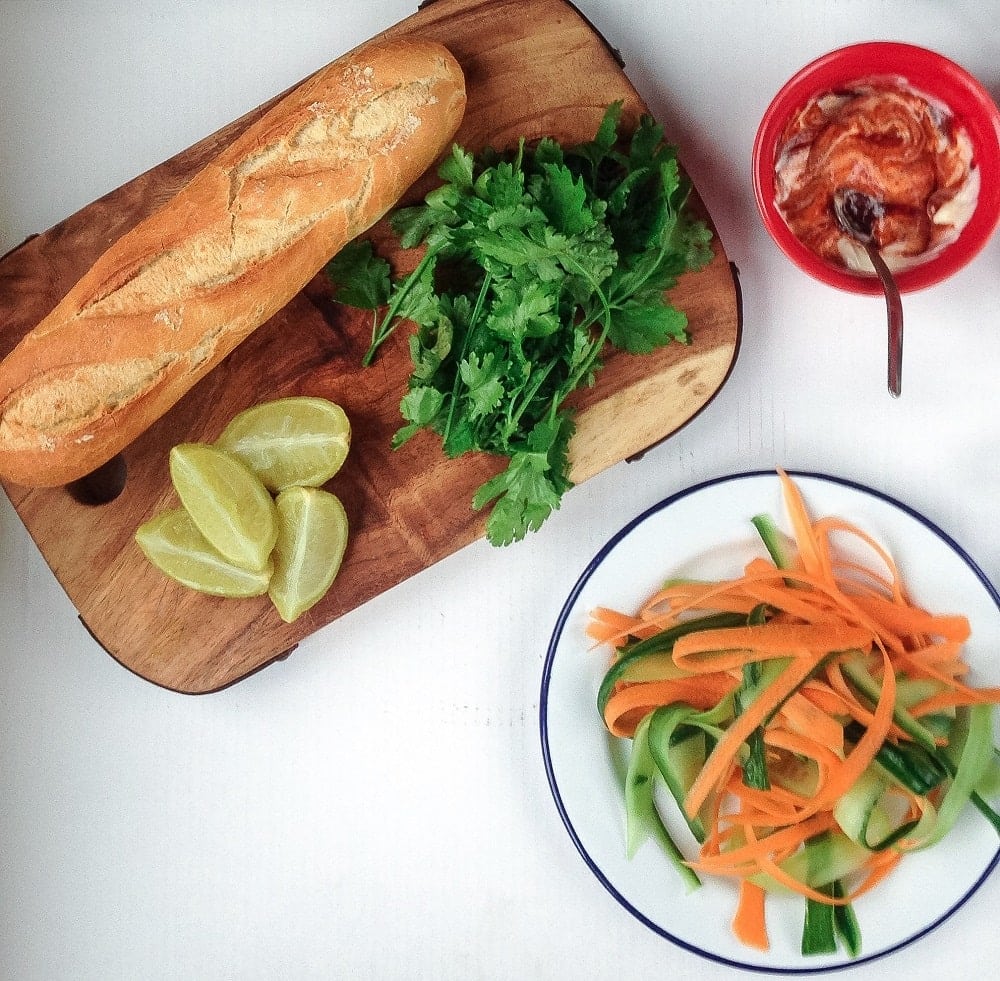 It also has little pork meatballs full of extra flavour in the shape of garlic, gochujang and gochugaru (both of these can be bought from any asian supermarket or online). I also stuffed the baguette with carrot and cucumber ribbons, coriander and my favourite quick pickled red onions.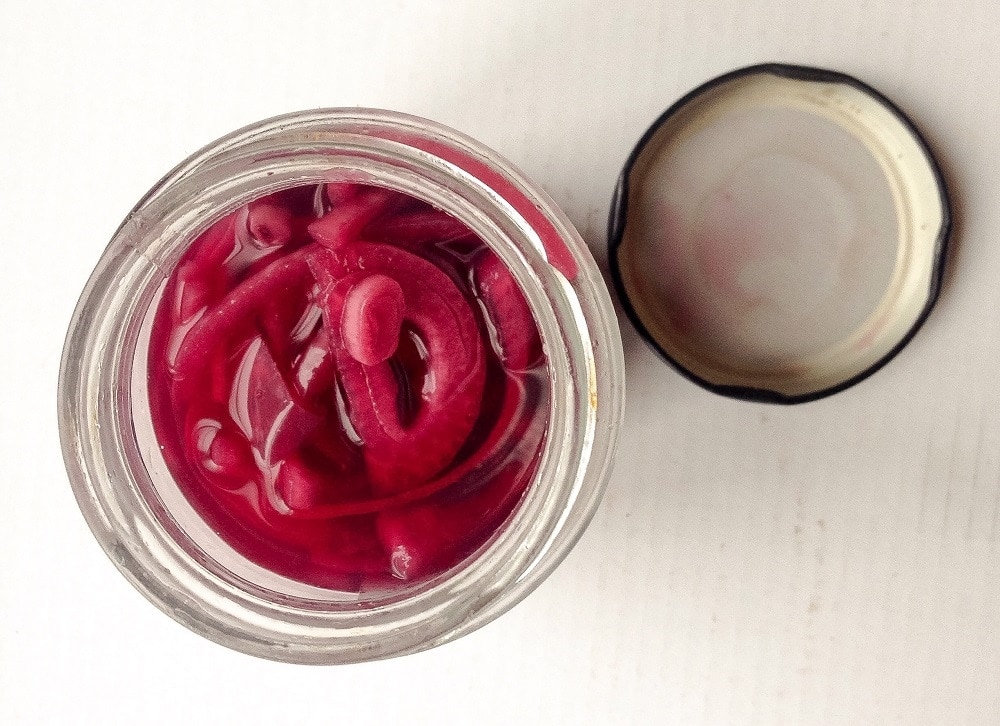 I've made these pickled red onions a few times. They're super easy and are a great thing to have in the fridge to add to sandwiches and burgers (also salads if you were that way inclined). Also they make everything look so pretty!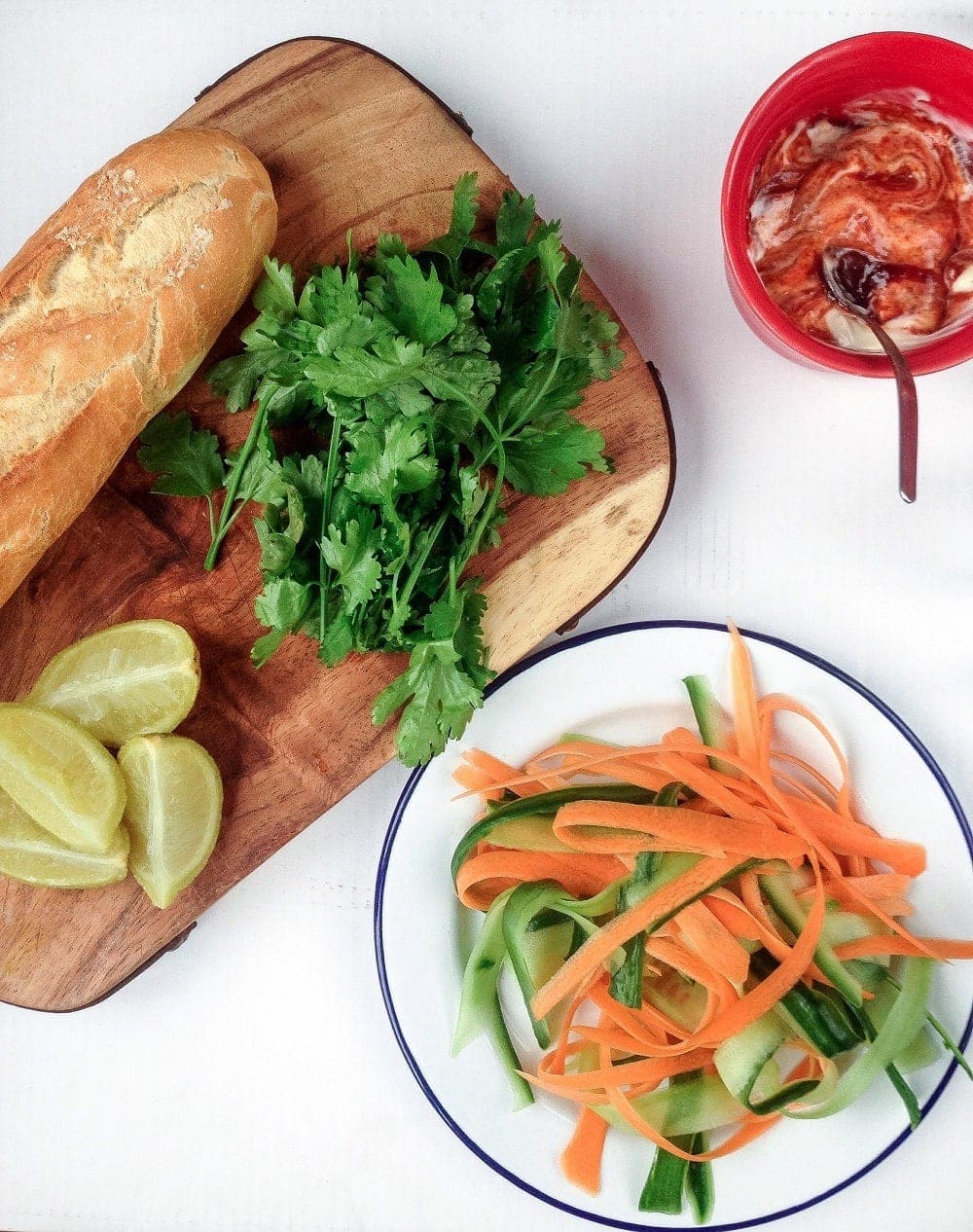 I finished the whole thing off with a good squeeze of lime juice and a quick gochujang mayo (literally just gochujang and mayo, I'm not inventing the wheel here).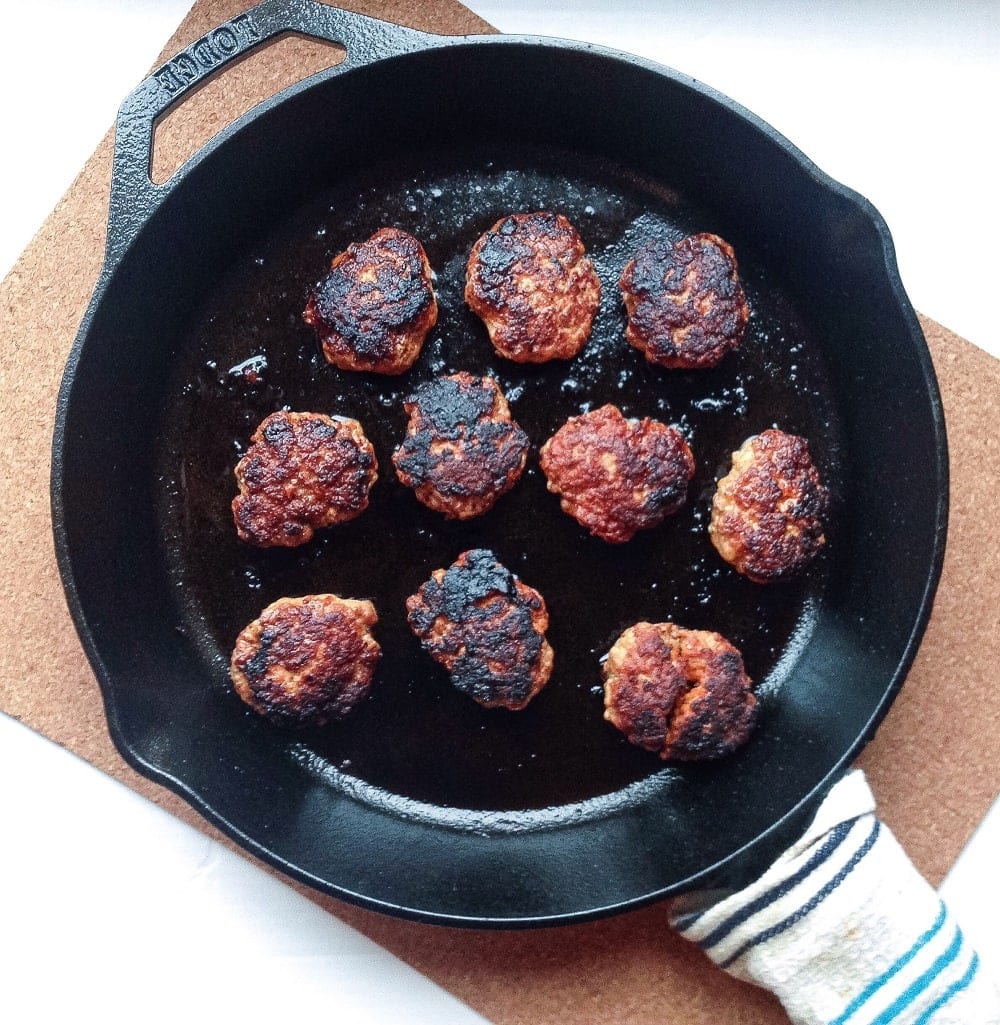 Check out our new cast iron pan. Will is basically treating it like his child. Every time I use it without his supervision he quizzes me as soon as he gets home to make sure I carried out all the proper cast iron pan care. One day I'm going to tell him I've scrubbed it with a scourer just to see what happens.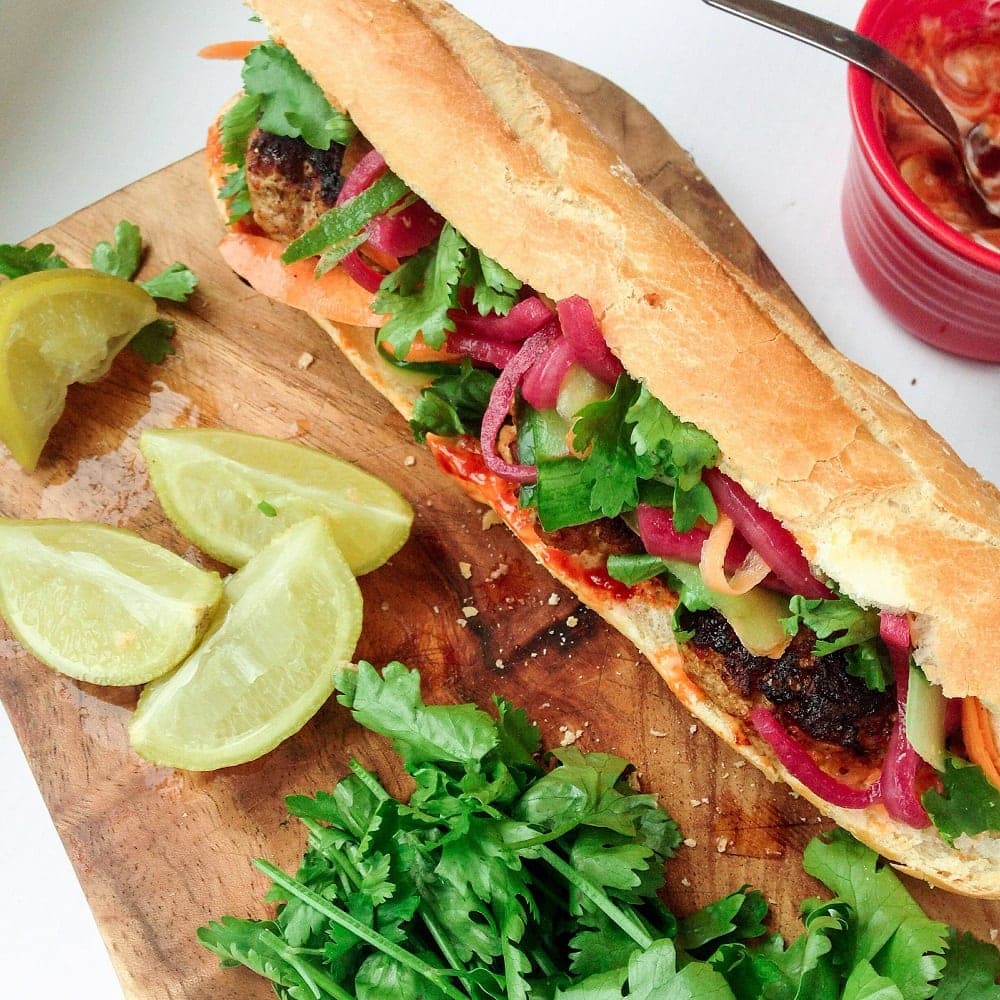 Anyway, this Korean pork banh mi made a super lunch the next day too. I sat at my desk very smugly as I ate.
This recipe would work great with beef instead of pork, I just used the meat I had on hand. And you could really add any vegetables but make sure you don't miss those pickled onions, seriously. Make it your own and let me know how it turns out!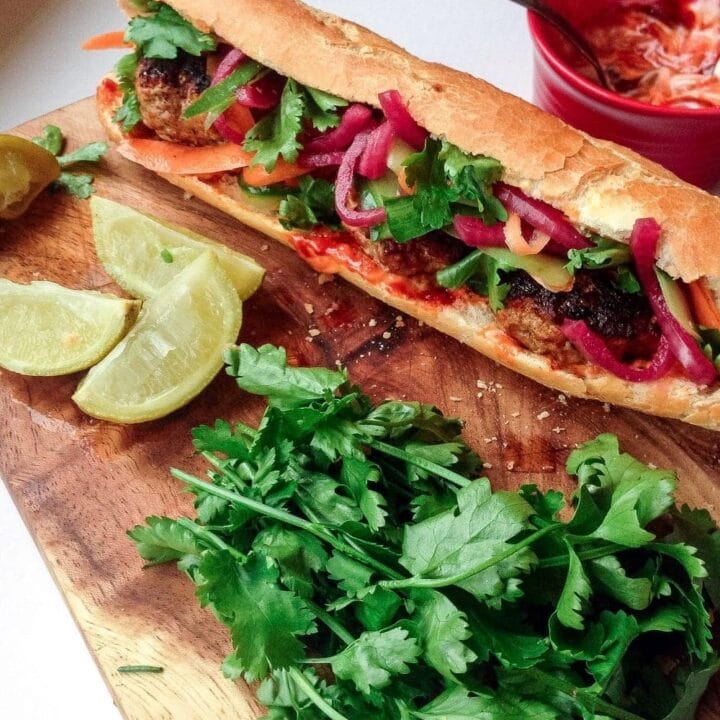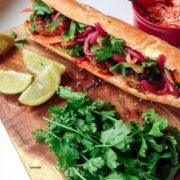 Korean Pork Banh Mi
This Korean pork banh mi has Korean spiced meatballs cooked until crisp on the outside then topped with gochujang mayo, carrot and cucumber ribbons and delicious quick pickled onions.
Print
Pin
Rate
Servings:
2
with leftovers
Ingredients
For the Meatballs
400

g

Pork Mince

3

cloves

Garlic crushed

1

teaspoon

Gochujang

1

teaspoon

Gochugaru

Salt and Pepper

1

tablespoon

Vegetable Oil
For the Pickled Onions
300

ml

White Wine Vinegar

3

tablespoon

Sugar

1

tablespoon

Sea Salt

6

Peppercorns

3

Small Red Onions sliced
For the Banh Mi
2

Baguettes or whatever bread you like

1

small bunch Coriander

1

Lime sliced into wedges

1

tablespoon

Gochujang

4

tablespoon

Mayonnaise

½

Cucumber

1

Carrot
Instructions
To make the pickled onions.
Put the vinegar, sugar, salt and peppercorns into a small saucepan and bring to the boil. Simmer until the sugar and salt have dissolved then remove from the heat. Place the onion slices into a collander, put over the sink and pour boiling water over them. Place the onion slices into a jar then pour the vinegar over them. Leave to cool then pickle in the fridge for as long as you have.
To make the meatballs.
Preheat the oven to 200°C. Place the pork mince, garlic, gochujang, gochugaru and a sprinkling of salt and pepper into a large bowl and mix together with a wooden spoon. Divide into medium sized meatballs, I got about 10 from this mixture. Heat the vegetable oil into a pan and heat over a medium high heat. Cook the meatballs for 3 minutes on each side then place in the oven for 5 minutes to finish cooking.
To Serve
Mix the mayonnaise with the gochujang. Slice the baguettes open and spread the bottom half with the mayo mixture. Use a vegetable peeler to make ribbons from the cucumber and carrot. Once you take the meatballs from the oven divide them between the baguettes (I had a couple left over, good for snacking!). Top with the cucumber, carrot, pickled onion slices, coriander and a squeeze of lime juice. Serve with more lime wedges.
Nutrition Facts
Korean Pork Banh Mi
Amount Per Serving
Calories 469
* Percent Daily Values are based on a 2000 calorie diet.
WONDERING WHAT TO DO WITH THE LEFTOVER INGREDIENTS YOU'VE GOT FROM MAKING THIS korean pork banh mi?
If you're anything like me then you're always looking for ways to save money and avoid food waste so I want to make sure you've get plenty of ideas on how to use up any ingredients that are leftover from my recipes!
You can use up the coriander from this recipe in the lime and corinader yoghurt which goes on the side of this chorizo chilli. Add your extra carrots to this carrot and courgette stir fry.