I came home last night in the miserable Friday evening rain needing something easy and warming for dinner. We had a sweet potato left over in the cupboard (on a side note I swear we bought the sweet potato before we went on holiday, like over a month ago, it is crazy how long those things last) and I immediately starting thinking about what I could do with it that involved cheese.
These Mediterranean stuffed sweet potato skins are deliciously simple and involve some of my absolute favourite ingredients which we nearly always have in the fridge. It also makes your kitchen smell like a big hug while it's cooking.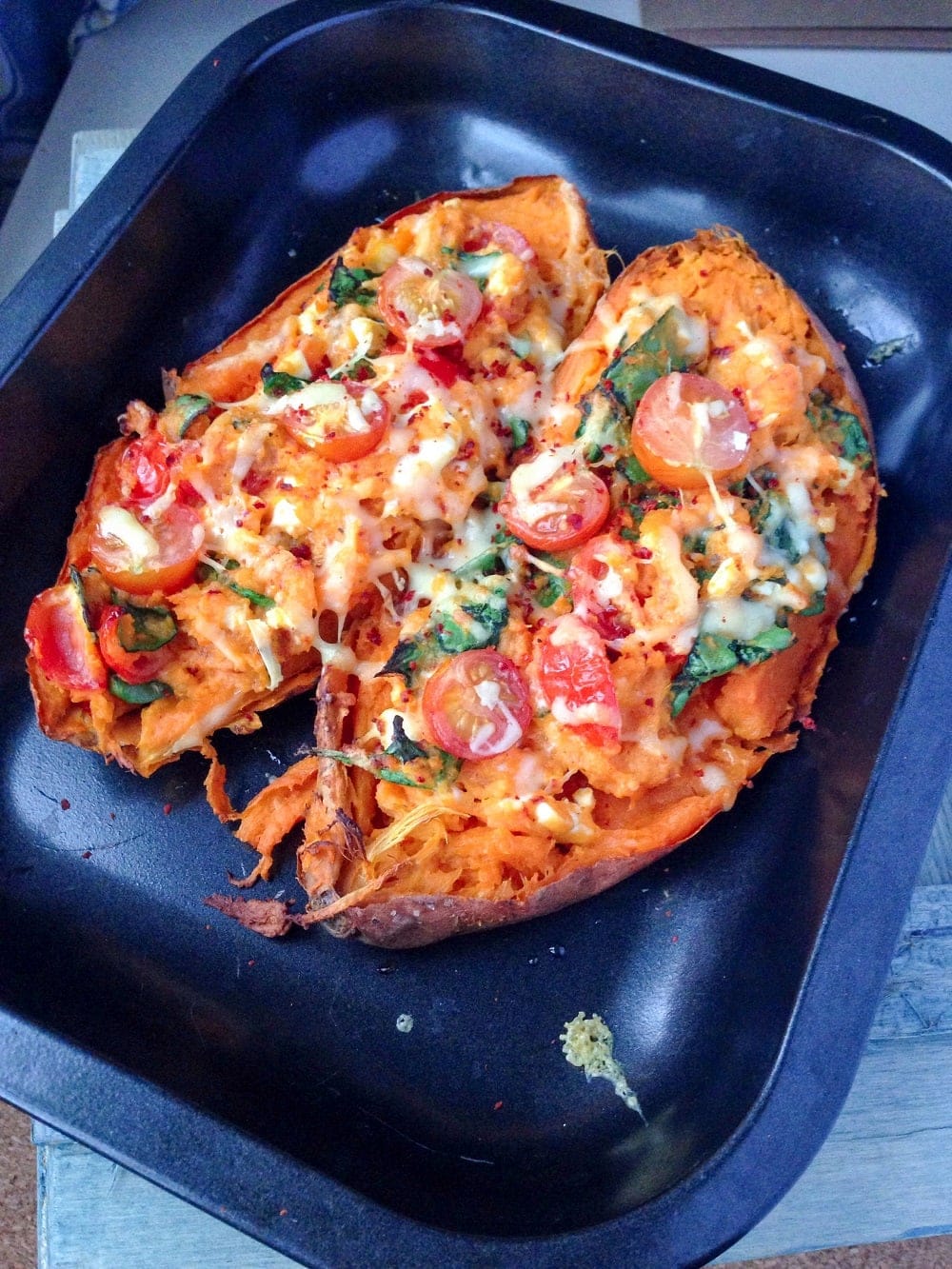 I also spent last night going through some amazing new cookbooks I've gained over the past few weeks. I'll be giving a run down of March AND April cookbooks at the end of the month but I'm just going to mention two amazingly awesome ones which have incredible recipes and some absolutely gorgeous photography - The Saffron Tales: Recipes from the Persian Kitchen
which has come out this month and Gjelina which comes from a restaurant owner in Venice, California. I don't think there's much I love more than sitting inside in the warm while it's raining and looking at cookbooks.
This recipe calls for Aleppo chilli flakes which give an amazing, slightly spicy depth of flavour. They are less spicy than regular chilli flakes so if you wanted to substitute for them you might want to reduce the amount you use. Otherwise this would taste great with some smoked paprika mixed in to make sure you don't miss that great smokiness. I made this just for myself but it could easily be multiplied for however many people you're cooking for or you could make this amount and serve it as a starter or side.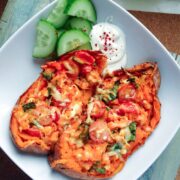 Mediterranean Stuffed Sweet Potato Skins
These Mediterranean Stuffed Sweet Potato Skins are a quick, healthy weeknight dinner which use a handful of fresh ingredients to create something comforting and tasty.
Print
Pin
Rate
Ingredients
1

Sweet Potato

1

tablespoon

Olive Oil

Salt

40

g

Butter

Handful of Cherry Tomatoes quartered

1

Spring Onion chopped

Leaves

Handful Baby Spinach roughly chopped

2

teaspoon

Aleppo Chilli Flakes

40

g

Feta crumbled

Cheddar Cheese grated

to taste
Instructions
Heat the oven to 180°C. Prick the sweet potato a few times with a fork then drizzle all over with the olive oil and a large sprinkling of salt. Place in the oven for 45 minutes until cooked through.

Once the potato is cooked remove it from the oven and slice in half. Scoop out the insides into a bowl making sure to leave a layer of potato around the edges so that the skin doesn't split.

Mash the scooped out potato with the butter until you have a smooth mash then stir in the tomatoes, spring onion, spinach, chilli flakes and feta. Place the potato skins into a lightly greased baking tray and carefully place the sweet potato mixture back into the skins.

Sprinkle with the grated cheddar cheese (use as much or as little as you like here, I only used a light grating on each half) and return to the oven for about 10 minutes until the cheese has melted and the tomatoes have softened. Serve with some slices of cucumber, a spoonful of yoghurt and another sprinkling of aleppo chilli flakes.
Notes
Aleppo chilli flakes are a Turkish spice and they are quite mild so be careful substituting it for regular chilli flakes which are much hotter.