Spicy salmon is the perfect complement to these tasty courgette waffles. Top everything with this super quick, creamy hollandaise sauce!
I was thinking about how awesome these chorizo waffles were the other day and I became obsessed with what else I could put in my waffle maker. I decided to try making a vegetarian version using courgette and parmesan and they turned out so good!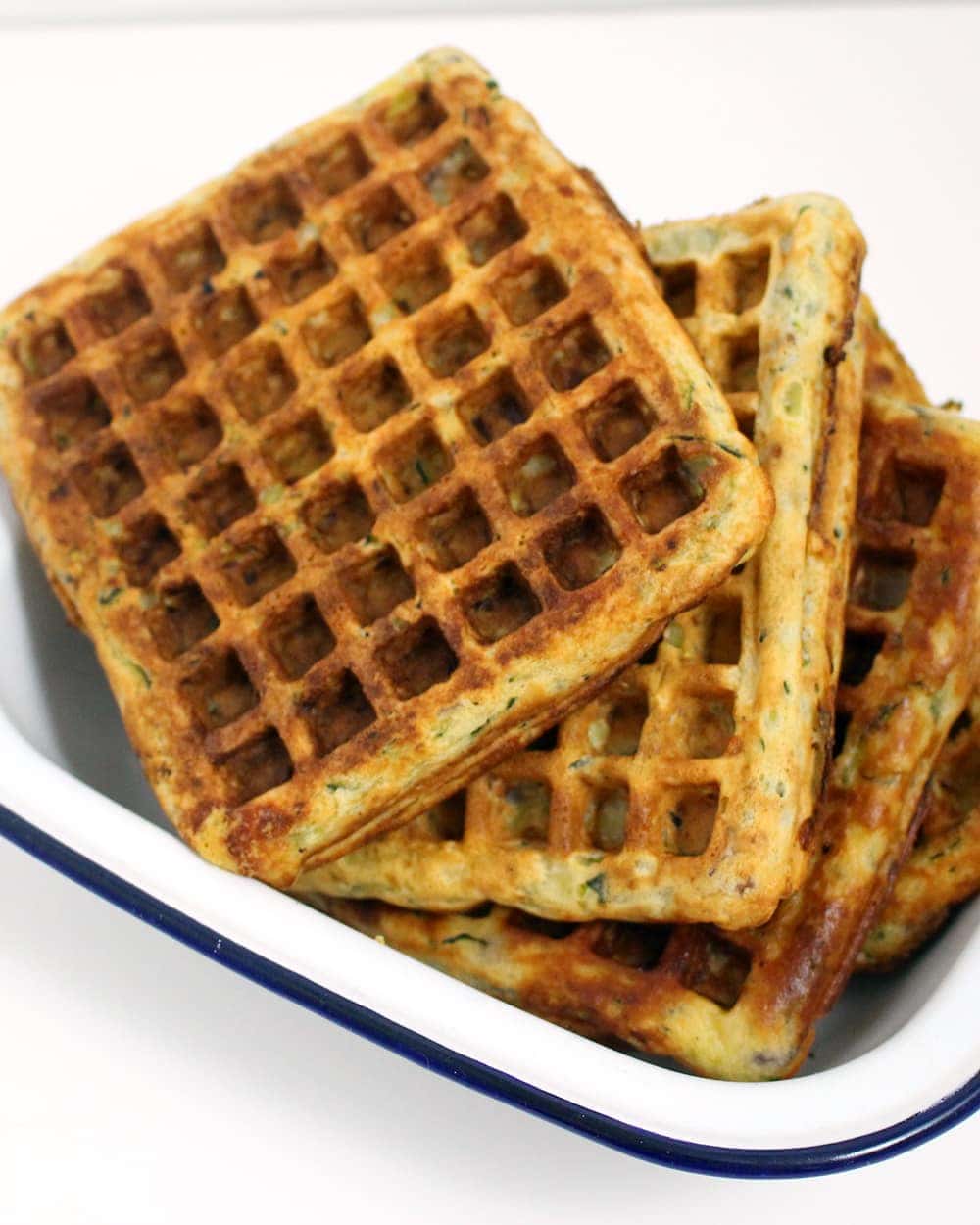 You know when you spend what feels like hours on something and then it just doesn't really pan out how you want it? And then your boyfriend gets home at 10 at night to a whiney mess and has to console you instead of eating the dinner you've made for him.
Hmm yeah that's what happened when I made this meal. Not because it didn't taste good but because I couldn't get the pictures to turn out right and there was no one there to encourage me and tell me to stop being silly.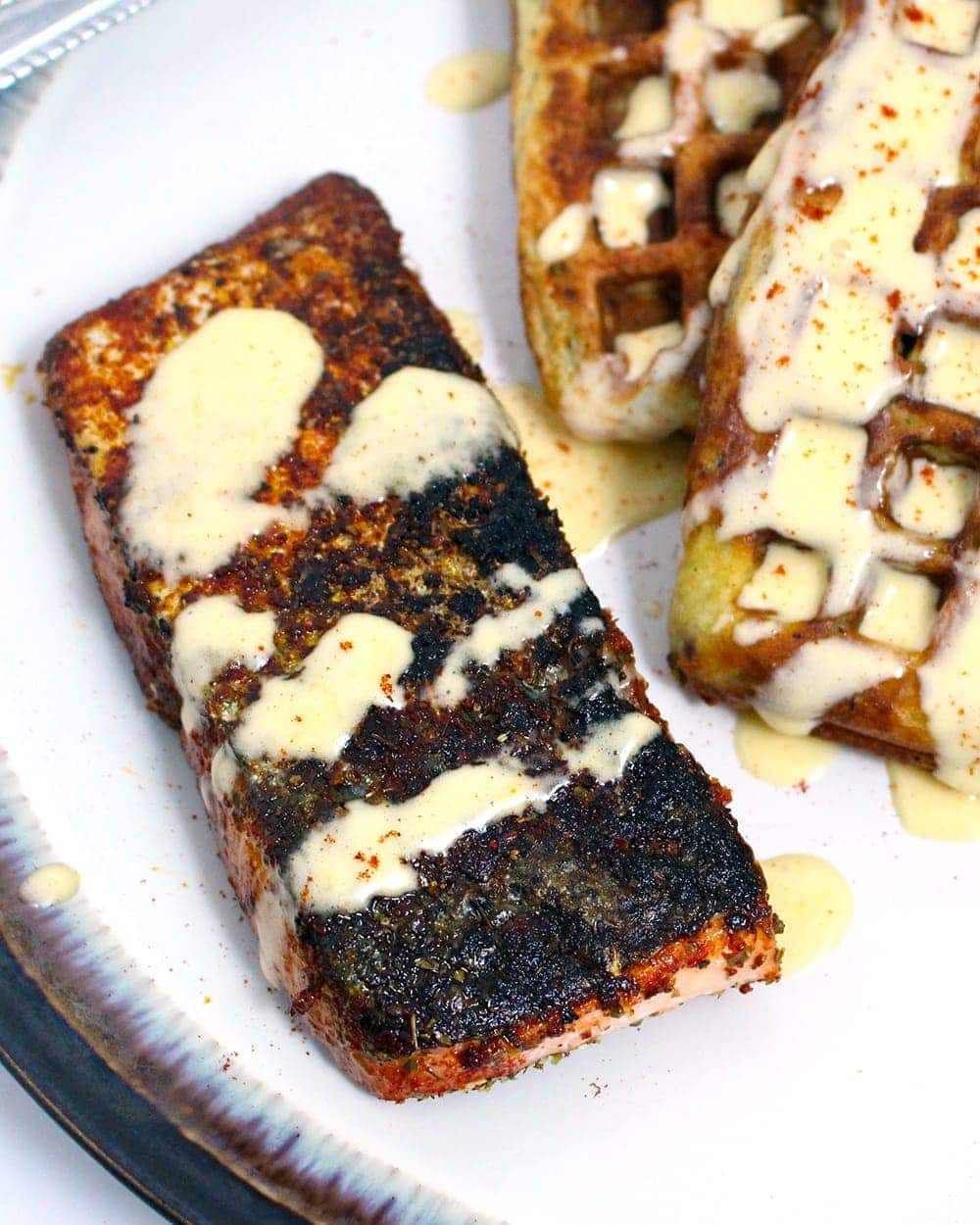 So I got into a silliness spiral which happens fairly often, especially when I'm trying to take good food photos. I wish I could be better and I'm super super impatient about actually learning how to be better, I just want to have them skills.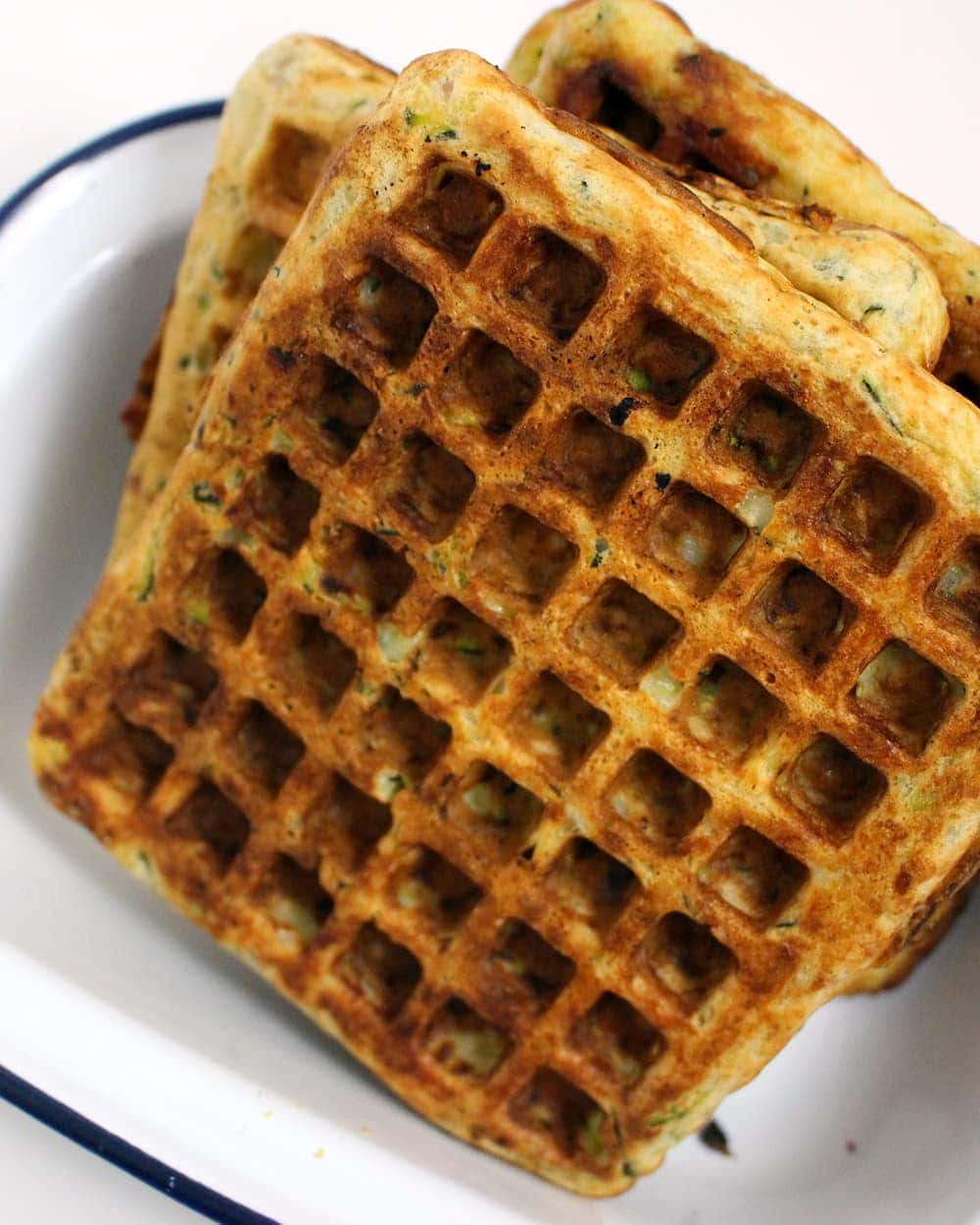 Anyway, on to the recipe! So first of all there's seasoned salmon rubbed with a big mix of spices before pan frying for a couple of minutes each side. Make sure to get that skin good and crispy too!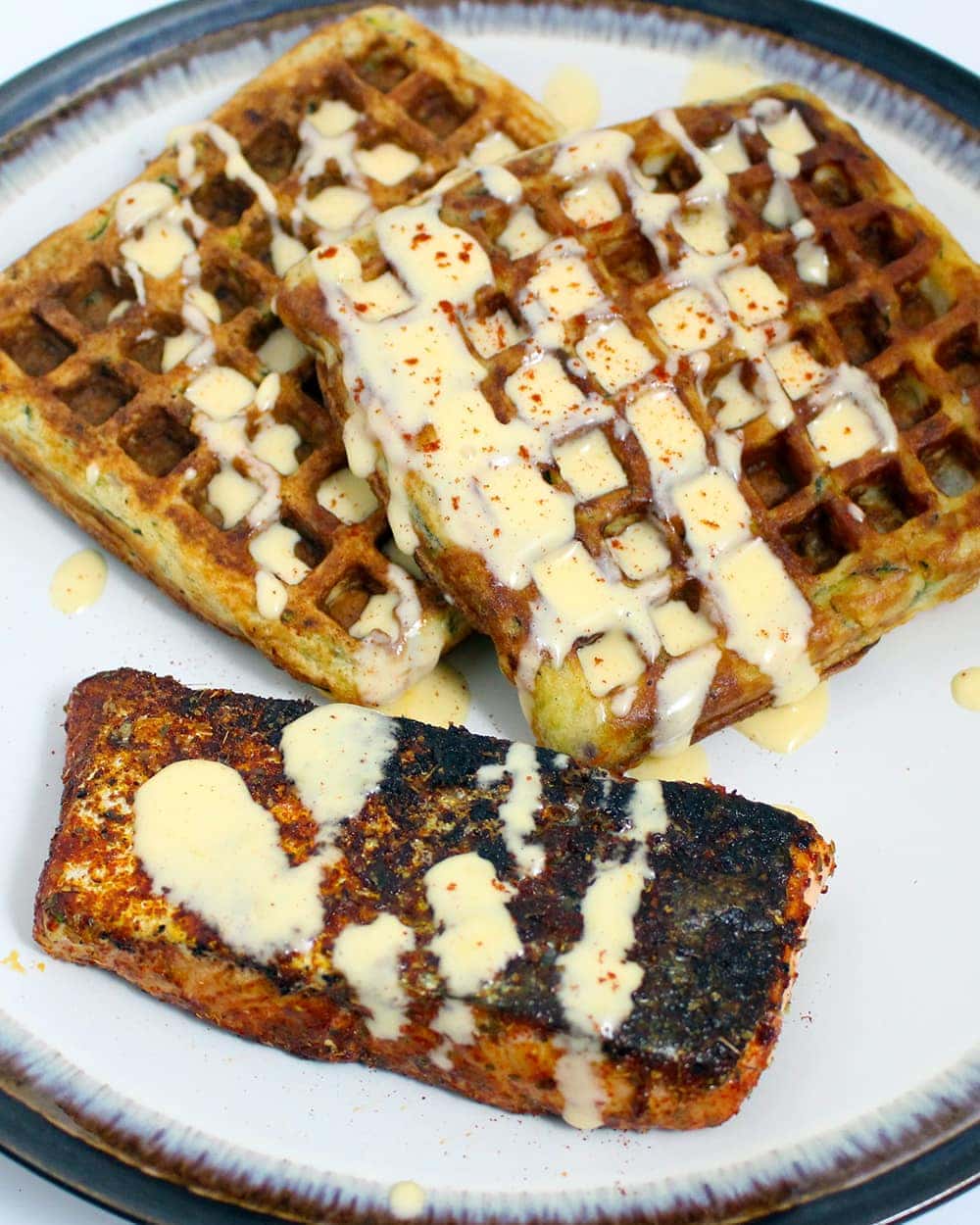 As you might have noticed I really love a good waffle. Since we got a waffle maker a few months ago I've made them a few times but it does involve quite a time commitment since our is one of those stove top ones and you can only do one waffle at a time.
Might be necessary to invest in a fancy electric one that makes those whopper waffles at some point soon.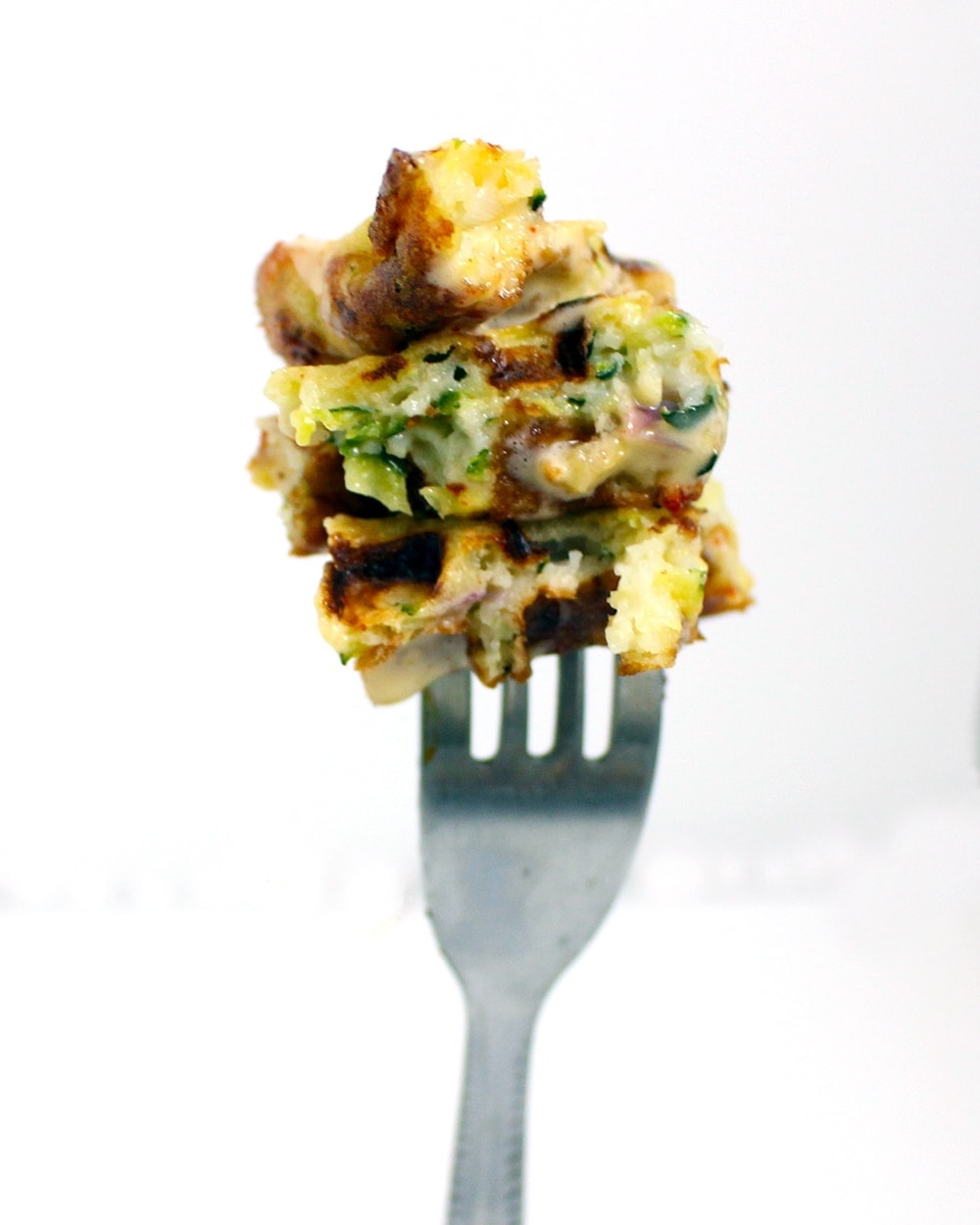 These courgette waffles have a big hit of parmesan and some garlic and red onion for a super flavourful waffle.
I really recommend making extra batter and having it for lunch the next day with a fried egg and sriracha on top which is exactly what I did and it was just great.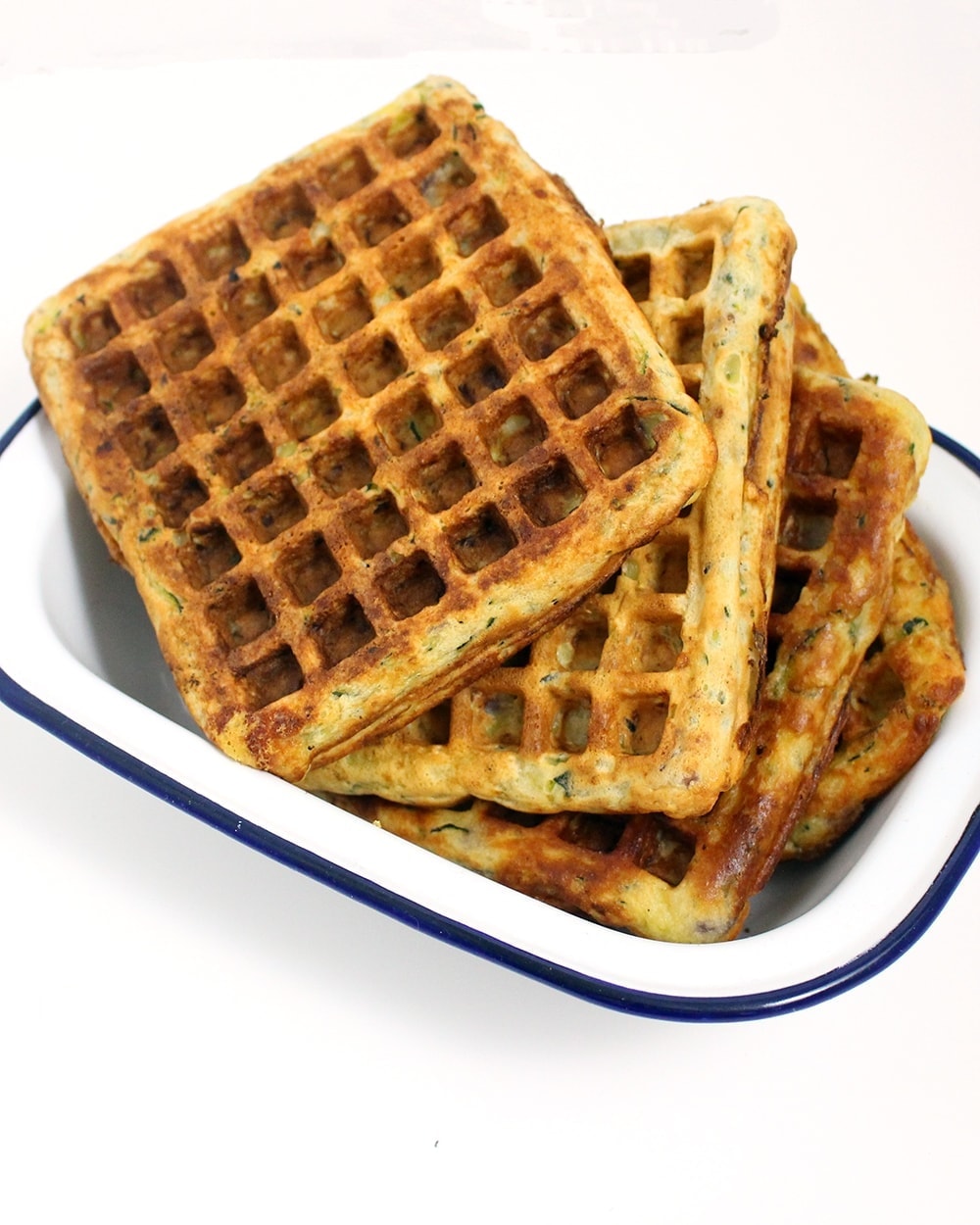 Probably my second favourite thing about this recipe is the discovery that you can make a really smooth and tasty hollandaise in a blender.
I've always been kind of scared of making hollandaise and let Will do it when we have eggs benedict or whatever but now that I've tried this method I'm gonna be all over it. Hollandaise every weekend!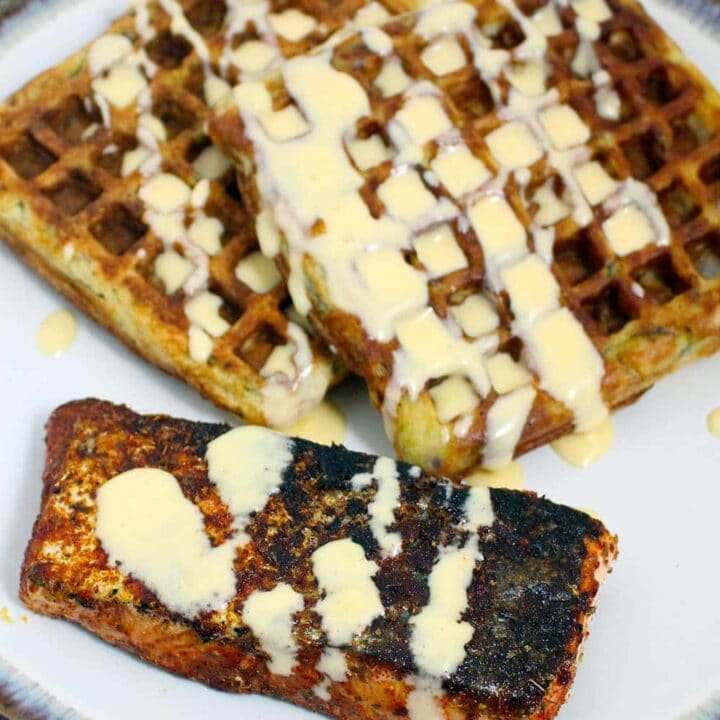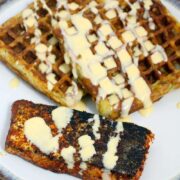 Cajun Salmon, Courgette Waffles & Blender Hollandaise Recipe
Spicy salmon is the perfect complement to these tasty courgette waffles. Top everything with this super quick, creamy hollandaise sauce!
Print
Pin
Rate
Ingredients
For the Salmon
2

Salmon Fillets skin on

1

teaspoon

Salt

1

clove

Garlic

1-2

teaspoon

Paprika

½

teaspoon

Pepper

½

teaspoon

Cayenne

½-1

teaspoon

Oregano

½-1

teaspoon

Thyme

¼

teaspoon

Chilli Flakes
Courgette Waffles
2

Courgettes

½

teaspoon

Salt

3

tablespoon

Butter

½

Red Onion chopped

2

cloves

Garlic crushed

80

g

Plain Flour

60

g

Cornflour

½

teaspoon

Baking Powder

1

Egg

230

ml

Milk

½

cup

Parmesan
For the Hollandaise
2

Egg Yolks

½

tablespoon

Lemon Juice

¼

teaspoon

Salt

Sprinkling Cayenne

to taste

5-6

tablespoon

Unsalted Butter
Instructions
Marinate the salmon by mixing together all of the spices and rubbing them on the salmon fillets. Set aside until ready to use.

Grate the courgette and place in a colander over the sink. Sprinkle with salt and let set for 10 minutes to draw out the moisture. While that's happening mix together the butter, onion, garlic flour, cornflour, baking powder, egg and milk in a large bowl.

Squeeze the grated courgette in your hands to get rid of any leftover moisture and then add it to the other waffle ingredients. Stir together then add the parmesan and mix together. Make your waffles according to your waffle maker's instructions.

To make the hollandaise melt the butter then put the egg yolks, lemon juice, salt and cayenne (if using) in a blender and mix for 30 seconds until light and fluffy. Slowly pour in the butter while the blender is on a medium speed and then continue to blend for another 20 seconds. The hollandaise should be smooth and creamy.

Heat a drizzle of oil over a medium high heat and add the salmon fillets skin side down. Cook for two minutes then flip and cook for another two minutes on the other side. Serve the salmon with the waffles and a drizzle of hollandaise.
WONDERING WHAT TO DO WITH THE LEFTOVER INGREDIENTS YOU'VE GOT FROM MAKING THIS Courgette Waffles, cajun salmon & blender hollandaise?
If you're anything like me then you're always looking for ways to save money and avoid food waste so I want to make sure you've get plenty of ideas on how to use up any ingredients that are leftover from my recipes!
Why not whip up a risotto with any leftover courgette?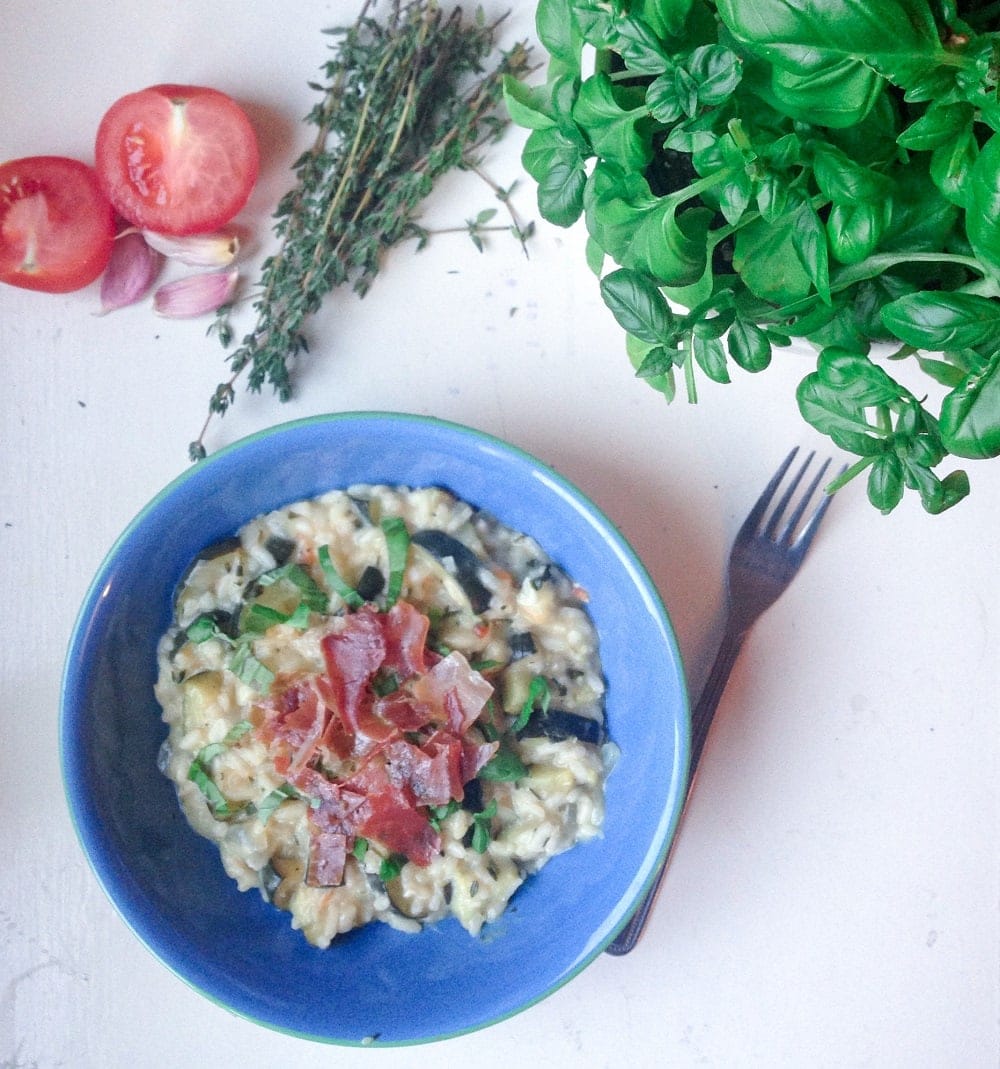 Throw any extra parmesan on top of this summer gnocchi skillet.