This satay chicken stir fry is packed full of healthy veg and has a rich nutty sauce which makes it perfect for a weeknight dinner.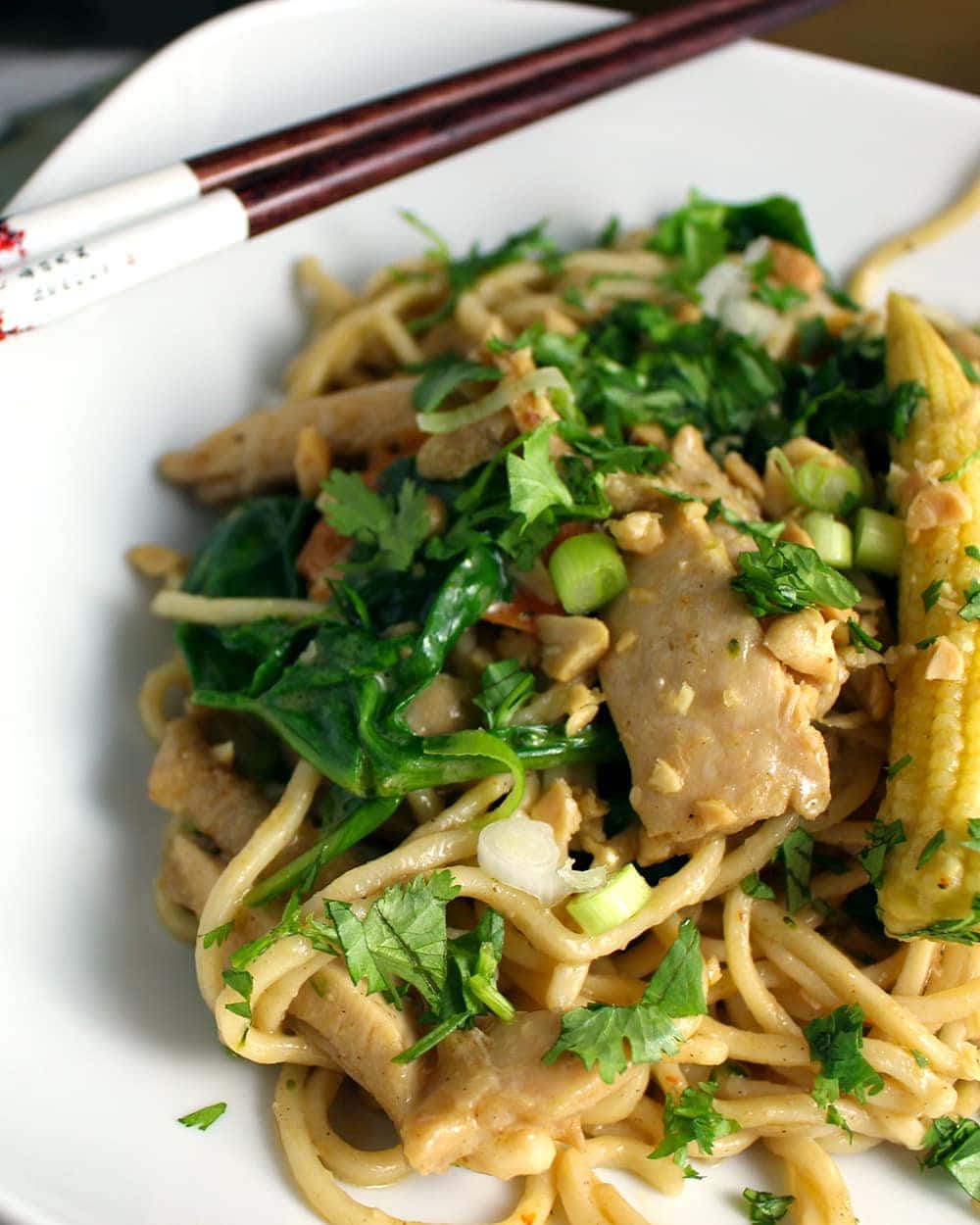 We went to Brockley Market on Saturday which is one of my favourite weekend activities. It's held every week in the car park of a local college down the road from us and it's full to bursting with local food producers and street food stalls and just general deliciousness. We go and get lunch and then stroll round the stalls rarely buying anything but fantasising about the day we can buy that free range chicken breast for £7 or those heirloom tomatoes  for double the price of supermarket ones.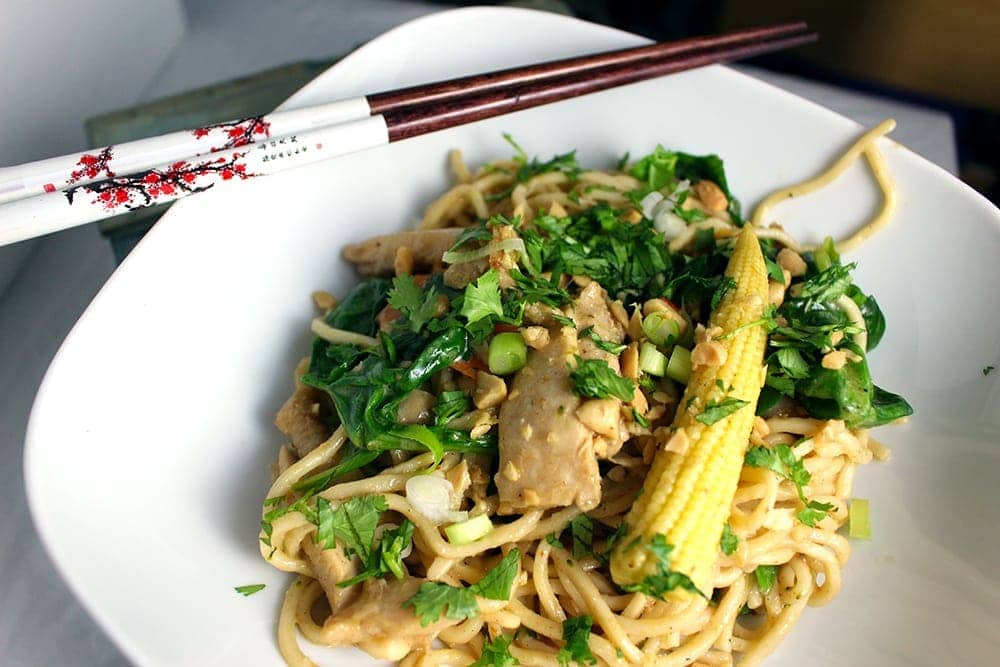 There's a street food place I'm obsessed with called Spit and Roast and they do fried chicken sandwiches with slaw and Korean hot sauce and they're probably the thing I would have as my last meal. Like ten of them. They're at Brockley Market every week and every time we go there I say I'll try something new and then end up getting Spit and Roast because I can't bear to miss out on that chicken. And that hot sauce. But this time I actually did get something different!
(Don't worry Spit and Roast, you're still my favourite).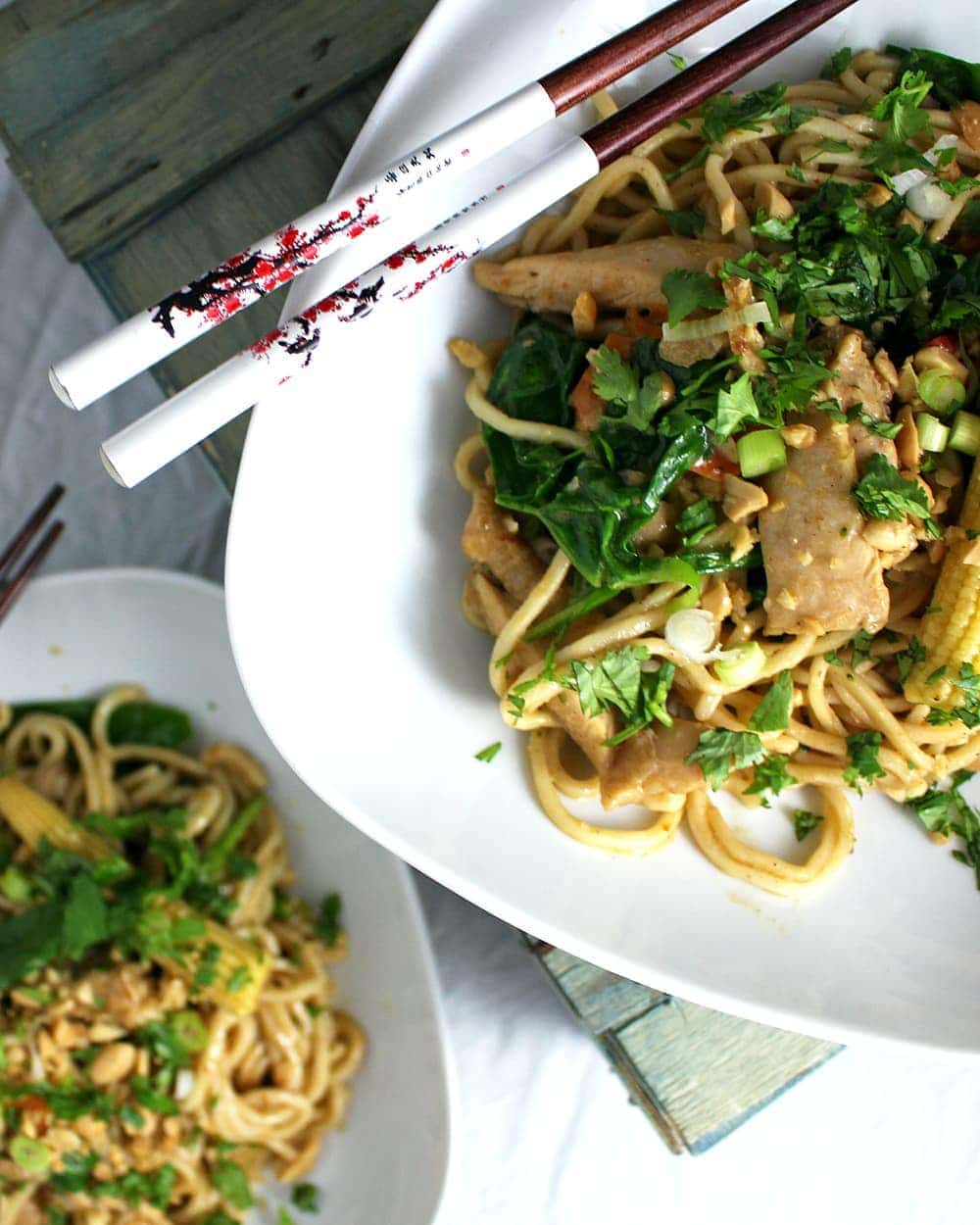 The cause of my betrayal was a new Filipino place which I'd never seen before called BBQ Dreamz. The minute I saw the 'mega box' option which included crispy pork AND satay chicken all over jasmine rice I couldn't resist. And it was so good.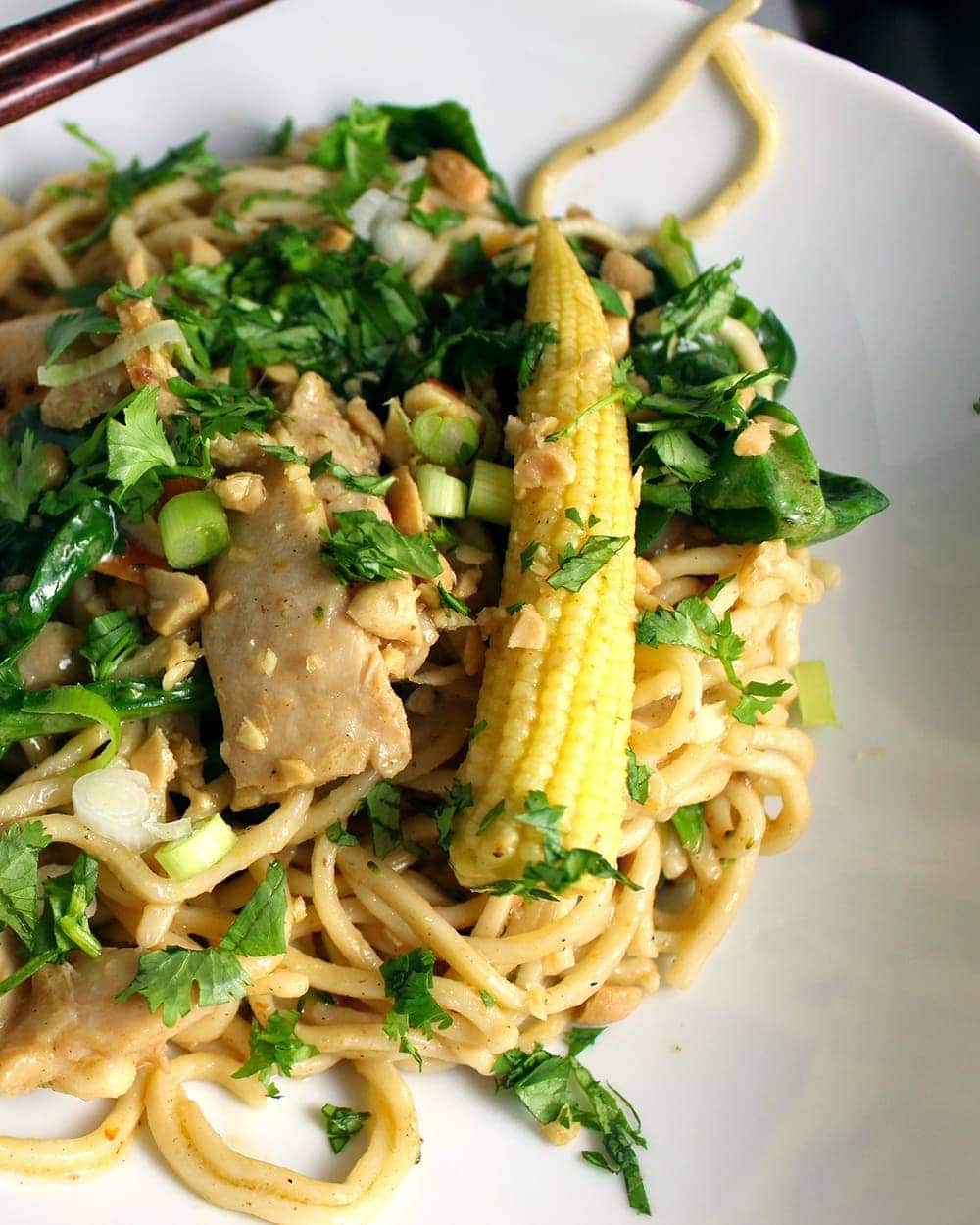 A few days later when Will was asking me what to make for dinner we both decided that creating our own version of that satay chicken was the way to go. By the time I got home from work Will had put together this amazing satay chicken stir fry and he's even letting me share it on the blog!
Will's version is with noodles instead of rice and has tons of veggies which make you feel good and taste awesome. You could really put whatever veg you fancied in there, go crazy!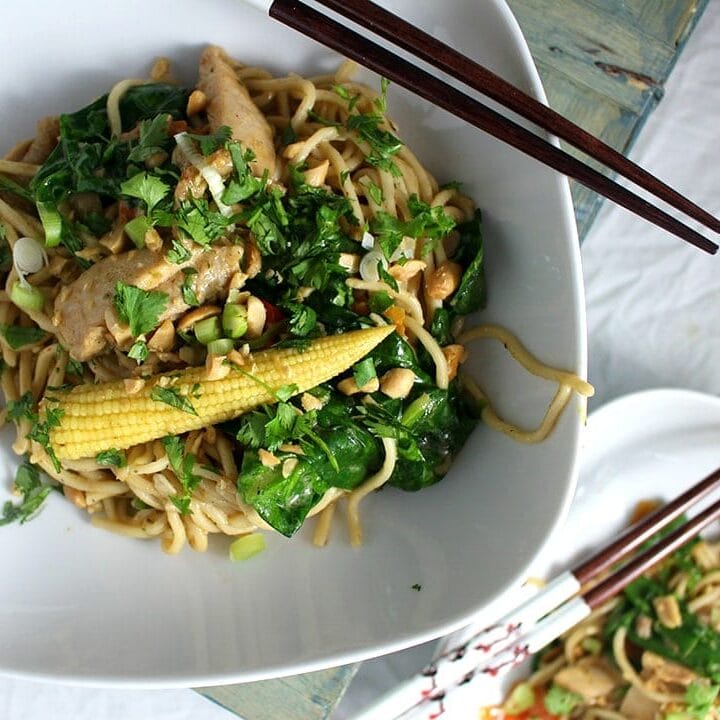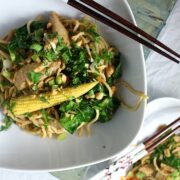 Satay Chicken Stir Fry
This satay chicken stir fry is packed full of healthy veg and has a rich nutty sauce which makes it perfect for a weeknight dinner.
Print
Pin
Rate
Ingredients
400

g

Chicken - We used skin on boneless thighs but I'd say skinless and boneless thighs would probably be best

1

tablespoon

Soy Sauce

1

tablespoon

Fish Sauce

½

tablespoon

Kacip Manis

1

teaspoon

Corn Flour

5

Spring Onions chopped into large chunks

100

g

Tender Stem Broccoli

320

g

of Egg Noodles in your preferred thickness

1

teaspoon

Red Thai Curry Paste

or more if you like it extra spicy

1

tablespoon

Peanut Butter

we like crunchy but you can use whichever you like

1 400

g

tin Coconut Milk

1

Carrot cut into ribbons using a vegetable peeler

1

Red Chilli sliced and deseeded

80

g

Mange Tout

80

g

Pak Choy

80

g

Baby Corn

Juice of 1 Lime

Chopped peanuts

fresh coriander and sliced spring onion to serve
Instructions
Start by adding the chicken, soy sauce, fish sauce, kacip manis and cornflour to a large bowl and mixing together. Set aside until you are ready to use.

Place the noodles into some boiling water and cook them according to packet instructions. Once they're cooked drain them and rinse with cold water before returning to the pan and coating with a little oil. Set aside until ready to use.

Heat a little cooking oil in a large wok over a medium-high heat. Once it's hot, add the chicken and brown all over (you might need to do this batches) for about 5 minutes or until it looks super tasty. Remove the chicken from the wok and place on a board. The chicken won't be cooked through yet but don't worry, you'll add it back soon to cook all the way through.

Throw the spring onion and the broccoli into the wok and stir fry for a couple of minutes. Add the curry paste to the wok and cook for a few more minutes until fragrant. In the meantime, slice the chicken into strips.

Add the peanut butter and pour the coconut milk into the wok. Give everything a good mix and bring to a boil. Return the chicken along with the carrot ribbons. After about 3 minutes add the rest of the veg and the chilli. Return to the boil and add the lime juice.

Add the noodles to the wok and stir everything together until coated. Add the spinach just before serving then remove from the heat and allow it to wilt. Serve topped with peanuts, coriander and spring onion.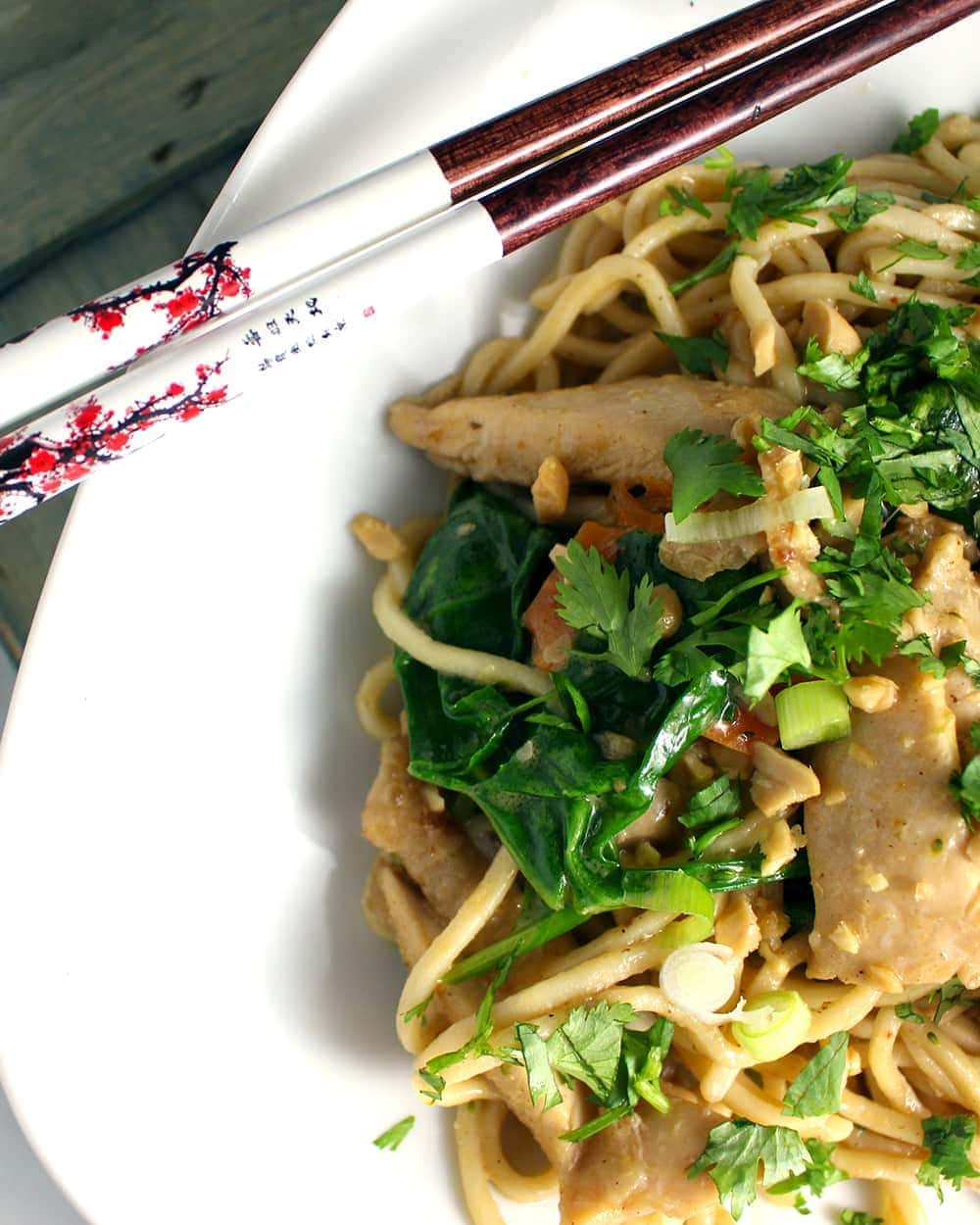 WONDERING WHAT TO DO WITH THE LEFTOVER INGREDIENTS YOU'VE GOT FROM MAKING THIS satay chicken stir fry?
If you're anything like me then you're always looking for ways to save money and avoid food waste so I want to make sure you've get plenty of ideas on how to use up any ingredients that are leftover from my recipes!
Fish sauce is a surprise addition to this white bean stew and works so well!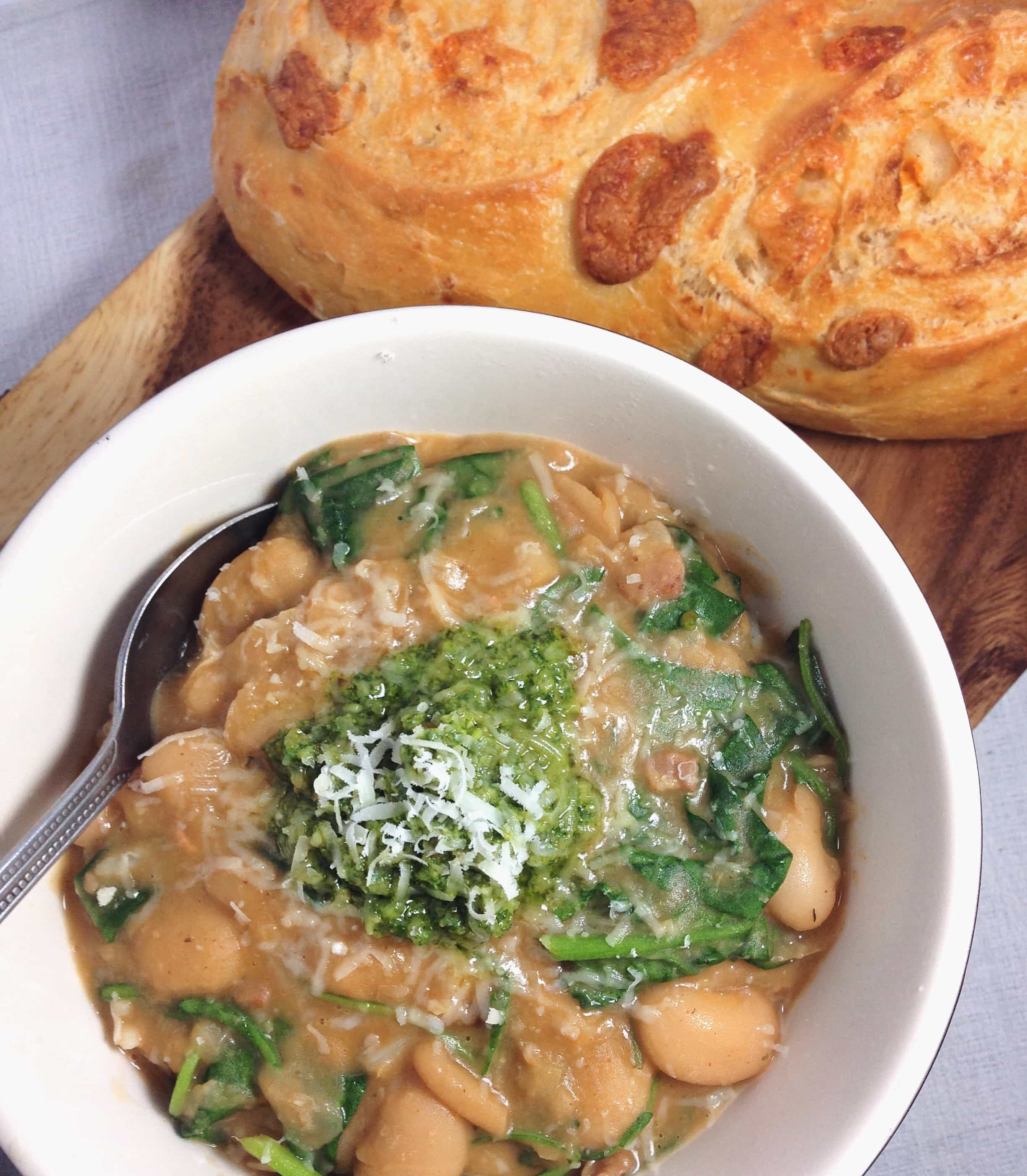 Use up your leftover noodles, peanuts and carrots in this courgette and carrot stir fry.