This Brussels sprout, potato & bacon breakfast hash is the perfect thing to start your morning! Crack in an egg or two & you've got a tasty morning meal.
Jump to Recipe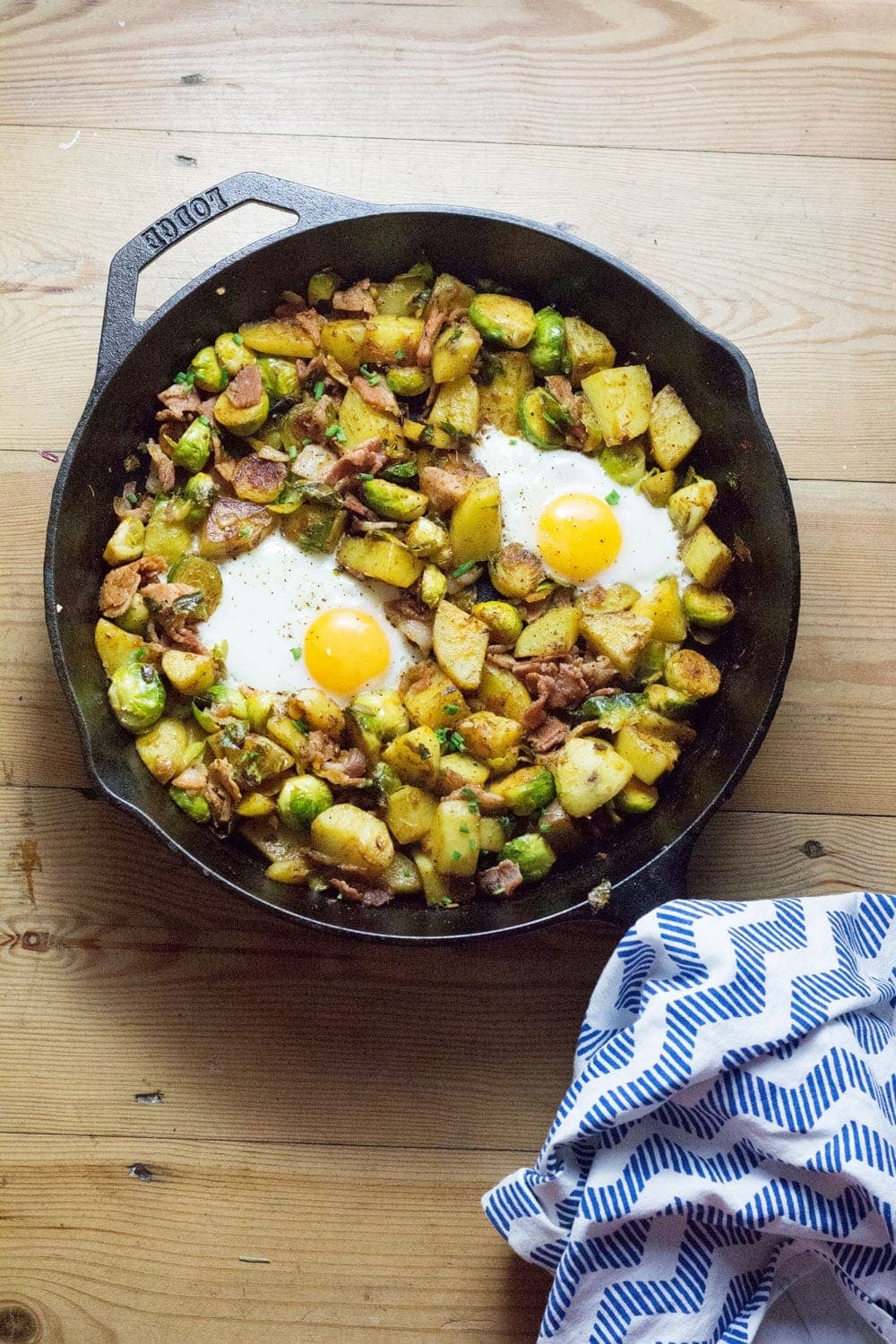 Weekend breakfasts are always pretty special in our home. We're both so obsessed with food that the whole weekend usually becomes focused around what we're going to eat next and breakfast is no exception. Sometimes it's something as simple as a bacon sandwich and sometimes we branch out and make something a bit more exciting. Either way, our Saturday morning breakfasts are often our first chance in the weekend to eat something delicious while enjoying each other's company. I always, always look forward to those weekend breakfasts.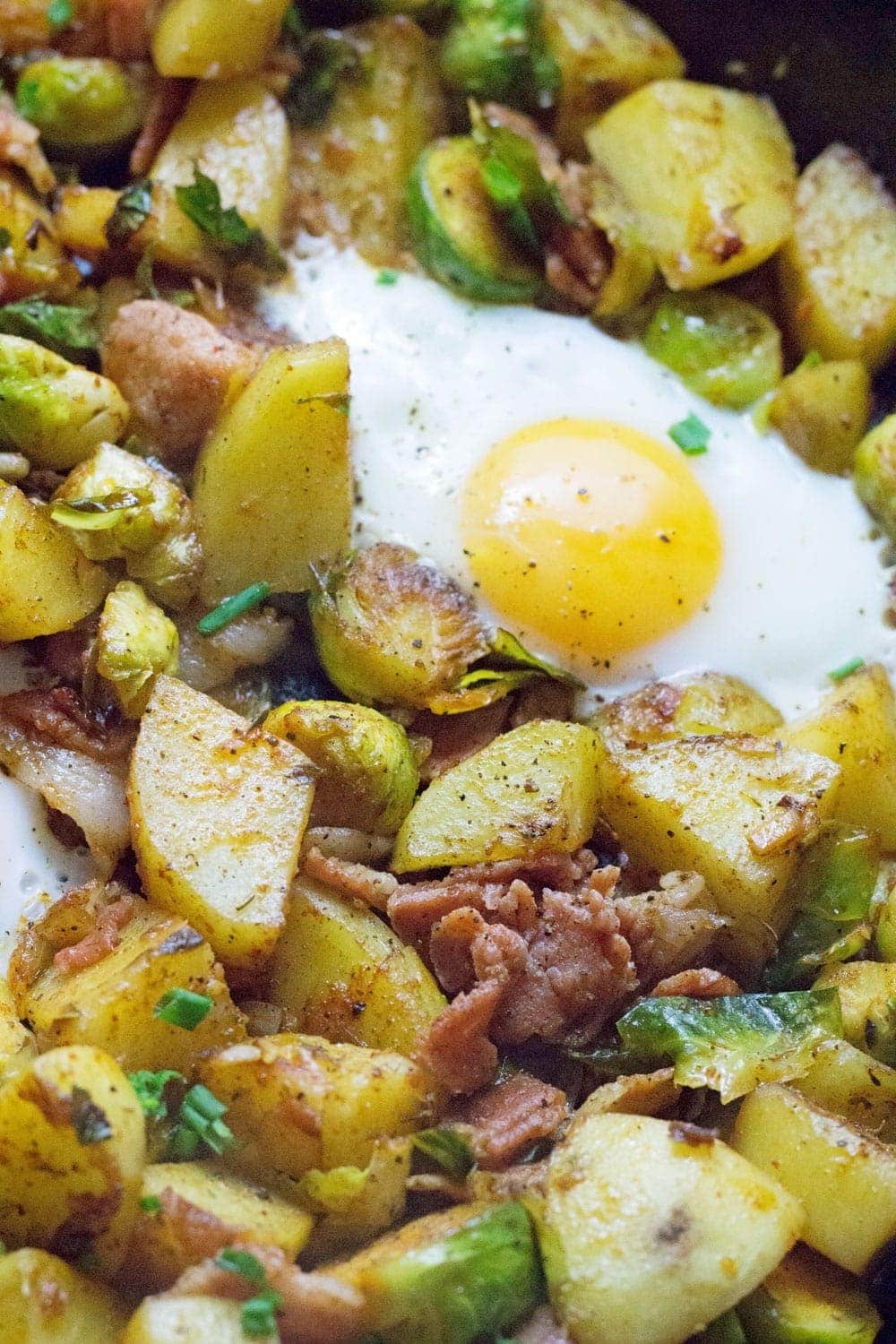 So what makes a good breakfast? I'm a firm believer in the mantra that putting an egg on it makes it breakfast. Leftover fish and chips? Add an egg. Leftover curry and naan? Add an egg. And so this simple skillet of potatoes, bacon and Brussels sprouts (leftover from my green quinoa bowls, I hate to see anything go to waste!) becomes the most delicious breakfast with the addition of a couple of eggs cracked into the mixture.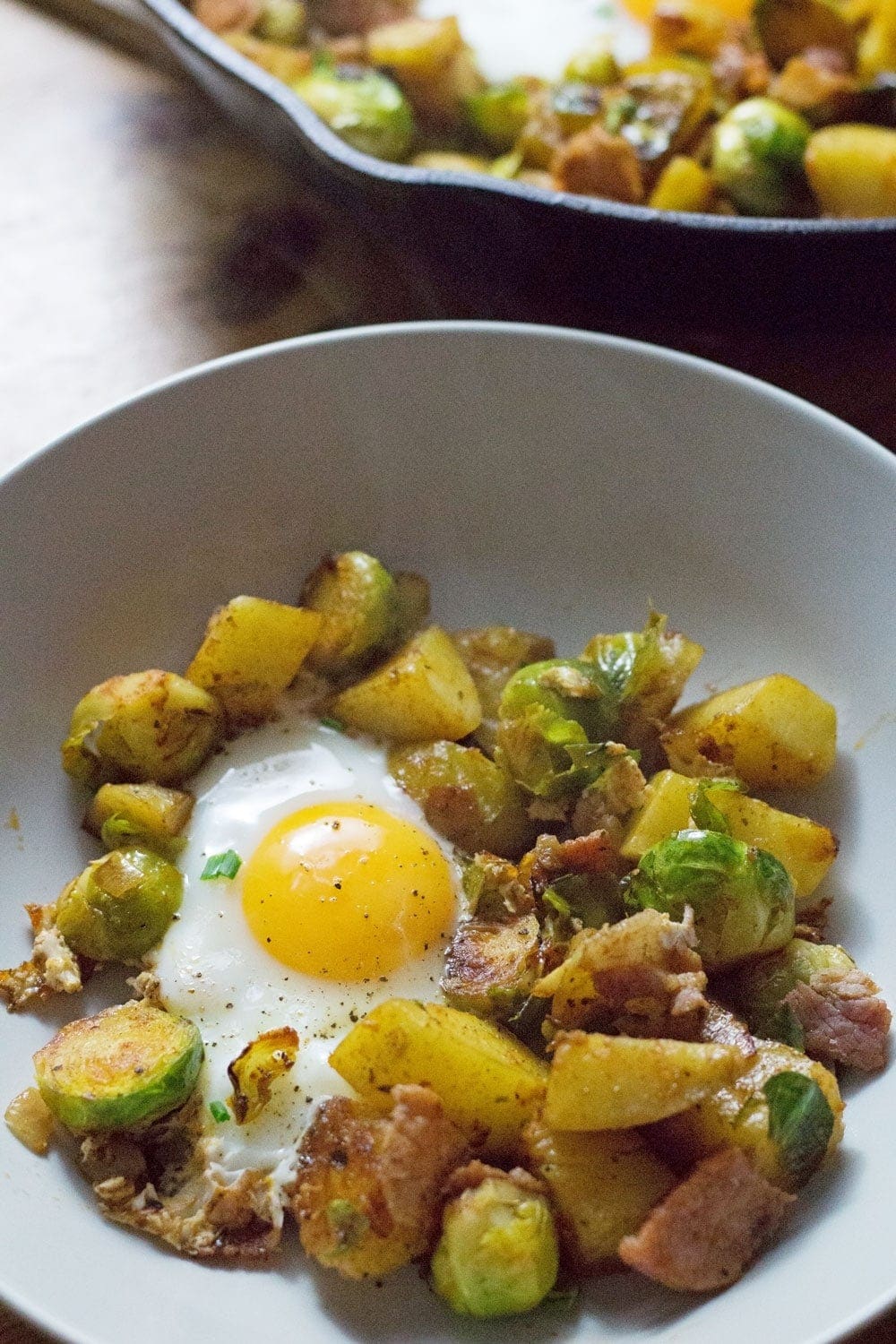 And of course, there's bacon, the best of all breakfast ingredients. Now it might strike you as a little weird to have Brussels sprouts for breakfast. Or even at all if you're a die hard sprout hater like so many people are. I've never been a huge fan, mainly because I'm not a huge fan of any vegetable except overcooked broccoli (weird, yes) but Will loves sprouts so we have them now and again and I've gotta say, if you're gonna eat sprouts then pretty much the only way to do it is with bacon. And once they're with bacon they're basically breakfast so this totally and completely all makes sense, ok?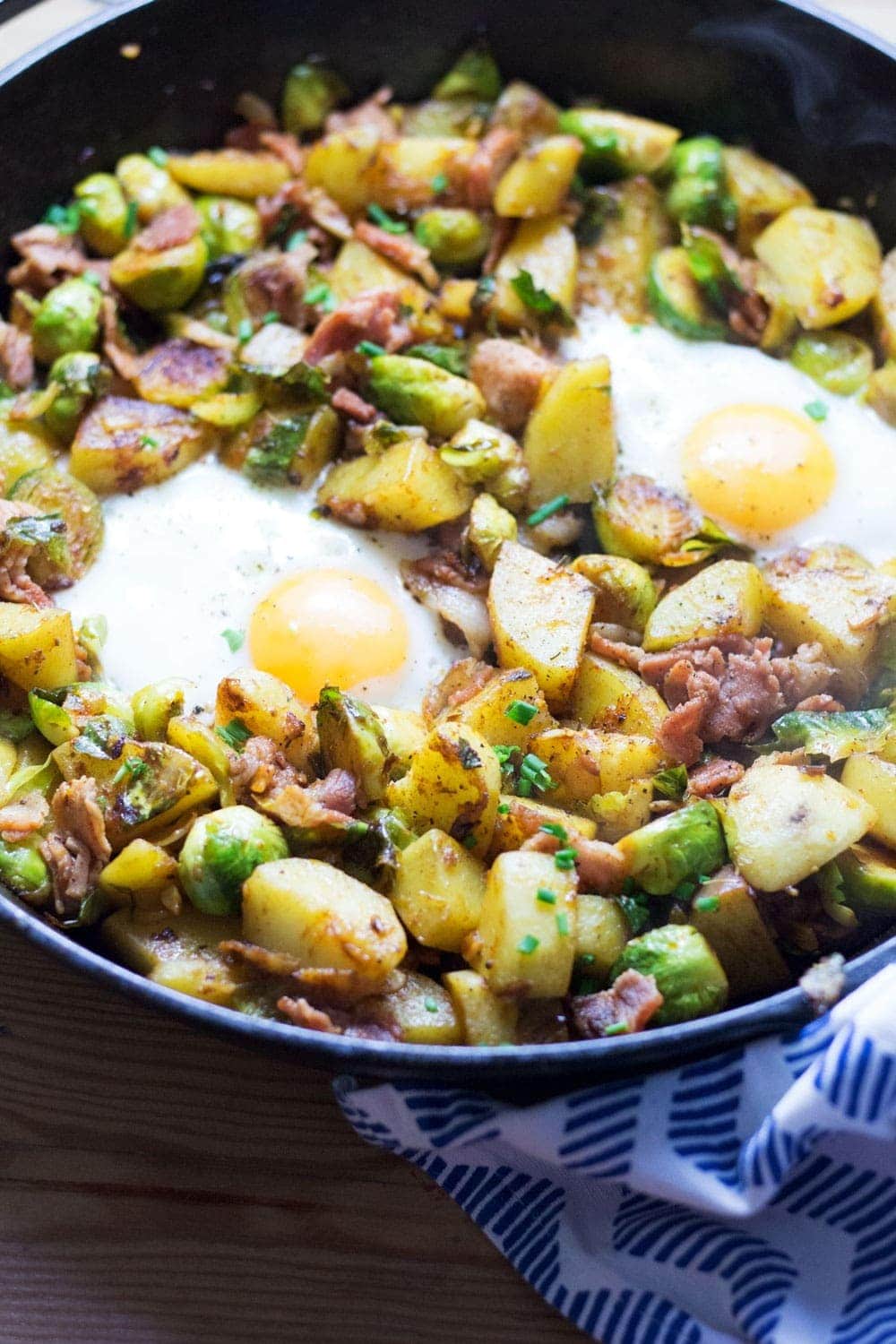 Brussels Sprout, Potato & Bacon Breakfast Hash
This Brussels sprout, potato & bacon breakfast hash is the perfect thing to start your morning! Crack in an egg or two & you've got a tasty morning meal.
Ingredients
Olive Oil

2-3

medium sized

Potatoes

peeled and chopped

2

Shallots

75

g

Brussels Sprouts

halved

4

slices

Smoked Bacon

chopped

Salt and Pepper

1

tsp

Smoked Paprika

2-4

Eggs

Chives

chopped
Instructions
Start by heating a glug of oil in a skillet, enough to coat the bottom of the pan, over a low heat. Add the potatoes and cook for 15 minutes until they're beginning to soften, add a little more oil if needed.

Turn the heat up to medium. Throw in the shallots and sprouts and cook for another 5 minutes before adding the bacon, smoked paprika and a good sprinkling of salt and pepper. Give everything a good mix and continue to cook over a medium heat until the potatoes and sprouts are just tender.

Make some wells in the mixture - either 2 or 4 depending on how many you're serving/how hungry you are! Crack an egg into each well and cook until the whites are set and the yolks are still runny. Serve with a sprinkling of chopped chives and extra black pepper.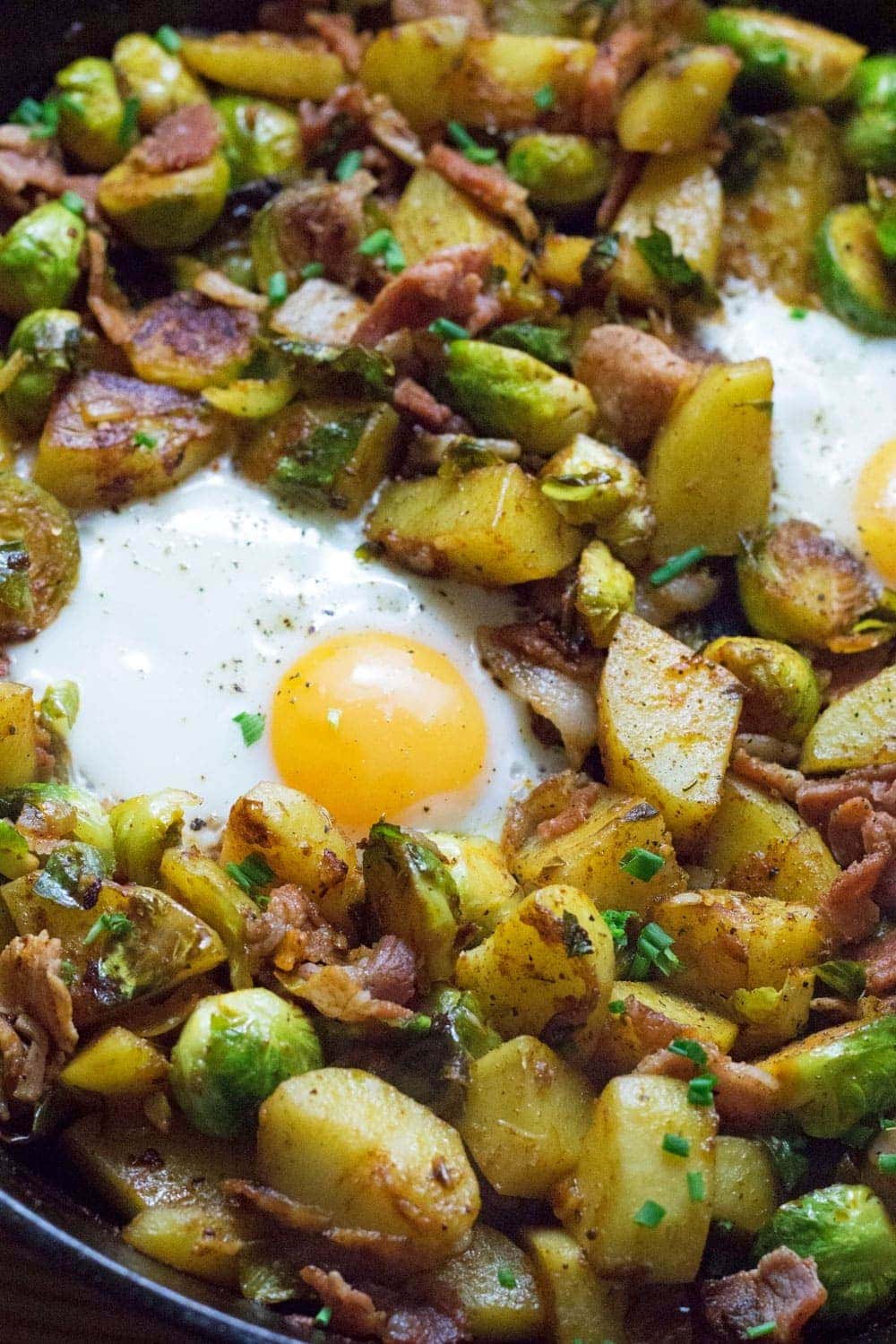 WONDERING WHAT TO DO WITH THE LEFTOVER INGREDIENTS YOU'VE GOT FROM MAKING THIS BRUSSELS SPROUT, POTATO & BACON BREAKFAST HASH?
If you're anything like me then you're always looking for ways to save money and avoid food waste so I want to make sure you've get plenty of ideas on how to use up any ingredients that are leftover from my recipes!
Sriracha Chicken Bacon Ranch Pizza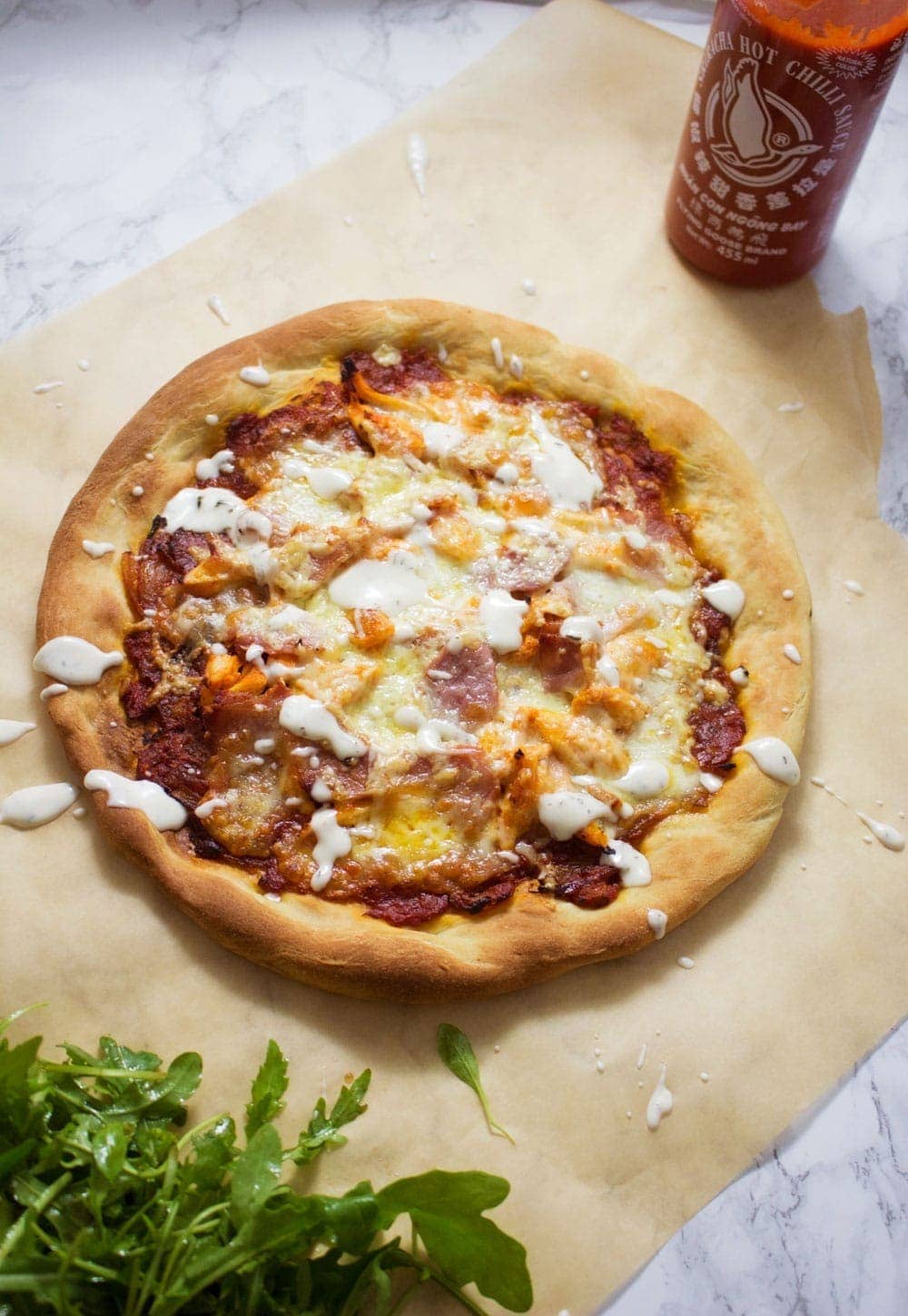 Easy Curry Potato & Egg Skillet