Try out this indulgent duck tagine with chickpeas and butternut squash for a slow cooked weekend treat.
Duck is our ultimate treat. Will and I are both slightly obsessed with it and I'm always pretty baffled when people tell me they don't like it. If you're one of those people, are you sure? Like really really sure? It's just so yummy though.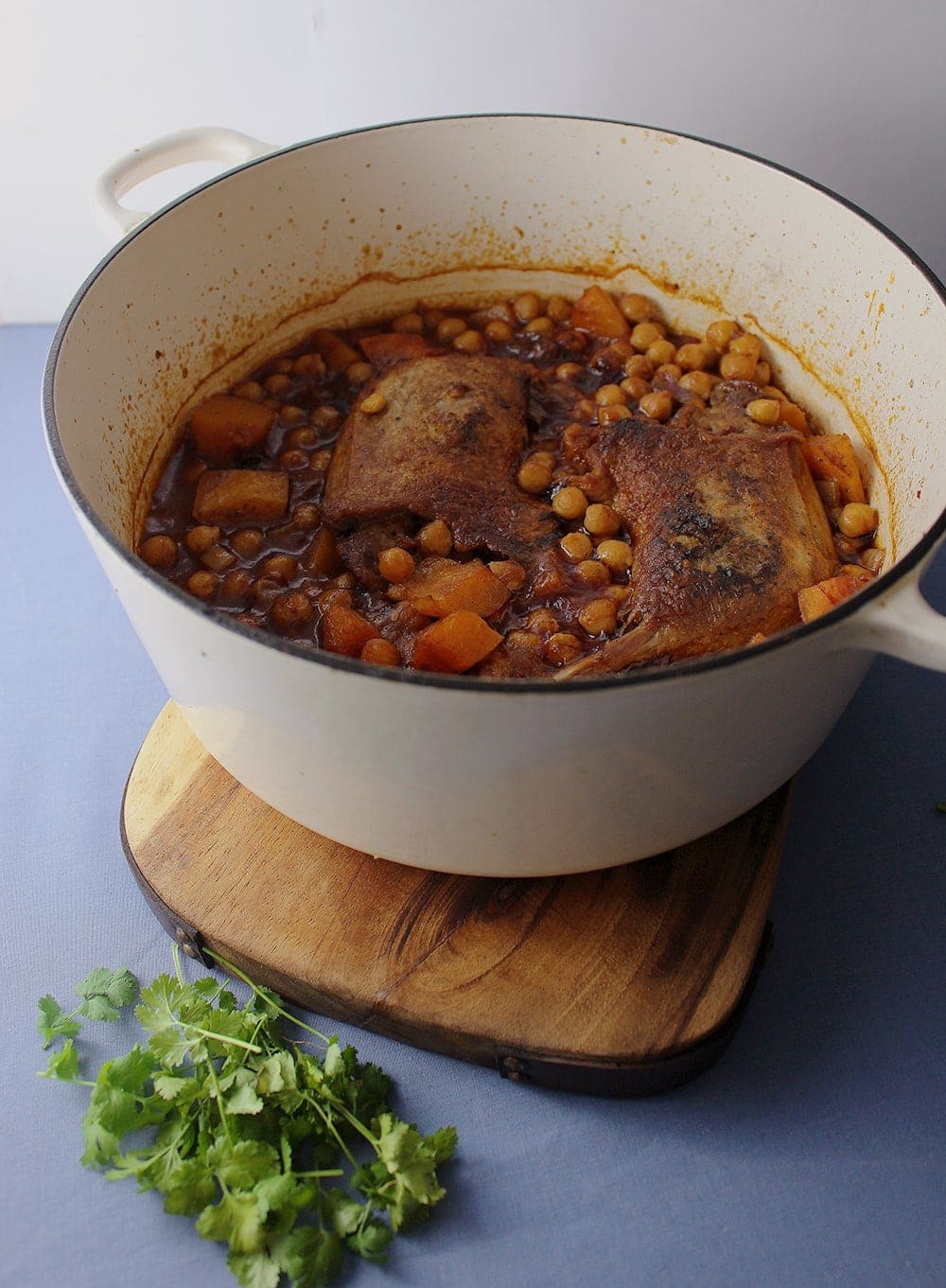 Anyway, we have this duck ragu recipe which was the basis for this rich pork ragu I posted a few weeks ago that we make a lot and it is legit insane, maybe it'll make it onto the blog sometime soon! It's one of the few recipes we make on a regular basis so when we had some duck legs in the freezer last weekend it was tricky to resist making it again. Luckily we did manage to resist and this duck tagine came into being.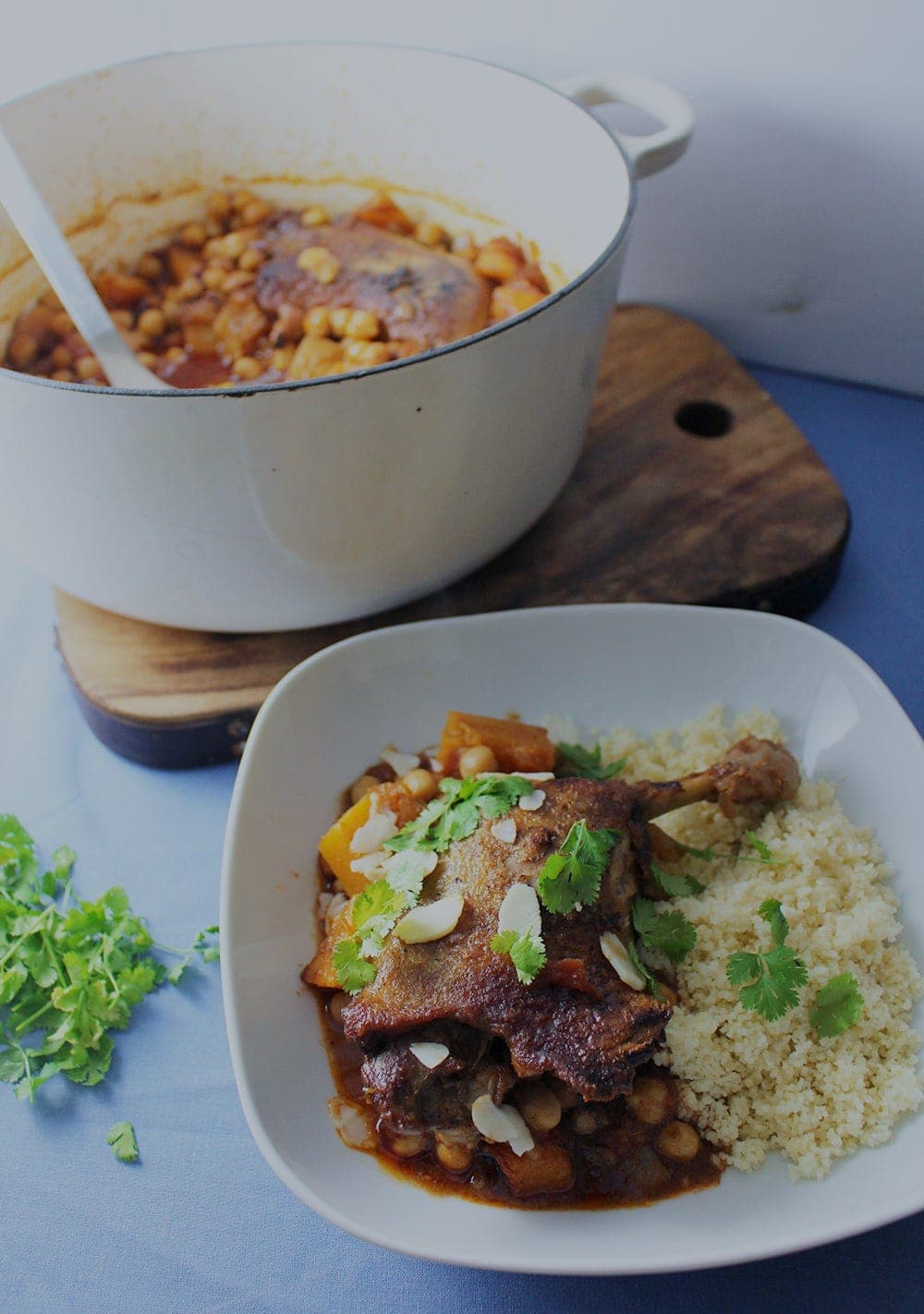 Will and I have got into the perfect Sunday routine of cooking special treat meals that take hours and always make me feel a little better about having to go to work the next day. Especially since I get to take the leftovers for lunch.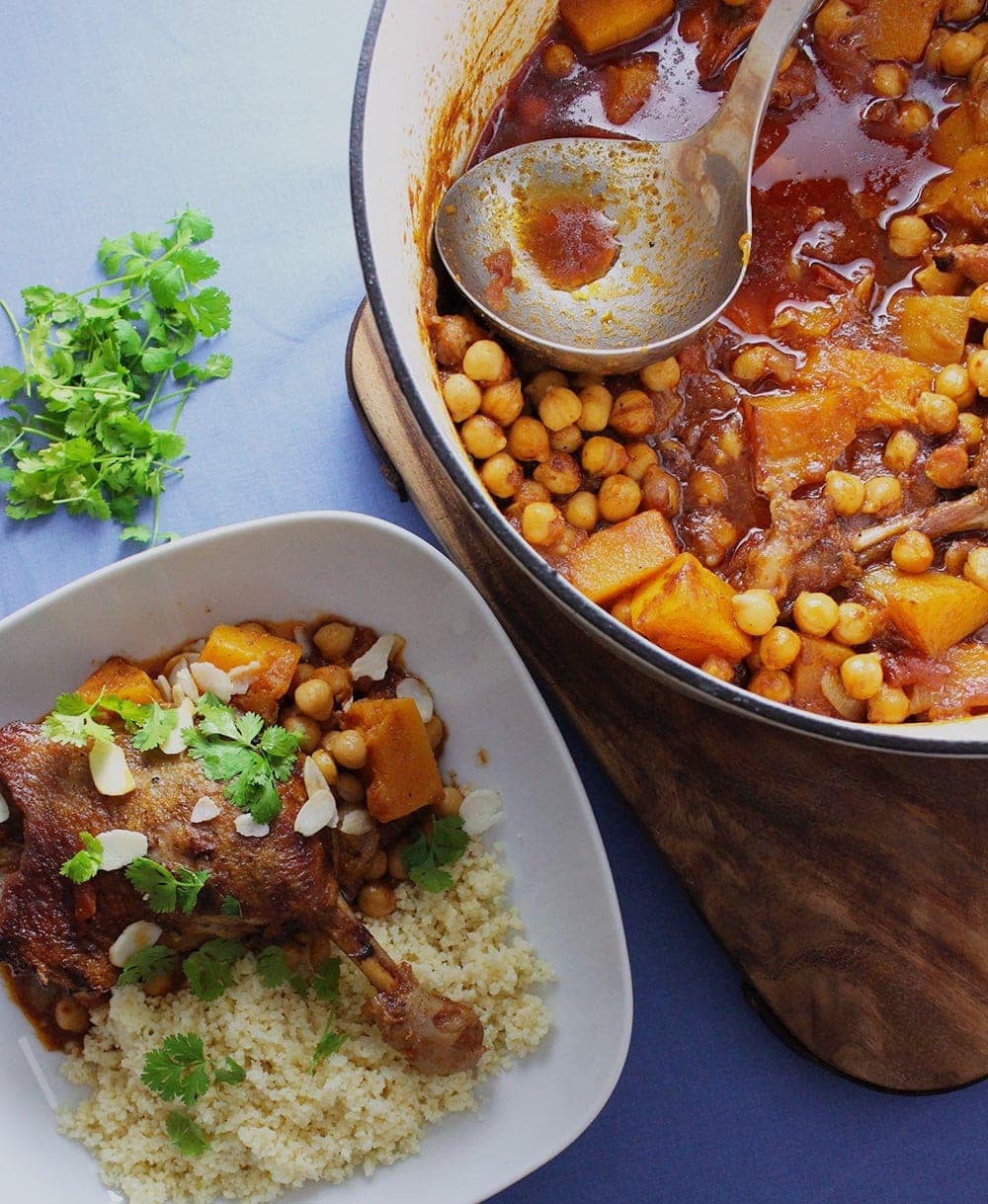 This recipe takes a little time I have to admit. Most of it is hands off though. The main thing you need to do is brown those duck legs, make sure you get that skin lovely and golden before you start everything else. Once that's done it's just a case of throwing onion and garlic into that duck fat before adding spices, butternut squash, tomatoes and stock and then you get to put your feet up while it all cooks low and slow for an hour and a half.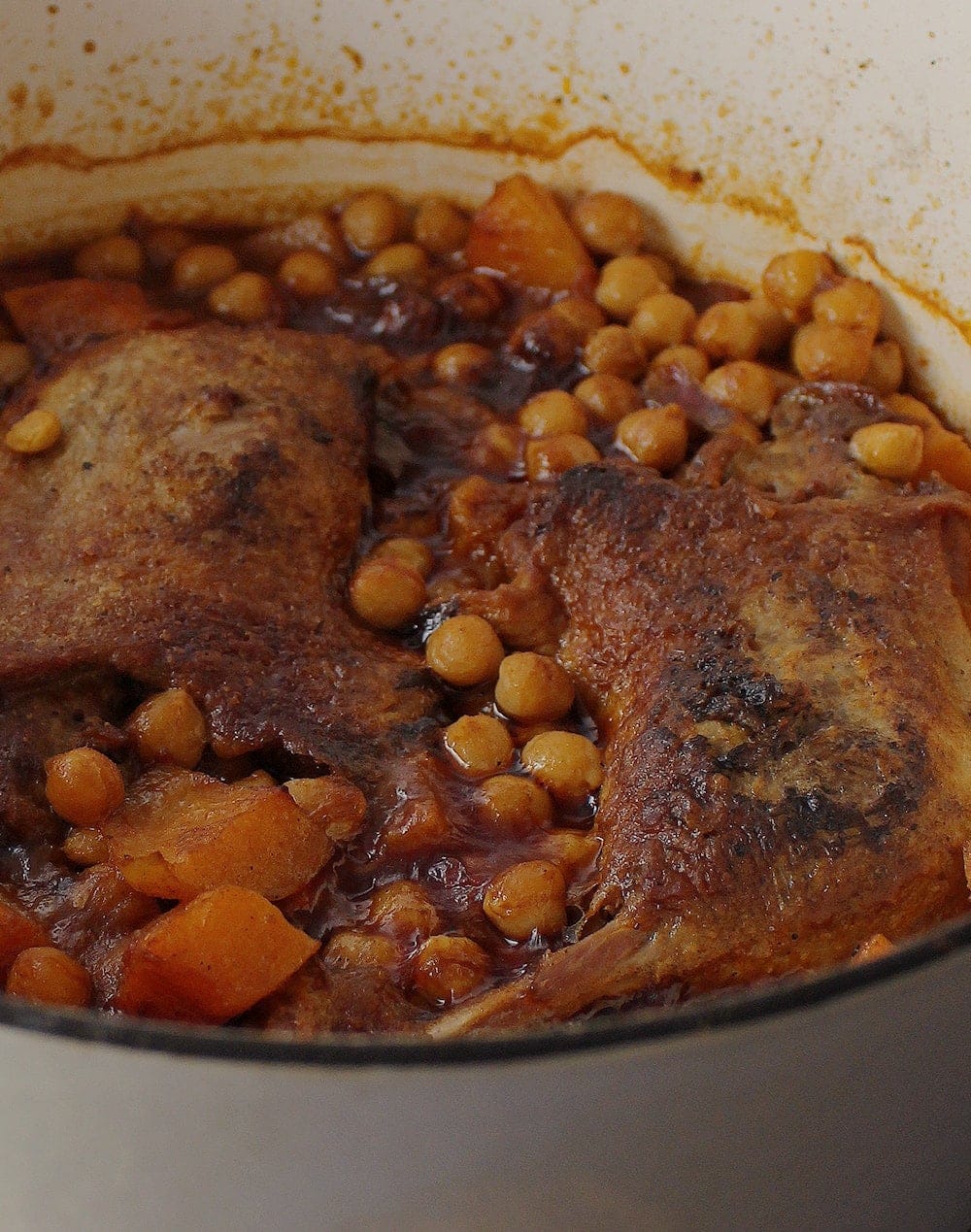 Once you've added the chickpeas and cooked them through all that's left is to quickly brown the duck legs under the grill and then tuck in. We had ours with cous cous which is obviously the classic tagine accompaniment but honestly this would go great with whatever you fancied or even holds up on its own since there's a hearty helping of chickpeas and butternut squash.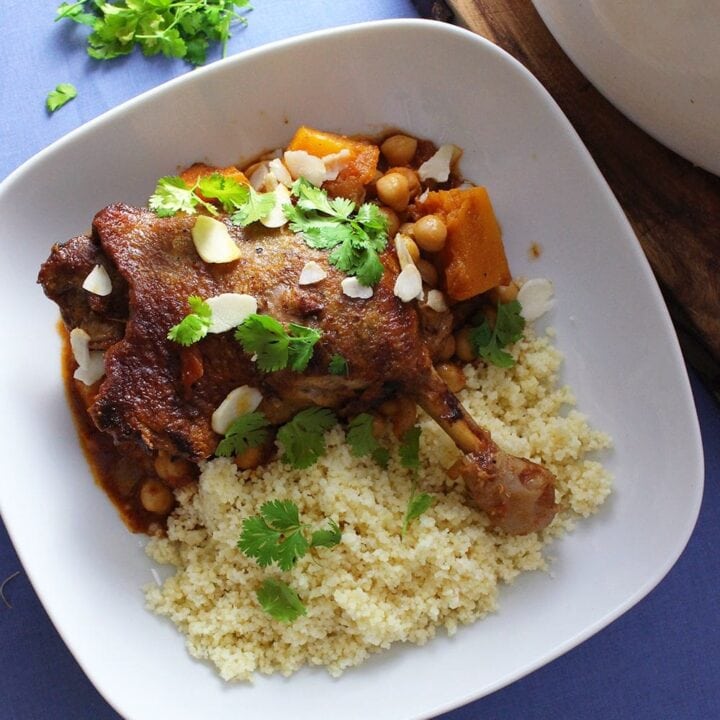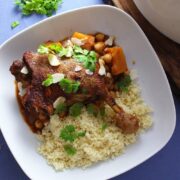 Duck Tagine With Chickpeas and Butternut Squash
Try out this indulgent duck tagine with chickpeas and butternut squash for a slow cooked weekend treat.
Print
Pin
Rate
Servings:
2
with leftovers
Ingredients
2

Duck Legs

1

teaspoon

Olive Oil

1

Onion chopped

3

Cloves

Garlic chopped

1

tablespoon

Cumin

1

teaspoon

Smoked Paprika

1

teaspoon

Ground Coriander

½

teaspoon

Aleppo Pepper

½

teaspoon

Cinnamon

1

Butternut Squash peeled and chopped

1 400

g

tin Chopped Tomatoes

120

ml

Chicken Stock

1 400

g

tin Chickpeas drained and rinsed

Handful Flaked Almonds

Small bunch Fresh Coriander chopped
Instructions
Heat the oil over a medium high heat in a large casserole dish which is suitable for the oven. Brown the duck legs all over then remove them and set aside. About 4 minutes on each side.

Cook the onion and garlic in the duck fat and oil over a medium low heat for 5 minutes. Add all the spices and cook for another 3 minutes before adding the chopped squash.

Return the duck legs and then add the tomatoes and the stock to the pot. Try and keep the skin above the liquid.

Cover and cook over a low heat for an hour and a half. Add the drained chickpeas and cook for another 15 minutes with the lid on. Heat the oven to 180°C when you add the chickpeas.

Take the lid off and place the pot in the oven for 20 minutes until the skin is dark and crispy.

Serve with cous cous and topped with almonds and coriander.
Notes
We only had two duck legs so I just served this for two but there was lots of sauce left so if you had another two duck legs you could easily stretch this out for four without increasing the quantities of everything else.
WONDERING WHAT TO DO WITH THE LEFTOVER INGREDIENTS YOU'VE GOT FROM MAKING THIS DUCK TAGINE WITH CHICKPEAS AND BUTTERNUT SQUASH?
If you're anything like me then you're always looking for ways to save money and avoid food waste so I want to make sure you've get plenty of ideas on how to use up any ingredients that are leftover from my recipes!
Use up the butternut squash in this caramelised butternut squash with rosemary and thyme. You can use the aleppo pepper in this menemen recipe. Chickpeas are the main ingredient in this garlic butter coconut chickpeas recipe.