Salmon and tomato curry is a tasty change from a traditional curry recipe. Not only that but the spinach, tomatoes and salmon make it a healthier option too!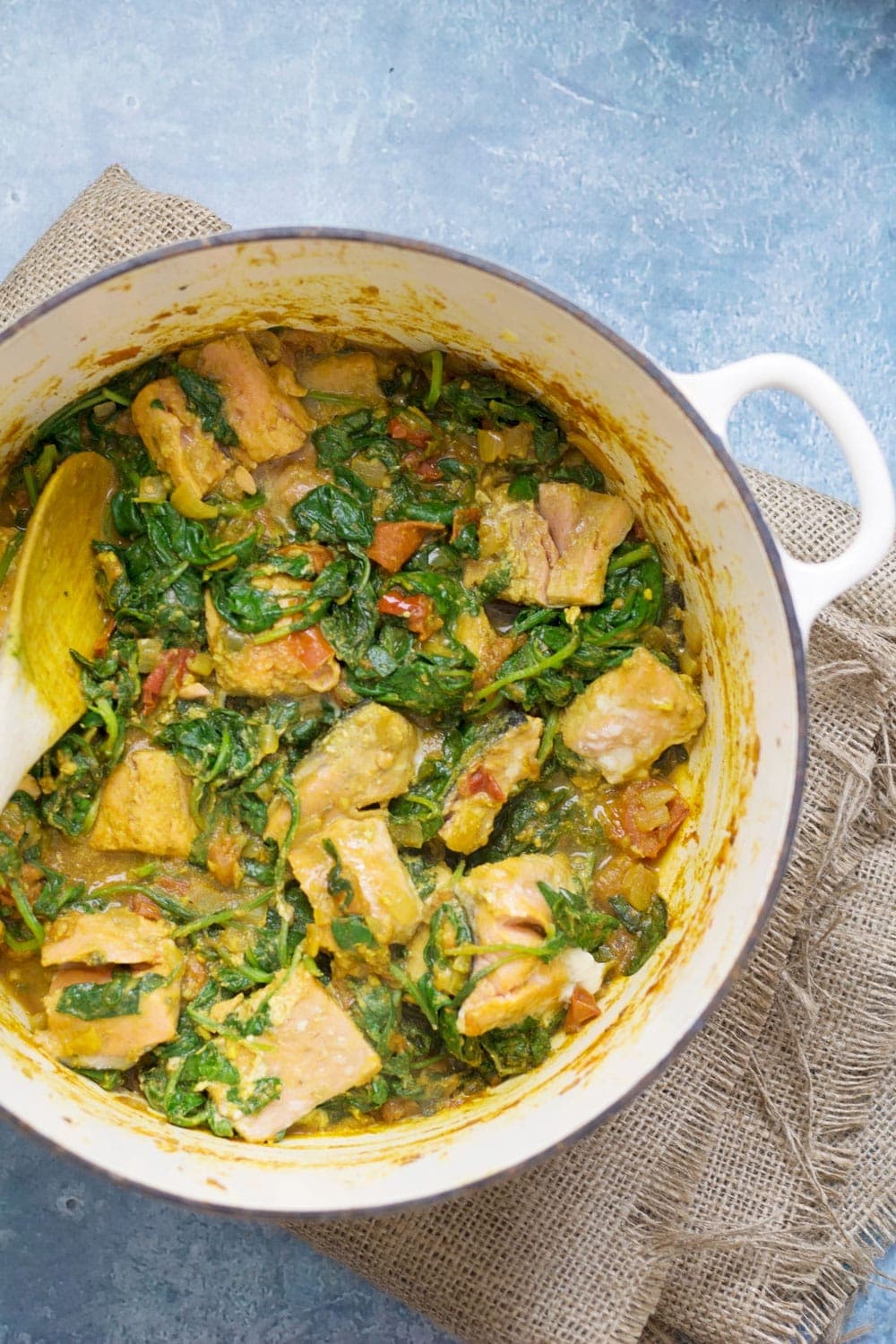 Hands up who loves curry. I think it's definitely one of our favourites in this house and we love it any which way. It's one of those things, like pizza, that can be perfect in so many different forms. Whether it's a greasy take away which amounts to thousands of calories and sleepily collapsing on the sofa after eating or a fresh, healthy and relatively light version like this salmon and tomato curry. They all have their places and if you've got it in your head that curry can only be an occasional treat then think again!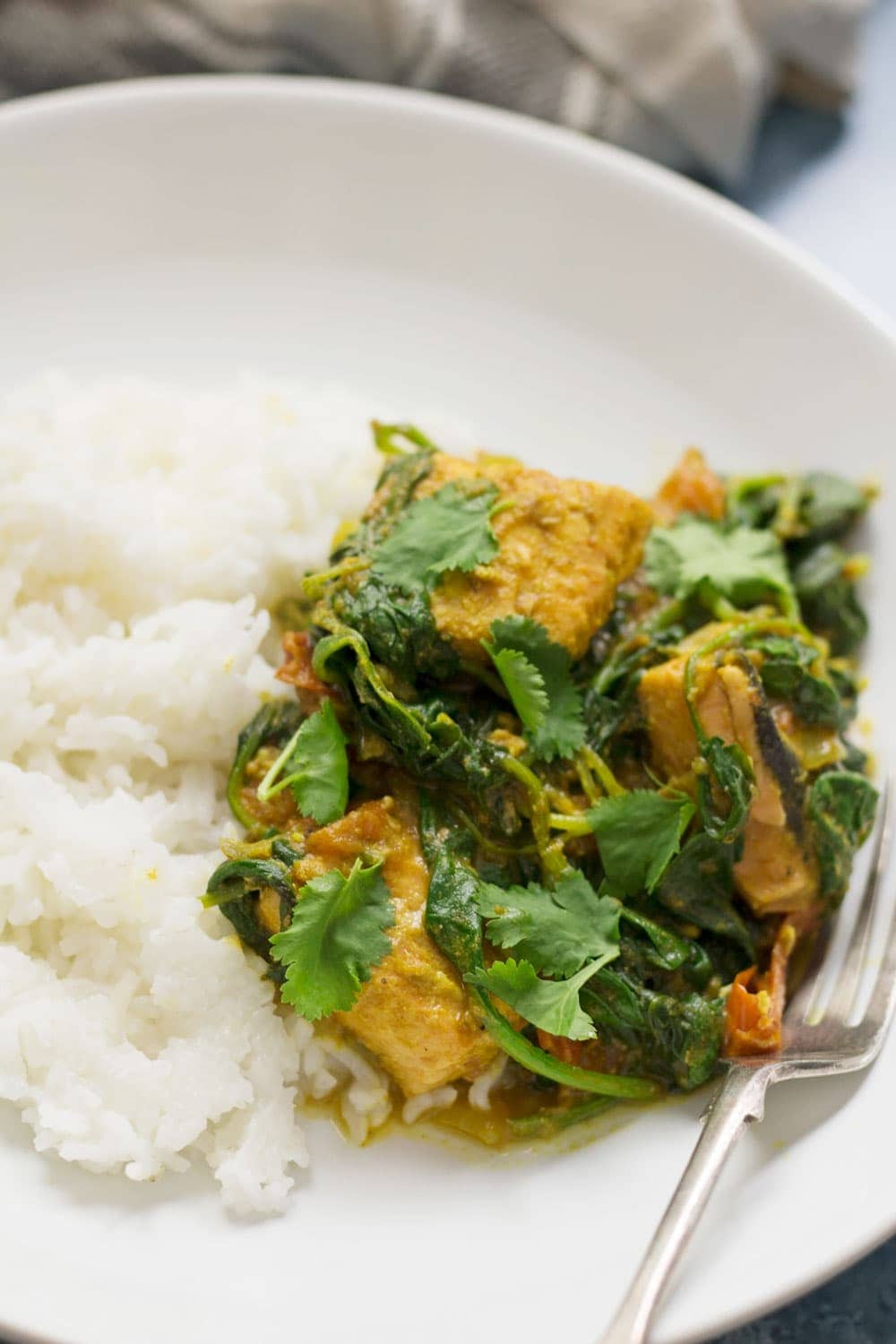 This version has a lovely tomatoey sauce which is full of curry flavour and coats your salmon and spinach perfectly. Then you've got the spinach which is one of my favourite curry ingredients and of course the salmon which is full of like omega 3 or whatever good stuff. Add extra vegetable if you like, I've kept it pretty simple here but pretty much anything would work!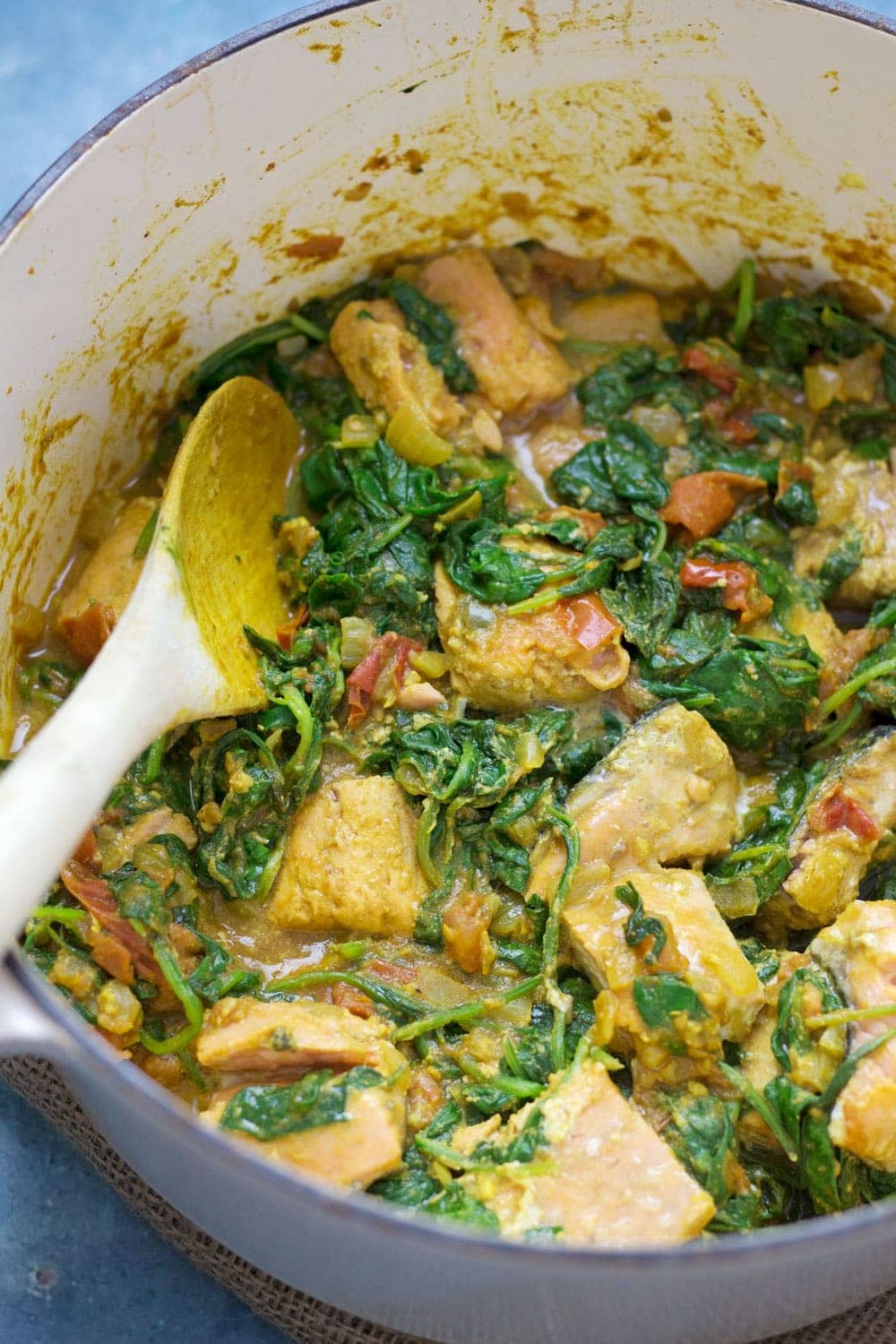 Did everyone have a good weekend? It's was our first weekend together in a few weeks because Will's been away quite a bit so we had a very chilled one. We went to a local farmer's market on Saturday as a reward for going to the dentist (grim) and we bought some steaks to make my steak sandwiches with chimichurri so watch out for new photos coming soon! Then on Sunday we just stayed in and got various household activities done including organising our food cupboards and making a spread sheet of everything we have (yes, we are that cool).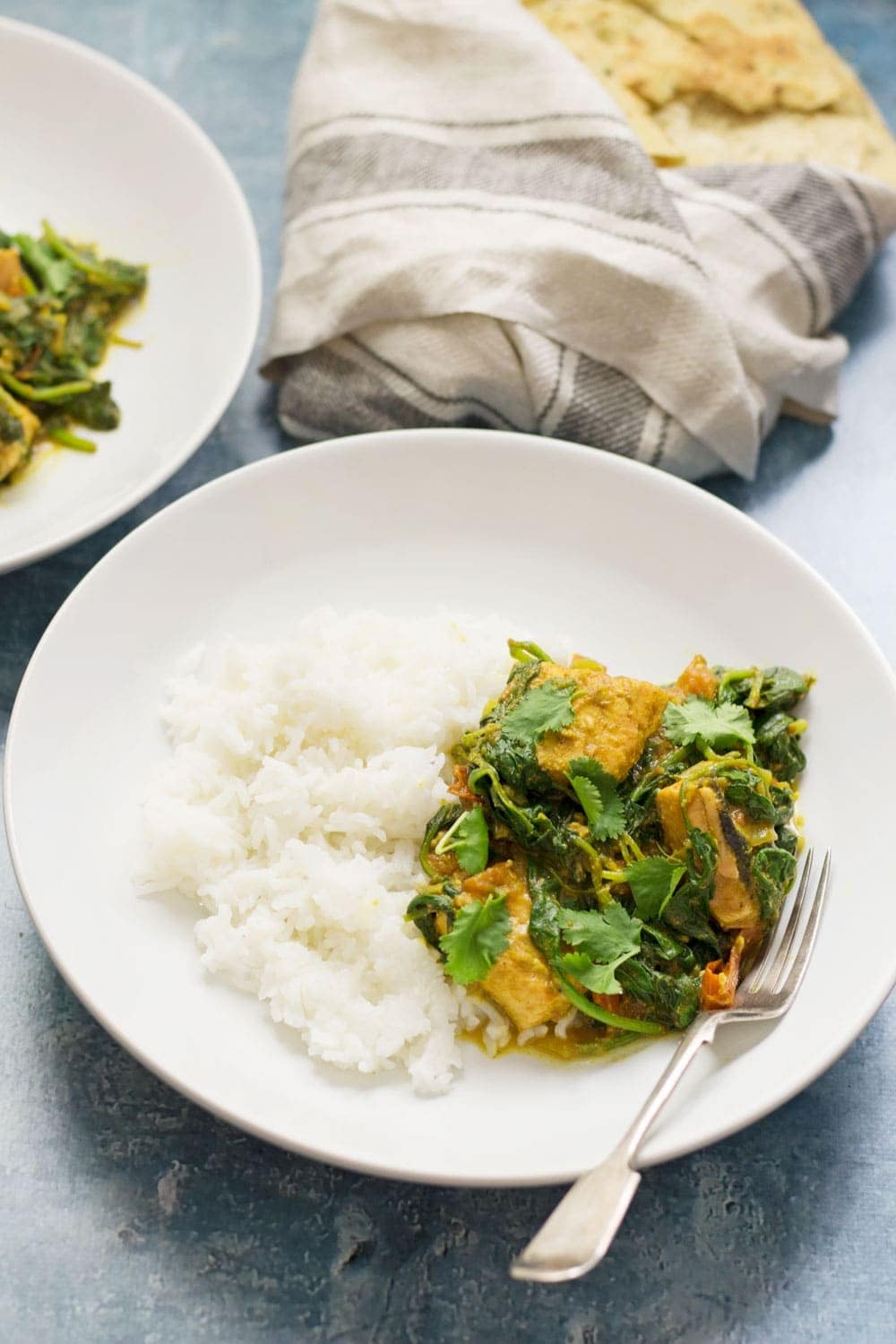 Healthy Salmon and Tomato Curry with Spinach
Salmon and tomato curry is a tasty change from a traditional curry recipe. Not only that but the spinach, tomato and salmon make it a healthier option too!

Ingredients
2

tbsp

Vegetable Oil

1

Cinnamon Stick

1/2

tsp

Peppercorns

2

Cloves

1

Onion

chopped

1/2

tsp

Brown Sugar

250

g

Cherry Tomatoes

chopped

1

tsp

Ginger

grated

4

cloves

Garlic

crushed

1

Chilli

chopped

1

tsp

Cumin

1 1/2

tsp

Ground Coriander

1/4

tsp

Turmeric

1/2

tsp

Chilli Powder

500

g

Spinach

4

Salmon Fillets

skinless, cut into biggish chunks
Instructions
Heat the oil over a medium-high heat. Add the cinnamon stick, peppercorns and cloves. Cook for a couple of minutes. Add the onion and sugar and cook for another 10 minutes until caramelised.

Add the cherry tomatoes and stir. Cook until the tomatoes start to break down. Add the rest of the spices along with the ginger and garlic. Cook for another 10 minutes and then add the spinach and cover for two minutes so that it can wilt.

Add the salmon to the pot and stir gently into the sauce. Cover and allow to cook for about 5 minutes until the fish is cooked. Serve with rice.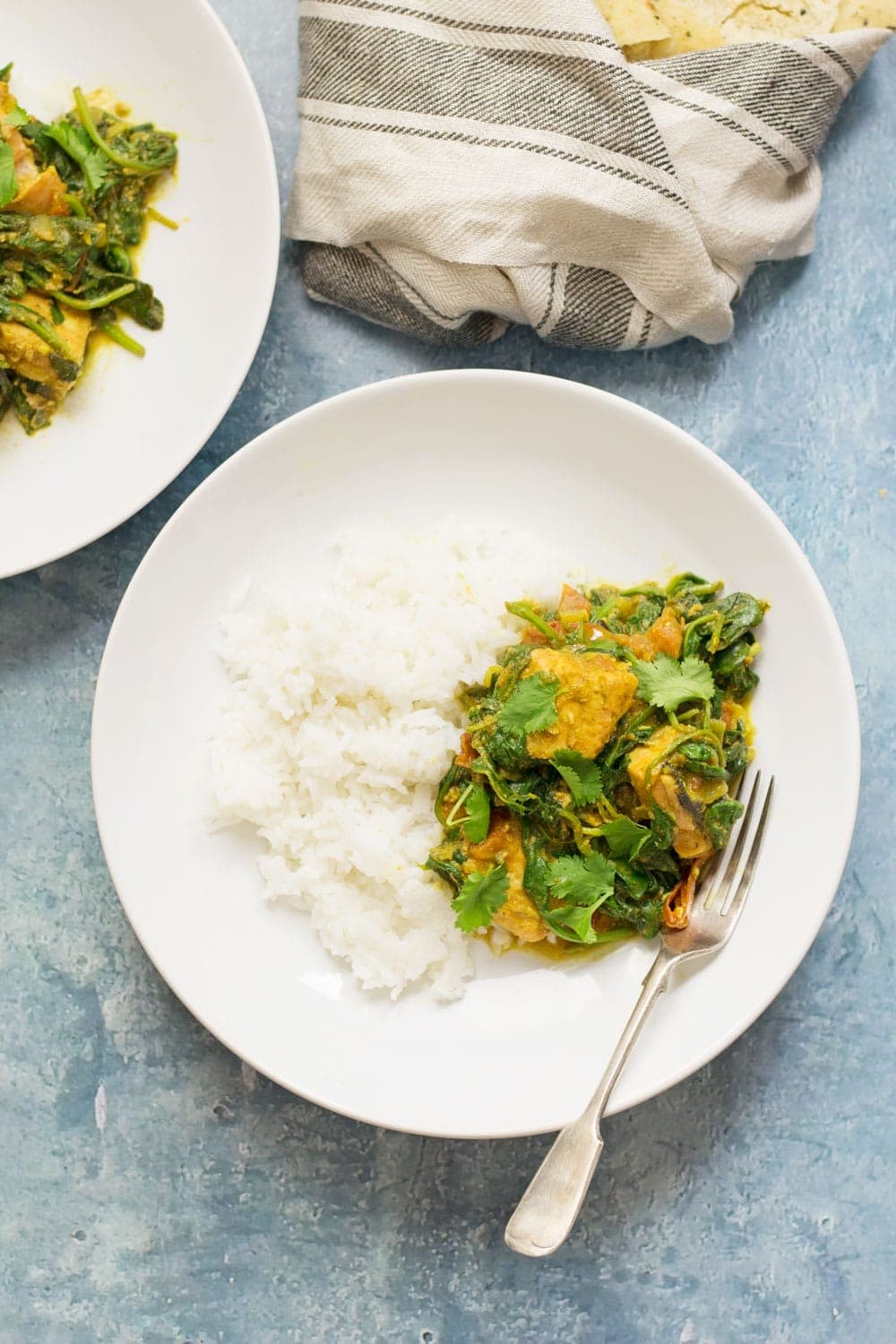 WONDERING WHAT TO DO WITH THE LEFTOVER INGREDIENTS YOU'VE GOT FROM MAKING THIS HEALTHY SALMON AND TOMATO CURRY WITH SPINACH?
If you're anything like me then you're always looking for ways to save money and avoid food waste so I want to make sure you've get plenty of ideas on how to use up any ingredients that are leftover from my recipes!
Teriyaki Salmon with Udon Noodle Salad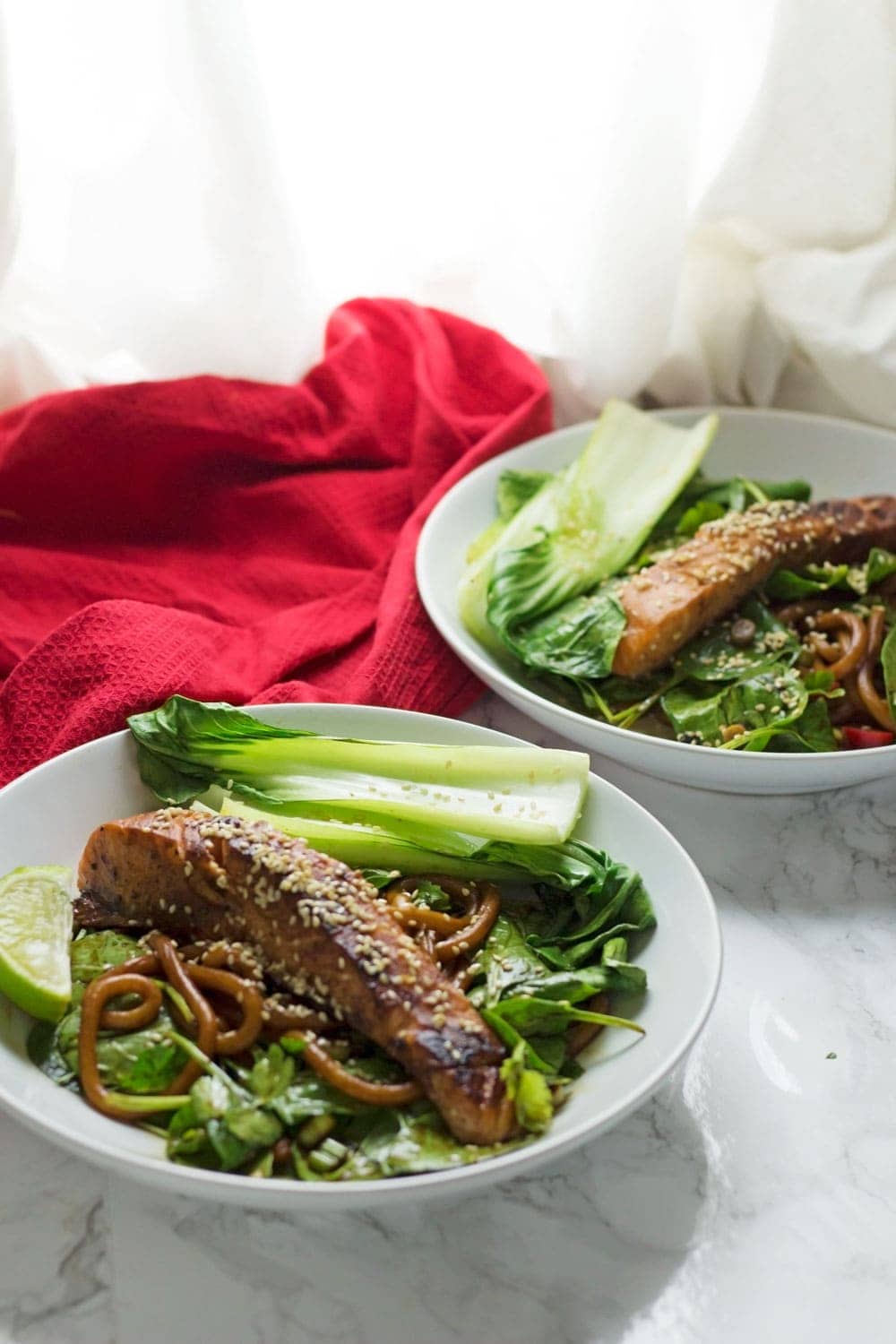 Easy  Vegetable Bibimbap with Mushroom and Spinach