Try out these super cute mini pizzas. You could have chicken or pesto and mozzarella. Or even better, how about one of each?!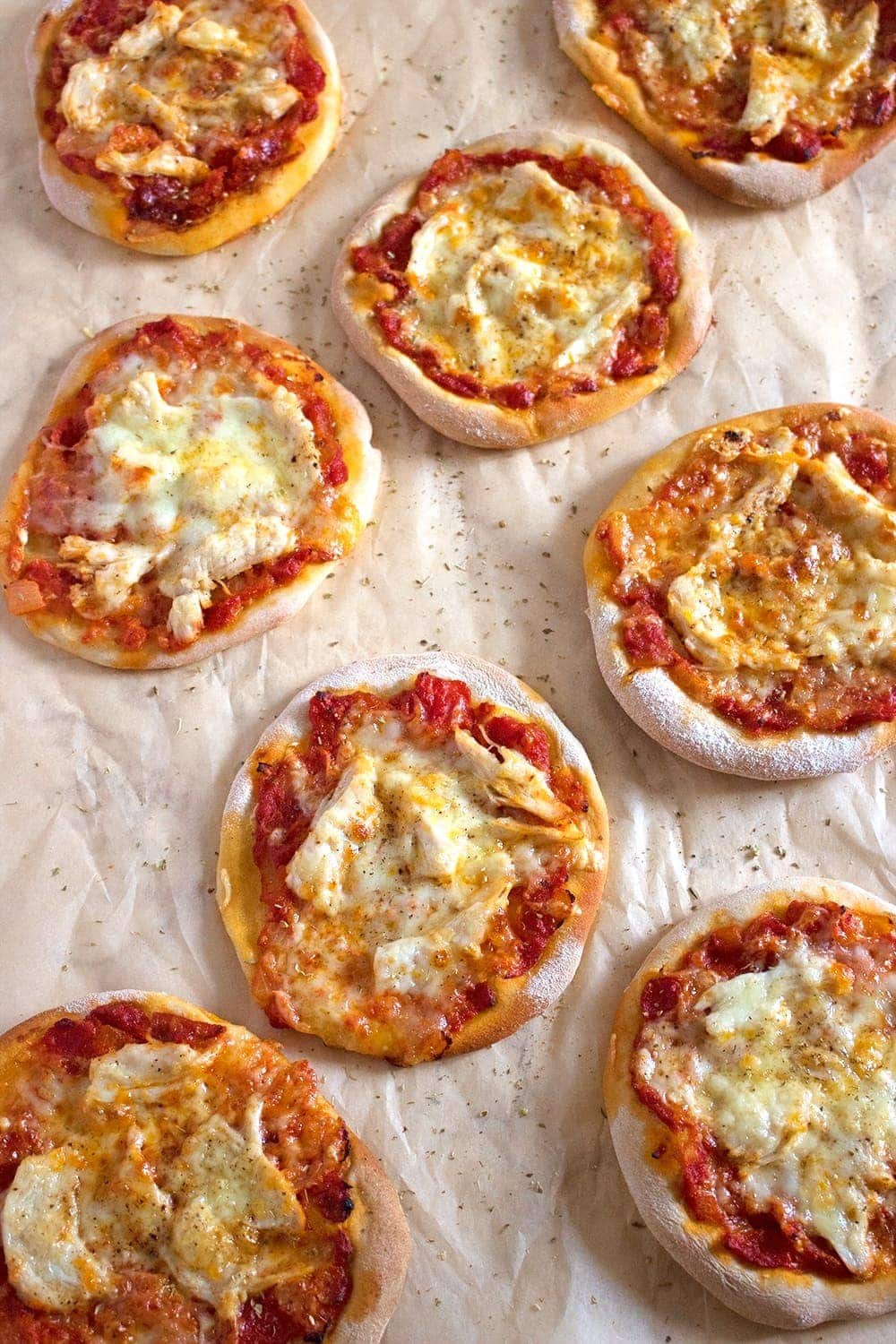 It was Will's nephew's third birthday party this weekend and we took along some mini pizzas and I thought who doesn't love a mini pizza? And figured I'd share how we made them here so you could eat some super cute pizza too!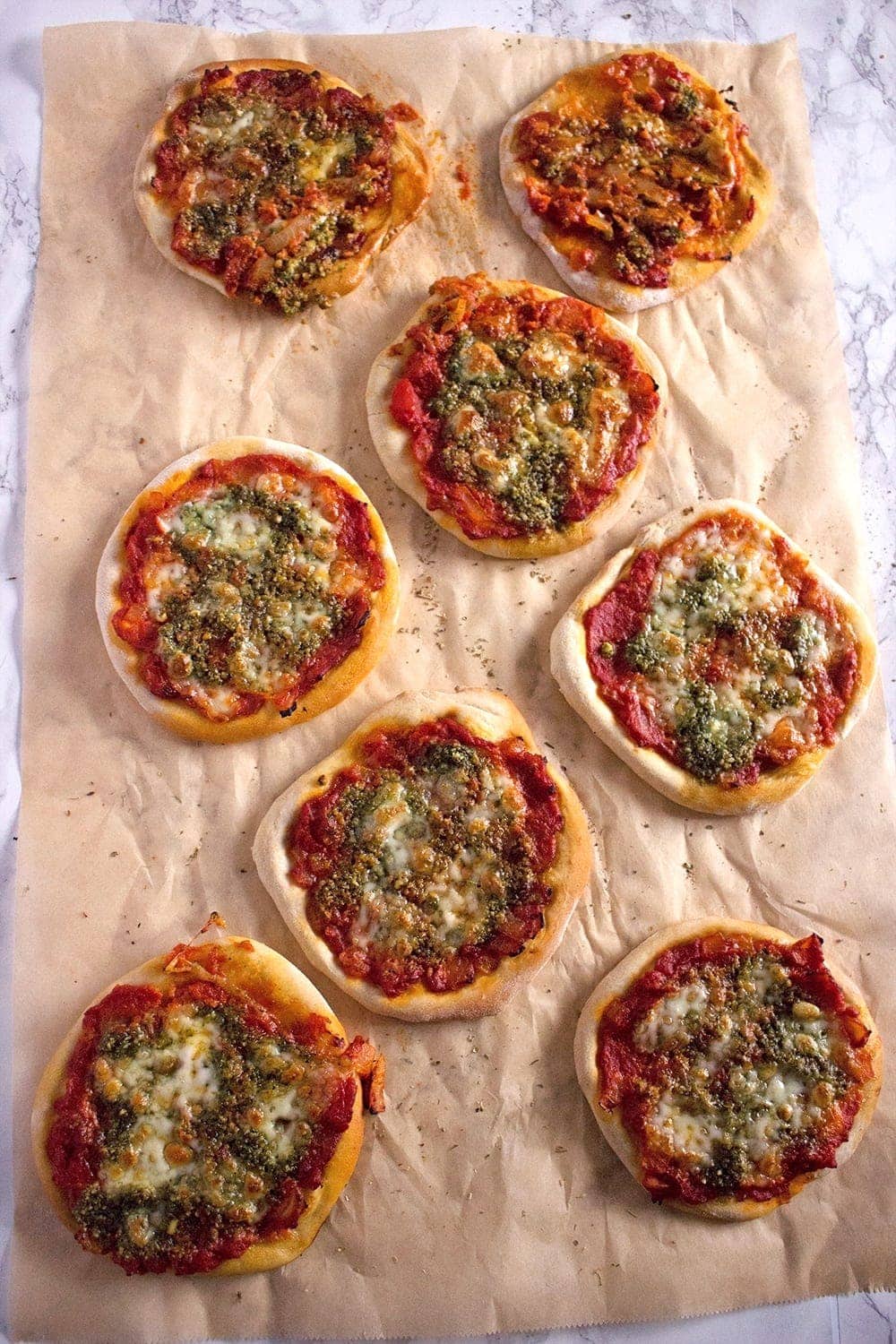 What did you get up to at the weekend? Other than making lots of baby pizzas and hanging out with Will's family we went over to the new Boxpark in Croydon. It's so good guys, it's massive and there are so many choices of food it was a little overwhelming. Also Will was djing so I waited until he finished at 9 to get food. This was a bad decision because some places had run out of food already! On the plus side now I get to go again very soon to try the places I missed last time.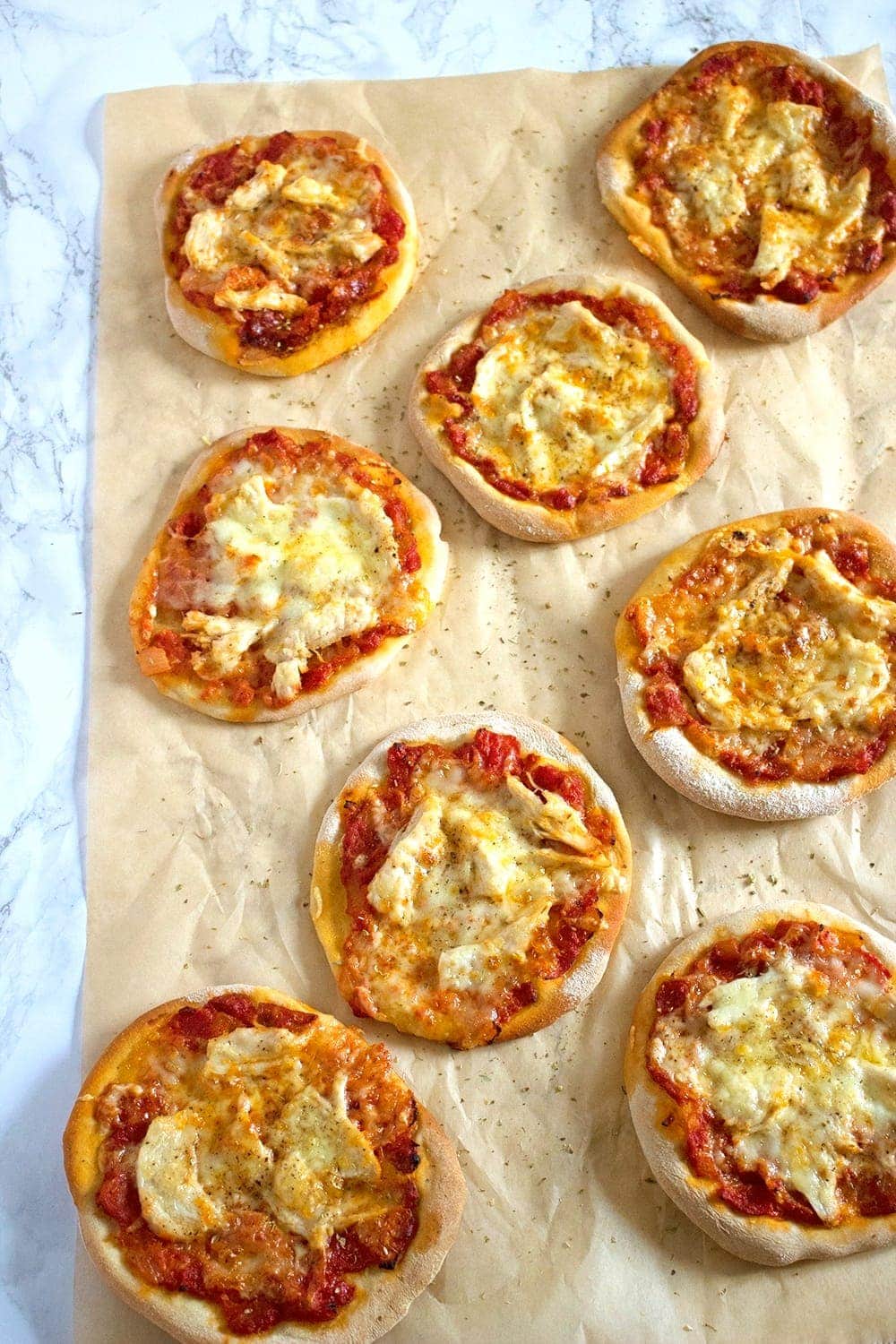 So lets talk these pizzas for a second. As I said we took them for a party and they are a great party food. This recipe makes 16 so you can take them to a small to medium size party and everyone can have their own individual pizza! Alternatively you can make them and eat 16 all to yourself over the course of a couple of days. Either way works.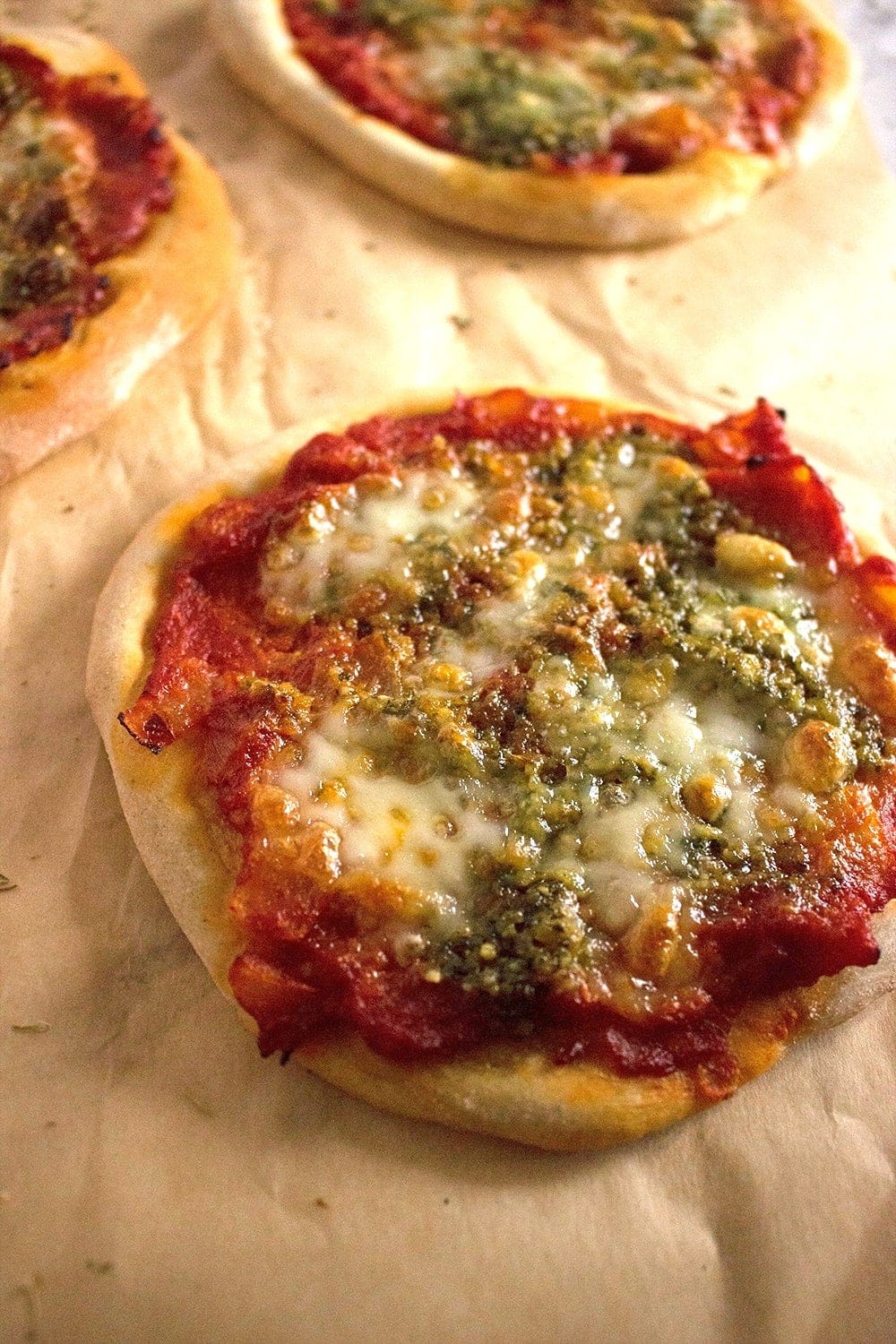 The leftovers are obviously great because leftover pizza is one of the best things to eat cold there is, right? Good, glad to know we're all in agreement about that. The recipe is pretty simple and uses a combination of pizza recipes I've posted on the blog before including the delicious frying pan sauce which first featured in this pizza recipe way back in the beginning months of this blog.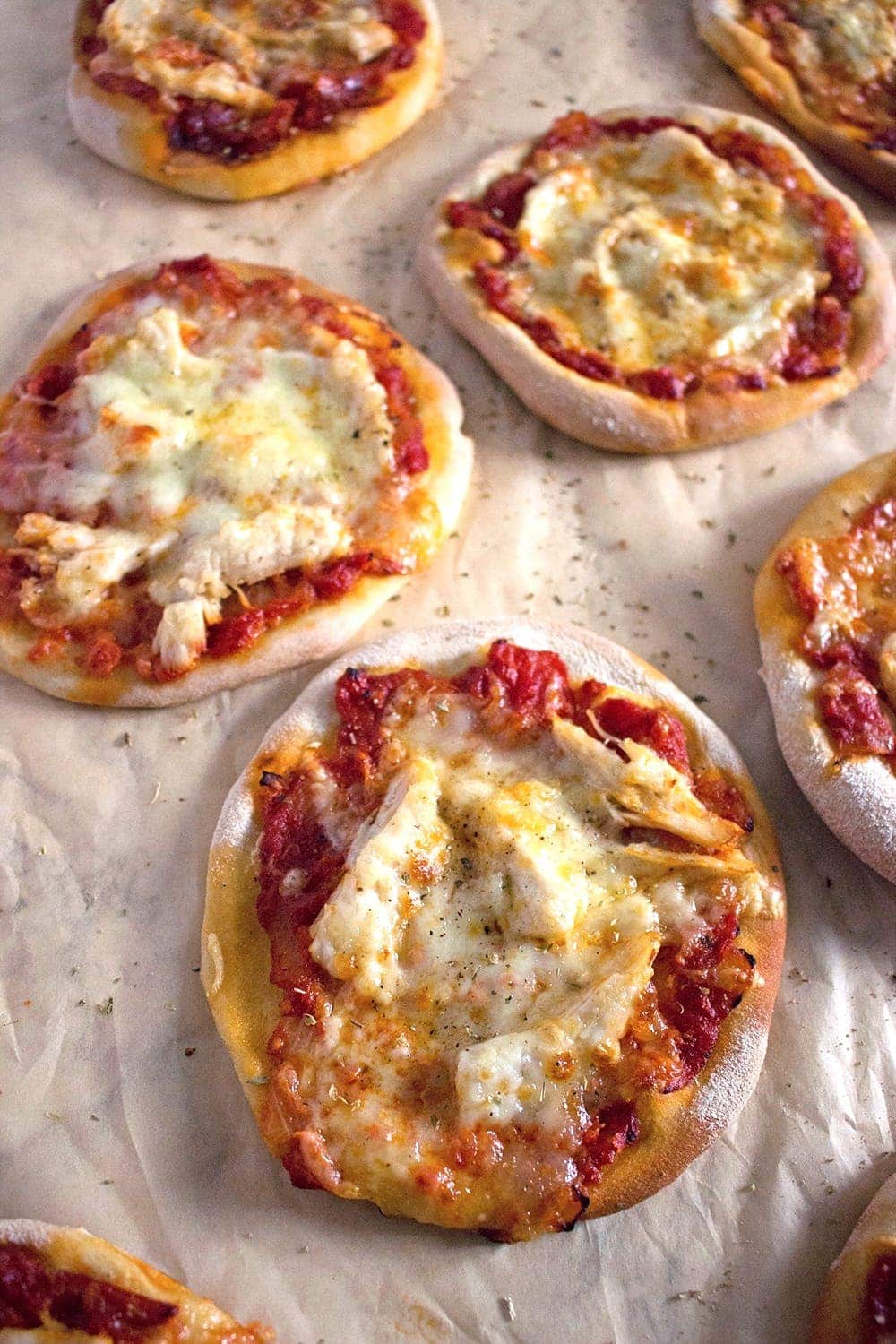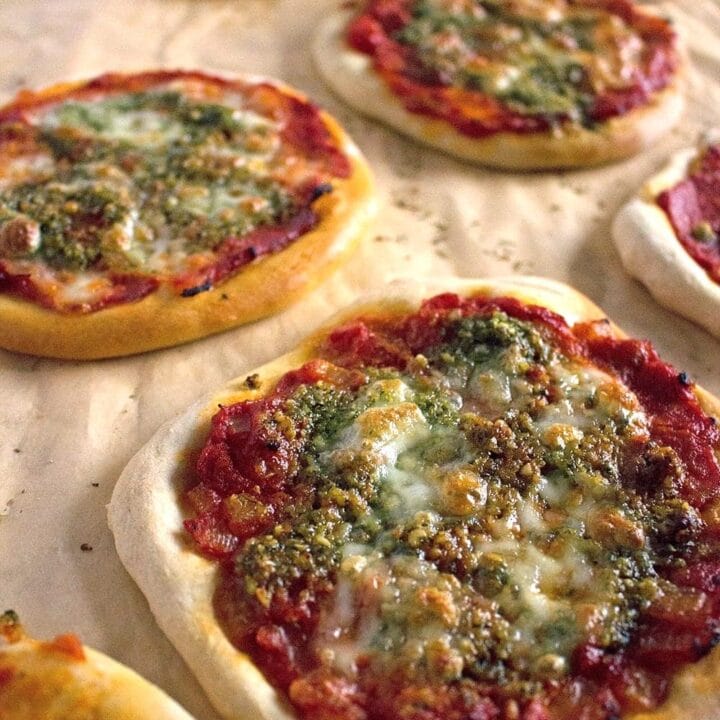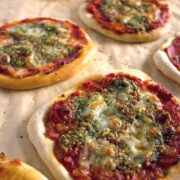 Mini Pizzas in Two Flavours!
Try out these super cute mini pizzas. You could have chicken or pesto and mozzarella. Or even better, how about one of each?!
Print
Pin
Rate
Ingredients
For the Pizza Dough
500

g

Plain Flour

2

teaspoon

Salt

7

g

Fast Action Yeast

2

teaspoon

Sugar

340

ml

Warm Water

1

tablespoon

Olive Oil
For the Sauce
3

tablespoon

Olive Oil

2

Onions

chopped

6

cloves

Garlic

crushed

2

400g tin

Chopped Tomatoes

6

tablespoon

Tomato Puree

1

teaspoon

Dried Oregano
For the Pesto
Bunch

Basil

50

g

Pine Nuts

75

g

Pecorino Cheese

finely grated

Olive Oil
For the Toppings
100

g

Cooked Chicken

150

g

Mozzarella

sliced

100

g

Cheddar Cheese

grated
Instructions
Make the dough. Mix the flour, yeast, oil and salt together in a large bowl. Mix together the sugar and warm water then make a well in the centre of the dry ingredients. Pour the sugar and water into the well. Gradually mix the wet and dry ingredients together and then turn out onto a floured work surface. Knead for 10 minutes. Flour the outside of the ball of dough then place in an oiled bowl. At this stage you can either prove for about 15 minutes somewhere warm or put it into the fridge until you're ready to use.


Preheat the oven to 200

°C.

Make the sauce.

Heat the olive oil over a medium heat. Add the onion, garlic, plenty of salt and 40ml of water. Once the water has evaporated pour in the tin of tomatoes and cook down until it's almost dry. Mix in the tomato puree and oregano and leave to cook a little more until it has a thick consistency. Tip out onto a plate and allow to cool.

Make the pesto. Place the basil, pine nuts and pecorino in a blender and blend with a drizzle of olive oil. Keep adding olive oil until you reach a consistency thin enough to drizzle over the pizzas.

Make the pizzas. Split the dough into 16 balls and roll each one into a circle. Top half with a spoonful of sauce then split the chicken, half the mozzarella and cheddar between them. Top the other half of the pizza bases with a spoonful of sauce followed by a drizzle of pesto and the rest of the mozzarella. You'll probably need to do all this in batches unless you have a crazy amount of baking trays! Bake the pizzas for 10-12 minutes.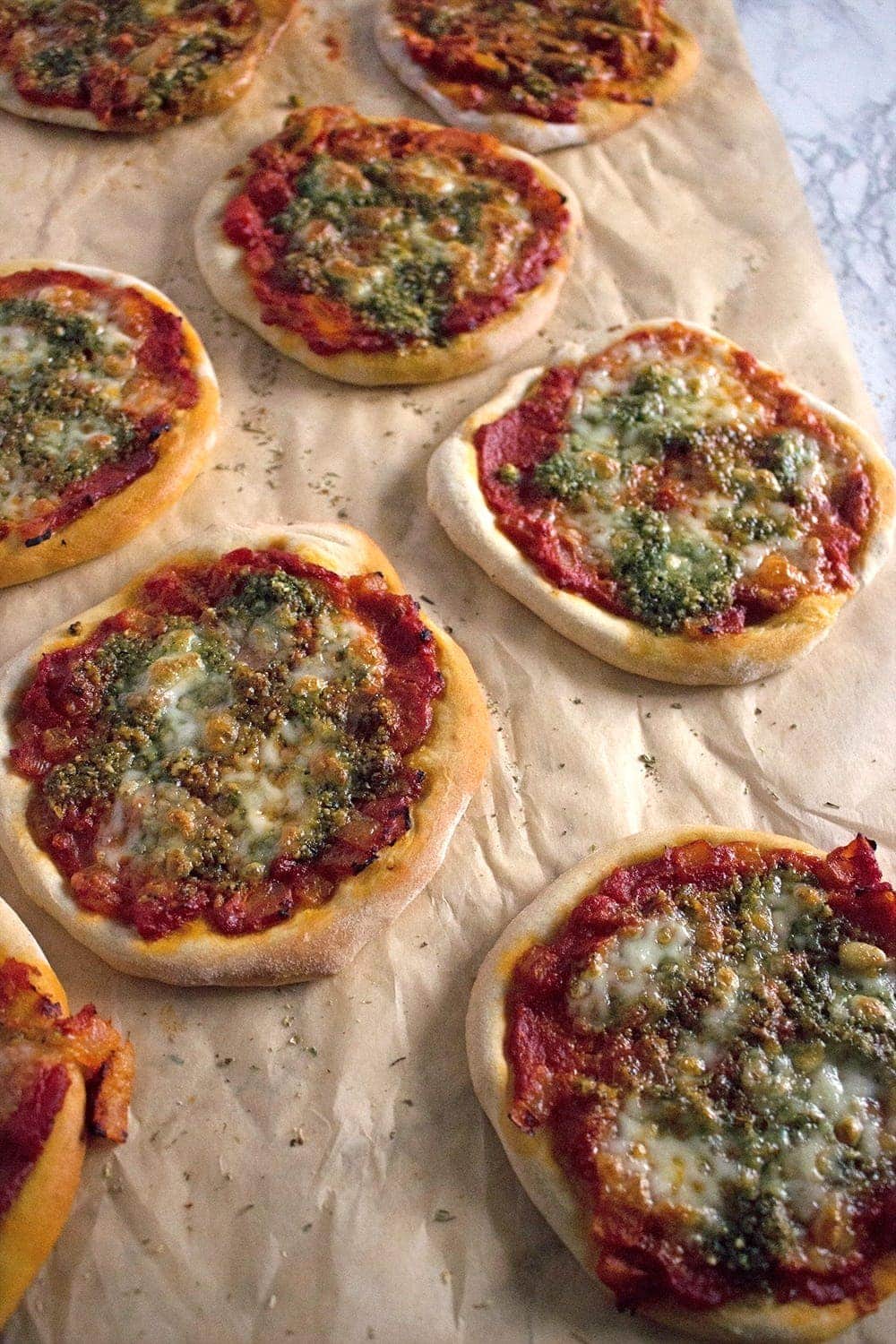 WONDERING WHAT TO DO WITH THE LEFTOVER INGREDIENTS YOU'VE GOT FROM MAKING THese mini pizzas?
If you're anything like me then you're always looking for ways to save money and avoid food waste so I want to make sure you've get plenty of ideas on how to use up any ingredients that are leftover from my recipes!
Fresh basil can be sprinkled over this summer gnocchi skillet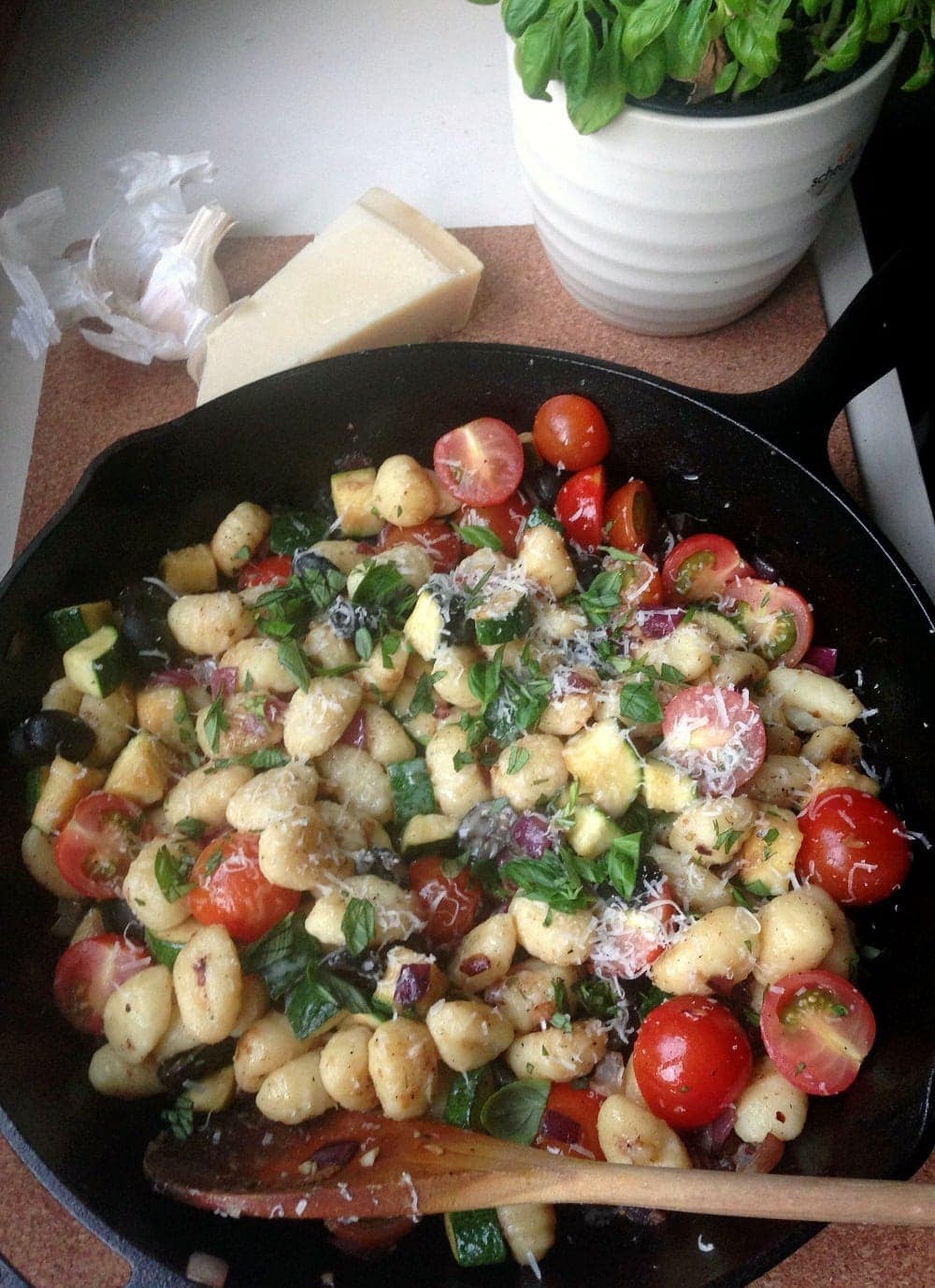 Use up the pecorino in these courgette & pecorino fritters