This roast aubergine gets a rich balsamic flavour from the black garlic cooled down by a bed of Greek yoghurt. Serve with Israeli couscous.
Jump to Recipe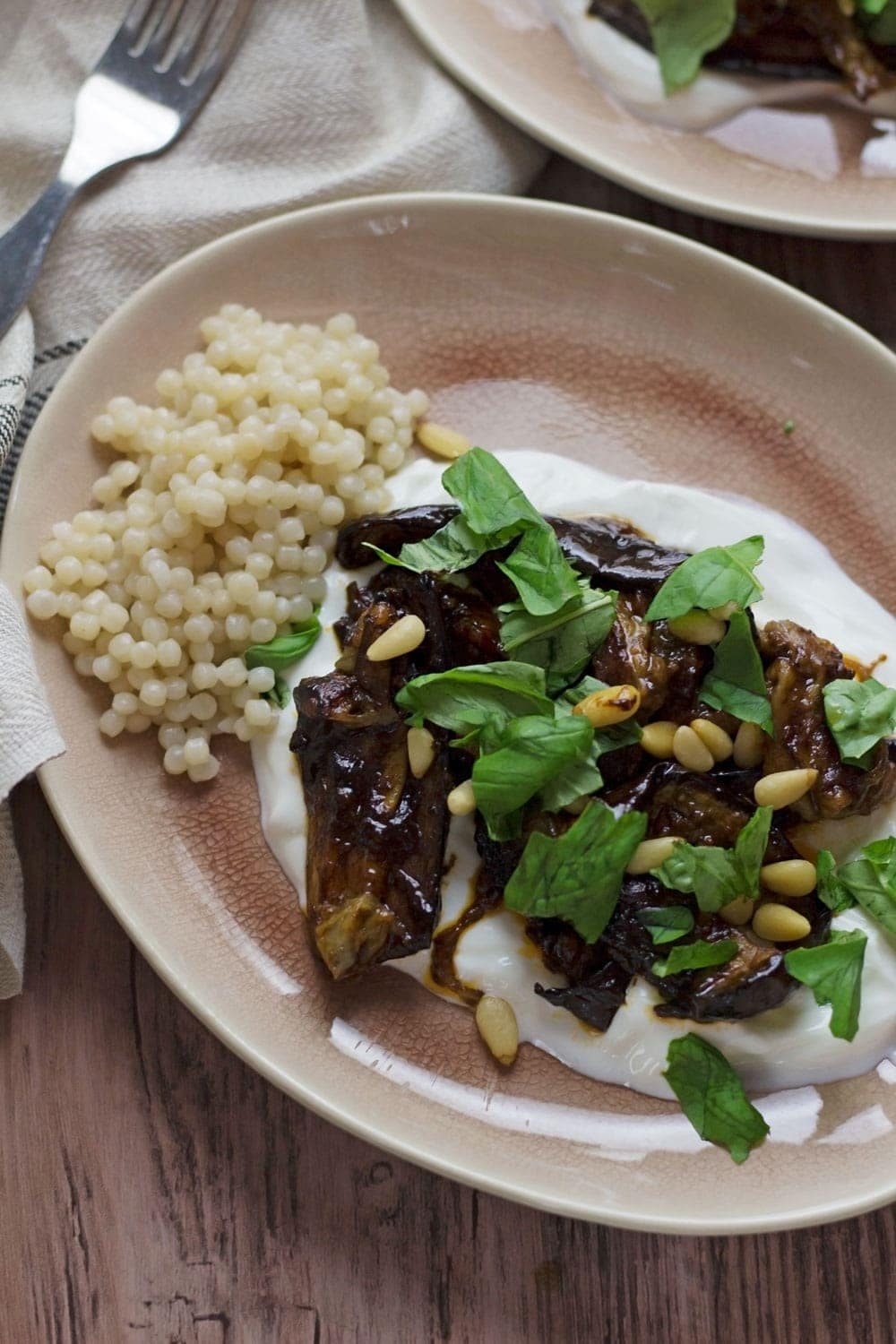 I really love aubergine (eggplant). It's one of those delicious Mediterranean vegetables that takes on all kinds of flavour from everywhere around it. One of my favourite ways to eat aubergine is just sprinkled with salt and cooked on a hot griddle until charred. At least it was before I tried it like this.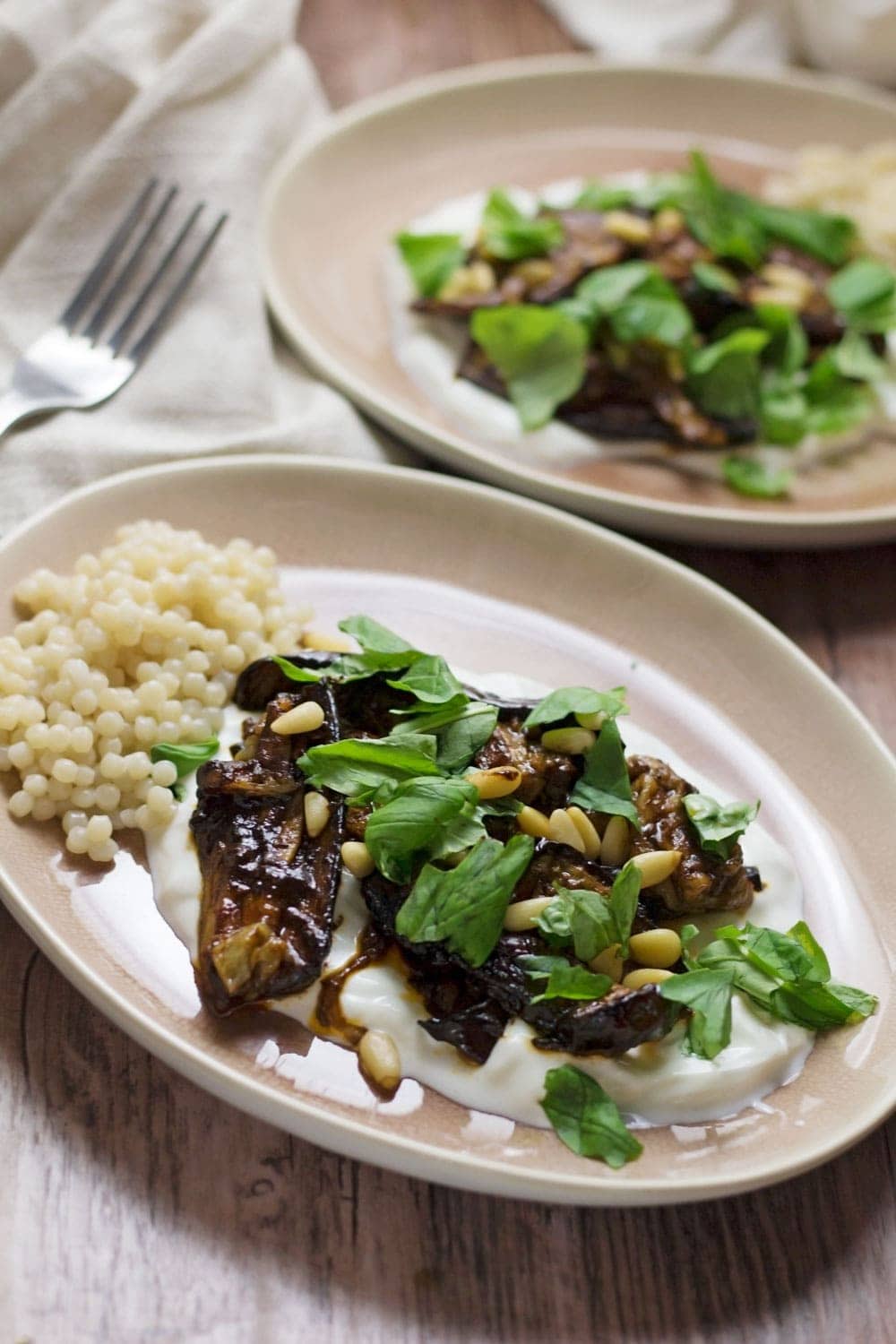 I got the idea for this from a very similar recipe in Nopi. We love black garlic but it's the kind of ingredient that needs to be handled pretty carefully and only works in quite specific recipes. If you haven't tried it before it's got a balsamic kind of taste. It's rich but works so well with something refreshing like the Greek yoghurt in this recipe. This is the kind we use.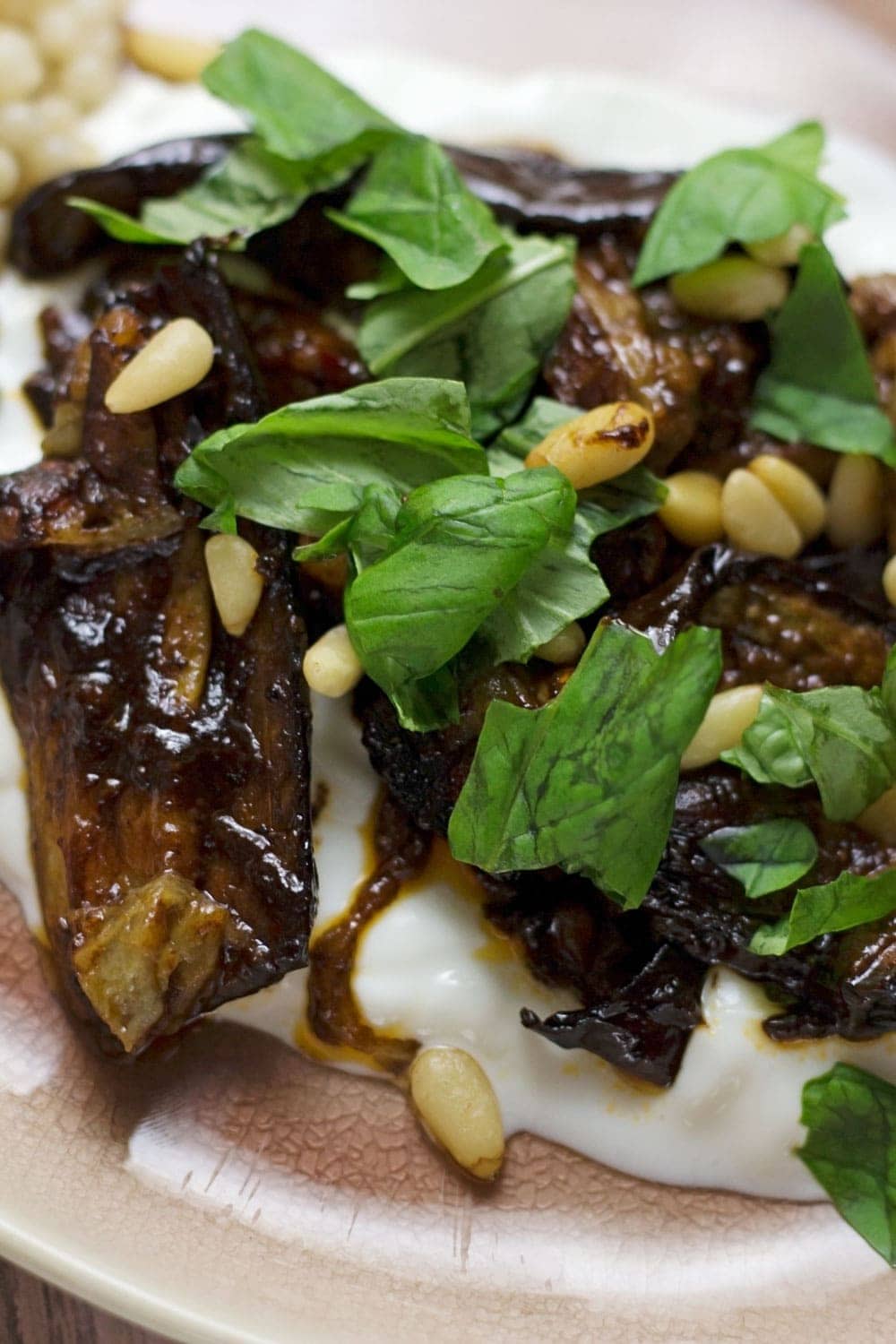 So the aubergines get roasted up until they're all soft and gooey and just crazy delicious. Then they're mixed with a whole load of gorgeous ingredients including the black garlic along with pomegranate molasses, cocoa powder and rose harissa.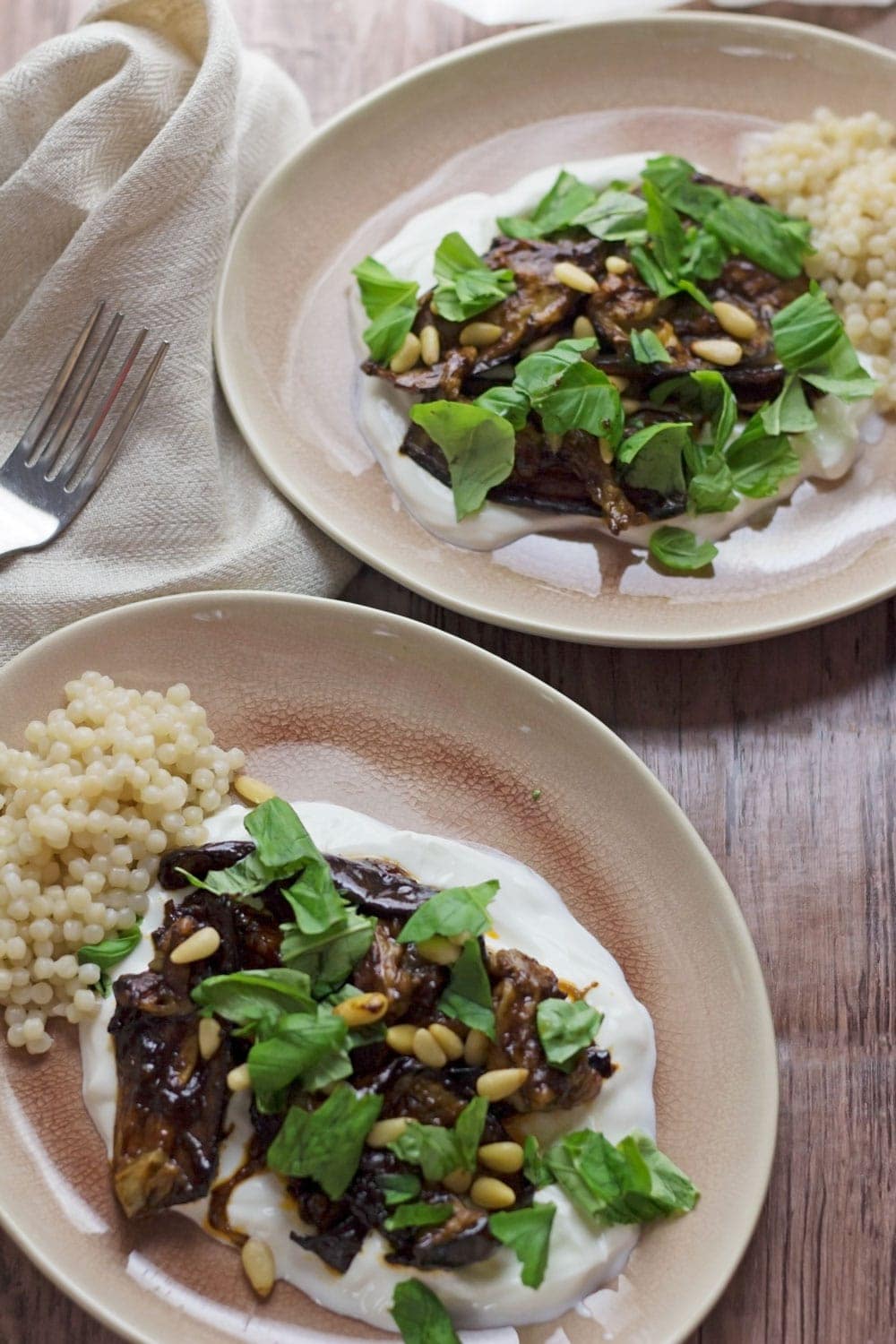 After that it's just a case of spreading a bed of Greek yoghurt on a plate and topping it with the aubergine mixture and a big helping of fresh basil. Serving a scoop of Israeli couscous on the side makes it a really filling and satisfying meal. It's healthy, vegetarian and simple to put together.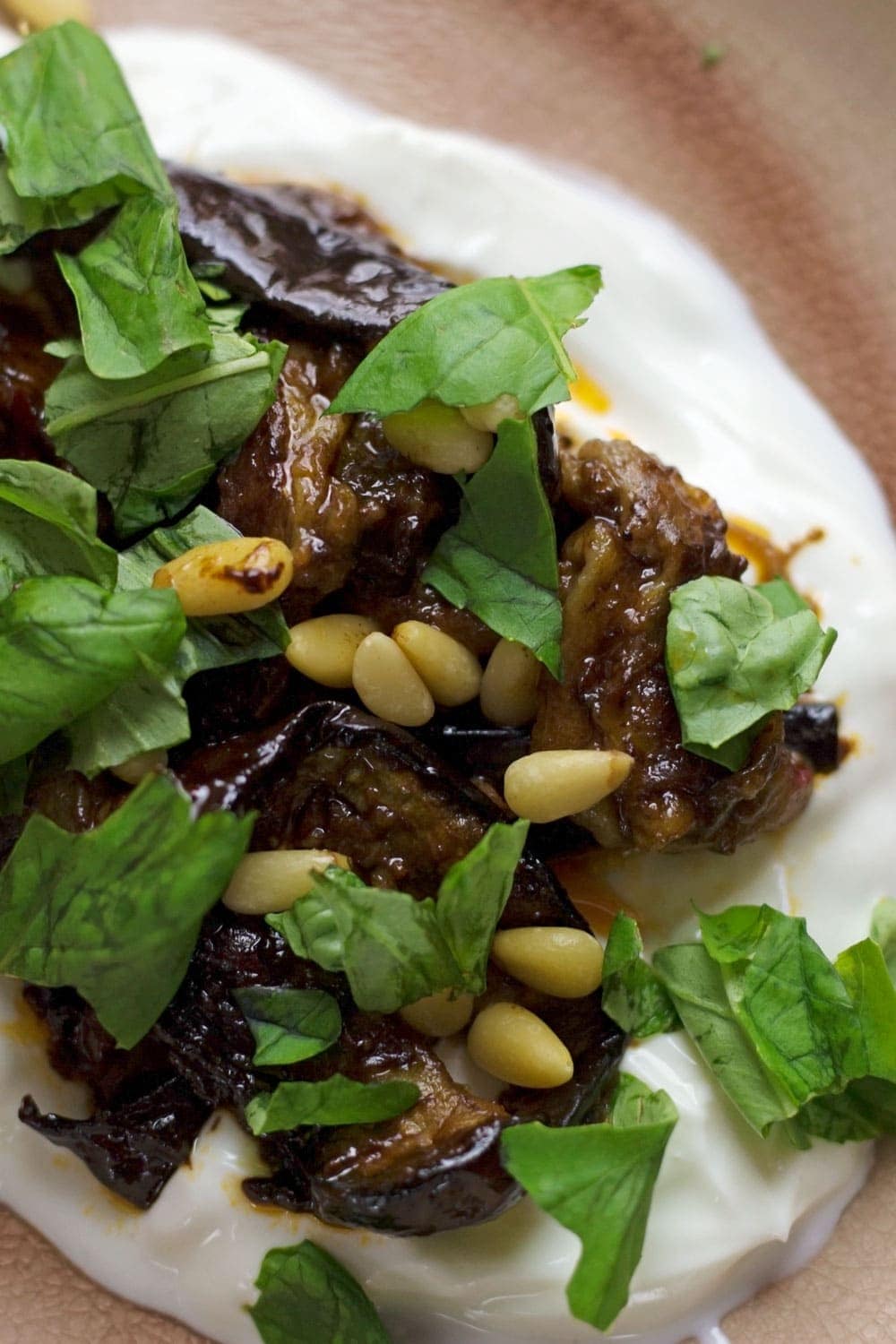 Roast Aubergine with Black Garlic, Greek Yoghurt & Israeli Couscous
This roast aubergine gets a rich balsamic flavour from the black garlic cooled down by a bed of Greek yoghurt. Serve with Israeli couscous.
Ingredients
3

large

Aubergines

cut in half widthways then into wedges

Olive Oil

200

g

Greek Yoghurt

Handful

Basil Leaves

20

g

Pine Nuts

200

g

Israeli Couscous
For the Dressing
25

g

Black Garlic

1

tsp

Rose Harissa

3/4

tsp

Pomegranate Molasses

Juice of one Lemon

Pinch of

Aleppo Chilli Flakes

1/4

tsp

Cocoa Bowder

50

ml

Olive Oil
Instructions
Heat the oven to 200°C. Put the aubergine in a large bowl with a big glug of olive oil and a sprinkling of salt and pepper. Mix together to make sure it's all coated. Spread out on greaseproof paper lined baking trays. Don't overcrowd them so use as many trays as needed. Place in the oven and roast for 40 minutes.

To make the dressing mix all of the ingredients in a food processor until smooth. Cook the couscous according to package instructions.

Once the aubergine is cooked remove from the oven and leave to cool for a few minutes. Then put into a bowl and stir the dressing through. Spread the Greek yoghurt out onto plates, top with a helping of aubergine followed by a sprinkling of pine nuts, some torn basil leaves and a scoop of Israeli couscous.
Recipe Notes
Recipe inspired by Nopi
WONDERING WHAT TO DO WITH THE LEFTOVER INGREDIENTS YOU'VE GOT FROM MAKING THIS ROAST AUBERGINE WITH BLACK GARLIC, ISRAELI COUSCOUS AND YOGHURT?
If you're anything like me then you're always looking for ways to save money and avoid food waste so I want to make sure you've get plenty of ideas on how to use up any ingredients that are leftover from my recipes!
Quick and Easy Vegetable Curry with Potato and Aubergine
Squash & Aubergine Tagine with Olives