Aubergine Recipes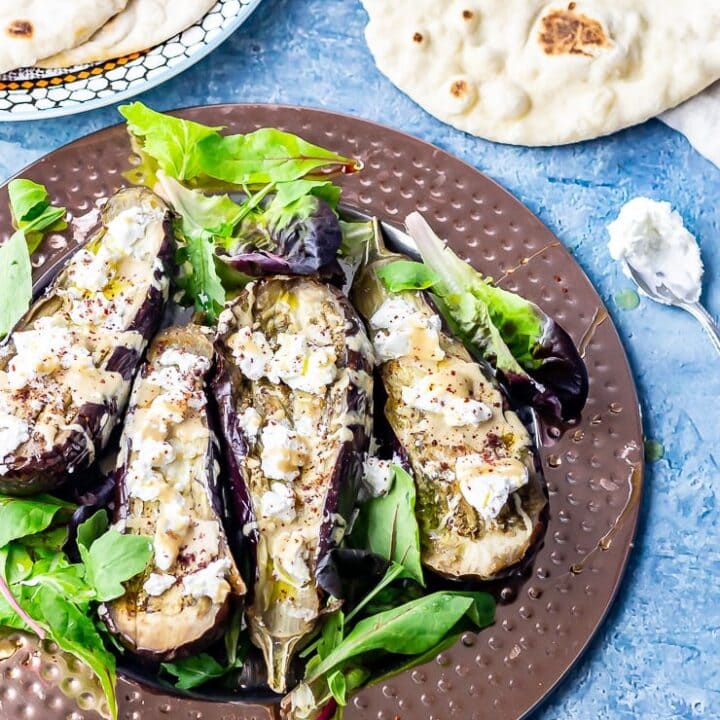 Delicious aubergine recipes from healthy dinners to my favourite vegetarian meatball recipe. Find the perfect aubergine recipe for midweek dinners or impressive meals for entertaining.
Aubergine Recipes Collection
When is aubergine in season?
You can usually get aubergine all year round but it's best in the warmer months, between May and October.
Tips for cooking with aubergines
Aubergine goes brown pretty quickly once it's exposed to the air so make sure you only cut it just before cooking
If you want a quick way to cook aubergines they work excellently on a griddle or grill. Slice thinly, brush with olive oil and sprinkle with salt and pepper then cook over a hot grill until the slices have lovely char marks on each side
Aubergines are also great cooked whole. Wrap in foil and pop on the barbecue until softened all the way through or place in the oven and cook in the same way
Another easy option for cooking aubergine is chopping into cubes, tossing with olive oil and salt and pepper and roasting for about half an hour in a 200°C/400°F oven
Are aubergines good for you?
Aubergines are a good source of fibre as well as vitamin B1 and B6. They're also full of antioxidants so eat up!
What's the difference between eggplant and aubergine?
Aubergine and eggplant are actually the same thing! Eggplant is normally the term used in American and Australian English while here in the UK we normally use the term aubergine.
Did you know that the reason they were called eggplant in the US is because that was the term originally applied to a white version of the vegetable which looked like a hen's egg?
How to prepare aubergine for cooking
The only part of the aubergine which isn't edible is the stalk. The rest of it is fine to eat including the skin so simply wash the aubergine and then chop or leave whole ready for cooking.
Do you peel aubergine before cooking?
This really depends on your preference and the recipe you are cooking. The skin of the aubergine is edible and when cooked for long enough it's completely tender. If you're finding the aubergine skin too tough to be pleasant then you probably need to cook it for longer.
Sometimes you definitely need to keep the skin, for example if you're baking or stuffing the aubergine, to help it keep its shape and make it easier to handle.
Do I need to salt aubergine before cooking?
When people first started cooking with aubergine hundreds...thousands....millions (I have no idea which it is tbh) of years ago they were a bit different to the ones we know and love today. They tasted really bitter which is why people would sprinkle with salt before cooking as it helped to draw out some of that bitterness.
Nowadays aubergines have been bred not to have that bitterness so there is actually no need to salt aubergines before cooking with them.
Having said that, the thing that salt does do is draw moisture out of things. If a recipe instructs you to salt aubergines it's probably because drawing out the moisture will help concentrate the flavour of the aubergines.
That means it can sometimes be a good idea to salt aubergines but, if you're short on time, your dinner definitely won't be ruined by skipping that step and getting on with the rest of the recipe!
What are the best ways of cooking aubergine?
The thing I love most about aubergine is that it can be cooked in so many different ways and in so many different cuisines. My favourite ways of cooking aubergine are roasting it or cooking it right into a rich sauce like an aubergine curry. Grilled aubergine is also delicious.
When you roast aubergine whole it becomes so soft and tender like in the recipe with tahini and goat's cheese below. It also cooks down into a sauce really well, especially in the pressure cooker, like in my curry with potato included in the list below.
Aubergine works in nearly all cuisines that I cook regularly including Middle Eastern, Indian, Mediterranean and loads more so it's a vegetable I pretty much always keep on hand.
Is aubergine good used in place of meat?
Especially now that we're eating more vegetarian food aubergine works amazingly as a replacement for meat. I've turned it into aubergine meatballs to have in sandwiches or with spaghetti and both are so delicious, make sure you grab these aubergine recipes below!
Even if you're not making something like meatballs or burgers it's just got such a great texture that you won't ever miss the meat. I promise!
Get some of my favourite easy aubergine recipes below...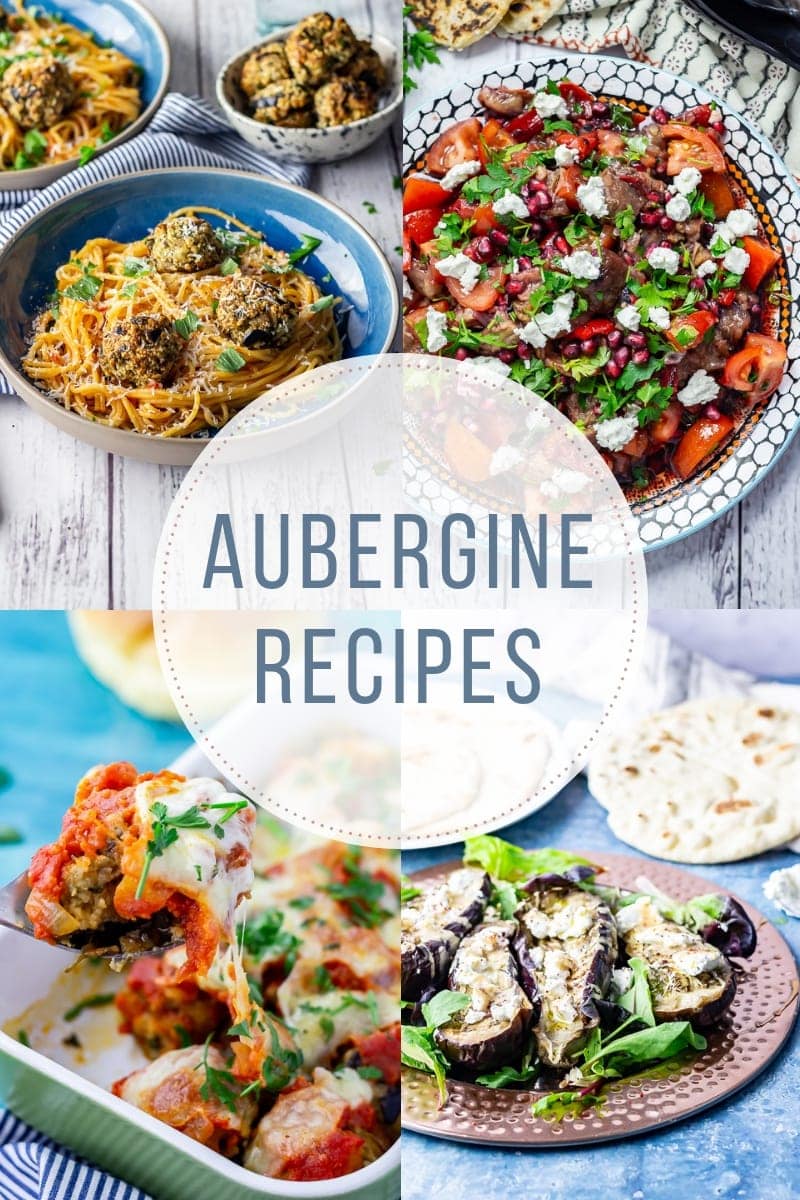 ---
This baked aubergine recipe is so easy to make and yet is impressive enough for a dinner party. Just a few ingredients like tahini, goat's cheese and olive oil make this an incredible meal.
---
These cheesy vegetarian meatball sandwiches are so full of flavour and make the perfect weeknight meal. Serve topped with a drizzle of truffle oil for a little extra indulgence!
---
This summer orzo salad with roasted vegetables is the perfect thing to take along to your next barbecue. A great mix of tangy capers and sweet roasted veg.
---
This roasted aubergine topped with a creamy satay sauce is your new favourite vegetarian dinner! Quick enough for a weeknight but impressive enough that you could serve it to your fanciest of friends.
---

Spaghetti and meatballs is an all time classic comfort food and now you can have a vegetarian version that everyone will love just as much!
---
Aubergine and red pepper are cooked over an open flame to make this aubergine saladfull of smoky flavour. After the vegetables are cooked they're dressed with a mixture of pomegranate molasses and sumac and tossed with tomatoes for the perfect summer salad!
---
This pressure cooker pasta is so simple and is full of mediterranean flavour! Make it in an instant pot or electric pressure cooker and have dinner on the table in a matter of minutes. Serve with a good grating of parmesan for a delicious weeknight meal.
---
You won't believe how quick and easy this pressure cooker curry is! It's perfect for an instant pot or any electric pressure cooker. Serve with rice for a healthy vegetarian dinner.
---
This baked aubergine in tomato sauce recipe is a wonderful vegetarian dinner. Serve with a hunk of crusty bread and a side salad for a filling meal.
---
This aubergine parmigiana recipe is simple, delicious and filled with incredible Italian flavour. I like mine topped with a sprinkling of panko breadcrumbs to add an extra crunch.