The vegetable soup with dumplings recipe is so quick and simple to make. Add whatever vegetables you like to make it your own and make sure you serve up plenty of those dumplings on top!
Do you eat a lot of soup? We've been getting more into it this winter. If you've been reading this blog for a while then you'll know that it's been an uphill battle to get Will on board with the whole soup for dinner thing.
When we first moved in together I felt like I'd won a massive victory when I got him to eat this pasta and chickpea soup for dinner despite the fact that it's mostly carbs, let's be honest.
Nowadays Will is much more cooperative with the soup eating (he always comes round to my way of thinking, it's why I love him 💕) and now we've got a whole collection of soups we make pretty regularly. And this vegetable soup with dumplings is our new favourite.
Click here to pin this vegetable soup with vegetarian dumplings recipe for later!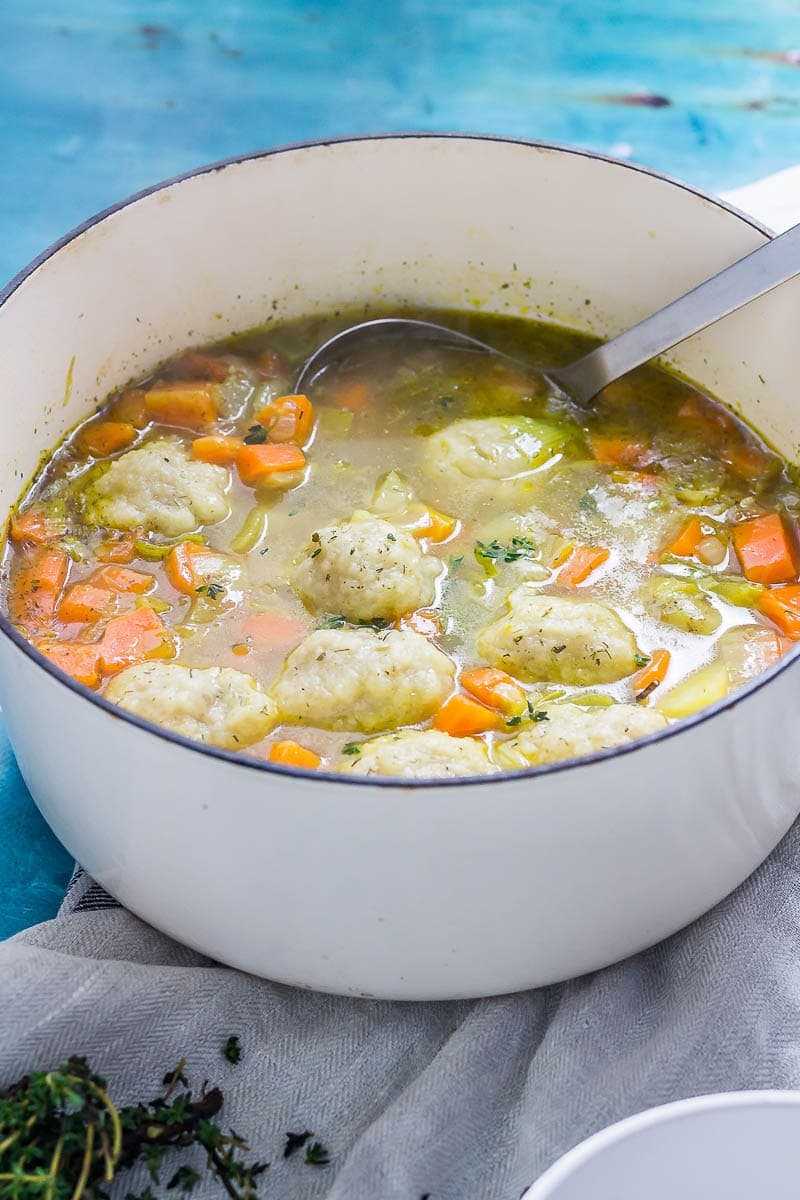 Ahhh dumplings. There's something so insanely wonderful about flour, butter and salt and pepper mixed together and cooked on top of soup or stew. They get soft and tender and so perfectly flavoured. This recipe for vegetarian dumplings is completely awesome and just as good as a dumpling made with suet.
As much as I love fancy, complex, flavourful food sometimes I really just want a bowl of soup with dumplings.
And that's not to say that this vegetable soup with dumplings isn't a big fat flavour bomb. It definitely is. Something as simple as vegetables and stock can have layers and layers of flavour.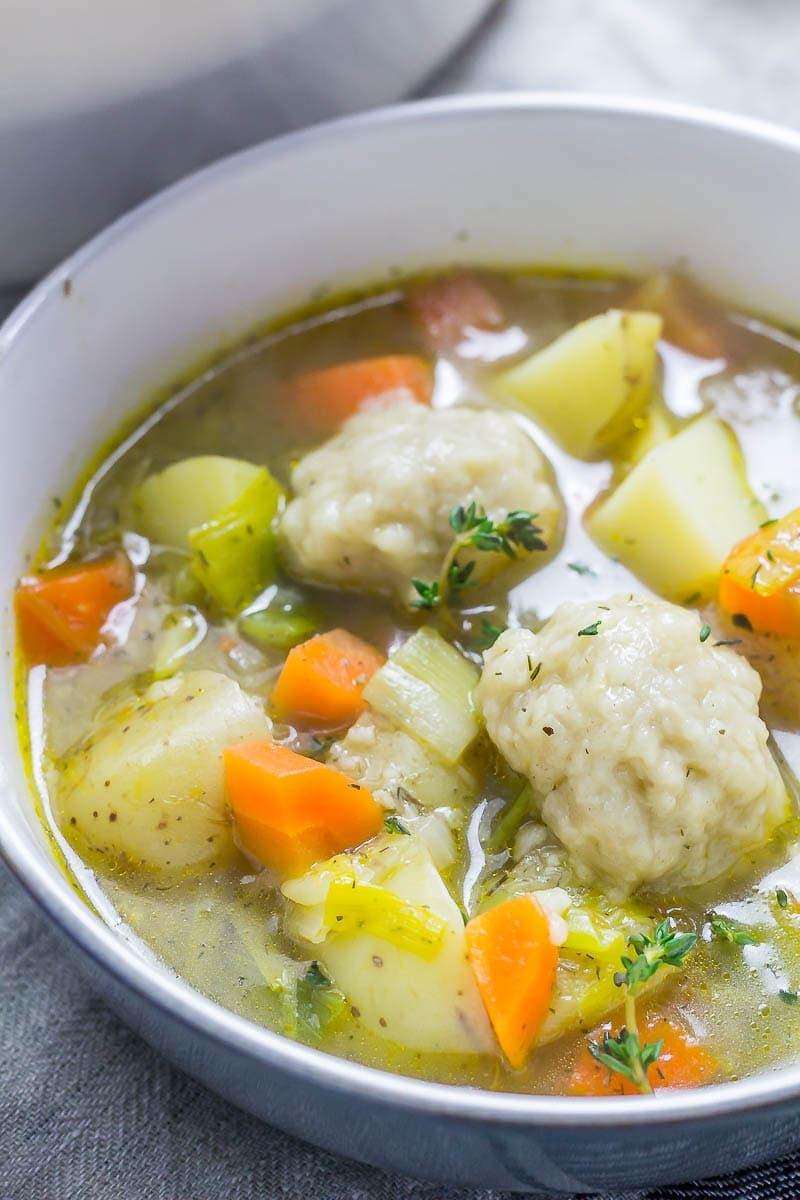 The great thing about this soup is that you can use it as a base recipe and add whatever you fancy.
Got some leftover roast chicken? Stir it through before serving. Add a tin or two of beans or some pearl barley to bulk it out if you want a heartier dinner. Or simply switch out the vegetables for whatever's in season.
Pretty much anything would work in here so make it your own!
Why we love this chunky vegetable soup with dumplings:
This recipe is so easy to make which makes it the perfect thing to add to your winter meal plan
It's also really quick taking just 40 minutes from start to finish so it can easily be made on a weeknight
The soup itself is gluten free so you could easily leave off the dumplings to avoid the gluten
This vegetable soup recipe is great for feeding a family or crowd because you can easily multiply the recipe according to how many servings you need
This easy vegetable soup is also vegan so you can leave off the dumplings and serve up a hearty and warming vegan soup
INGREDIENTS YOU NEED TO MAKE THIS VEGETABLE SOUP WITH DUMPLINGS:
Oil
Onions
Garlic
Carrots
Leek
Bay Leaves
Dried Dill
Vegetable Stock
Potatoes
Flour
Butter
Salt and Pepper
Keep scrolling to get the full recipe for vegetable soup with dumplings...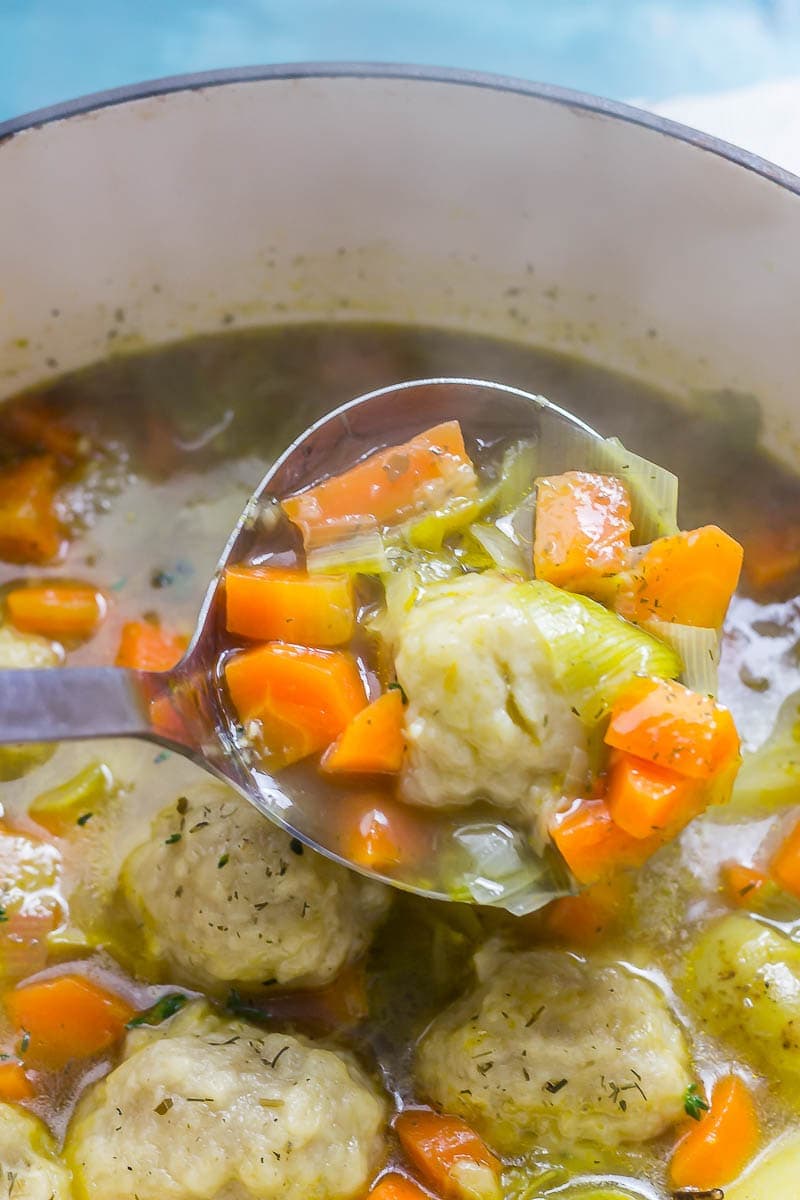 I think a lot of people think of a veg soup recipe like this as something that takes too long for a weeknight but it's actually so much quicker than you think.
It's ultimate comfort food and it works all year round, I don't care what anyone says. Especially if you live in crappy old England (have I mentioned I hate the weather here?!) and it's basically low to slightly less low temperatures all year round.
HOW TO MAKE VEGETABLE SOUP:
Fry the onions then add most of the vegetables to the pot along with the vegetable stock. Bring to the boil.
After 10 minutes add the potato then make the dumplings while the soup is cooking.
HOW TO MAKE VEGETARIAN DUMPLINGS:
Mix the flour, grated butter and salt and pepper together and shape into dumplings.
Drop the dumplings on top of the soup and cook for 10 minutes. Serve.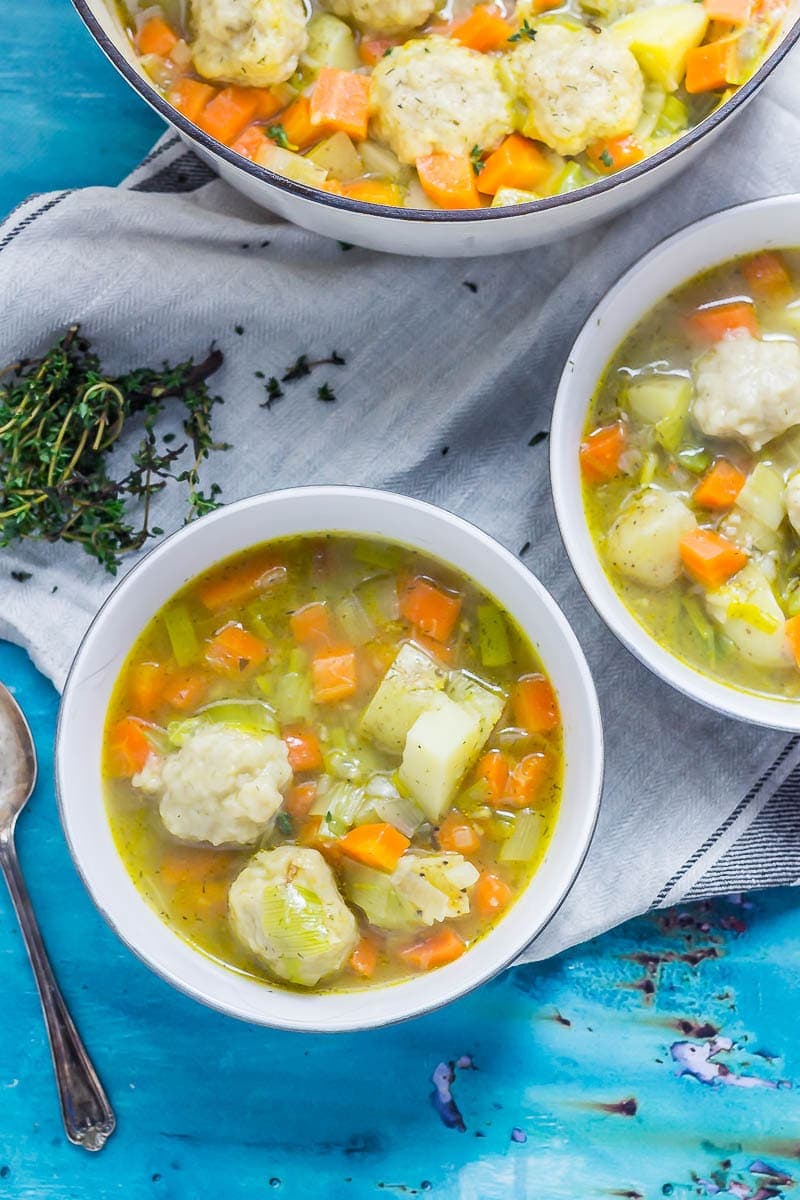 The only bad thing about this vegetable soup with dumplings? It is very very difficult to make it look good on camera. It's pretty safe to say that soup and dumplings is just pretty ugly.
Fortunately the levels of deliciousness means that it doesn't matter, I challenge you to sit with a bowl of this in front of you when you're hungry and not think it's the most perfect bowl of food you've ever seen. Oh and don't forget the side of crusty bread!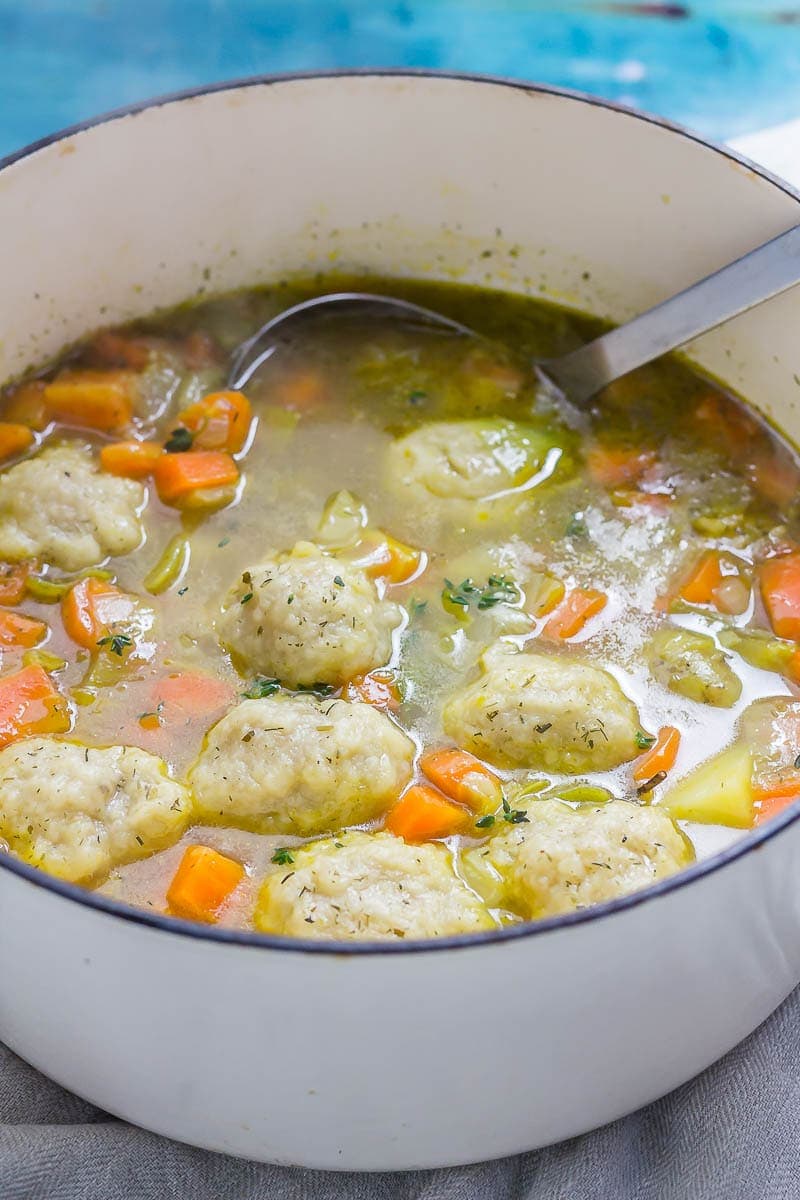 Oh oh oh, also, if you want to make more dumplings (which you obviously do) and to find out how to make dumplings with suet then try this beef soup with dumplings too.
Suet is definitely supposed to be one of the most disgusting things ever...I just looked it up and it's described as 'raw, hard fat of beef or mutton'...I'll stop now because I don't want you not to make that recipe. Despite its gross-sounding-ness it is absolutely delicious and works excellently in dumplings.
ARE VEGETARIAN DUMPLINGS HEALTHY?
Since these dumplings are mostly made up of flour and butter they're definitely not the healthiest of recipes but I like to think that the super healthy soup makes up for it!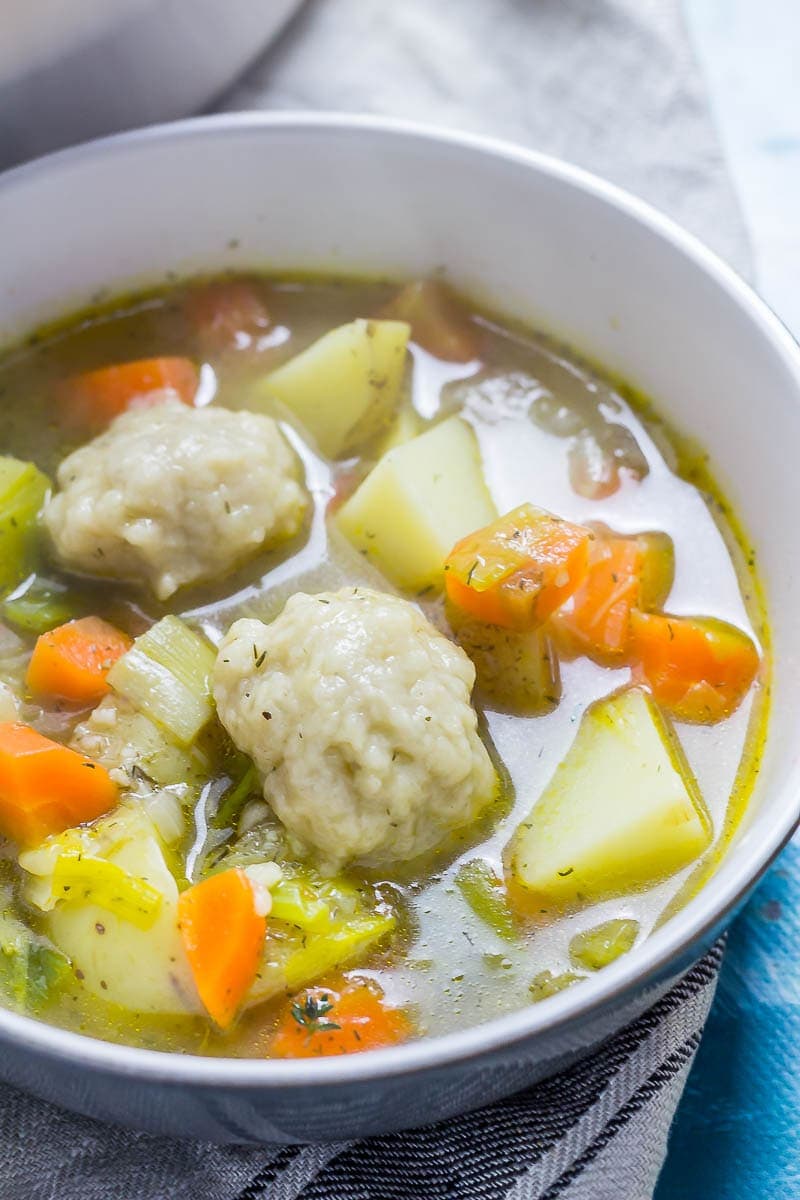 How to make dumplings without suet?
Anyway, the dumplings in this vegetable soup are just made with butter and flour and a little seasoning and they are pretty much perfect. If you're wanting something a little bit more exciting then you could make these into herby dumplings with the help of a little fresh thyme mixed into the dough.
I would suggest you consider making a double serving of dumplings, just sayin'.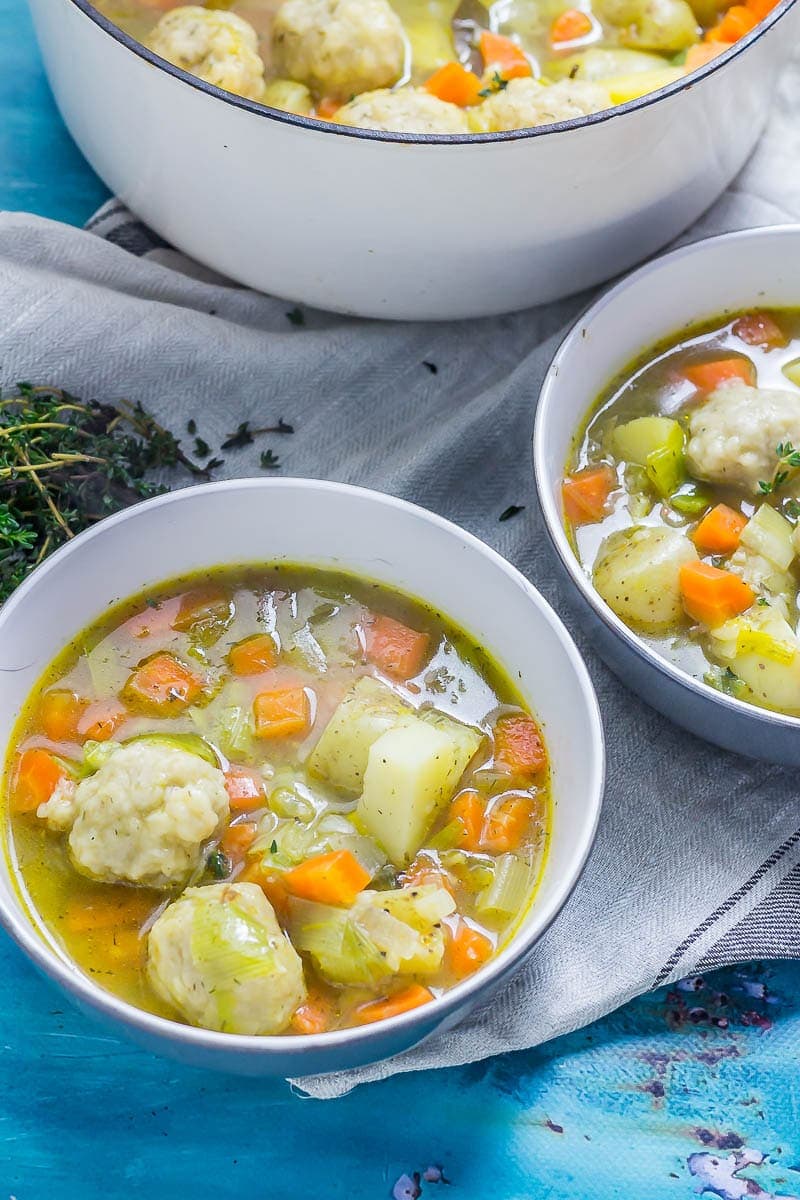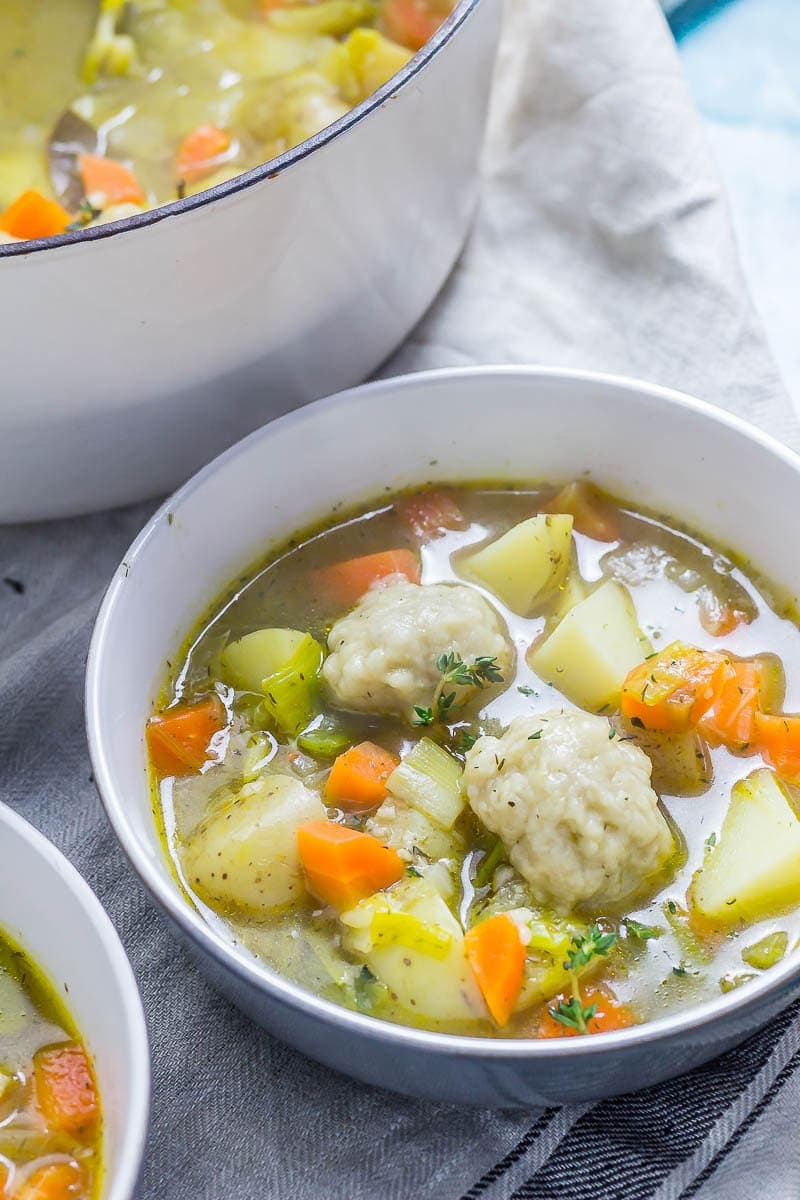 Want more? Get all my other soup recipes before you go!
Keep scrolling to get the full printable recipe...
WONDERING WHAT TO DO WITH THE LEFTOVER INGREDIENTS YOU'VE GOT FROM MAKING THIS VEGETABLE SOUP WITH DUMPLINGS?
If you're anything like me then you're always looking for ways to save money and avoid food waste so I want to make sure you've get plenty of ideas on how to use up any ingredients that are leftover from my recipes!
Easy Pressure Cooker Saag Aloo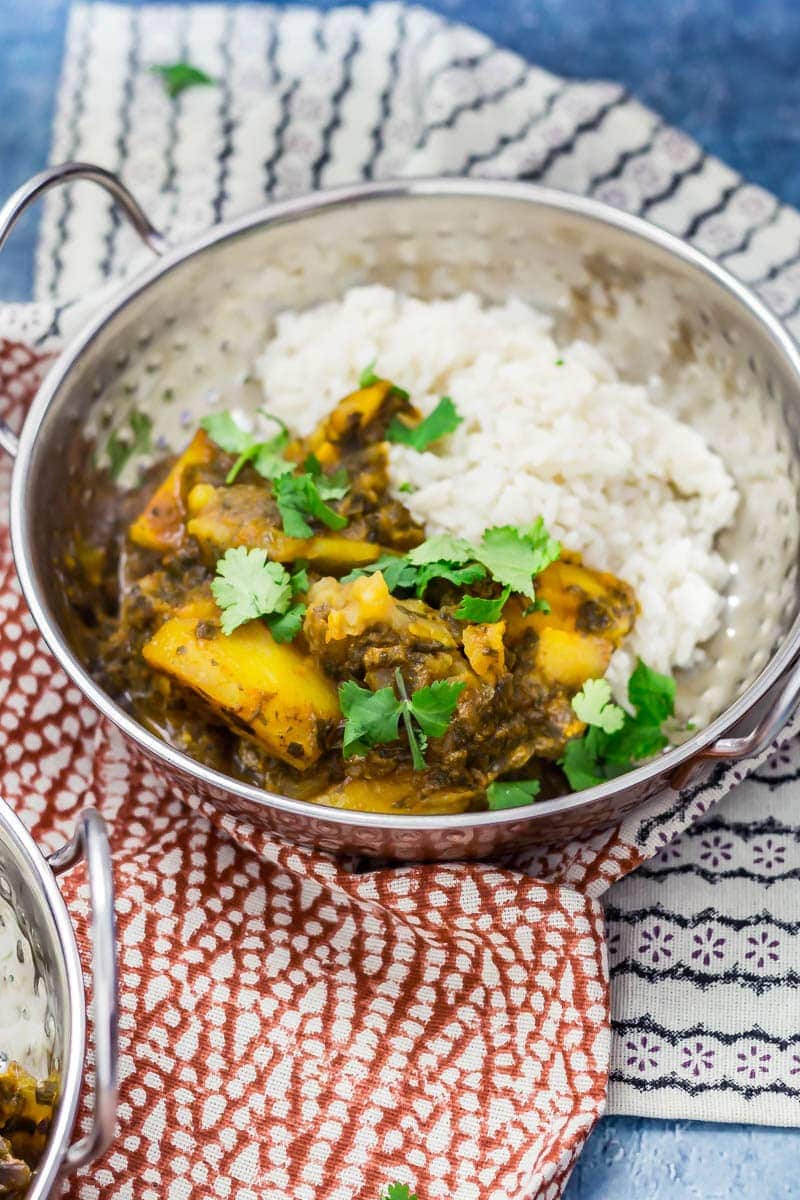 Hearty Chicken Soup with Pasta & Beans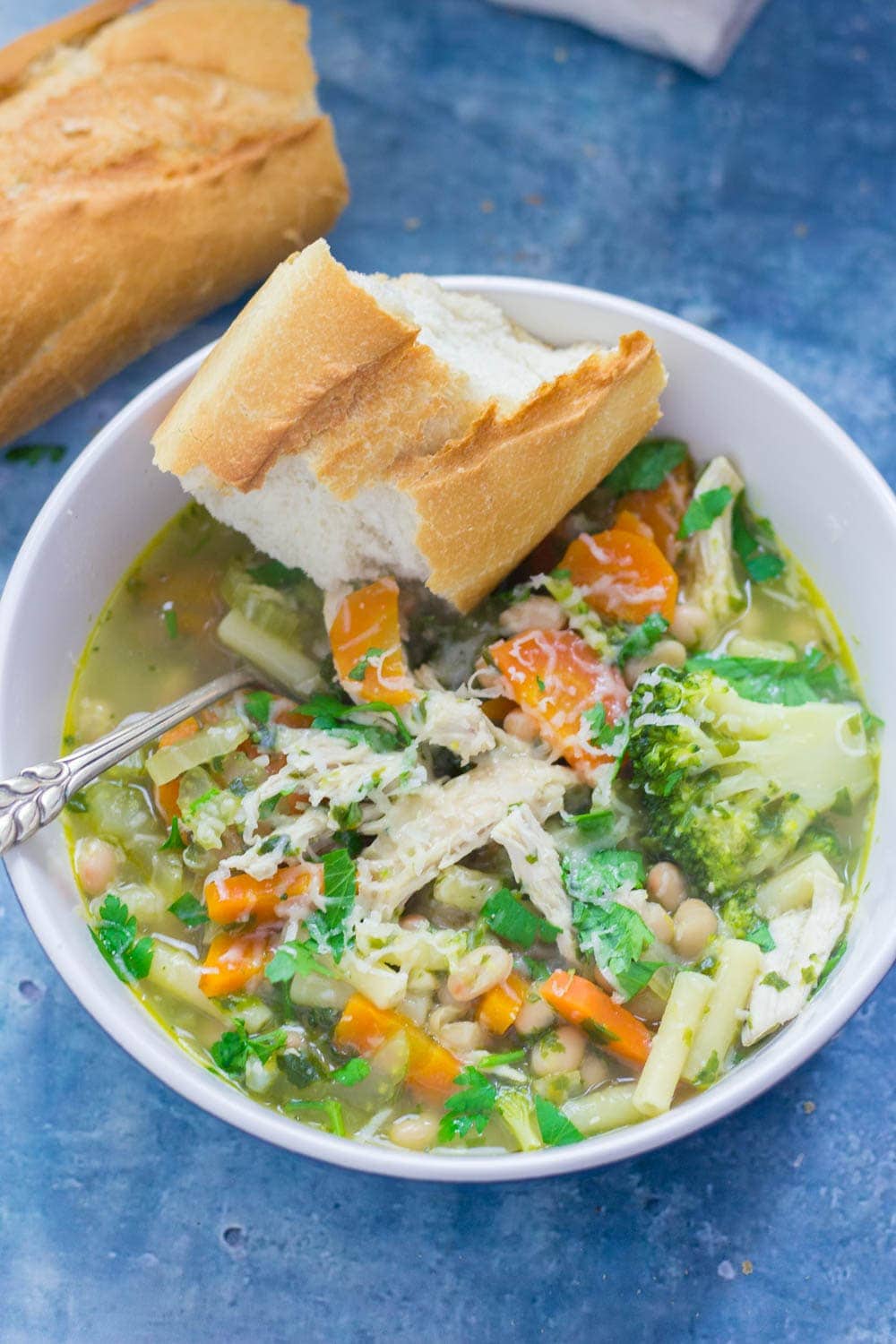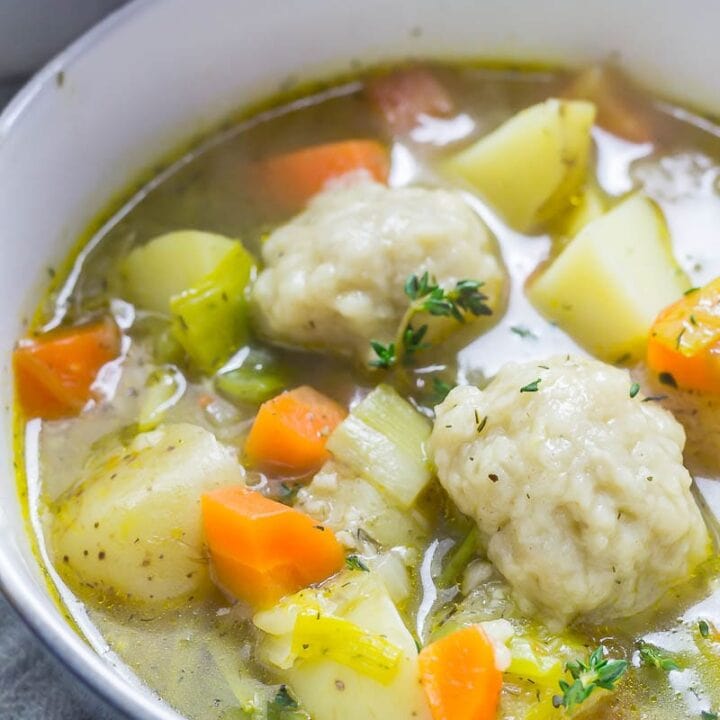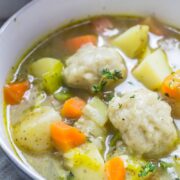 Vegetable Soup with Vegetarian Dumplings
The vegetable soup with dumplings recipe is so quick and simple to make. Add whatever vegetables you like to make it your own and make sure you serve up plenty of those dumplings on top!
Print
Pin
Rate
Ingredients
3

tablespoon

Oil

2

Onions

3

cloves

Garlic

crushed

3

Carrots

chopped

1

Leek

chopped

2

Bay Leaves

½

teaspoon

Pepper

2

teaspoon

Dried Dill

1.4

litres

Vegetable Stock

3

Potatoes

chopped

1-1 ½

teaspoon

Salt

Fresh Parsley
For the Dumplings
250

g

Self-Raising Flour

125

g

Butter

grated

Salt and Pepper
Instructions
Heat the oil over a medium heat. Add the onion and fry for a couple of minutes. Add the garlic, carrot, leek, bay leaves, pepper, dill and salt. Stir everything together then add the vegetable stock.

Bring to the boil and simmer for 10 minutes then add the potato and simmer for another 10 minutes. While the soup is cooking mix together the flour, butter and a sprinkling of salt and pepper for the dumplings. Rub between your fingers until it has the consistency of breadcrumbs then add a splash of water and work into 12 dumplings.

Drop the dumplings on to the top of the soup and then cover with a lid and cook for another 10 minutes. Serve topped with chopped parsley.
Nutrition Facts
Vegetable Soup with Vegetarian Dumplings
Amount Per Serving
Calories 450
Calories from Fat 216
% Daily Value*
Fat 24g37%
Cholesterol 44mg15%
Sodium 766mg32%
Potassium 587mg17%
Carbohydrates 50g17%
Protein 8g16%
Vitamin A 5885IU118%
Vitamin C 16.6mg20%
Calcium 73mg7%
Iron 3.8mg21%
* Percent Daily Values are based on a 2000 calorie diet.
---
Equipment you need to make this recipe…
[amazon_link asins='B00V86WGB6,B0001IWV94,B000KG8GVE,B003ASATPA' template='ProductCarousel' store='thecoorep-21' marketplace='UK' link_id='5f6007d4-3853-11e8-b8ac-f365b78d83e1']
Like the look of this recipe? Make sure you pin it for later!