These Moroccan meatball flatbreads are surprisingly quick to make. The meatballs are simmered in a harissa tomato sauce and served with a drizzle of aioli.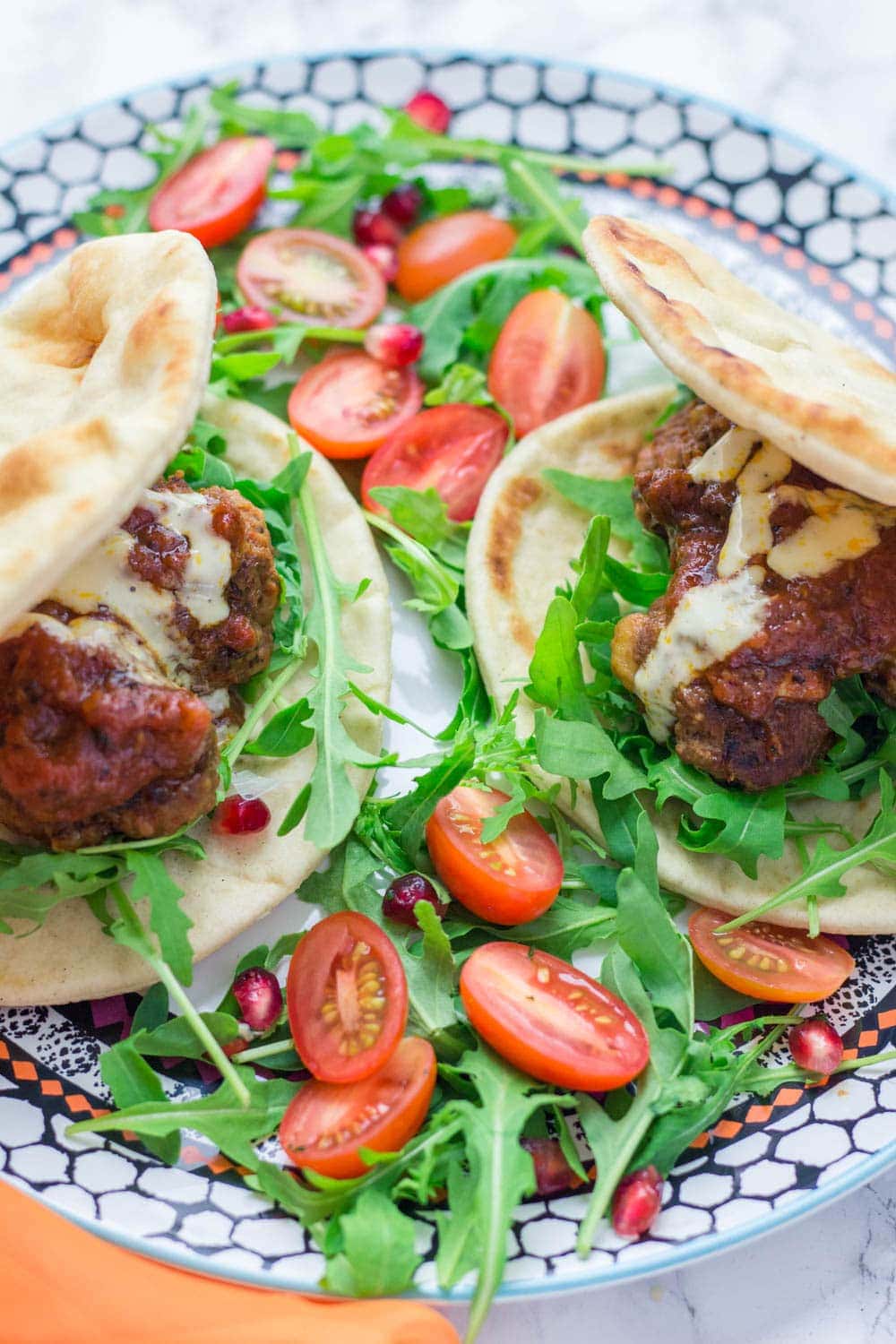 Ah September. How did you arrive already? I really can't get over how quickly summer has passed. I know this is what literally everyone says every year but still, I really don't feel like I took enough advantage of summer this year. Everyone keeps talking about how great autumn is but I'm really a spring and summer person. Autumn and winter are just not ok with me, I hate being cold.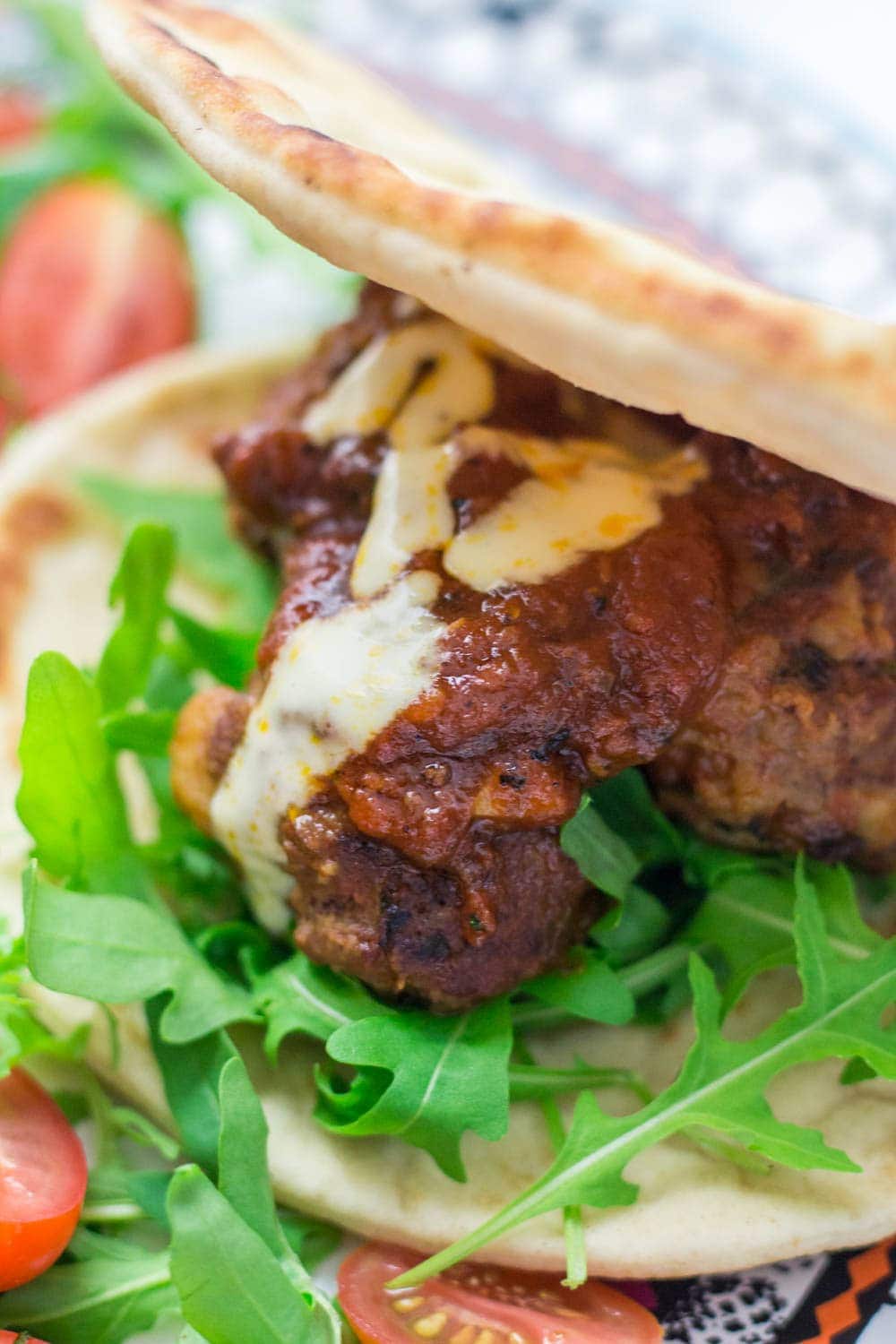 Ok, ok, enough whining. We still have a few more weeks of sun to enjoy and we're going on a trip with a couple of friends in a few weeks! These Moroccan meatball flatbreads will bring you some summer whatever the time of year and they're just so tasty.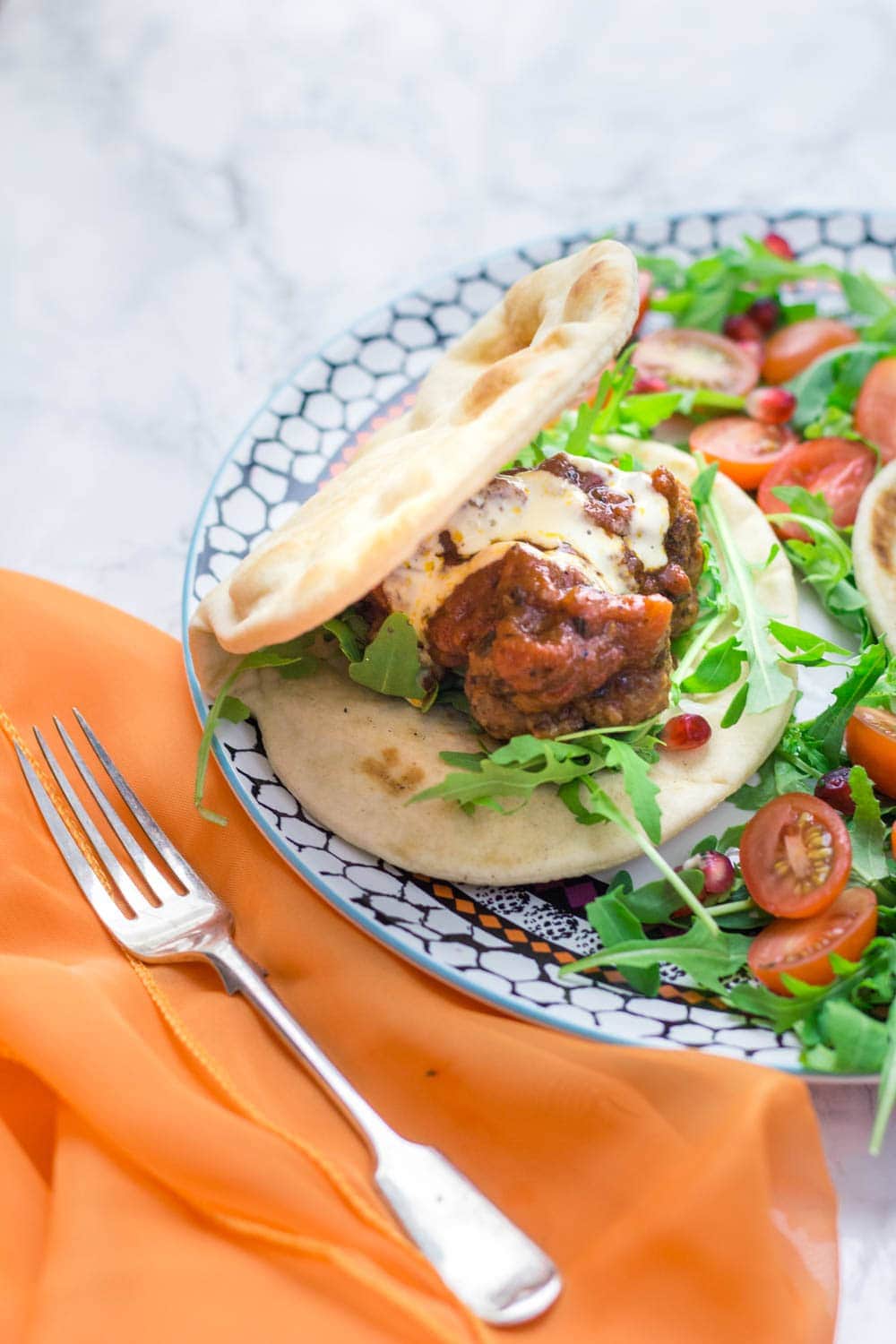 You start off by making your meatballs which begin with some milk soaked pitta bread which makes them so soft and moist (yeah I went there) and then some minced beef and a healthy helping of spices before forming them into meatballs and frying them in a little olive oil until they're all brown and crispy.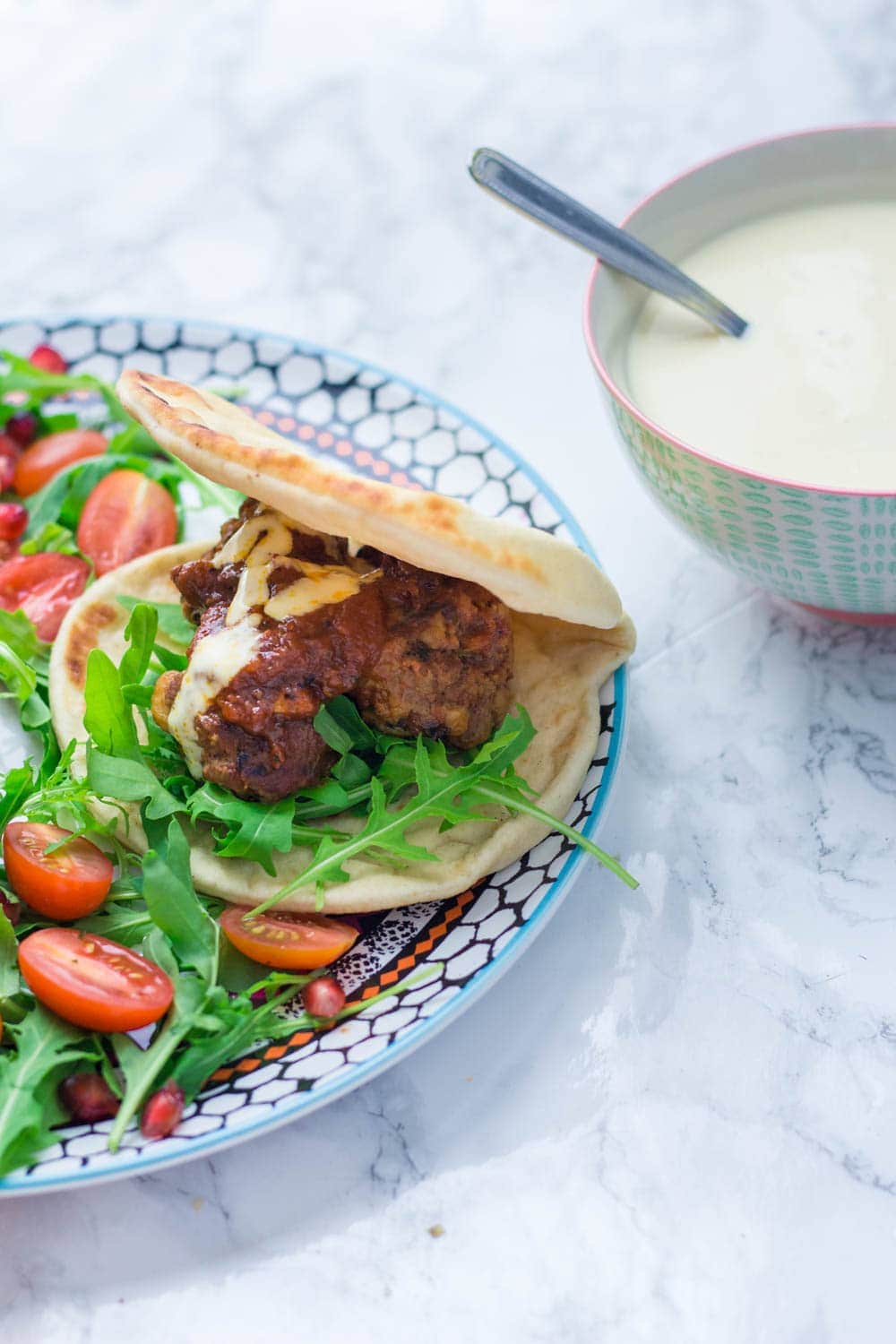 Then you make this incredibly simple tomato sauce with just a little harissa to add some spice. Simmer that down before adding the meatballs back to the sauce and letting everything cook and get all saucy and tender. Then just pop together an amazing aioli and you're all set.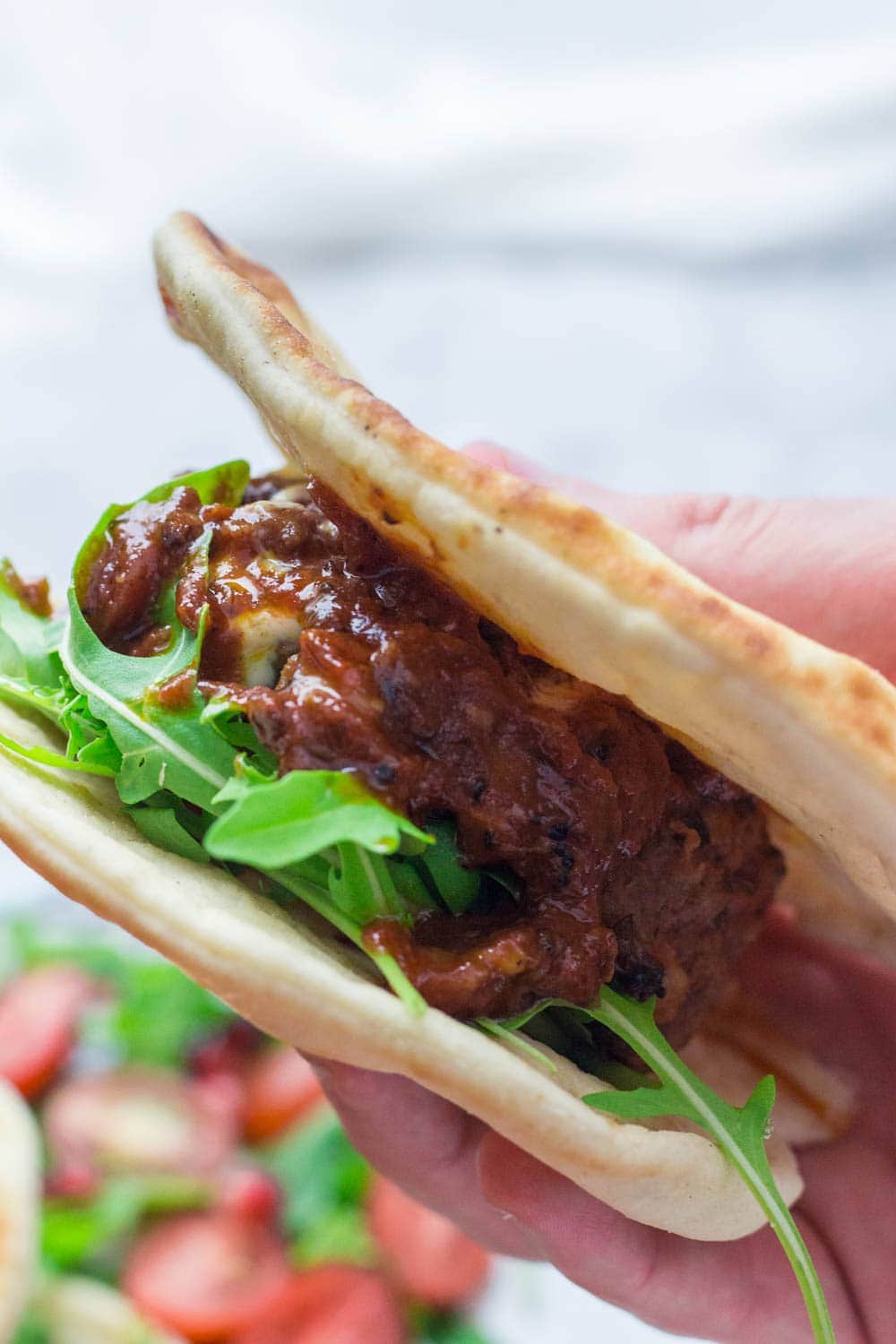 You could totally mix up how you serve these. They'd be amazing on some couscous or rice or you could even try them in a pitta bread or wrap. Basically, make these super easy meatballs and serve them in every which way. You'll be full of joy, trust me.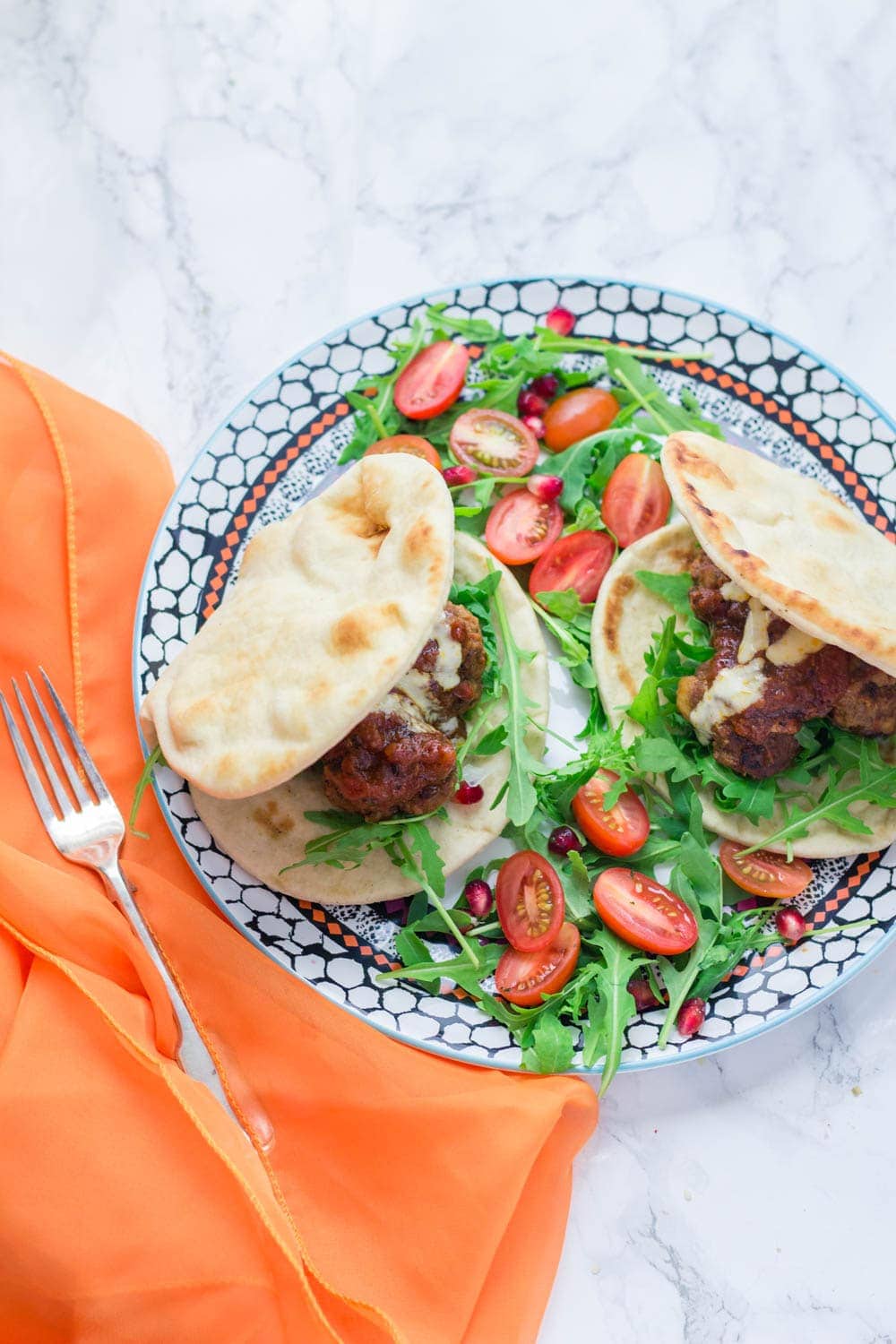 Moroccan Meatball Flatbreads with Aioli
These Moroccan meatball flatbreads are surprisingly quick to make. The meatballs are simmered in a harissa tomato sauce and served with a drizzle of aioli.
Ingredients
For the Meatballs
80

ml

Milk

1

Pitta Bread

torn into pieces

500

g

Beef Mince

Bunch

Parsley

chopped

1

tsp

Dried Oregano

1

tsp

Cumin

1

tsp

Dried Coriander

1

tsp

Aleppo Pepper

Salt and Pepper

3

cloves

Garlic

crushed
For the Tomato Sauce
2

tbsp

Olive Oil

3

cloves

Garlic

crushed

1

400g tin

Chopped Tomatoes

1

tbsp

Harissa
For the Aioli
1

clove

Garlic

crushed

2

Egg Yolks

110

ml

Olive Oil

200

ml

Greek Yoghurt

1

tbsp

Lemon Juice
To Serve
Handful

Cherry Tomatoes

halved

Couple of handfuls

Rocket (Arugula)

Flatbreads

Pomegranate Arils
Instructions
In a large bowl pour the milk over the pitta bread and leave to soak for 5 minutes. Add the beef mince, the parsley, oregano, cumin, coriander, aleppo pepper, garlic and a sprinkling of salt and pepper. Mix together and form into meatballs, you should get about 12 meatballs.

Heat a tablespoon of olive oil over a medium-high heat in a skillet and fry the meatballs until browned. You might need to do this in batches. Set them aside and heat another tablespoon of oil. Fry the garlic for 2 minutes then add the chopped tomatoes and harissa, cook for 5 minutes until thickened.

Add the meatballs back to the sauce and cover the skillet. Cook for 15 minutes. Meanwhile make the aioli. Whisk together the garlic and egg yolk. Slowly pour in the oil while whisking until emulsified. Add the yoghurt and lemon juice. Serve the meatballs in flatbreads with rocket, cherry tomatoes and aioli.
Recipe Notes
Recipe adapted from Saveur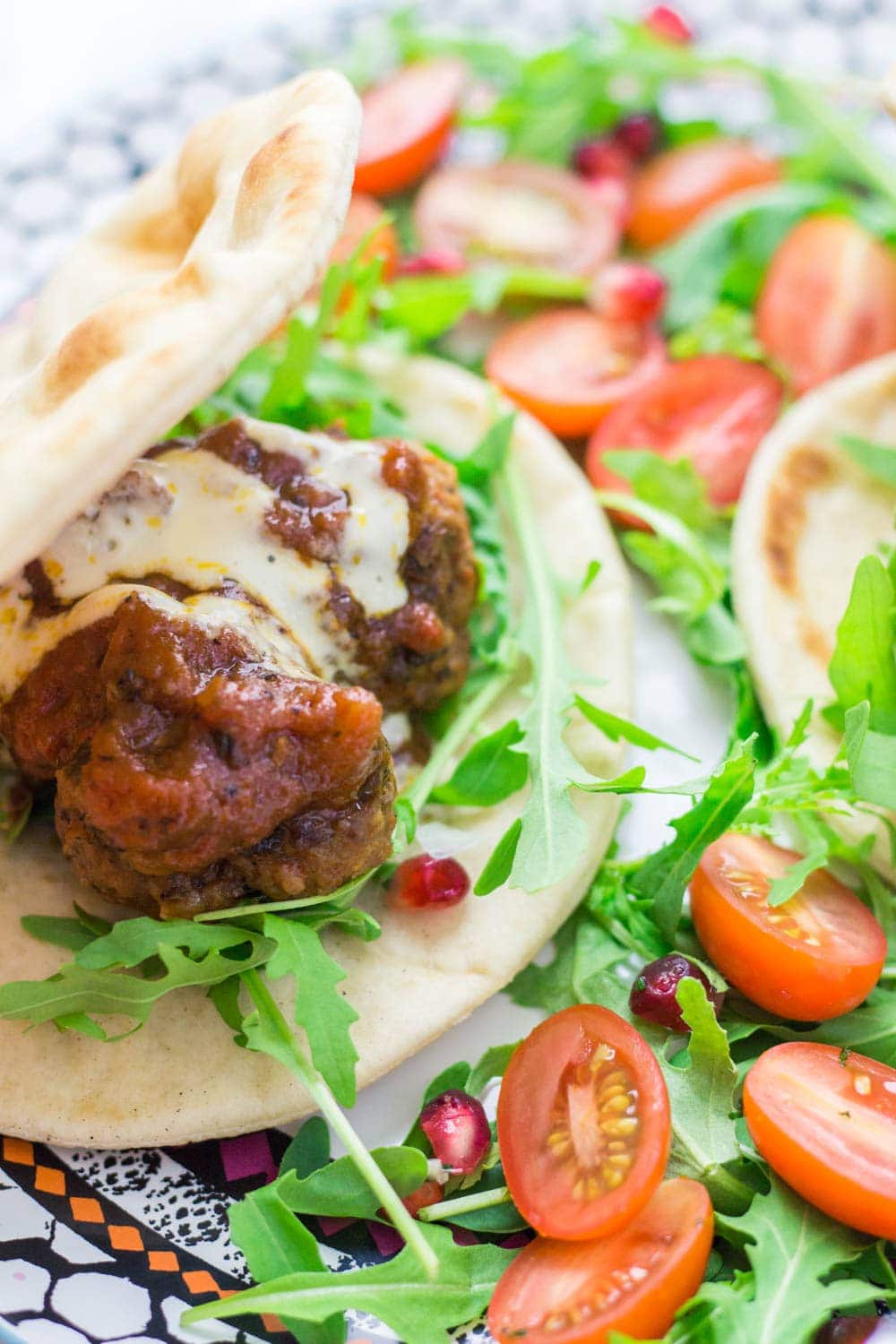 WONDERING WHAT TO DO WITH THE LEFTOVER INGREDIENTS YOU'VE GOT FROM MAKING THESE MOROCCAN MEATBALL FLATBREADS WITH AIOLI?
If you're anything like me then you're always looking for ways to save money and avoid food waste so I want to make sure you've get plenty of ideas on how to use up any ingredients that are leftover from my recipes!