Using halloumi in this creamy cashew nut curry makes a tasty change from a traditional curry. Sprinkle with a handful of whole cashews for an extra crunch. 
Jump to Recipe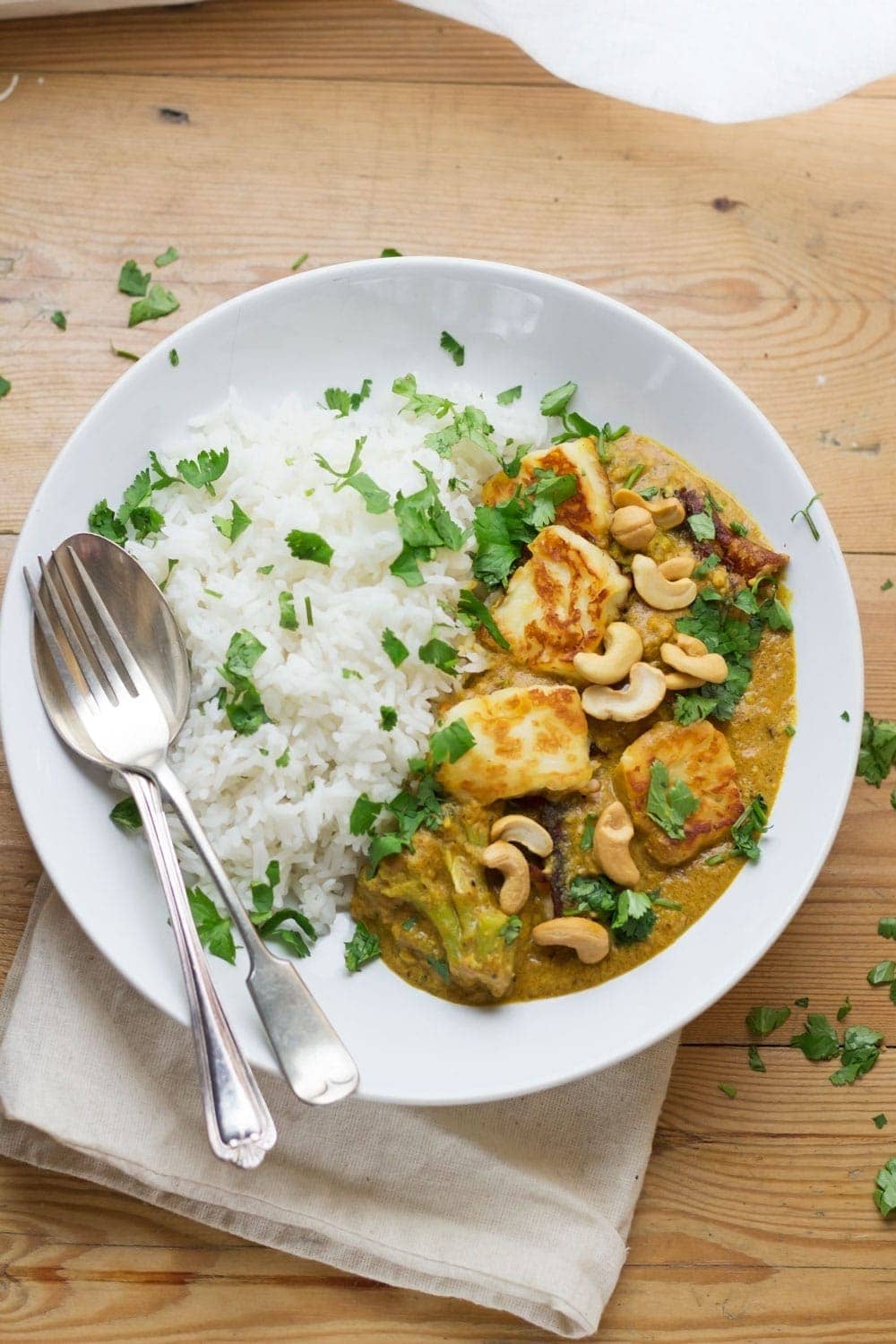 Oh god guys I have been so excited to share this recipe with you. This was one of those ideas I came up with and then had to convince Will to let me try it.
It's something I've been pondering for a while. I just could not get the idea of halloumi in curry out of my head. I was just convinced that that salty, squeaky cheese would work perfectly with a creamy curry sauce.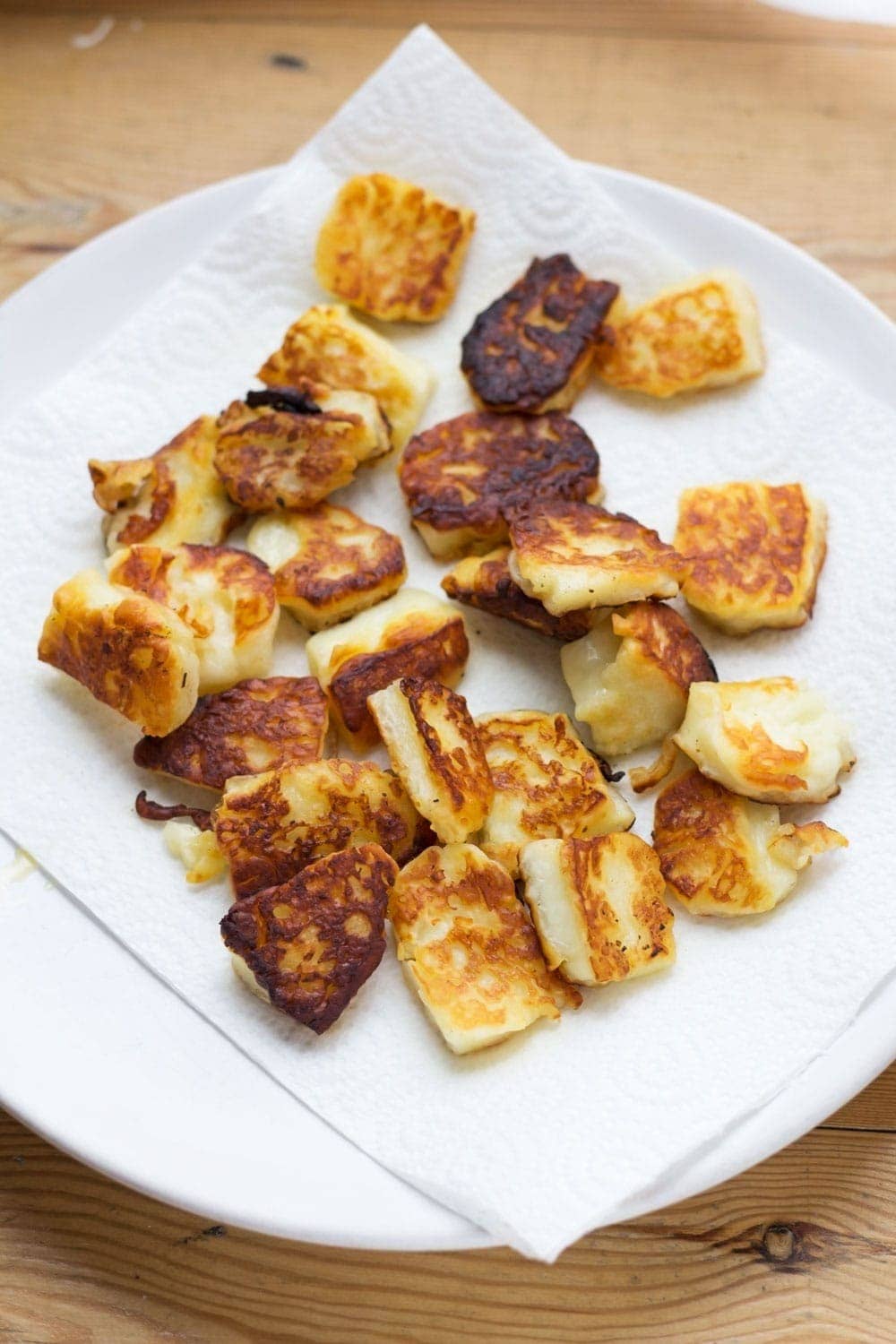 So I told Will about it and he was pretty sceptical. Ok, a lot sceptical. I don't really get why because if anyone suggests having halloumi in anything my answer is always an instant YES PLEASE.
But apparently Will is slightly more discerning. Eventually, though, my curiosity won out and I made it for dinner one night that Will was out.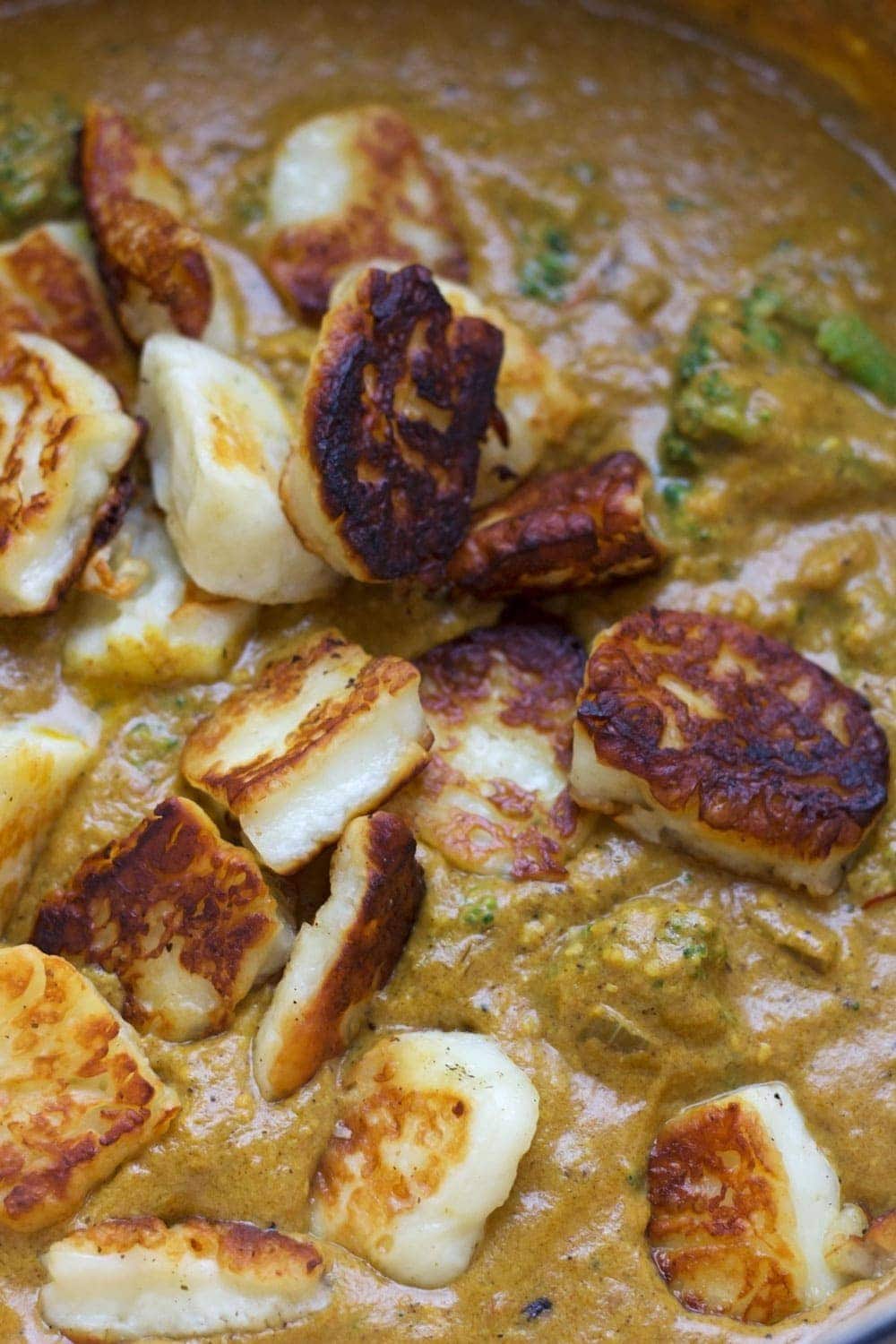 And guess what. He loved it. We both loved it. So much so that we're still talking about it several weeks later.
I cannot tell you how much you need to try this curry. The smooth, creaminess of the curry comes from a sauce of ground cashews, coconut milk and tomatoes then that cooks down with a load of spices. At this point you could totally just add the halloumi and it would be acceptable, sure.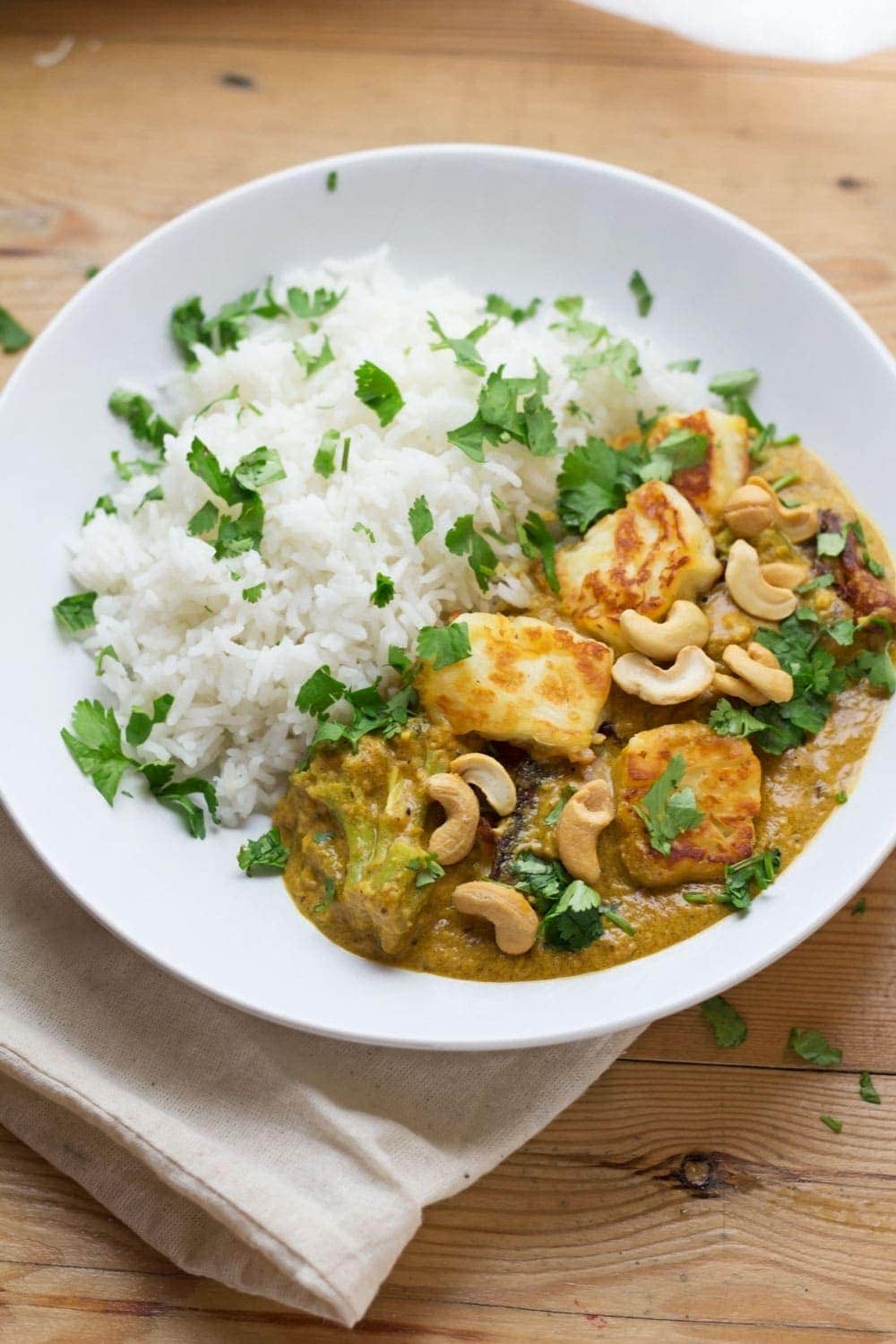 But what you should actually definitely do is cook that halloumi in a hot skillet first so that it's brown and crispy and delicious.
Then tip it into the curry just before serving. Stirring gently so it's just coated in the sauce then piling on top of a bed of freshly cooked rice and topping with a handful of cashews and loads of chopped coriander.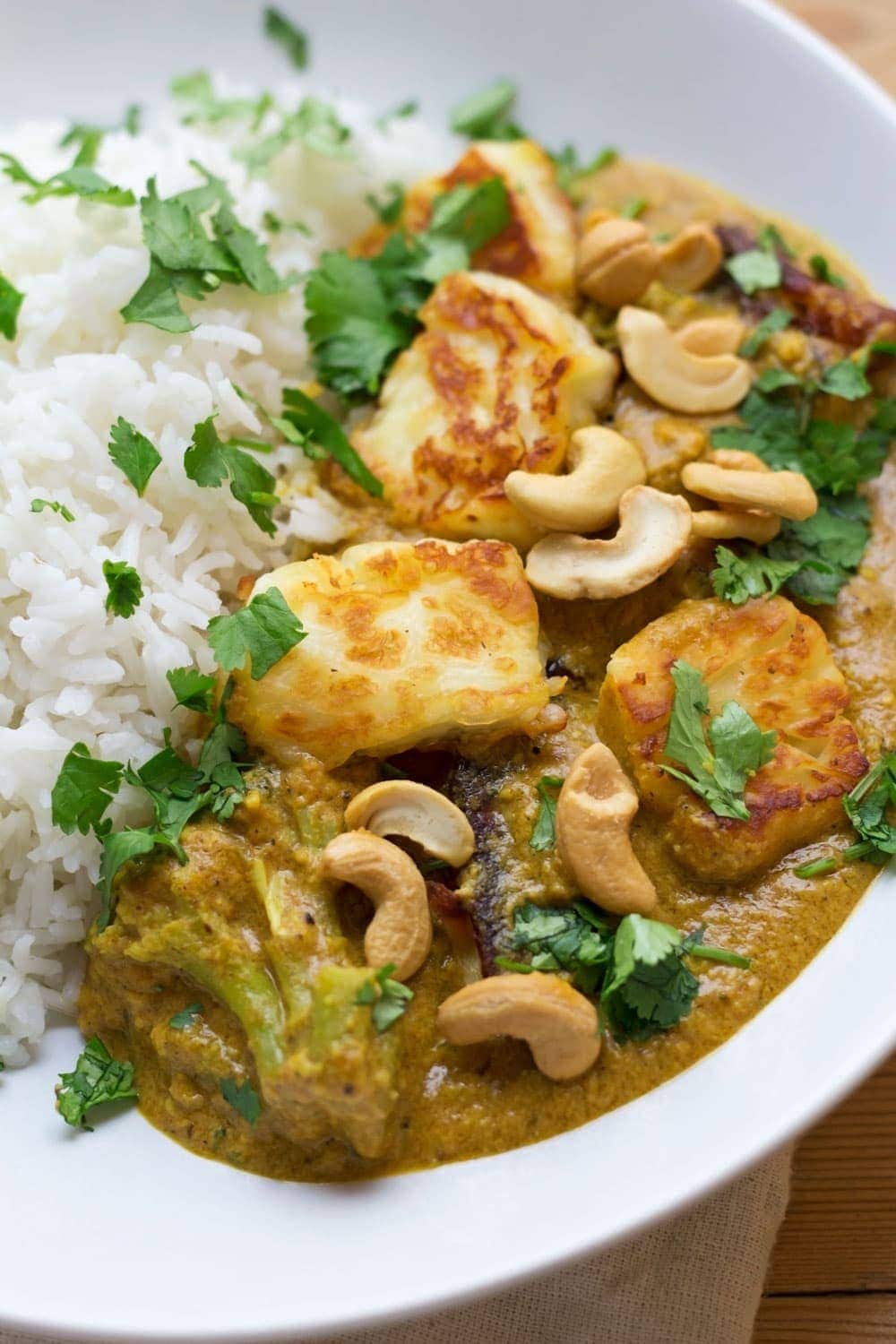 P.S. If you love halloumi as much as I do then find loads more halloumi recipes here!
Cashew Nut Curry with Halloumi & Broccoli
Using halloumi in this creamy cashew nut curry makes a tasty change from a traditional curry. Sprinkle with a handful of whole cashews for an extra crunch.

Ingredients
2

tbsp

Butter

250

g

Halloumi

cubed

1

400g tin

Coconut Milk

115

g

Cashews

500

g

Passata

60

g

Greek Yoghurt

1

Onion

diced

3

cloves

Garlic

crushed

1

thumb-sized piece

Ginger

grated

2

tbsp

Curry Powder

2

tbsp

Garam Masala

2

tsp

Curry Paste

1/2

tsp

Turmeric

1

tsp

Cayenne Pepper

1

head

Broccoli

cut into florets and cooked

Bunch

Coriander

chopped

Rice
Instructions
Melt half the butter in a skillet and fry the halloumi until it is browned on all sides. You might need to do this in batches. Place on a paper towel covered plate to drain.

Blend the cashew nuts with the tin of coconut milk in a food processor until smooth. Add the passata and the yoghurt and blend again. Add a little water if needed to loosen the mixture.

To a big pot melt the rest of the butter and add the onion, garlic and ginger. Cook until softened, about 5 minutes. Add all the spices and the curry paste and cook until fragrant, a minute or so. Pour in the cashew nut mixture and bring to the boil. Add the halloumi and broccoli to the sauce and serve with rice, coriander and cashew nuts.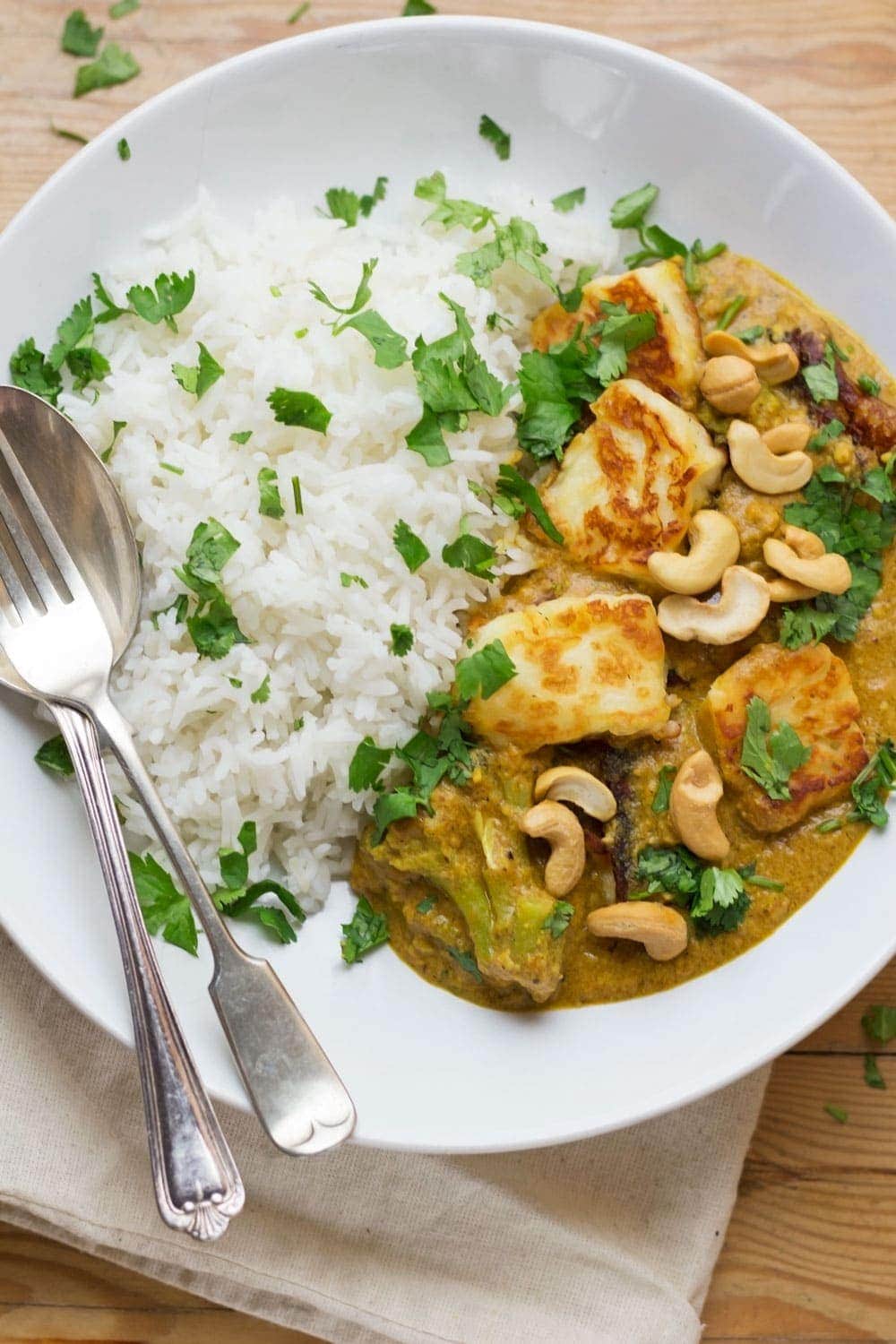 WONDERING WHAT TO DO WITH THE LEFTOVER INGREDIENTS YOU'VE GOT FROM MAKING THIS CASHEW NUT CURRY WITH HALLOUMI & BROCCOLI?
If you're anything like me then you're always looking for ways to save money and avoid food waste so I want to make sure you've get plenty of ideas on how to use up any ingredients that are leftover from my recipes!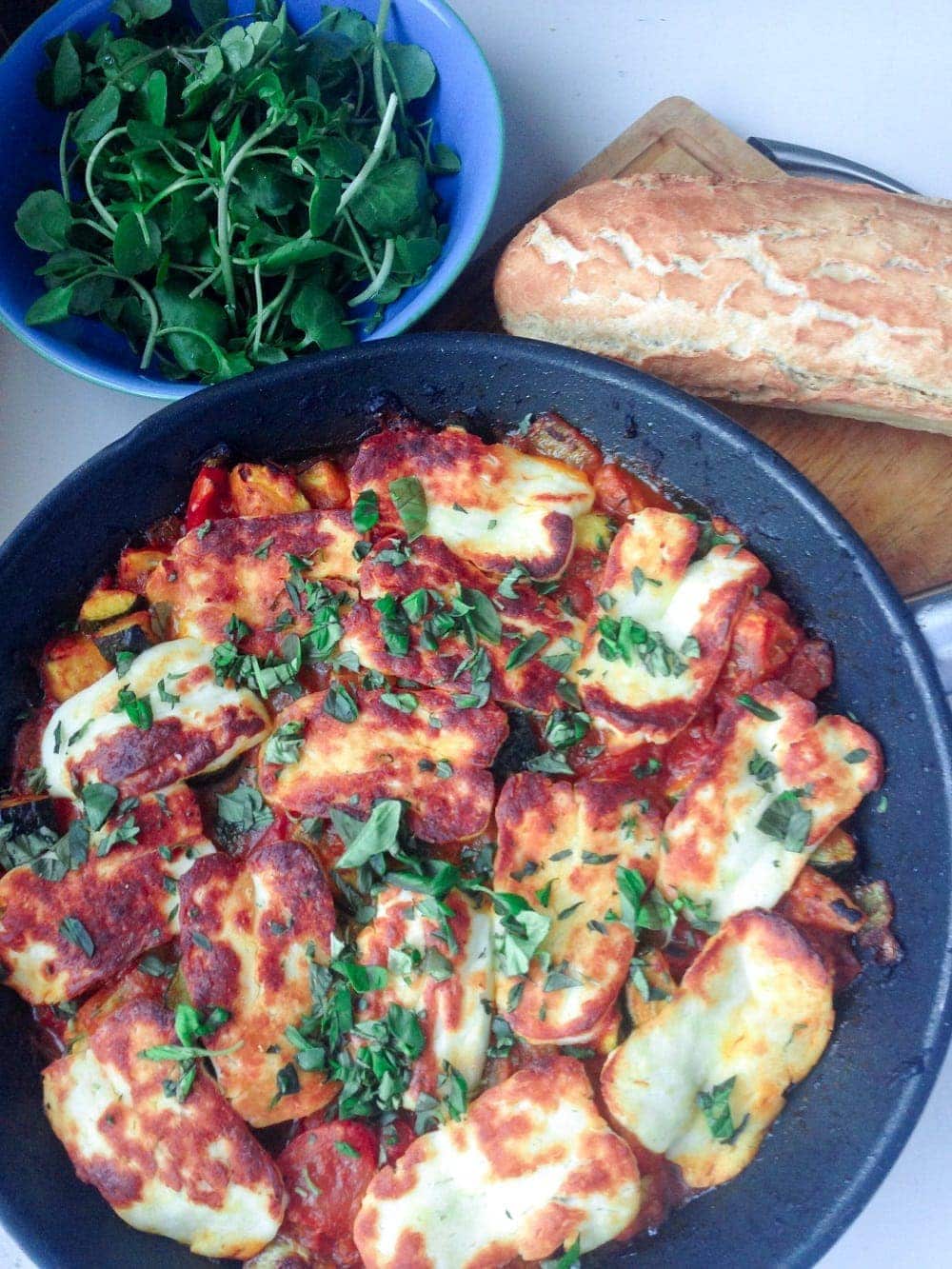 Broccoli Cheese Soup with Halloumi Fries