This biryani is such an easy weeknight dinner! It's made up of beautifully spiced rice with tender cauliflower and chickpeas. I love mine topped with a runny boiled egg and nigella seeds.
I love cooking with rice! Will and I have been known to stand in the kitchen eating mouthfuls of leftover rice after dinner just because somehow plain rice is still incredibly delicious.
It's one of those versatile ingredients that I can easily end up eating every night of the week while still travelling around the world with my dinner choices.
Click here to pin this recipe for later!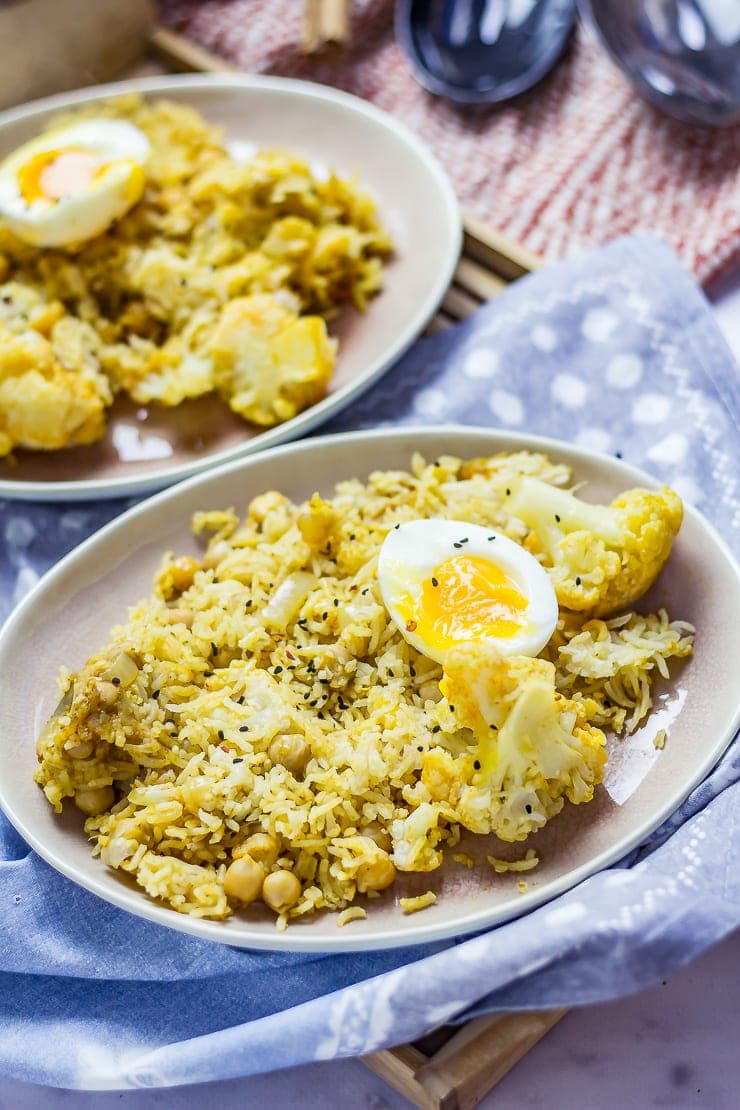 This was one of those easy weeknight dinners I made when Will was out for the evening. I love cooking a lot (obviously) but I especially love cooking when I'm cooking with Will. He makes everything more fun and one of the reasons I got so into cooking when we moved in together was because it was the most quality time Will and I got to spend together.
Now excuse me while I get super lame and cringy for a second but when Will and me have nights in together I spend all day looking forward to going home and cooking together. He loves cooking and coming up with fun twists on recipes almost as much as I do so it's always my favourite time of day.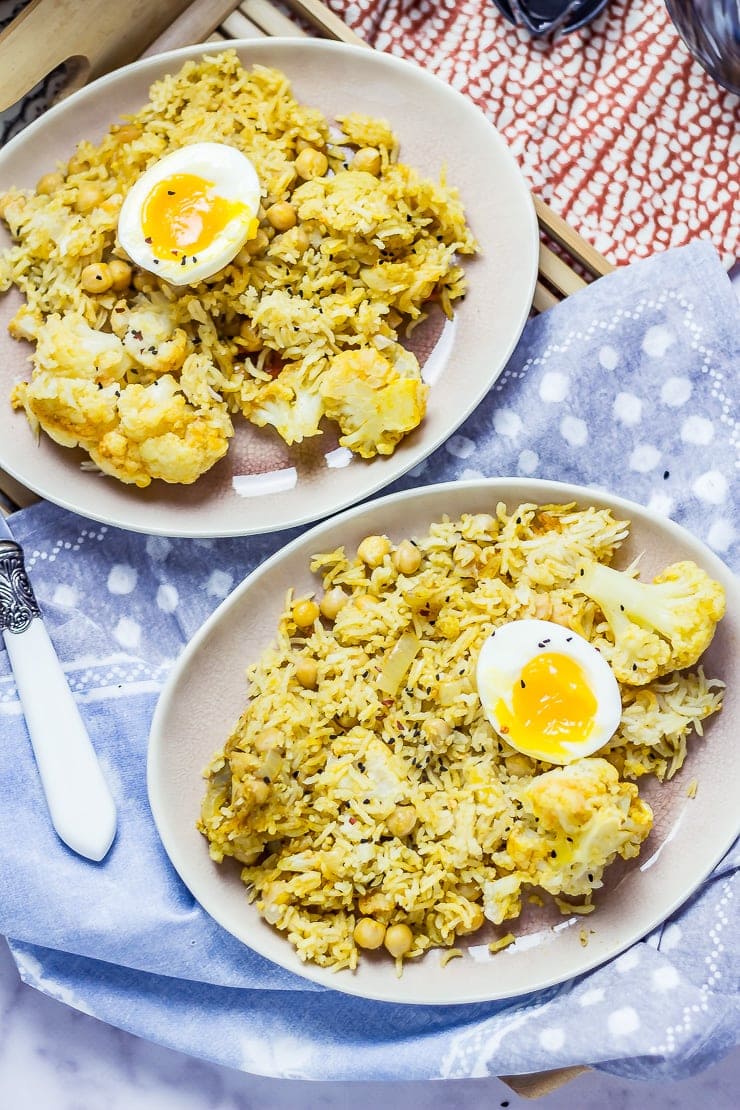 Anyway, sometimes when I'm in on my own I get super into a recipe and end up cooking for hours but more often than not I want to get something on the table (ok, ok, my lap in front of the TV) in a matter of minutes. Especially since nights without Will are a good opportunity to get as much work done as possible.
That's why recipes like this biryani are exactly the kind of dinners I like to throw together when I'm on my own.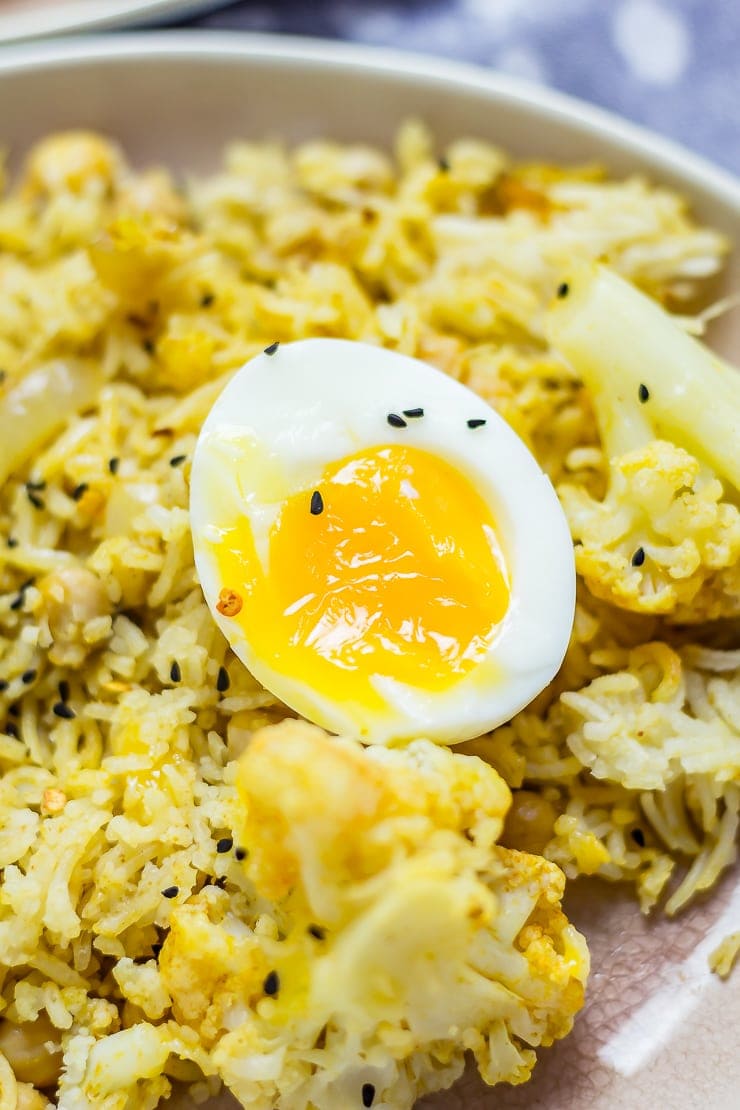 It's quick, easy, healthy and O.M.G so full of flavour. There's something so perfect about cooking rice with loads of spices. Rice is like a big old flavour sponge and it gets all those punchy flavours cooked right in there so that by the time you come to eat it it's just so crazy delicious.
Why we love this biryani recipe:
It's vegetarian so it's great for when we're cutting down on meat plus it's easily made vegan by leaving off the boiled egg
It's a one pot recipe which makes it ideal for busy weeknights
It's also easy to make your own by adding your favourite spices or vegetables
Finally, it's gluten free and dairy free which makes it great for serving to people with dietary restrictions
Ingredients you need to make this biryani with cauliflower & chickpeas:
Butter
Onion
Ginger
Garlic
Coriander
Curry Powder
Cumin
Cinnamon Stick
Bay Leaves
Cloves
Cauliflower
Chickpeas - Use up extra in this garlic and chorizo pasta
Basmati Rice
Vegetable Stock
Nigella Seeds
Boiled Eggs
Equipment you need to make this recipe…
[amazon_link asins='B00V86WGB6,B003ASATPA,B0001IWV94' template='ProductCarousel' store='thecoorep-21' marketplace='UK' link_id='8ade0d11-3d0c-11e8-9bc4-afbbea340e0b']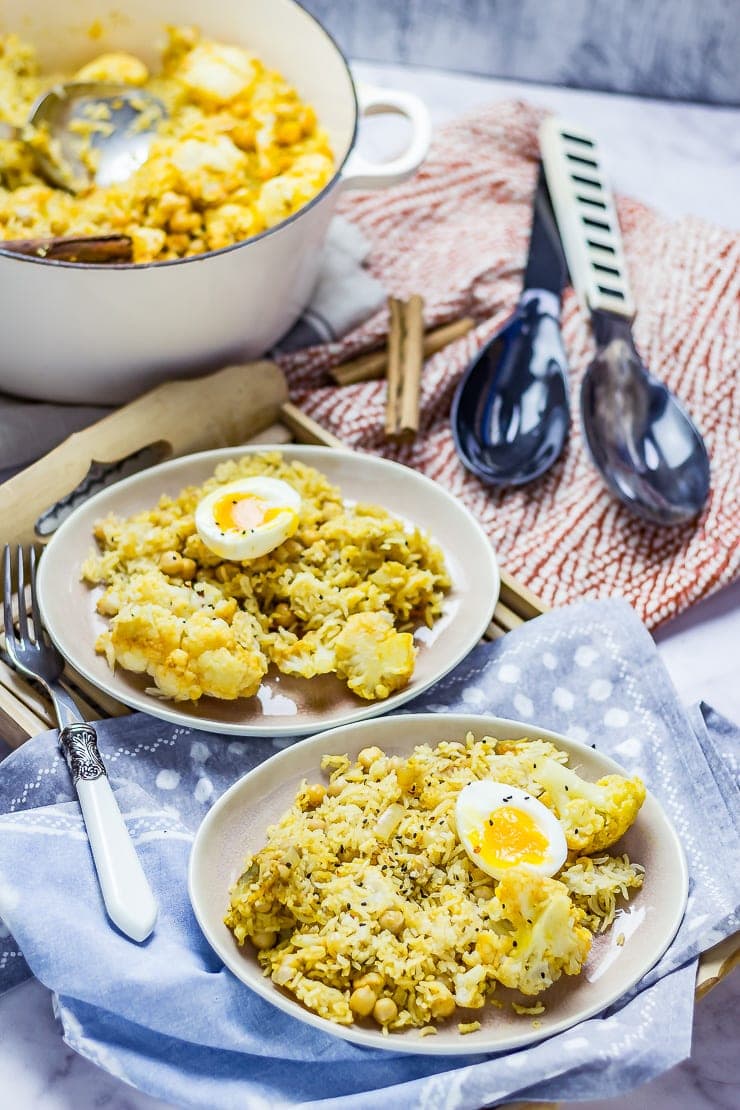 In case you haven't noticed we're having a bit of a moment with cauliflower at the moment <<< I mean isn't the whole internet having one of those right now? Will and I have gone from disgust at people who try to pass off cauliflower as a good substitute for meat to actually doing it right here in this creamy cauliflower curry which was my take on a vegetarian butter chicken.
A few weeks ago will made me battered and fried cauliflower and I think I actually told him that it was the best thing I've ever eaten. What is happening to me?!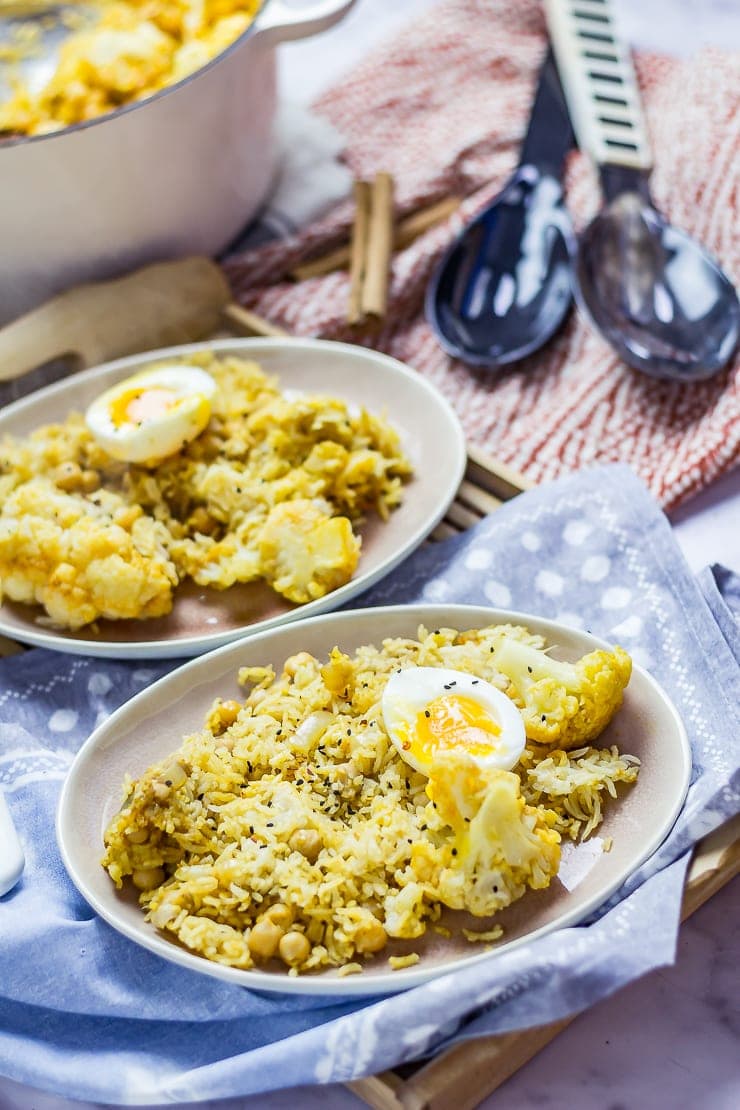 I also love chickpeas more than any normal person. Will is not much of a fan but I keep including them in meals when I can convince Will they'll be perfect and this biryani was one of those very meals.
So we've got the rice cooked with spices, the cauliflower all tender and the chickpeas to add a bit of bite. After all that I topped a plateful of biryani with a runny boiled egg.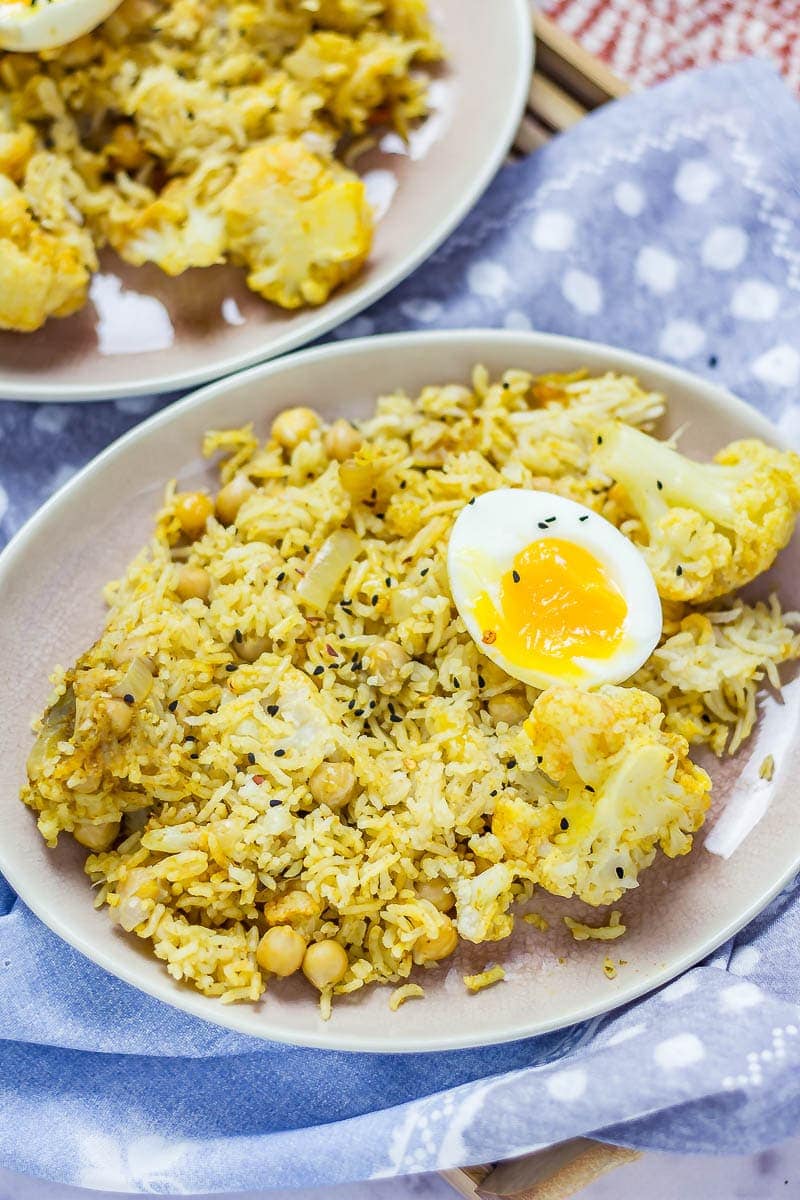 Let's talk about how bad I am at making boiled eggs for a second. I had to throw away the first boiled egg I made for this biryani because even though I'd cooked it for 6 minutes some of the whites were still raw. Seriously. After that I only had one egg left so I had to get it perfect.
Fortunately it turned out alright but I've come to realise over the past few weeks that I truly suck at making boiled eggs. I made one for ramen the other day and it was really over cooked. There's something about the mystery of boiled eggs that stresses me out, I mean, you have no idea how they're cooked until you break into it and then there's no going back. I think I'm sticking to poached and fried from now on.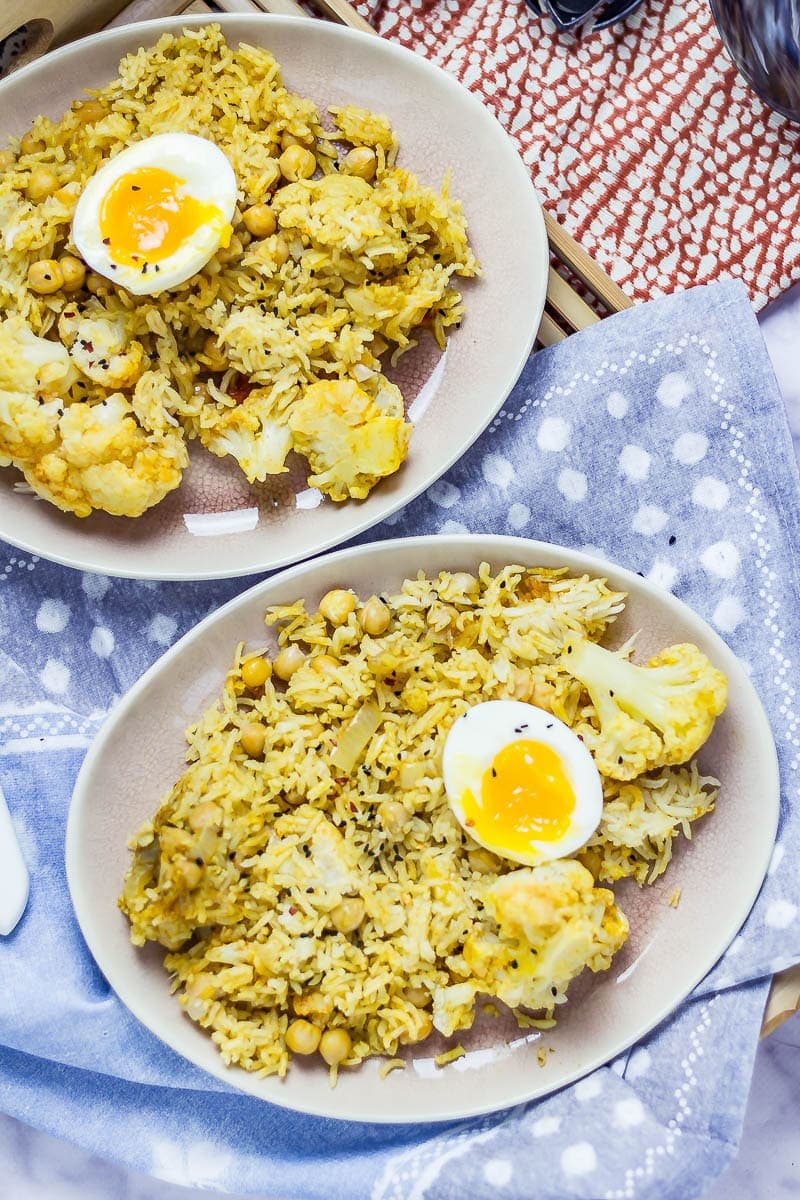 But for this you should definitely take the risk and boil an egg. Pop it on top and enjoy this biryani with cauliflower & chickpeas.
Want more? Try these other cauliflower recipes:
Or give some of these other chickpea recipes a try!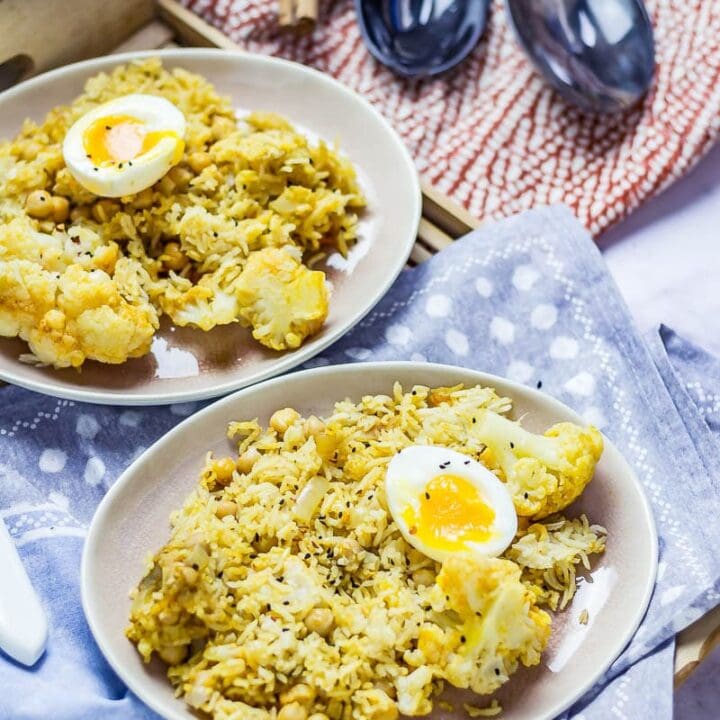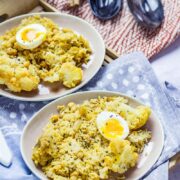 Biryani with Cauliflower & Chickpeas
This biryani is such an easy weeknight dinner! It's made up of beautifully spiced rice with tender cauliflower and chickpeas. I love mine topped with a runny boiled egg and nigella seeds.
Print
Pin
Rate
Ingredients
50

g

Butter

1

Onion

chopped

1

teaspoon

Ginger

1

teaspoon

Garlic

2

teaspoon

Coriander

2

teaspoon

Curry Powder

1

teaspoon

Cumin

1

Cinnamon Stick

4

Bay Leaves

4

Cloves

Salt

1

Cauliflower

cut up into florets

2

tins

Chickpeas

drained and rinsed

400

g

Basmati Rice

800ml-1

litre

Vegetable Stock

Nigella Seeds and Chilli Flakes

to serve

Boiled Eggs done to your liking

to serve
Instructions
Melt the butter in a large pot with a tight fitting lid then add the onions and cook gently until the onions have softened. Add the ginger, garlic, all the spices and the salt. Cook for a couple of minutes until fragrant.

Add the cauliflower, chickpeas and rice. Stir to coat in the spices. Pour in the vegetable stock, adding enough to cover the rice. Turn the heat up a little to bring the liquid to a simmer then put the lid on and cook for 15 minutes trying not to remove the lid too much.

When the 15 minutes is over turn the heat off and leave the lid on for 10 minutes then fluff the rice before serving with a boiled egg, nigella seeds and chilli flakes sprinkled on top.
Nutrition Facts
Biryani with Cauliflower & Chickpeas
Amount Per Serving
Calories 246
Calories from Fat 45
% Daily Value*
Fat 5g8%
Cholesterol 13mg4%
Sodium 453mg19%
Potassium 136mg4%
Carbohydrates 44g15%
Protein 4g8%
Vitamin A 380IU8%
Vitamin C 8.4mg10%
Calcium 33mg3%
Iron 0.9mg5%
* Percent Daily Values are based on a 2000 calorie diet.
Like the look of this recipe? Make sure you pin it for later!