These pesto mozzarella stuffed dough balls make a perfect appetiser. These cheesy dough balls are so easy to make and would be great for a party!
Disclosure: This post may contain affiliate links, which means we may receive a commission if you click a link and purchase something that we have recommended.
Cheese! Cheese dough balls! How else do you like your cheese?! Do you like four of them in a fancy butternut squash lasagne? Or do you like it all melty on a baked gnocchi? Or how about stirred through soup? All of those are good but I'd say that one of the most amazing ways to get your cheese hit is stuffed inside something carby and delicious like this recipe for dough balls with mozzarella!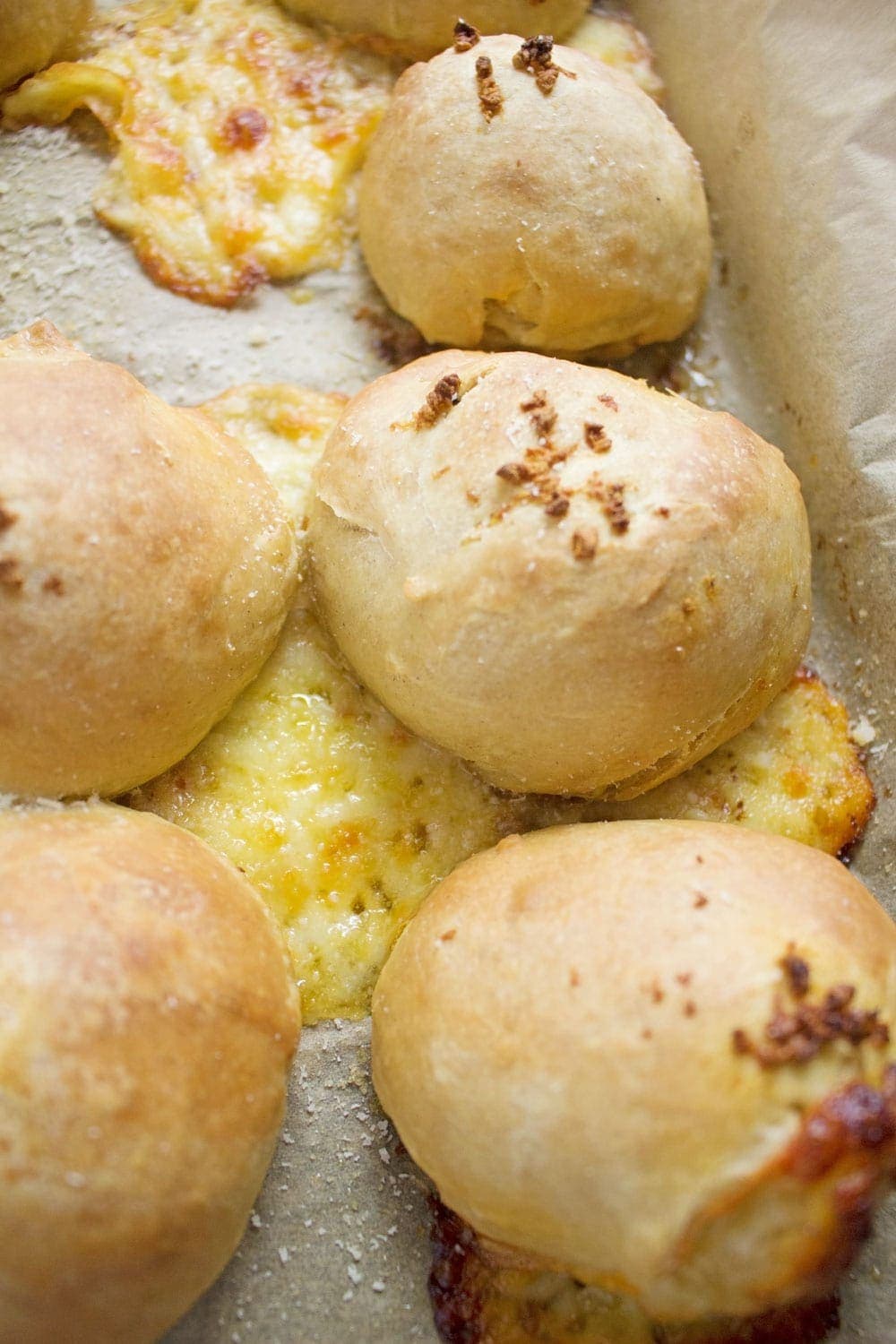 Sometimes we just want a whole lot of carbs. Like even more than normal. A Friday night a few weeks ago was one of those occasions. We considered all the usual carb options.
Heaping bowls of pasta, massive pizzas with stuffed crust, anything Mexican. Then we remembered we had pizza dough in the freezer and there was pretty much no other option than to make dough balls.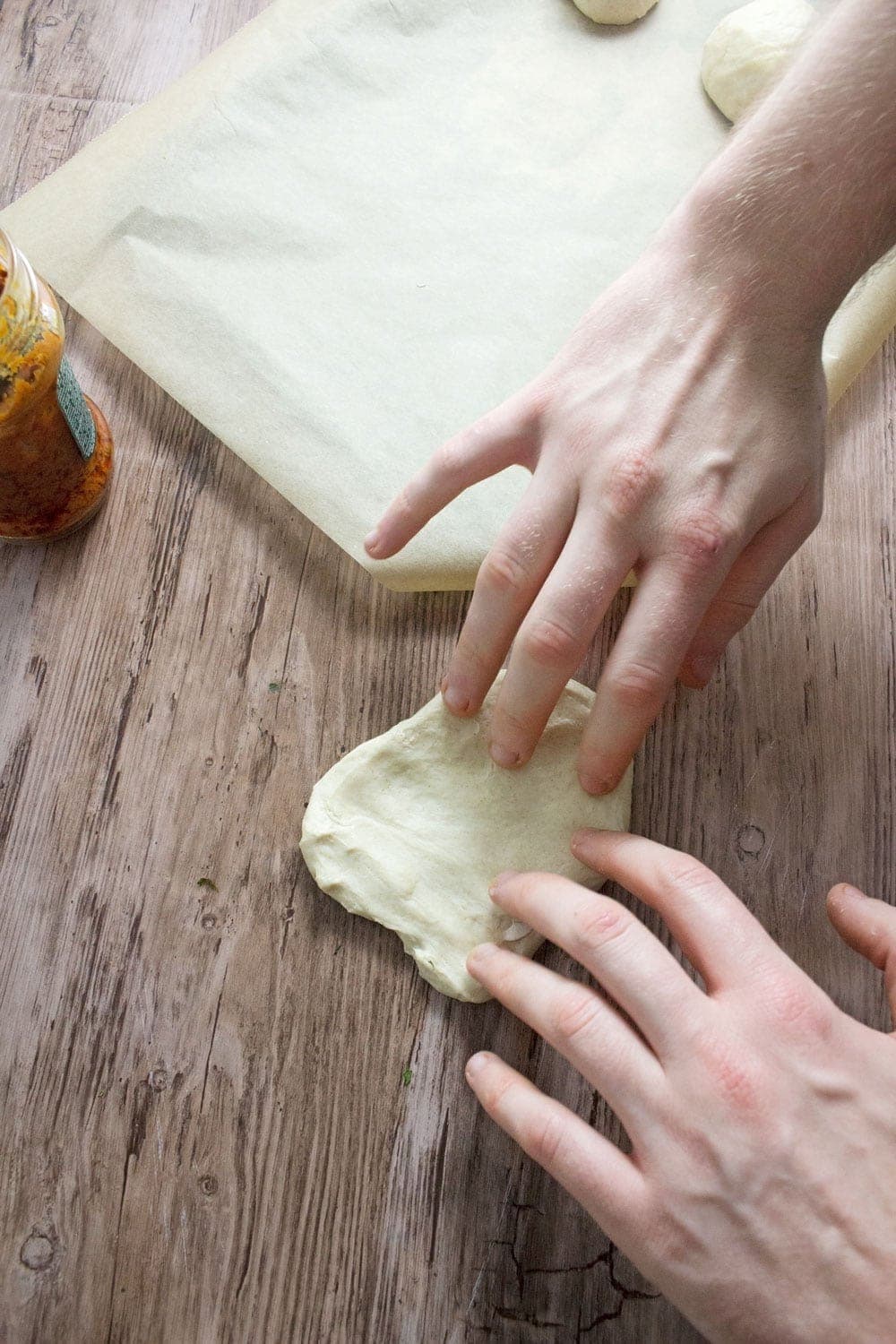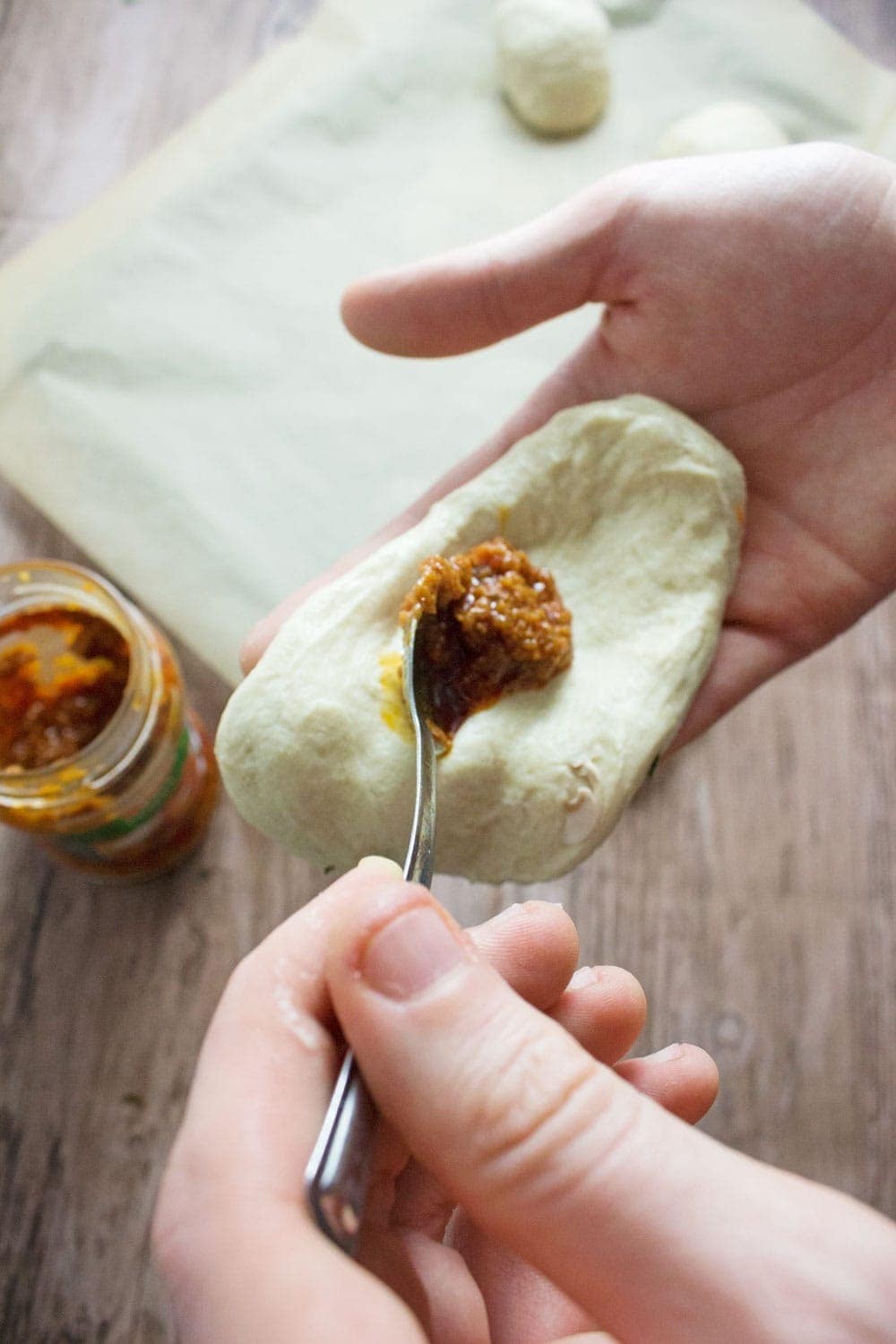 Dough balls remind me of going to Pizza Express when I was younger. You UK peeps know the ones?
When Pizza Express used to standardly always have a buy one get one free deal on their main courses. Then of course you'd have a whole load of dough balls to kick everything off. So warm and dipped in that garlic butter, yes!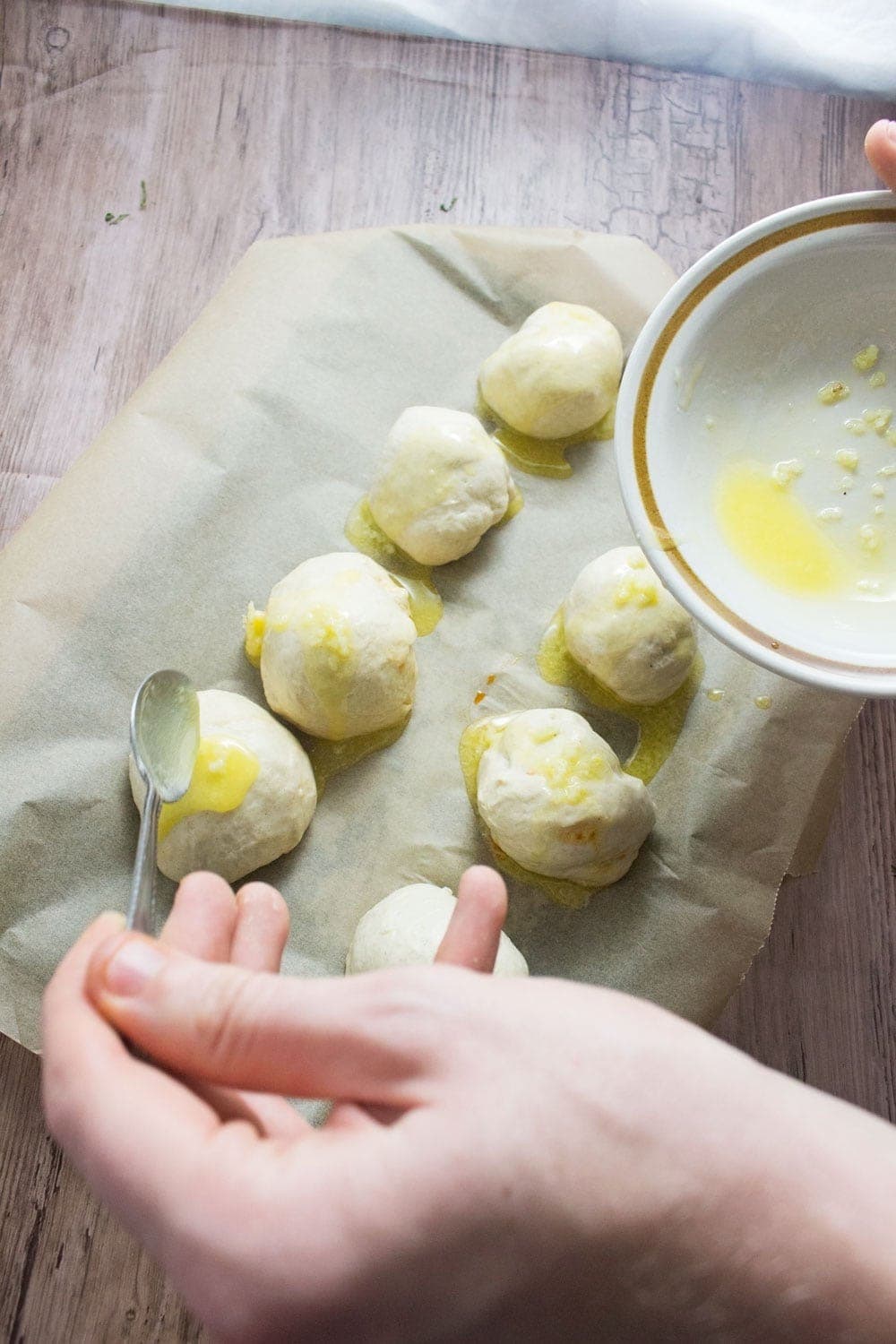 But, let's be honest, those dough balls were lacking a little something in the shape of cheese and pesto. So we decided to fix that by stuffing our dough balls with red pesto and mozzarella.
And then smothering them in garlic butter before baking. Yes, that's right, garlic butter. You're welcome.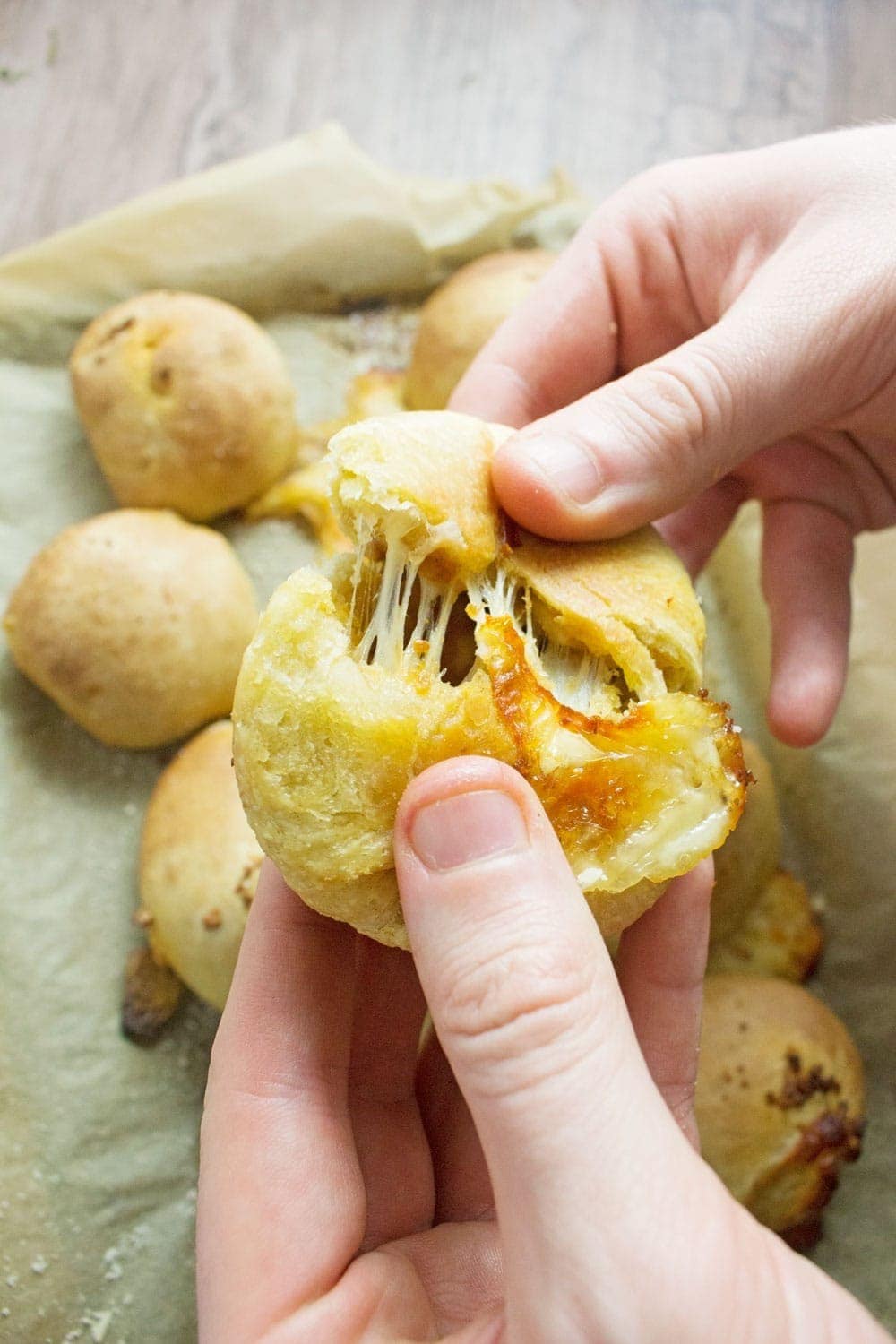 Can I tell you a secret? We ate these and THEN we ate lasagna. Slightly ridiculous.
Will and I are just a terrible influence on each other and, on the whole, I always always think I can eat more than I actually can. It's an annoying problem which leads to a lot of half eaten plates of food.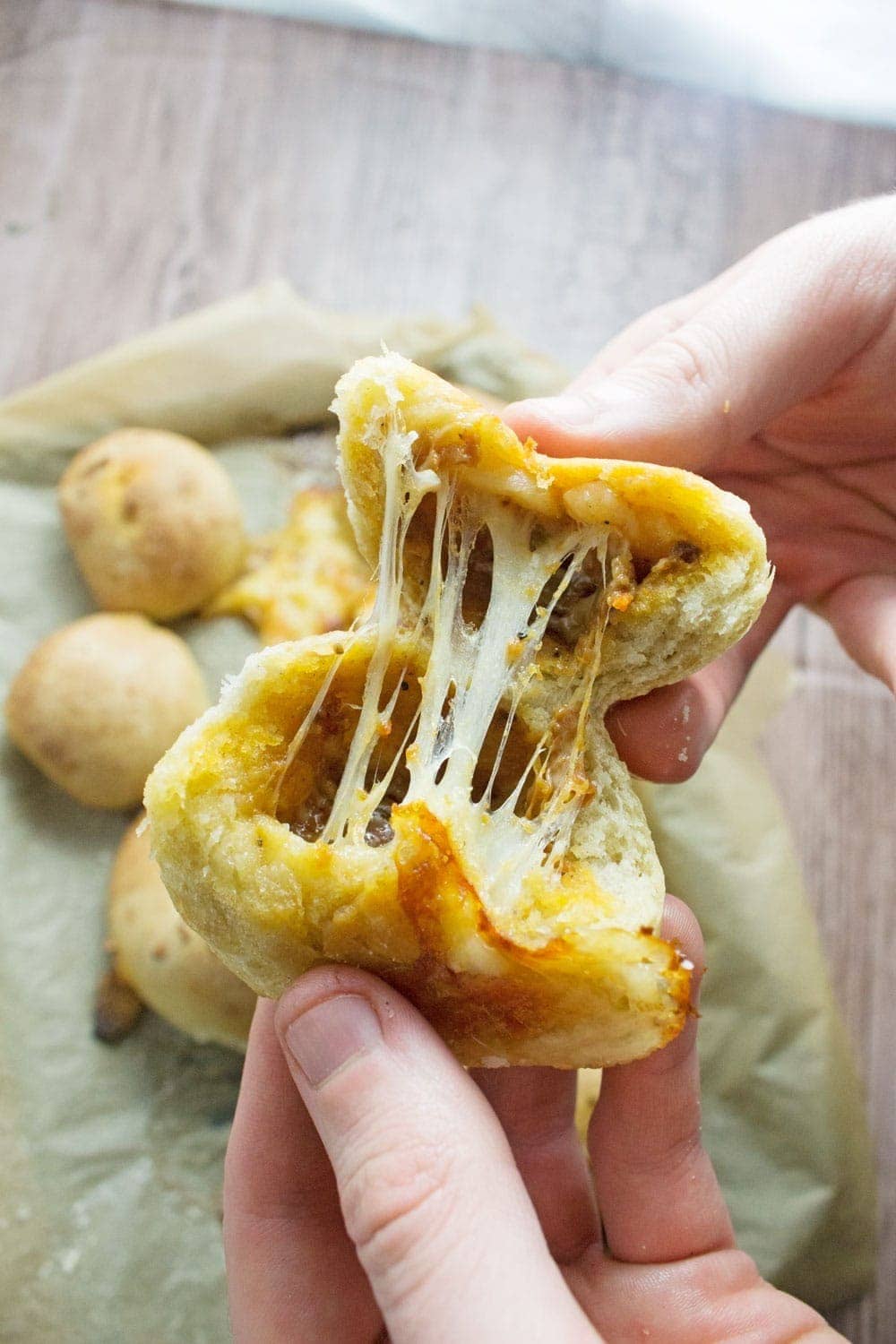 These pesto mozzarella stuffed dough balls though? They were totally worth being horribly full for! You will love them!
If you want more ways to use this dough recipe then how about pizza?! There's plenty of pizza recipes right here.
Pesto Mozzarella Stuffed Dough Balls
These pesto mozzarella stuffed dough balls make a perfect appetiser. These cheesy dough balls are so easy to make and would be great for a party!
Ingredients
1

quantity

Pizza Dough

(see notes)

100

g

Mozzarella

in 8 cubes

2

tbsp

Red Pesto

2

cloves

Garlic

crushed

2

tbsp

Butter

melted
Instructions
Preheat the oven to 200°C (fan oven). Split the pizza dough into 8 balls. Flatten each one and place a little red pesto and a cube of mozzarella in the middle. Fold the dough around it and roll into a ball.

Place each dough ball on a baking tray covered in grease proof paper. Mix the garlic and melted butter together and brush each dough ball with the mixture. Place in the oven for 20 minutes, checking for doneness from 15 minutes onwards.
Recipe Notes
We used the pizza dough recipe from here and that made the right amount of dough.
Nutrition Facts
Pesto Mozzarella Stuffed Dough Balls
Amount Per Serving
Calories 547
* Percent Daily Values are based on a 2000 calorie diet.
---
Equipment you need to make this recipe…
---
WONDERING WHAT TO DO WITH THE LEFTOVER INGREDIENTS YOU'VE GOT FROM MAKING THESE PESTO & MOZZARELLA STUFFED DOUGH BALLS?
If you're anything like me then you're always looking for ways to save money and avoid food waste so I want to make sure you've get plenty of ideas on how to use up any ingredients that are leftover from my recipes!
Sriracha Chicken Bacon Ranch Pizza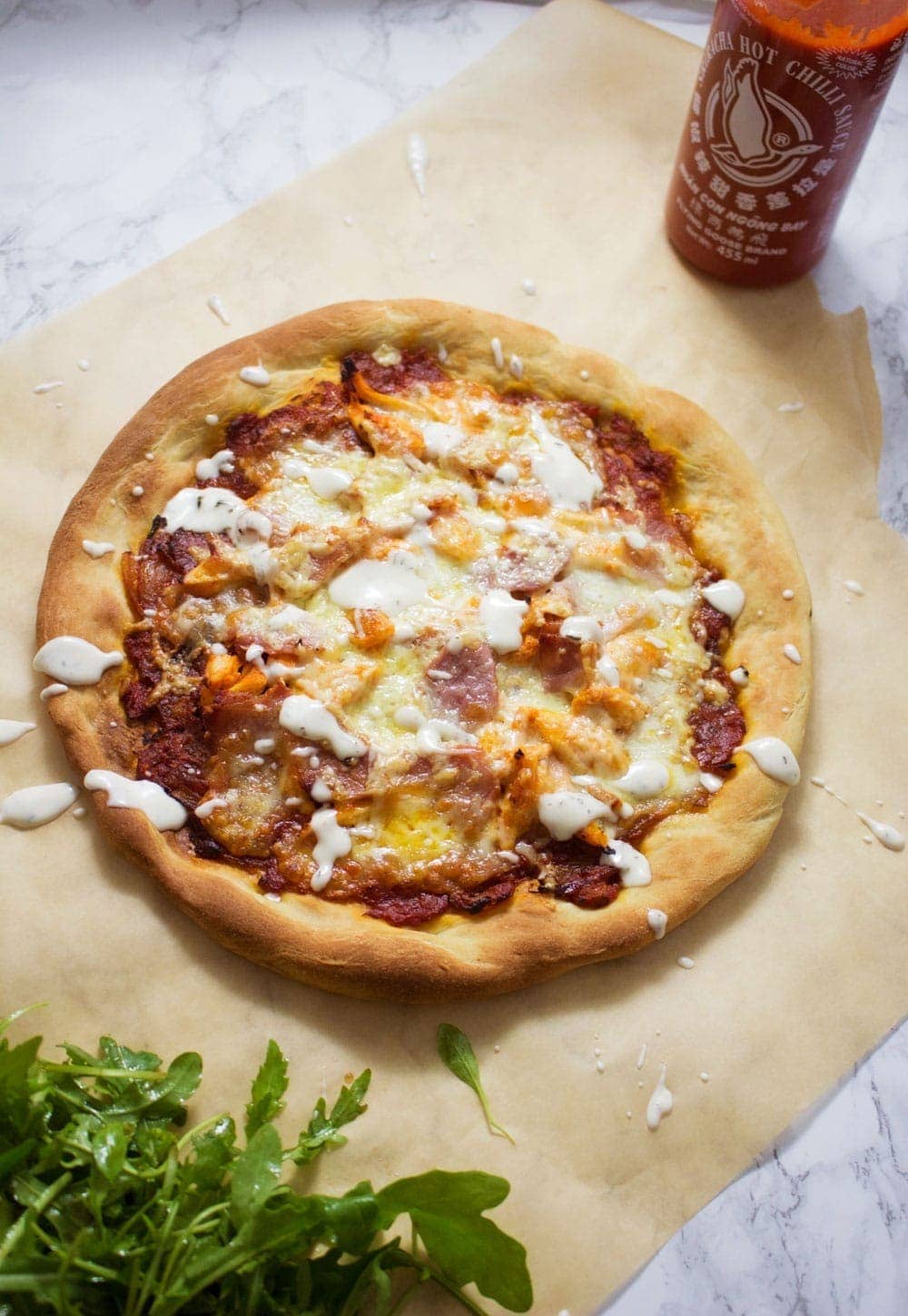 Stuffed Crust Pizza with Chipotle Chicken