This leftover turkey curry recipe is great for using up Thanksgiving or Christmas leftovers. It's healthy and quick to make so perfect for the busy holiday season! 
Disclosure: This post may contain affiliate links, which means we may receive a commission if you click a link and purchase something that we have recommended. While clicking these links won't cost you any extra money, they will help us keep this site up and running.
We eat a lot of curry. It's one of our favourite easy dinners and there's so many different variations that it never feels boring even if we've had it a couple of times in a week.
Whether it's a quick veggie curry in a pressure cooker or a healthy salmon version that's perfect for the warmer time of year it always makes a filling dinner. This leftover turkey curry recipe uses a simple base which works perfectly for any meat or vegetables but I love making a big batch of it just after Christmas to use up all our Christmas dinner leftovers.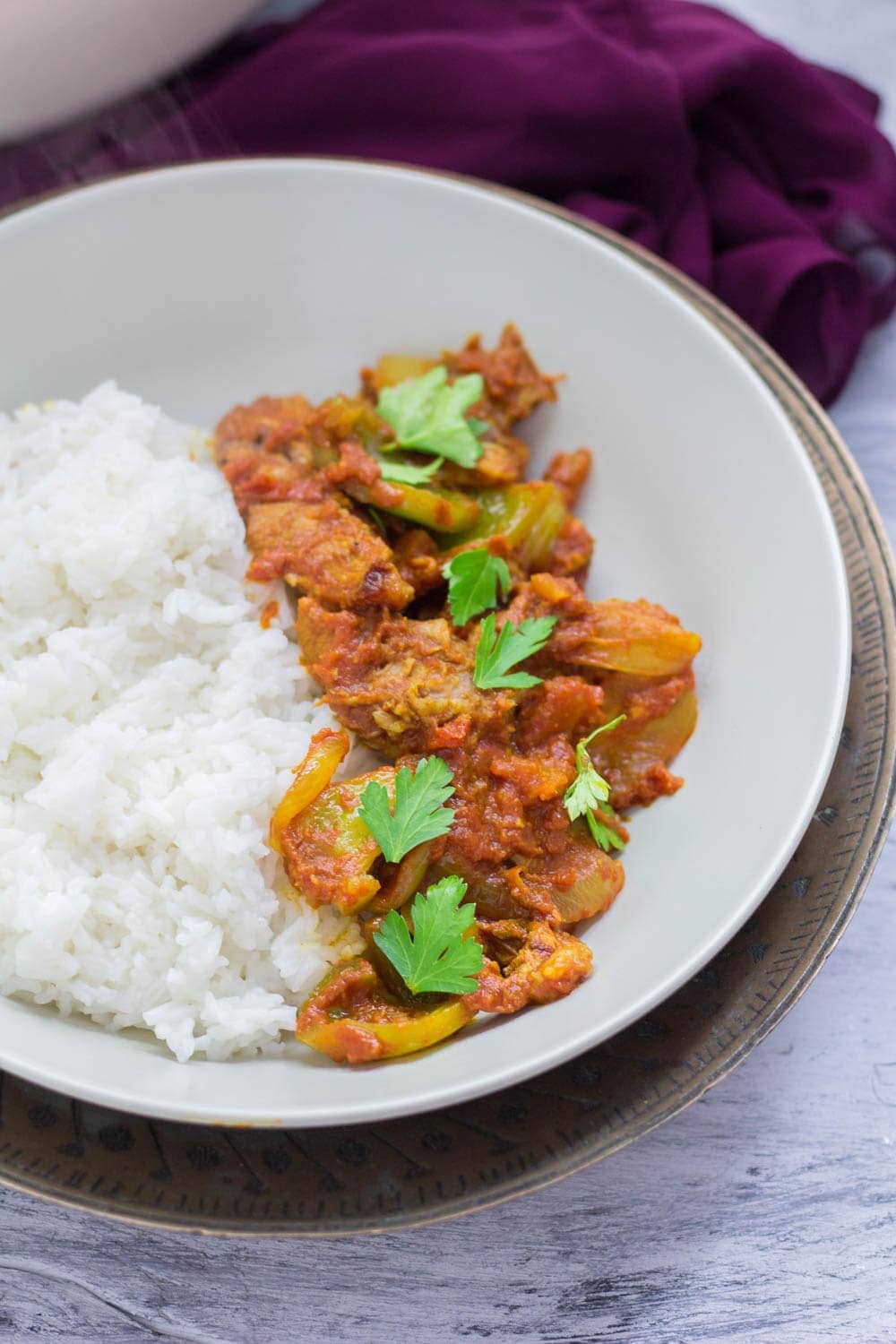 I realised the other day that it's less than ten weeks until Christmas. Can you believe that?! This year has gone scarily fast but I am so excited for Christmas!
My parents are coming over for Christmas this year so we're going to be cooking our first ever Christmas dinner. I've found this guide to how to brine a turkey so that it's deliciously moist and I can't wait to try it. Once the day is over we're going to need something to do with those turkey leftovers which is where this leftover turkey curry comes in.
INGREDIENTS YOU NEED TO MAKE THIS LEFTOVER TURKEY CURRY:
Oil
Turmeric
Ginger
Garlic
Cumin
Coriander
Chilli Powder
Cinnamon Stick
Onion
Pepper
Chilli
Chopped Tomatoes
Leftover Turkey – Or you could use this curry base with any other meat!
Keep scrolling to get the full recipe for this quick and easy leftover turkey curry…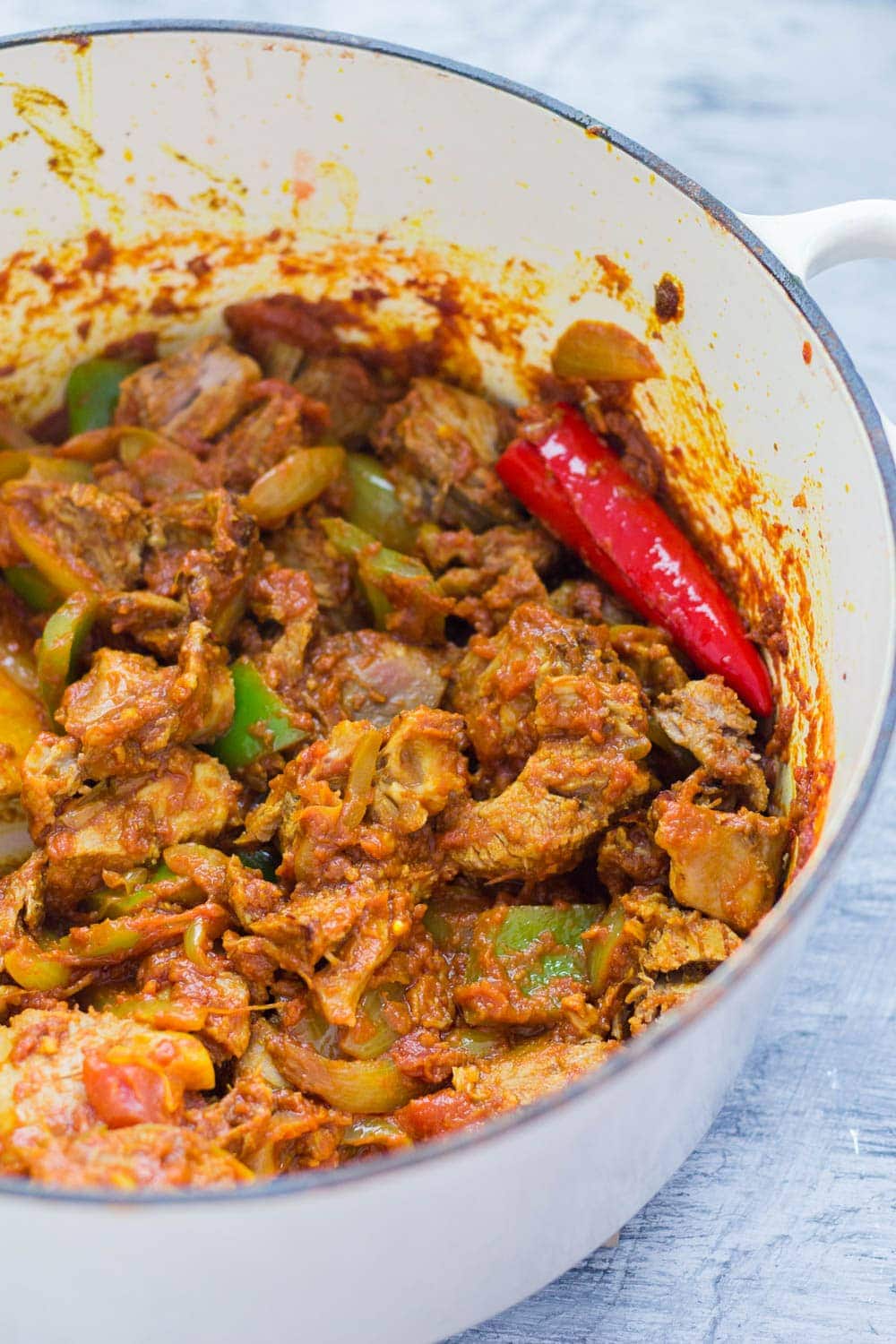 When I was a kid my parents and I used to go to stay with their friends for new year every year and they would always serve a delicious turkey curry made from their Christmas dinner turkey.
A turkey curry recipe is always a great one to have on hand as it's such a great way to use up leftover meat and you can easily bulk it up with veg if you don't have much left. Oh, and if you want a more complete meal then why not add a side of saag aloo as well?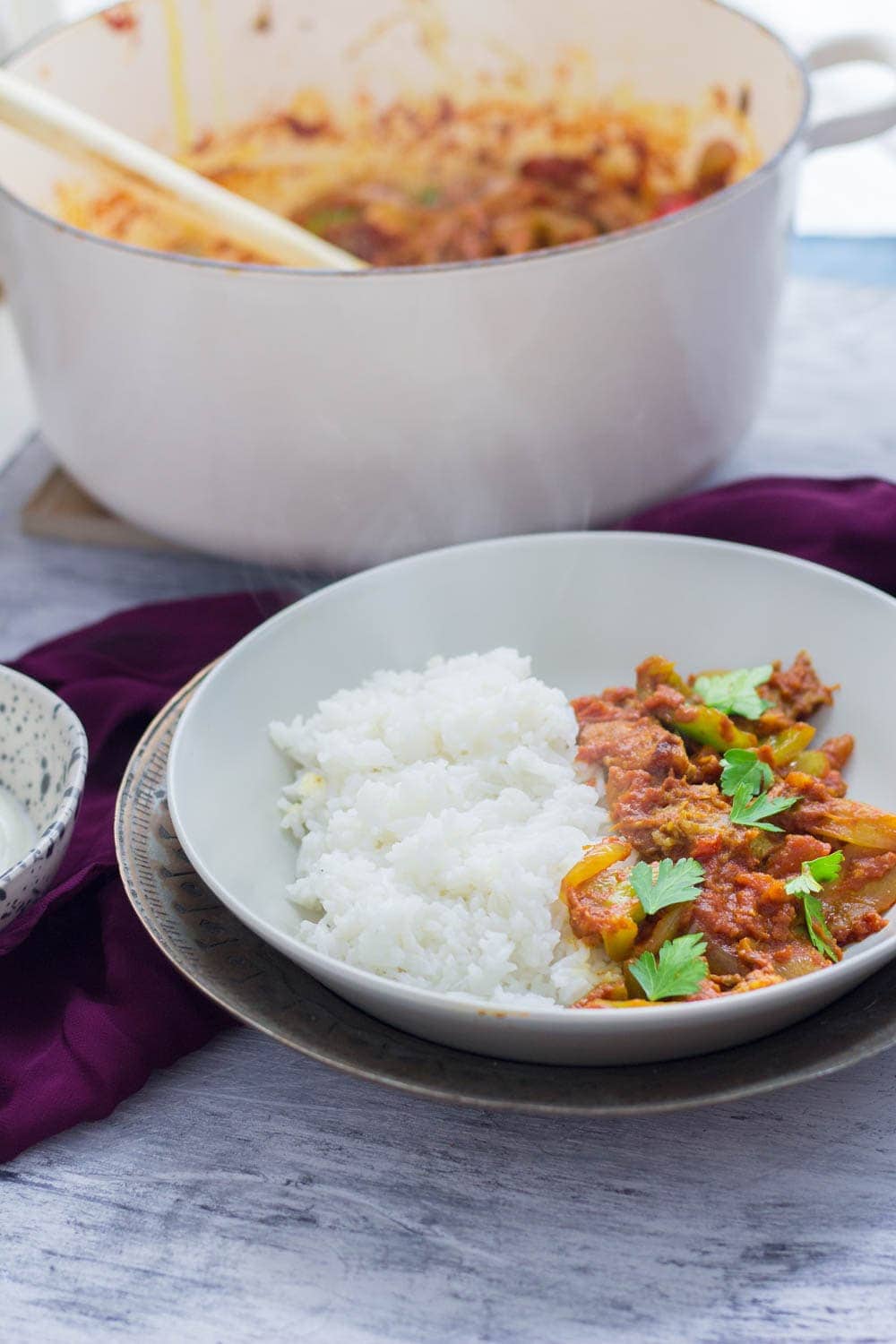 Of course, here in the UK we really only have one turkey occasion every year and it honestly doesn't get much of a look in the rest of the year round.
I kind of think that's a shame because I think turkey is a bit of an underrated meat, what do you think? If you want some more ideas on how to use turkey any time of year then try out this udon noodle stir fry with turkey mince or how about this turkey chilli! And if you're in the US this recipe will be equally perfect for your Thanksgiving leftovers!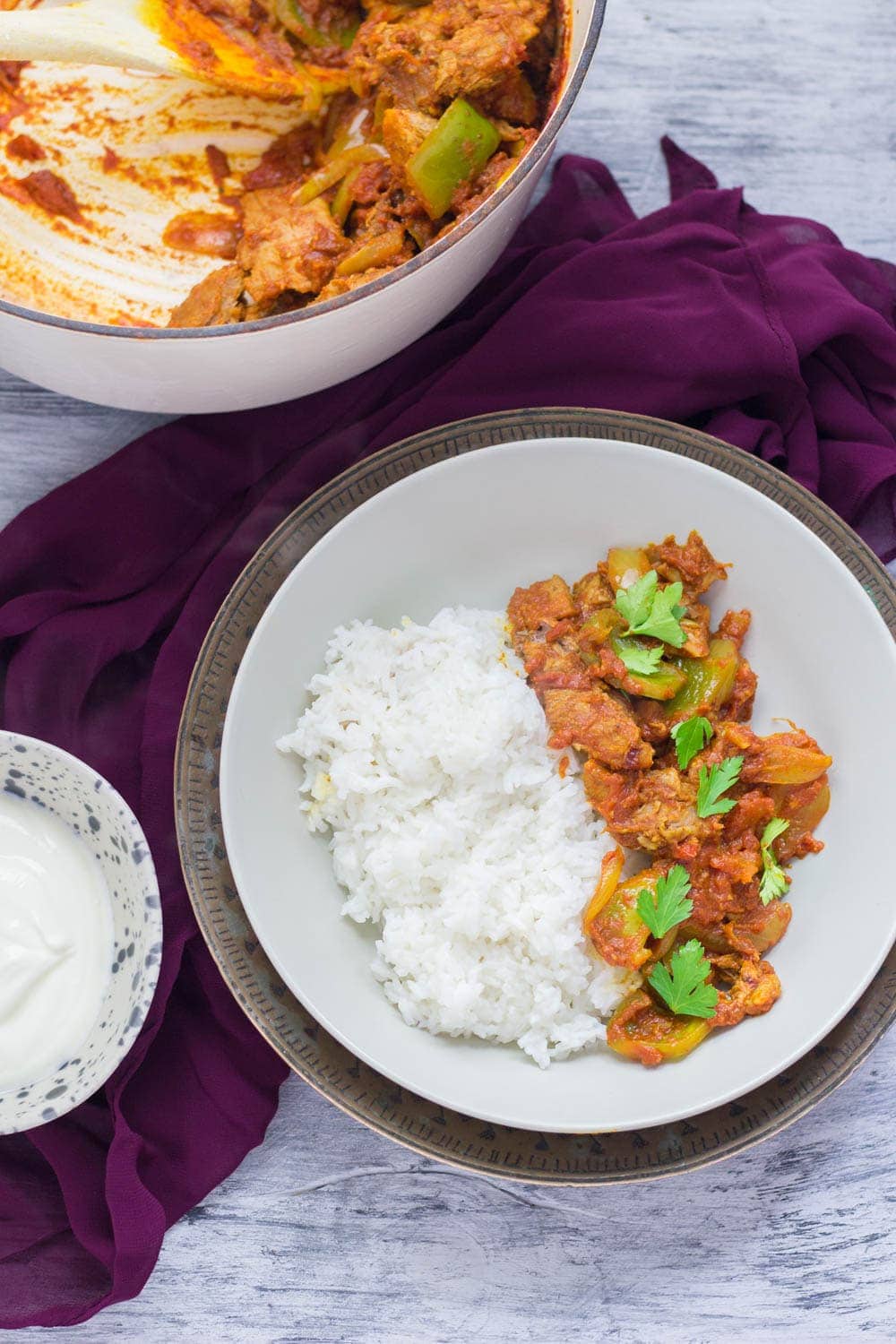 If you fancy trying out some of my other curry recipes then find them all here!
TIPS FOR MAKING THIS LEFTOVER TURKEY CURRY:
This recipe is for four but it's so easy to multiply so if you made yourself a huge turkey for Christmas (which I really hope you did) then you can easily make yourself a huge batch of turkey curry with your turkey leftovers.
This recipe is totally customisable. If you've got any other veg that needs using up just chuck it in there, if you have a different meat like lamb or chicken leftover instead then use that. You can easily make this your own.
Keep scrolling to get the recipe…
WONDERING WHAT TO DO WITH THE LEFTOVER INGREDIENTS YOU'VE GOT FROM MAKING THIS LEFTOVER TURKEY CURRY?
If you're anything like me then you're always looking for ways to save money and avoid food waste so I want to make sure you've get plenty of ideas on how to use up any ingredients that are leftover from my recipes!
Healthy Red Lentil Dal with Spinach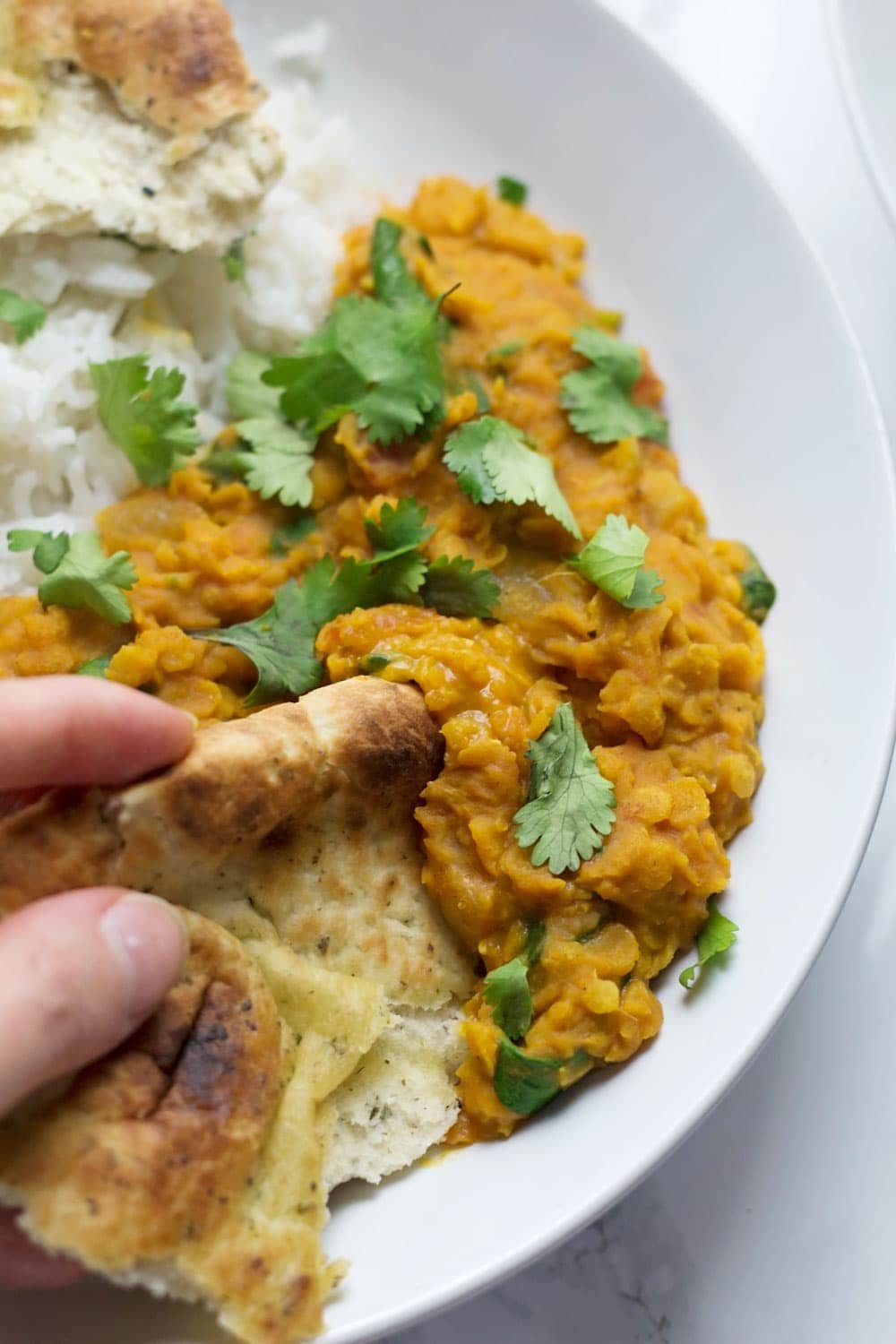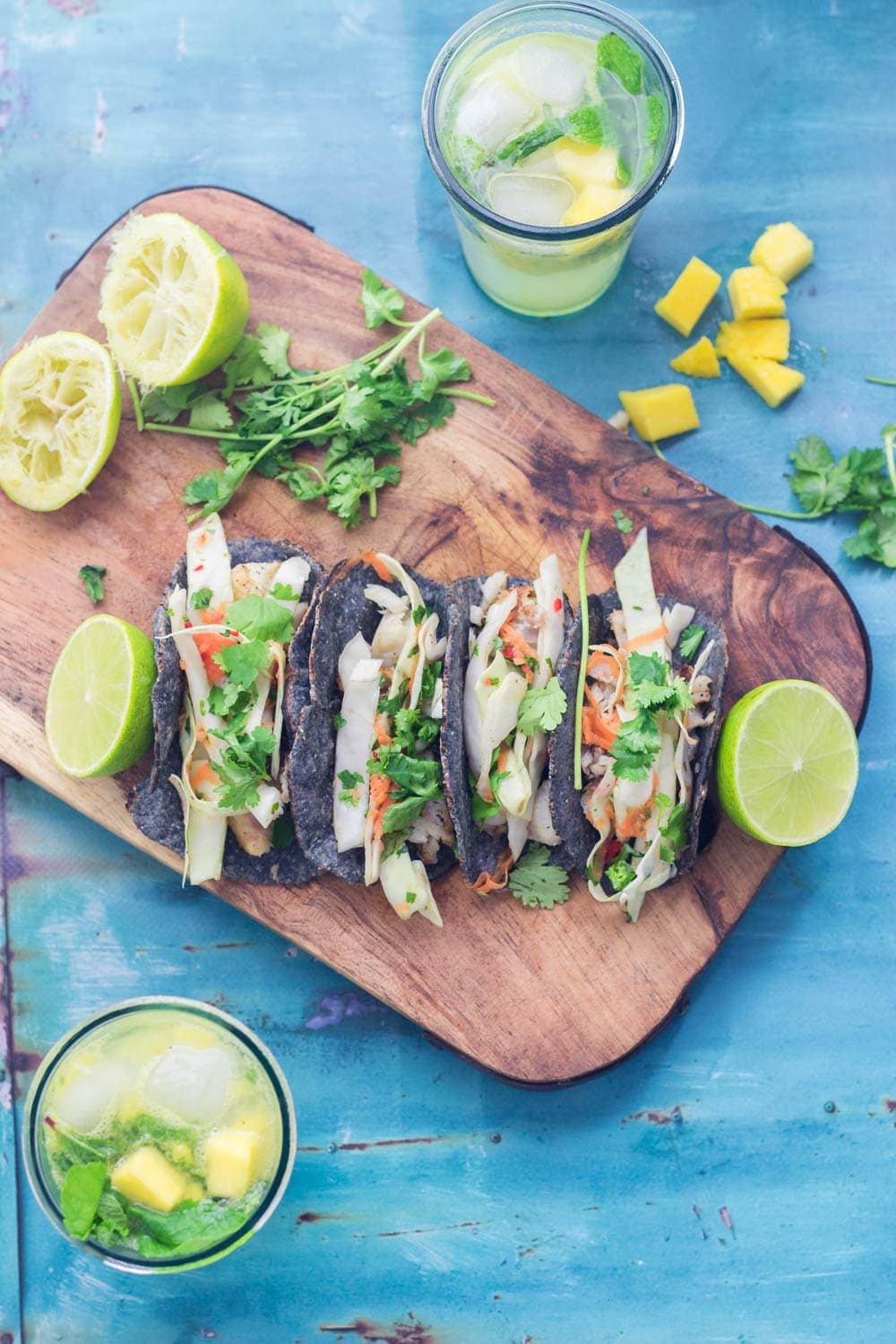 Quick & Easy Leftover Turkey Curry
This turkey curry recipe is great for using up Thanksgiving or Christmas leftovers. It's healthy and quick to make so perfect for the busy holiday season!
Ingredients
3

tbsp

Oil

1

tsp

Turmeric

1

tbsp

Ginger

grated

2

cloves

Garlic

crushed

1

tbsp

Ground Cumin

1

tbsp

Ground Coriander

2

tsp

Chilli Powder

1

Cinnamon Stick

1

Onion

thinly sliced

1

Pepper

roughly chopped

1

Chilli

split in half lengthways

1

400g tin

Chopped Tomatoes

400-500

g

Cooked Turkey Meat
Instructions
Heat the oil over a medium heat and add the turmeric, ginger and garlic. Cook until fragrant. Add the cumin, coriander, chilli powder and cinnamon stick and cook for another couple of minutes.

Add the onion, pepper and chilli and fry until softened. Add the tin of chopped tomatoes. Bring to the boil then reduce to a simmer and add the cooked meat. Simmer until the sauce is thickened and the meat is heated through. Serve with rice.
Nutrition Facts
Quick & Easy Leftover Turkey Curry
Amount Per Serving
Calories 333
Calories from Fat 162
% Daily Value*
Total Fat 18g 28%
Cholesterol 109mg 36%
Sodium 274mg 11%
Potassium 590mg 17%
Total Carbohydrates 11g 4%
Protein 30g 60%
* Percent Daily Values are based on a 2000 calorie diet.
---
Equipment you need to make this recipe…
---