This creamy chicken pasta is my all time favourite pasta recipe. With just a few simple ingredients and a pressure cooker or instant pot you can have a filling dinner on the table even on the busiest of weeknights!
Quick pasta recipes are always a staple of our weeknight dinners. Especially when we've run out of other ideas it's pretty much always pasta, like this creamy chicken pasta, that we fall back on.
Sometimes we go super simple like this kale pasta with chilli and garlic or make it all about the toppings like this garlic pasta with broccoli, chickpeas and chorizo and of course, who doesn't love a good one pot pasta?! But now that we have a pressure cooker it's made these easy weeknight dinners even easier.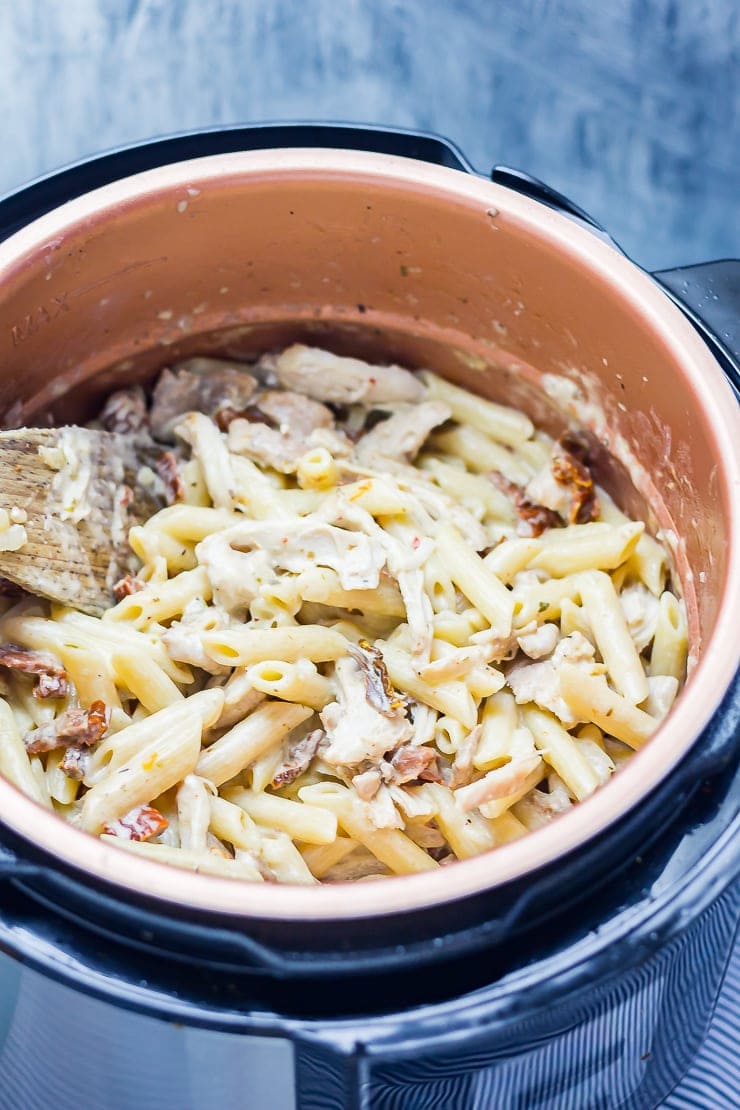 How do you go about meal planning? I'm pretty much always coming up with new ideas for recipes to try. I have a note on my computer that I continually update with ideas which come from all kinds of places.
Conversations with friends, reading recipes online, flipping through cookbooks. They all give me ideas for recipes I want to create or remake with tweaks and changes ready for eventually posting on the blog.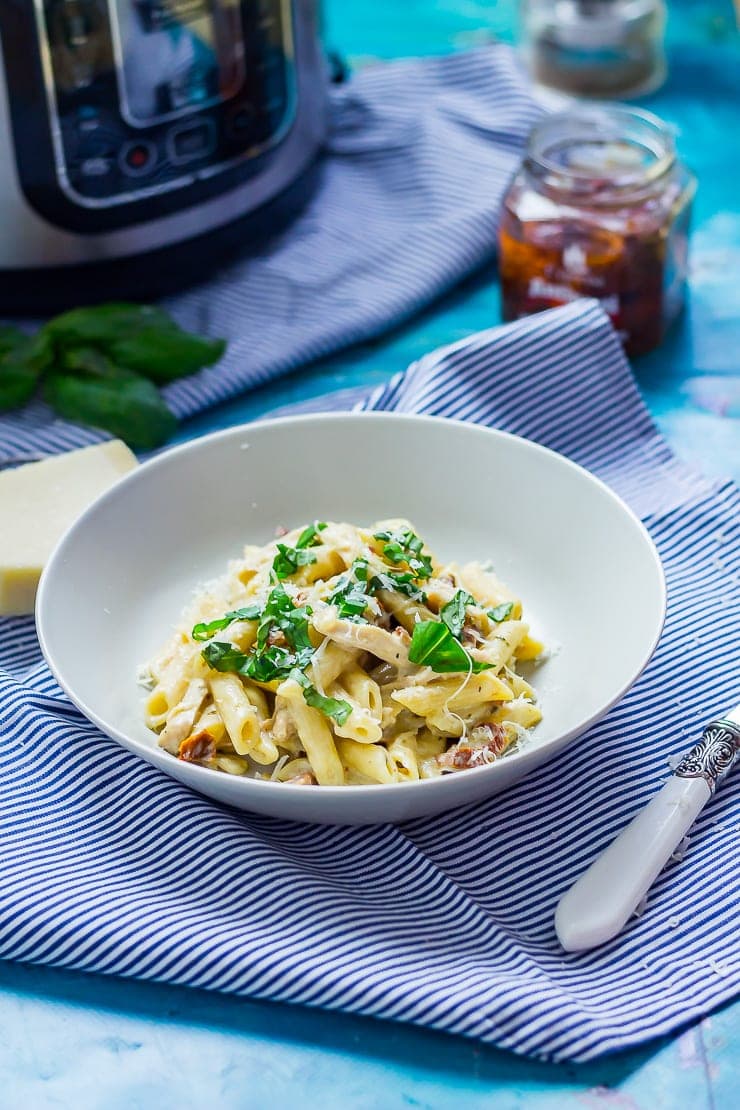 We do food shopping every few weeks, always online because we don't have a car and it's easier to budget when you're doing it online with a plan rather than throwing things randomly into the trolley.
When we need to buy food I go through my big long list of recipe ideas and pick out things that I fancy at the time or use seasonal ingredients then we buy all the ingredients and we have recipes planned for the next week or two.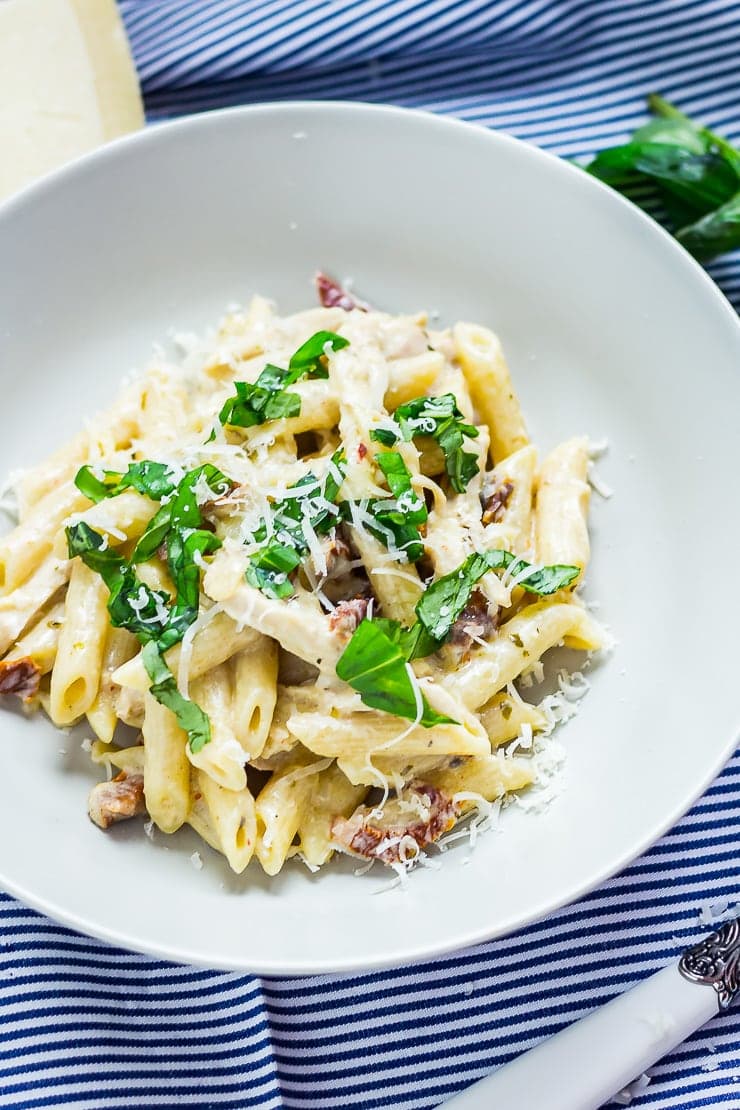 I love the planning. As someone who is supremely obsessed with food, figuring out what we're going to be eating is one of my favourite things to do.
And is there any better feeling than having a full fridge and the prospect of loads of yummy dinners to look forward to?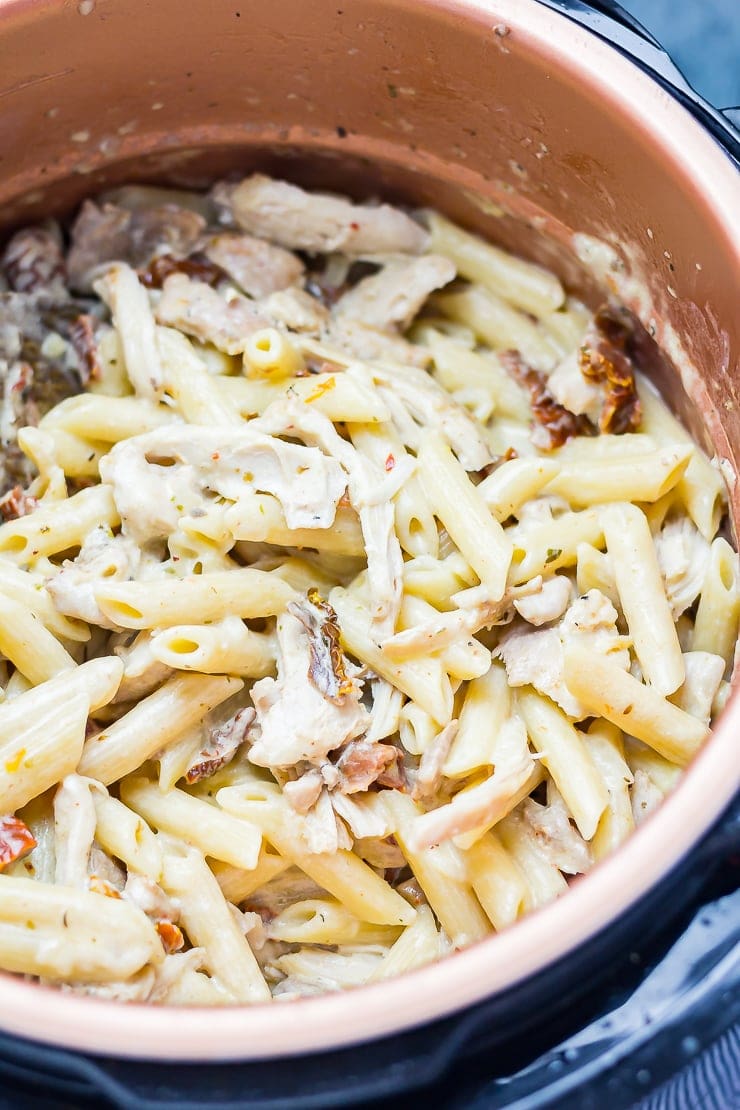 But once we've run out of recipes to make and we're in between food shops then I have to get a bit creative to use up the things we've got in the cupboards or leftover ingredients.
That's where the idea for this creamy chicken pasta came from. I needed something quick and easy and of course pasta is the first thing that sprang to mind. Easy pasta recipes are such a great go to and we usually have most of the ingredients on hand.
Oh and my new favourite kitchen appliance, my pressure cooker, had to be involved because it makes dinner come together quickly, easily and with hardly any clean up (which is obviously my favourite thing about it). I have the pressure king pro and completely love it but an instant pot would work just as well. If you have the same pressure cooker as me then get all my favourite pressure king pro recipes before you go!
This has fast become one of my absolute favourite pressure cooker recipes.
Why we love this recipe...
First off, this pasta recipe is so quick to make. Thanks to the pressure cooker it takes just 15 minutes from start to finish which is just so awesome
It's also super comforting thanks to the creamy, cheesy sauce and rich flavour of sun dried tomatoes and chicken
Finally, it's so easy that it's perfect for a delicious family meal
Up until this weekend the weather has been truly miserable so I've still been wanting all the creamy cheesy carbs I could get my hands on and creamy pasta is pretty much the ultimate cold weather food.
I've made one other pasta dish in the pressure cooker (this pasta with Mediterranean vegetables) but that one was more of a healthier, veggie focused one and for this I really wanted to find a way to make everything in one pot but make it a little more indulgent.
Ingredients
Chicken Thighs: Or you can use chicken breasts if you prefer
Olive Oil
Smoked Paprika
Butter
Onion
Garlic Powder
Dried Oregano
Chicken Stock
Milk
Penne Pasta: Or you can use any other short cut you like
Cream Cheese: Helps to make a rich and creamy pasta sauce
Parmesan Cheese
Sun Dried Tomatoes
Keep scrolling to get the full recipe for this pressure cooker creamy chicken pasta...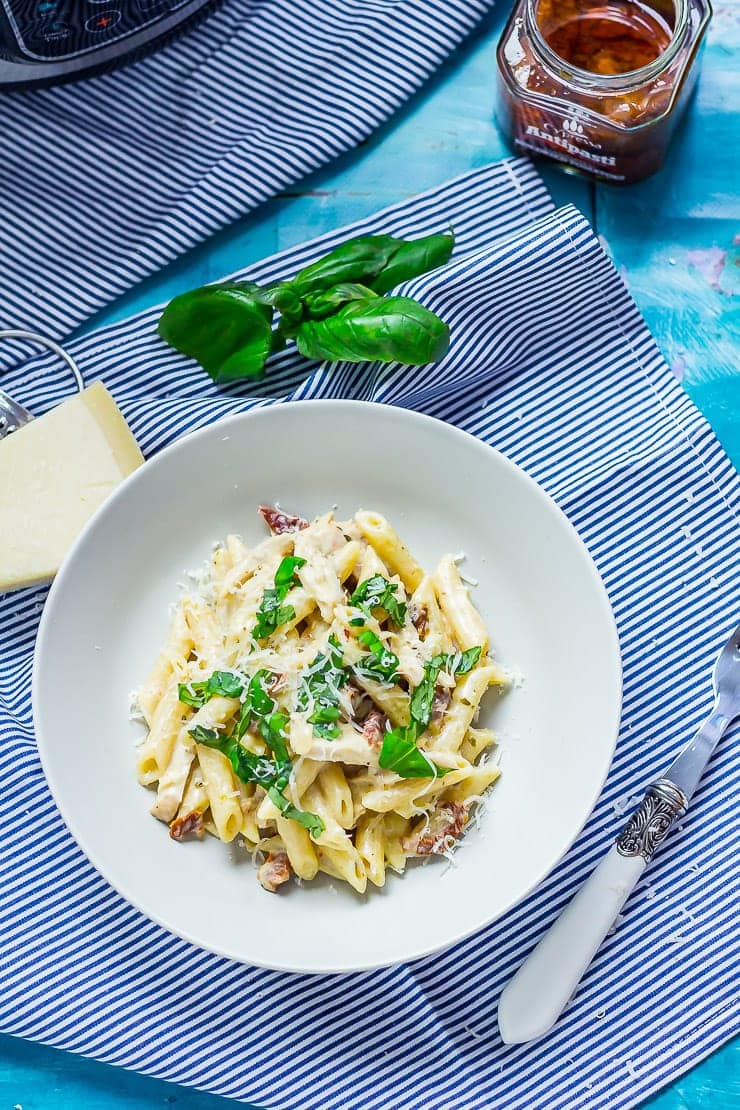 What I love about this recipe is that the chicken and pasta all cook together in the pressure cooker and then you simply stir through melty creamy cheese, parmesan and chopped sun dried tomatoes at the end for that added bit of tang.
I like finely grated parmesan and thinly chopped basil leaves sprinkled on top before serving. Obviously adding more cheese to anything = only good things in my world.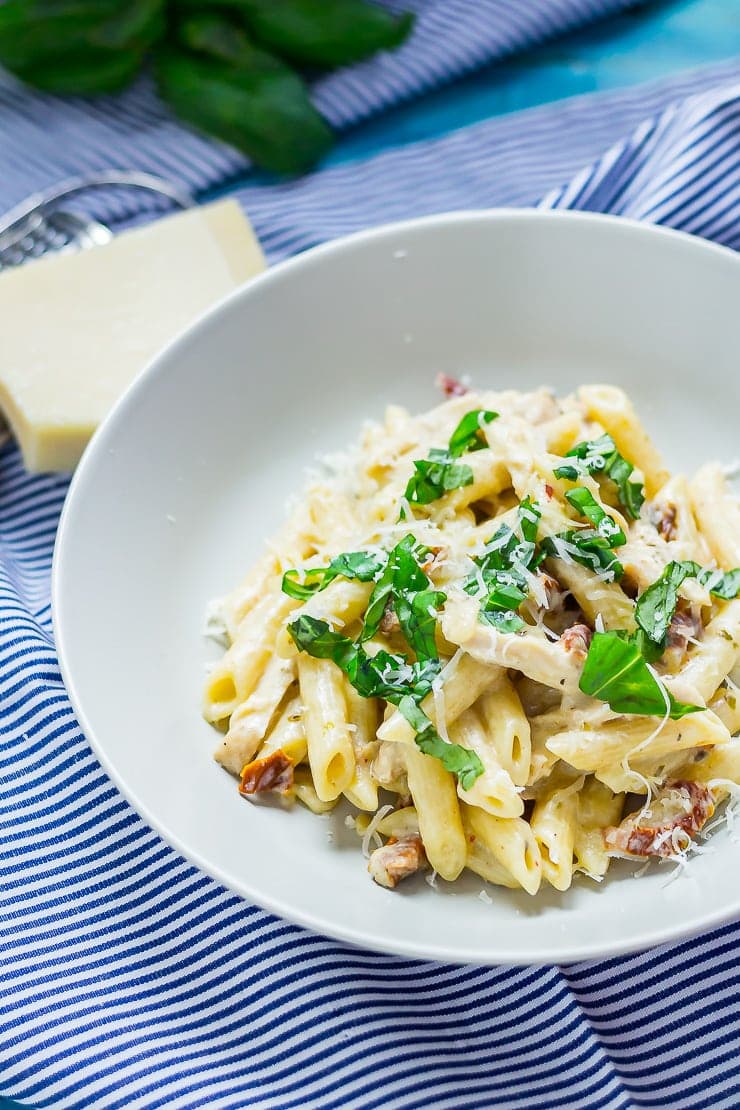 Sun dried tomatoes are one of those things that Will doesn't like very much but that I completely love so every now and then I include them in a meal to see if he's changed his mind yet.
In this chicken pasta dish he actually got fully on board which shows that if there's anyone reading this who's about to click off because they think they don't like sun dried tomatoes then wait! Please don't go! I promise you'll like them in here!
And if not you could totally leave them out and still dive head first into a bowl of this creamy, cheesy pasta heaven.
FAQs
Can I make this pasta on the stovetop?
Absolutely! Cook the chicken thighs over a medium heat in the olive oil for 5 minutes on each side then remove to a plate. Follow the rest of the instructions adding enough stock to make sure the pasta is covered.
Cook with a lid on for 10 minutes until the pasta is tender. Meanwhile chop or shred the chicken. Stir the cream cheese, parmesan and sun dried tomatoes through the pasta along with the chicken and serve.
How to make this chicken pasta healthier
Try switching the cream cheese for a low fat version.
Use less parmesan. I always add plenty of cheese to things but this recipe would still taste fantastic with half the cheese.
Pressure cooker creamy chicken pasta variation ideas
This recipe would taste great with other vegetables added. I think mushrooms or spinach would be fantastic in there.
Try making it into more of a creamy carbonara by adding chopped bacon.
Turn it into a pasta bake. Once the pasta has cooked in the pressure cooker, tip out into a baking dish, top with a few handfuls of cheddar cheese and place in a 200°C/400°F oven for 15 minutes until browned and bubbling.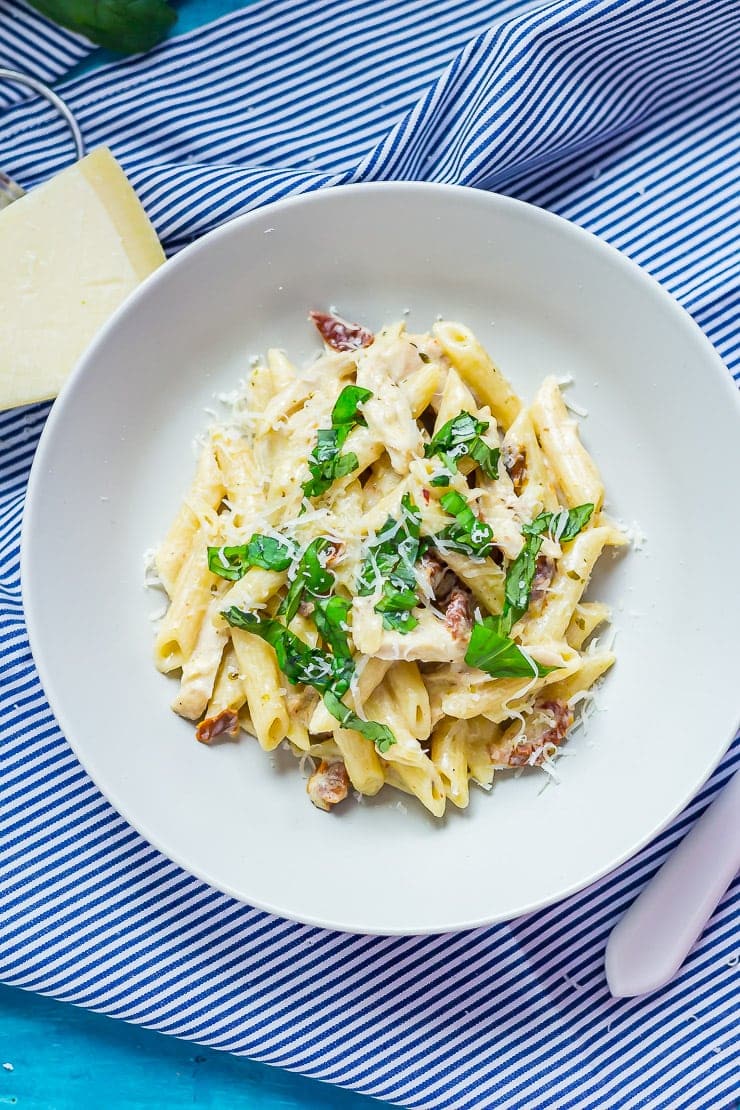 Want more? Try these other pressure cooker recipes!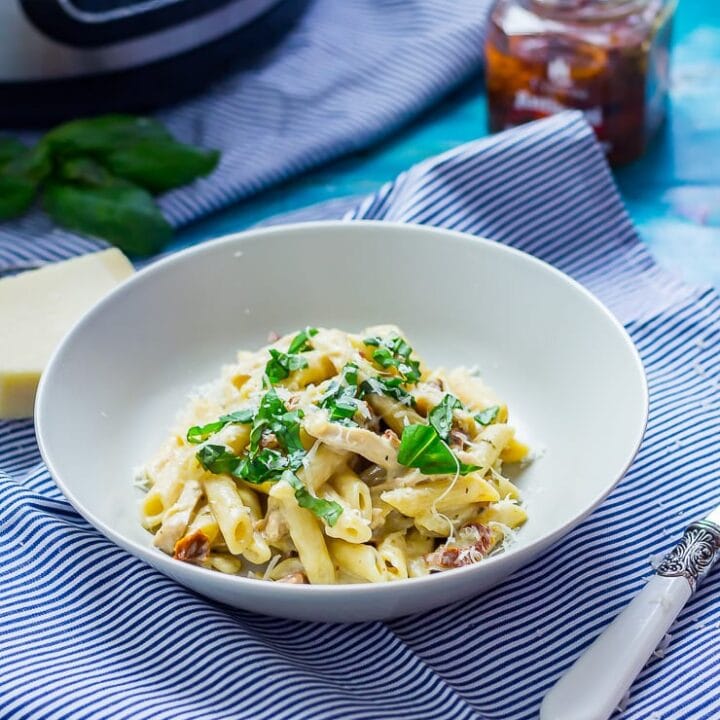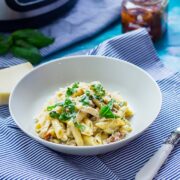 Pressure Cooker Creamy Chicken Pasta
This creamy chicken pasta is ultimate comfort food. With just a few simple ingredients and a pressure cooker or instant pot you can have a filling dinner on the table even on the busiest of weeknights!
Print
Pin
Rate
Ingredients
4

Boneless Skinless Chicken Thighs

1

tablespoon

Olive Oil

1

teaspoon

Smoked Paprika

Salt and Pepper

2

tablespoon

Butter

1

Onion

chopped

1

teaspoon

Garlic Powder

1

teaspoon

Dried Oregano

500

ml

Chicken Stock

250

ml

Milk

400

g

Pasta

170

g

Cream Cheese

100

g

Parmesan Cheese

grated

200

g

Sun Dried Tomatoes

chopped
Instructions
Set your pressure cooker to the saute setting. Add the olive oil. Sprinkle the chicken thighs with the smoked paprika and salt and pepper to taste. Fry in the hot oil for a couple of minutes on each side. Remove and set aside (they'll finish cooking through when you put them back in the pressure cooker).

With the pressure cooker still on saute setting add the butter and onion and fry the onion for a few minutes until softened. Add the garlic powder, oregano, stock, milk and pasta. Return the chicken thighs to the pot. Cook on high pressure for 5 minutes.

Release the pressure and remove the lid. Remove the chicken and set on a board. Add the cream cheese and parmesan and stir until melted. Stir in the sun dried tomatoes. Cut up the chicken and return to the pot. Give everything a final mix and serve topped with sliced basil leaves and extra parmesan.
Nutrition Facts
Pressure Cooker Creamy Chicken Pasta
Amount Per Serving
Calories 871
Calories from Fat 225
% Daily Value*
Fat 25g38%
Cholesterol 162mg54%
Sodium 576mg24%
Potassium 2551mg73%
Carbohydrates 115g38%
Protein 50g100%
Vitamin A 1345IU27%
Vitamin C 21.9mg27%
Calcium 217mg22%
Iron 7.4mg41%
* Percent Daily Values are based on a 2000 calorie diet.