Disclosure: This post may contain affiliate links, which means we may receive a commission if you click a link and purchase something that we have recommended. For more information please visit our Privacy Policy
Pressure Cooker Recipes
This is a collection of all my favourite pressure cooker recipes. I love pressure cooking because it locks in so much flavour while cooking food in super quick time!
Pressure Cooker Recipes Collection
Pressure cookers are an amazing way to cook all kinds of different recipes. They fill with pressurised steam which cooks things quickly while locking in loads of flavour and nutrients.
There are various different brands of pressure cookers including instant pots or the pressure king pro which is the brand that I use. They all work fairly similarly and these recipes will work in whatever type you have.
Keep scrolling to get all my best pressure cooker recipes!
Tips for cooking with a pressure cooker
Pressure cooking is great for cooking big batches of food. I love to use it for meal prep because you can make a big batch of food and then use it for lunches and dinners all week
Most pressure cookers also have a slow cooker function so you can cut down on unnecessary gadgets by using the pressure cooker for both functions
What foods can you cook in the pressure cooker?
The best thing about the pressure cooker is that you can cook pretty much anything in it and so much more than you would think! My favourite things to cook in the pressure cooker are curries, one pot pastas and chicken dishes.
What are the advantages of pressure cooking?
Food cooks much more quickly in the pressure cooker than with conventional cooking
It is also more energy efficient because less water is required to complete the cooking so it takes less energy to heat
You can also use pressure cookers to sterilise bottles and jars as well as for the sealing process during canning
Can pressure cooker recipes be used in the instant pot?
Yes, absolutely! All of the electric pressure cooker recipes below can also be used for an instant pot. The instant pot is a brand of pressure cooker and the recipes easily convert to any brand you are using.
Why does food cook faster in a pressure cooker?
Without getting too science-y the increased pressure inside the cooker means that heat is builds faster the temperature is maintained better than in an open pot.
Products from Amazon.co.uk
‹
›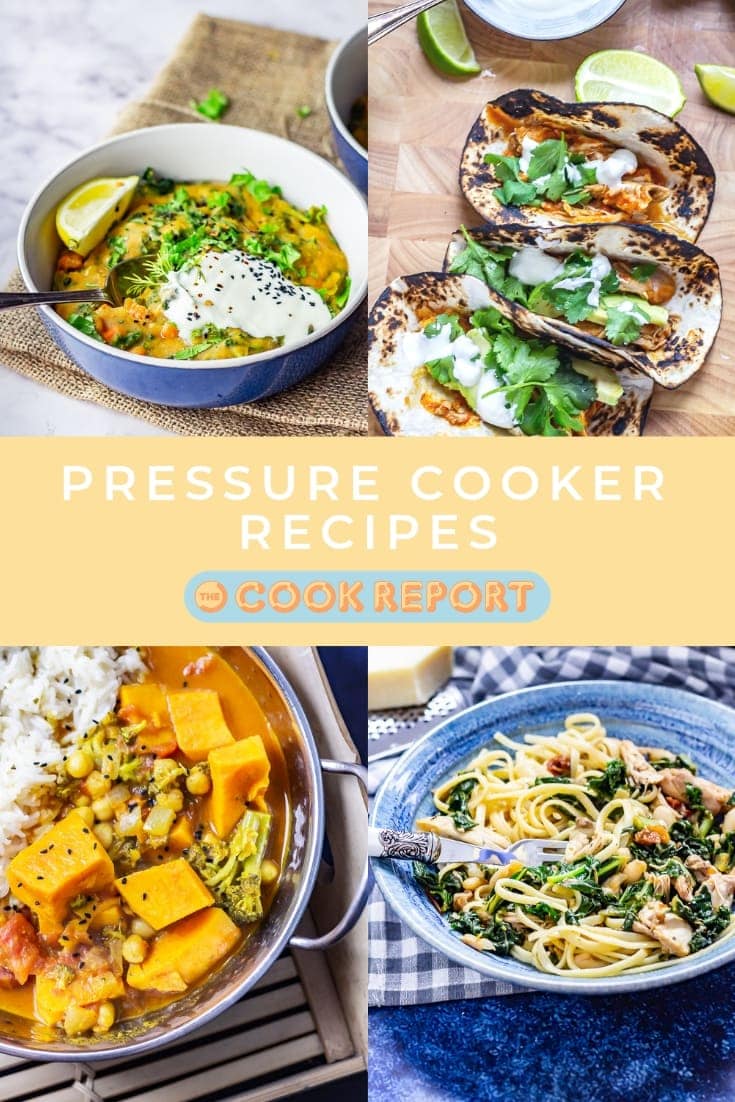 ---
Pressure Cooker Creamy Chicken Pasta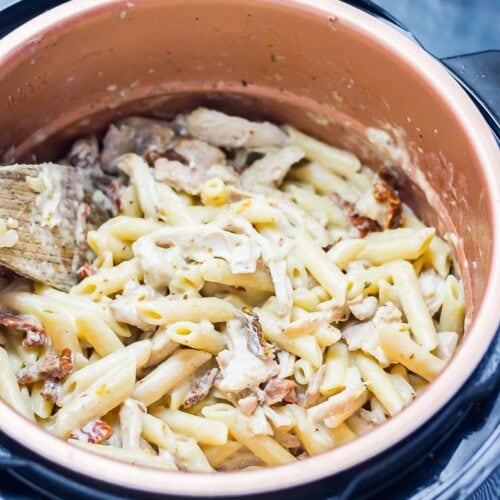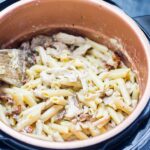 This creamy chicken pasta is ultimate comfort food. With just a few simple ingredients and a pressure cooker or instant pot you can have a filling dinner on the table even on the busiest of weeknights!
---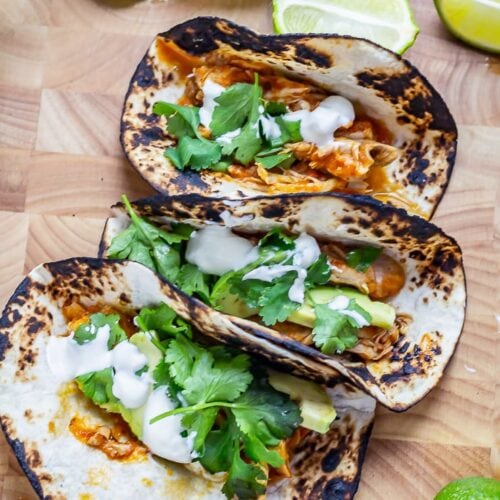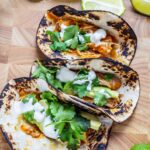 Pressure Cooker Chipotle Chicken Tacos
These chipotle chicken tacos are made so quick and easy by using a pressure cooker or instant pot. The chicken is cooked in a spicy tomato sauce then shredded before stuffing into the tacos with all your favourite toppings.
---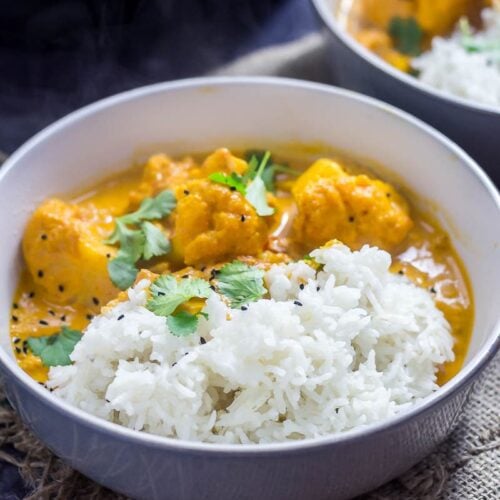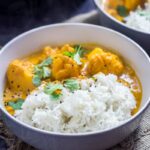 Creamy Cauliflower Curry in the Pressure Cooker
This creamy cauliflower curry has an amazing butter chicken style sauce but switches out the meat for a great vegetarian meal. You can make it in the pressure cooker or Instant Pot in a matter of minutes!
---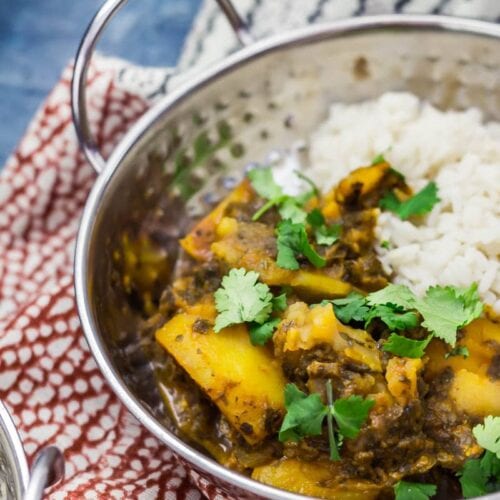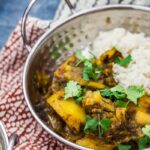 Easy Pressure Cooker Saag Aloo
Saag aloo is one of my favourite take away dishes! Now you can make your own version quickly and easily in a pressure cooker or instant pot so you can have this vegetarian dish any night of the week.
---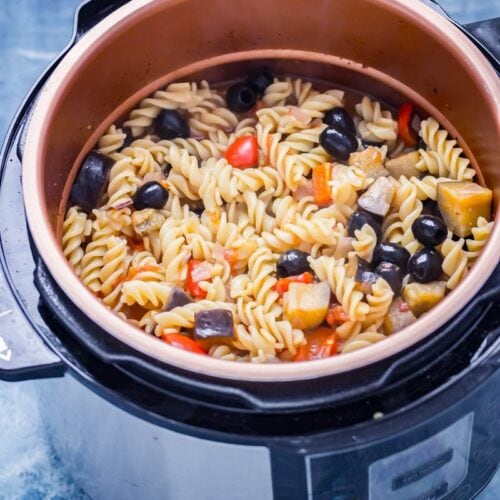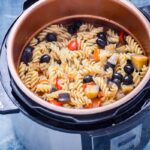 Pressure Cooker Pasta with Mediterranean Vegetables
This pressure cooker pasta is so simple and is full of mediterranean flavour! Make it in an instant pot or electric pressure cooker and have dinner on the table in a matter of minutes. Serve with a good grating of parmesan for a delicious weeknight meal.
---
Pressure Cooker Curry with Potato & Aubergine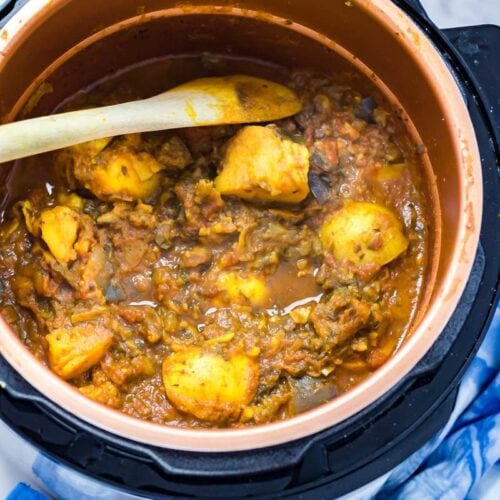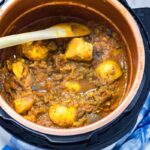 You won't believe how quick and easy this pressure cooker curry is! It's perfect for an instant pot or any electric pressure cooker. Serve with rice for a healthy vegetarian dinner.
---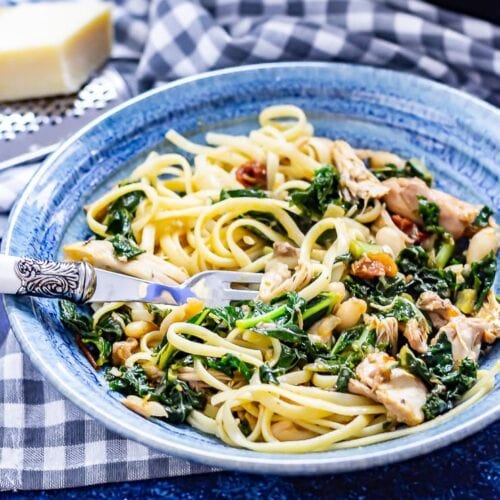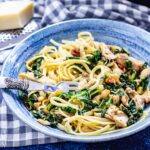 Pressure Cooker Chicken Casserole with Kale & White Beans
Chicken casserole is such good comfort food and with a pressure cooker or instant pot it can be ready in next to no time! It's perfect served with pasta, mashed potatoes or anything else you fancy.
---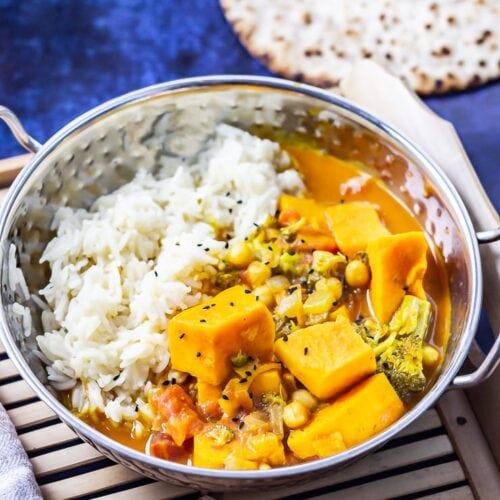 Vegan Pressure Cooker Coconut Curry with Sweet Potato
This creamy coconut curry is so easy and packed with healthy ingredients like sweet potato, broccoli and chickpeas! Plus it's made in the pressure cooker or instant pot and it's suitable for vegans.
---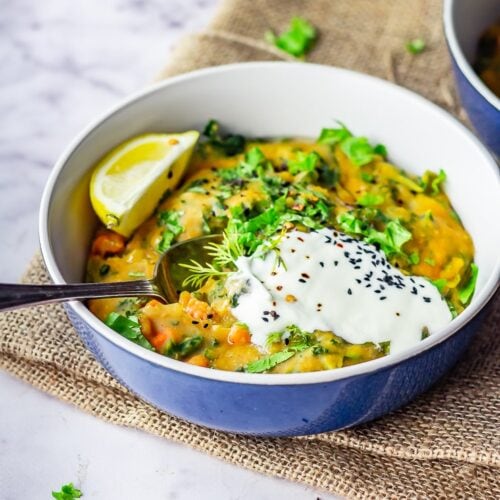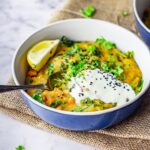 Pressure Cooker Smoky Lentil Stew
This smoky lentil stew is the ultimate cold weather warmer. Simple, healthy and suitable for vegans, this lentil stew takes just 10 minutes in the pressure cooker!
---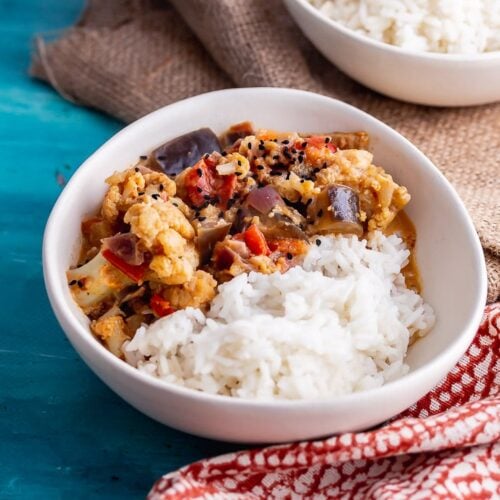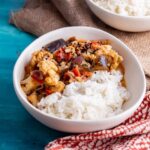 Pressure Cooker Vegetable Curry
This pressure cooker vegetable curry is easy, healthy and the perfect way to pack in loads of veggies! Make it as spicy as you like and add in any veg you have on hand.
---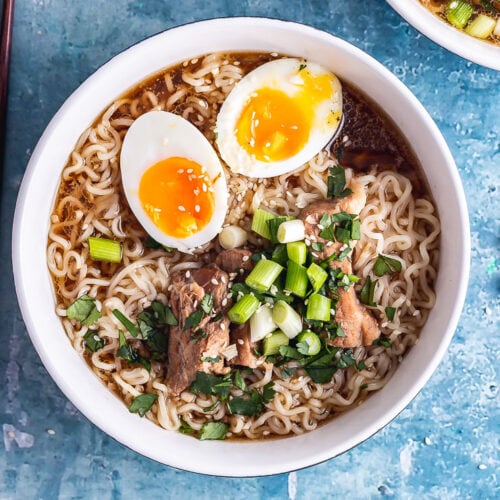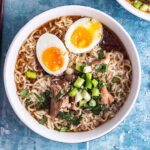 Easy Pressure Cooker Pork Ramen
This easy pork ramen recipe is made with super tender pressure cooker pork belly, a rich broth and noodles. Serve topped with a soft boiled egg, spring onions and fresh coriander.
---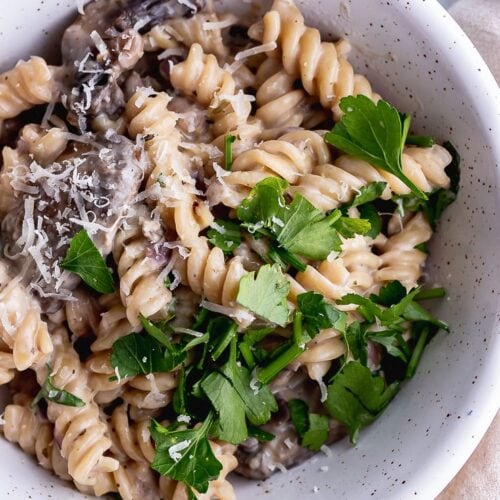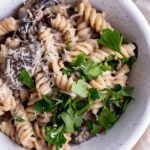 Pressure Cooker Creamy Mushroom Pasta
With just a few simple ingredients you can have this pressure cooker creamy mushroom pasta on the table in 20 minutes. It's so easy to make this one pot vegetarian dinner.