Disclosure: This post may contain affiliate links, which means we may receive a commission if you click a link and purchase something that we have recommended.
This beetroot salad is the perfect way to enjoy beetroot. The sweetness of the beets goes perfectly with the salty goat's cheese, peppery rocketand pine nuts!
This is the perfect lunch or dinner for all that autumn beetroot. I always forget how much I like beetroot and I've cooked with it nowhere near enough.
There's only one other beetroot recipe on the blog (beetroot and goat's cheese one pot pasta in case you were wondering) but this year I'm definitely planning on making up for it.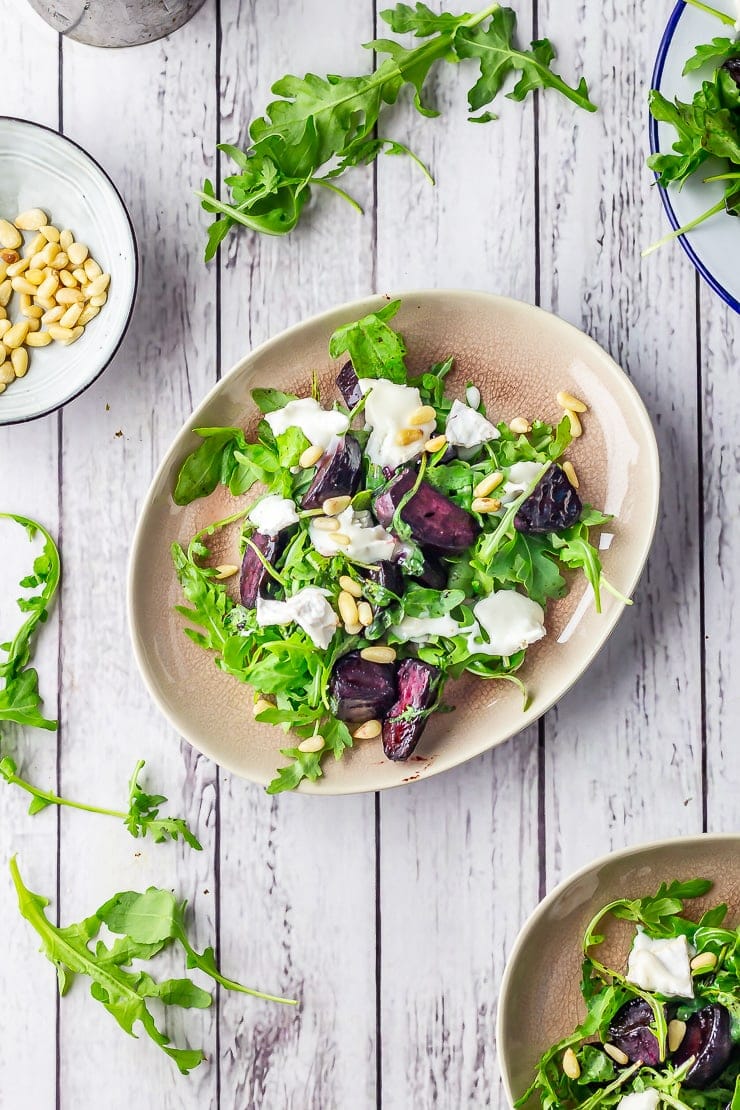 I've been starting to really consider my autumn menu planning recently. It pains me because I love summer so much and I especially love summer food. We've had some truly amazing food this summer and it's made me so happy to eat light and fresh dinners everyday.
But of course it's not just the food I love about summer. It's the warmth and the sunshine and the happy days spent sitting outside.
Of course I don't want to depress you about the end of summer so lets talk about the only saving grace about the weather cooling and the evenings getting rapidly darker…the food!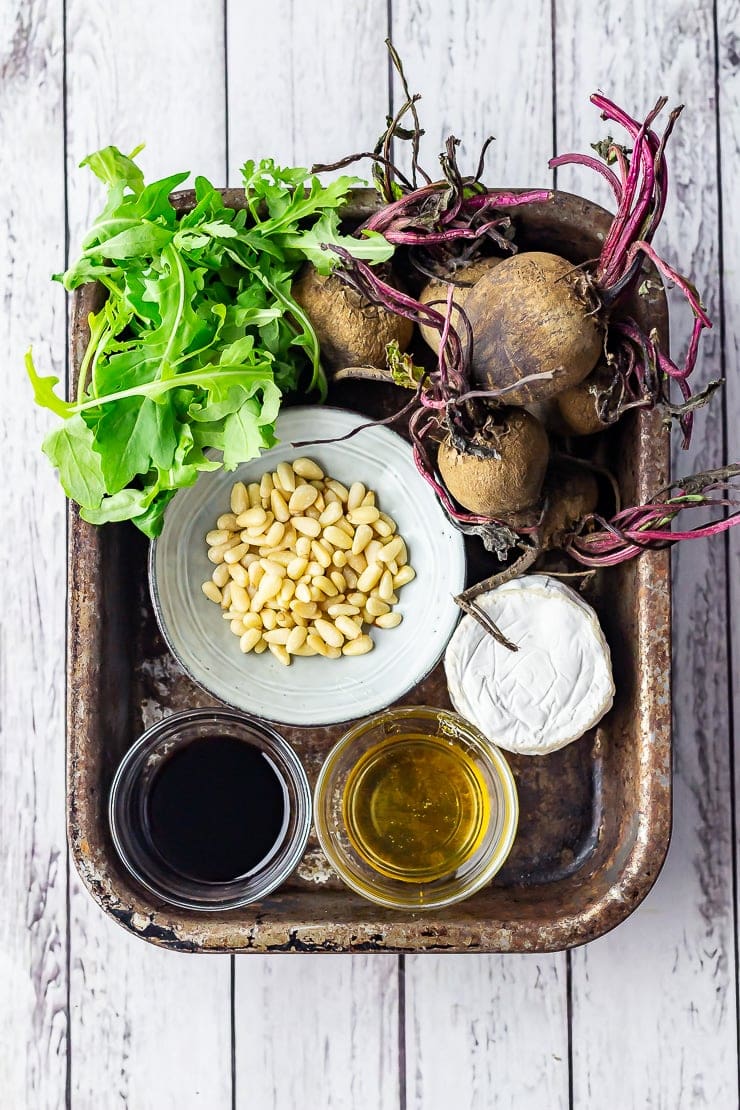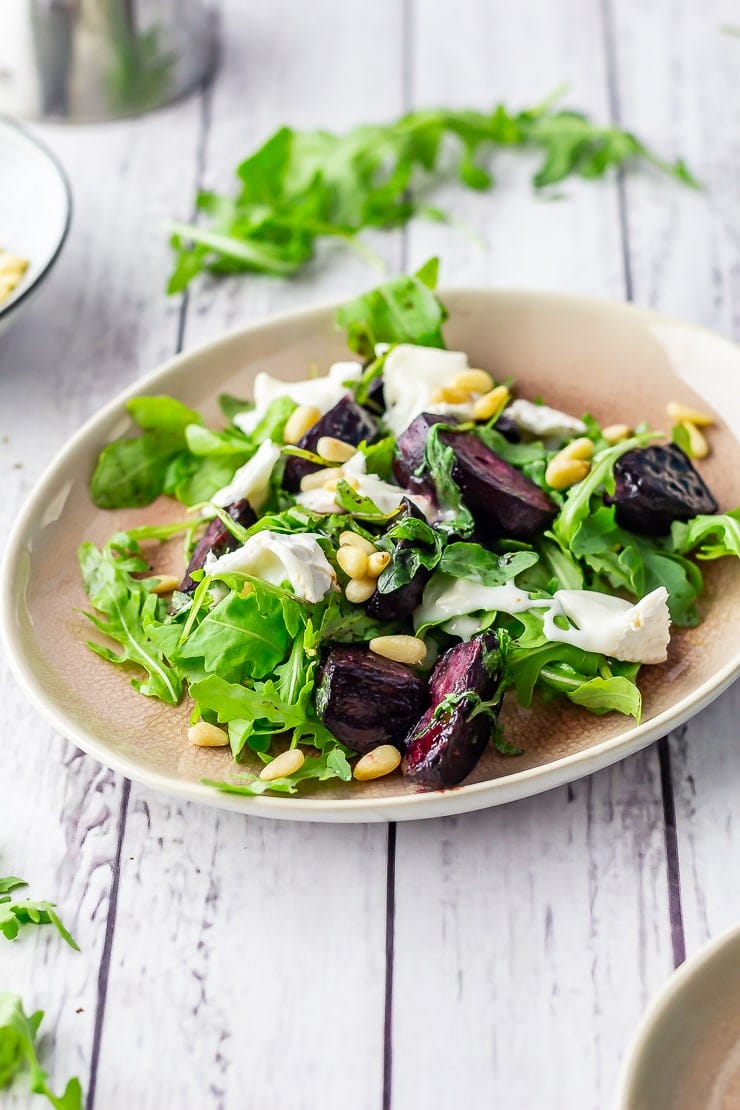 As soon as it's not boiling hot then I immediately turn to comfort food and beautiful seasonal ingredients to make the autumn and winter bearable.
Of course that can mean polenta, pasta and slow cooking galore but if I want something a bit lighter then this beetroot salad ticks all the boxes. Serve with some fresh crusty bread and you've still got something pretty comforting to get you through those cooler evenings.
INGREDIENTS YOU NEED TO MAKE THIS BEETROOT SALAD WITH GOAT'S CHEESE:
Beetroot
Olive Oil
Balsamic Vinegar
Honey
Rocket
Goat's Cheese
Pine Nuts
Keep scrolling to get the full recipe for this beetroot salad…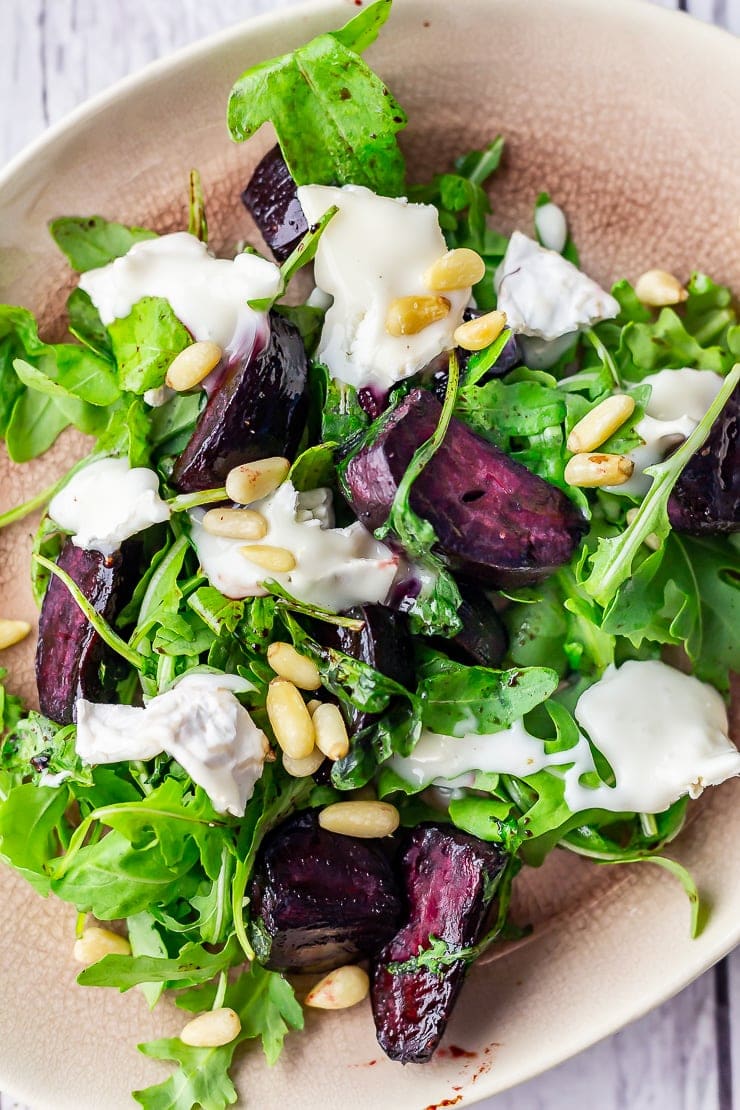 So let's talk about this salad then. My favourite thing about it is probably the simplicity of the whole thing. I don't always subscribe to the whole less is more thing and sometimes like to make more complex recipes but the best thing about really simple recipes like this is that every single ingredients plays a role in making this salad amazing.
The beetroot is sweet from roasting with honey, there's a tang from the balsamic and creaminess from the goat's cheese. Plus a nutty flavour and bite from the pine nuts and peppery rocket.
And that's it. It's honestly that simple. Just a collection of beautiful ingredients that come together to give you all those amazing flavours.
I really love it.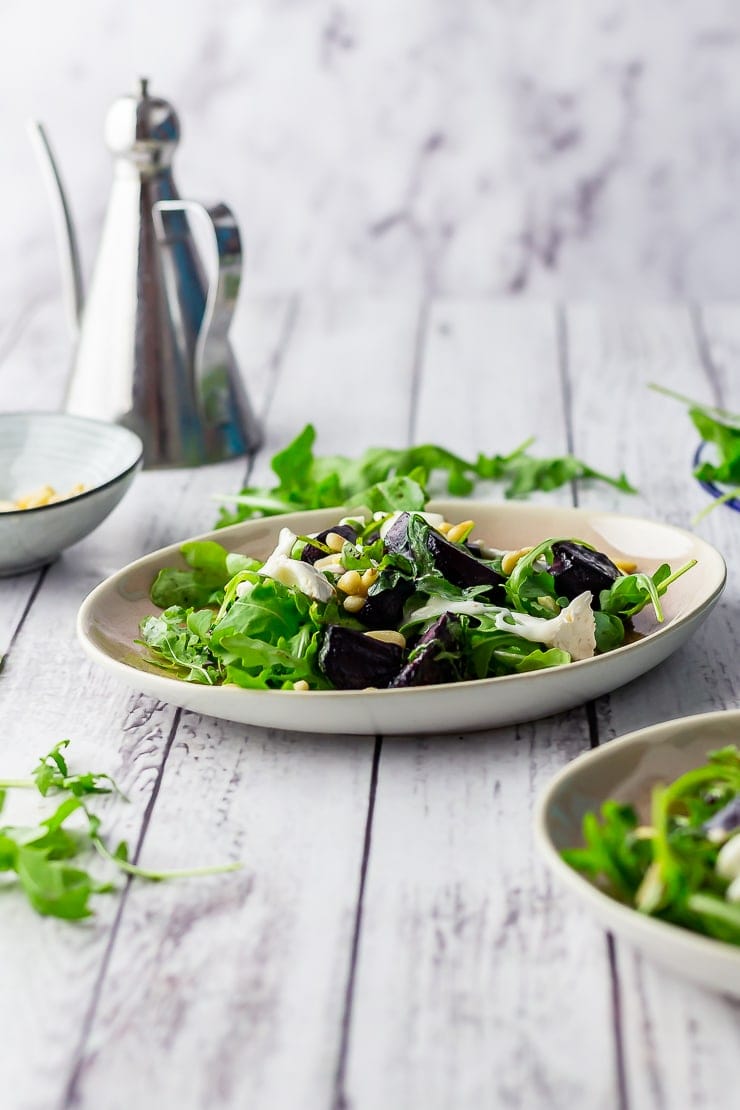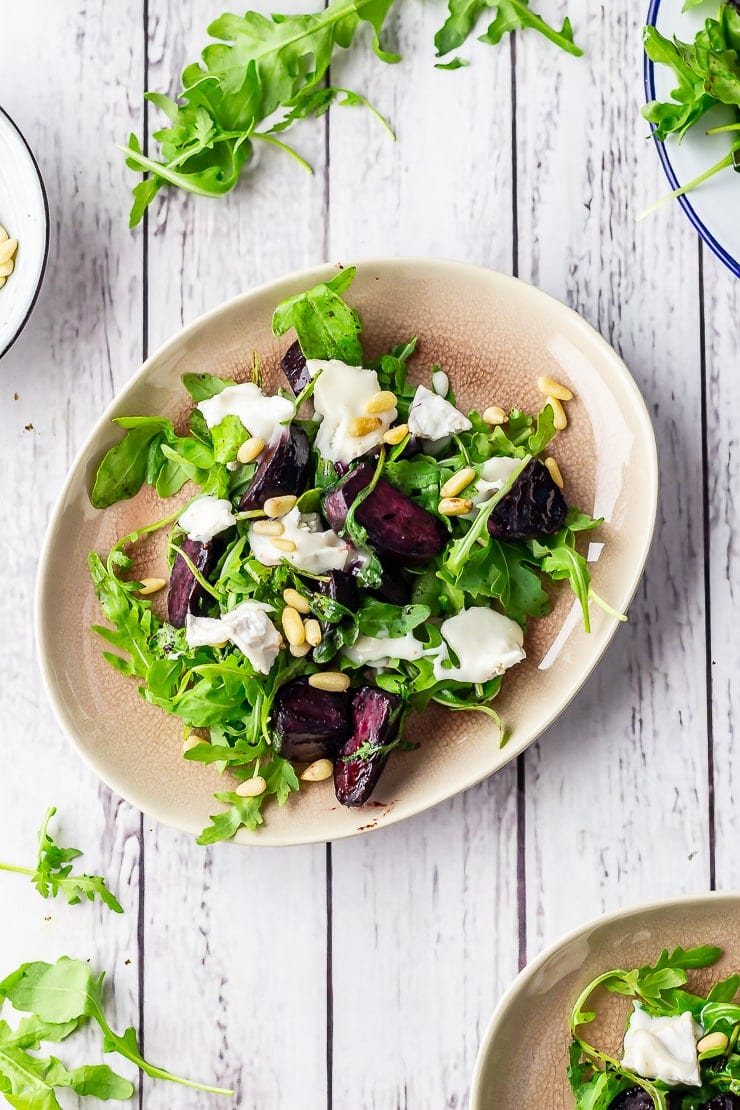 HOW TO PREPARE BEETROOT SALAD WITH GOAT'S CHEESE (STEP BY STEP):
Heat the oven. Place the beetroot in a dish with the olive oil, honey & balsamic and bake for half an hour.
Mix the beetroot with the rocket, goat's cheese and pine nuts and serve with extra olive oil.
WHAT TO SERVE WITH BEETROOT SALAD:
I like a crusty loaf of bread with this salad. Will loves baking so he made one for us and if you can go homemade then you definitely should. Either way, store bought will still be delicious and go perfectly with all the flavours in this salad. If you want something other than carbs then try a piece of chicken or you could add some extra vegetables to bulk it out.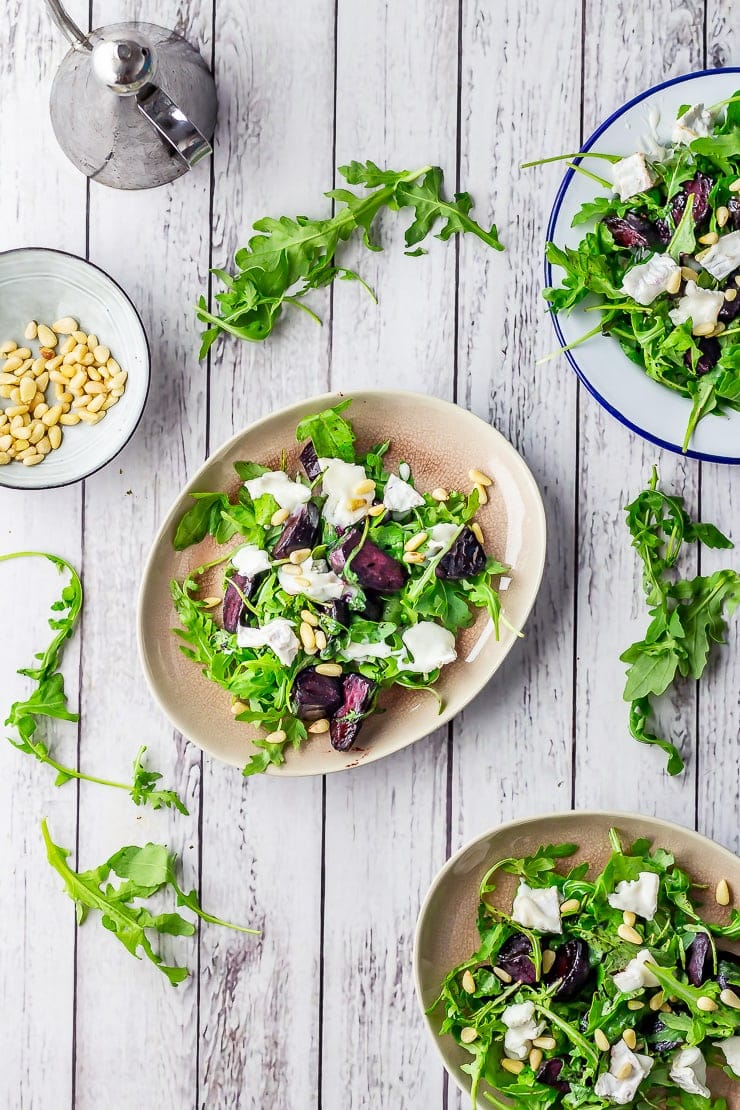 HOW TO ROAST BEETROOT FOR THIS BEETROOT SALAD WITH GOAT'S CHEESE:
Roasting beetroot is my favourite way to prepare it. It really brings out all those earthy flavours. For this recipe I peel and chop the beetroot before roasting.
If you're worried about staining your hands then feel free to wear gloves but I normally just give them a good scrub afterwards.
My beetroot were pretty small so I just chopped them into 4 or 6 pieces and chucked them in a roasting tin before drizzling with honey, olive oil and a little balsamic. Then they're simply roasted for 30-40 minutes until they're sticky and softened.
Equipment you need for roasting beetroot…
Products from Amazon.co.uk
‹
›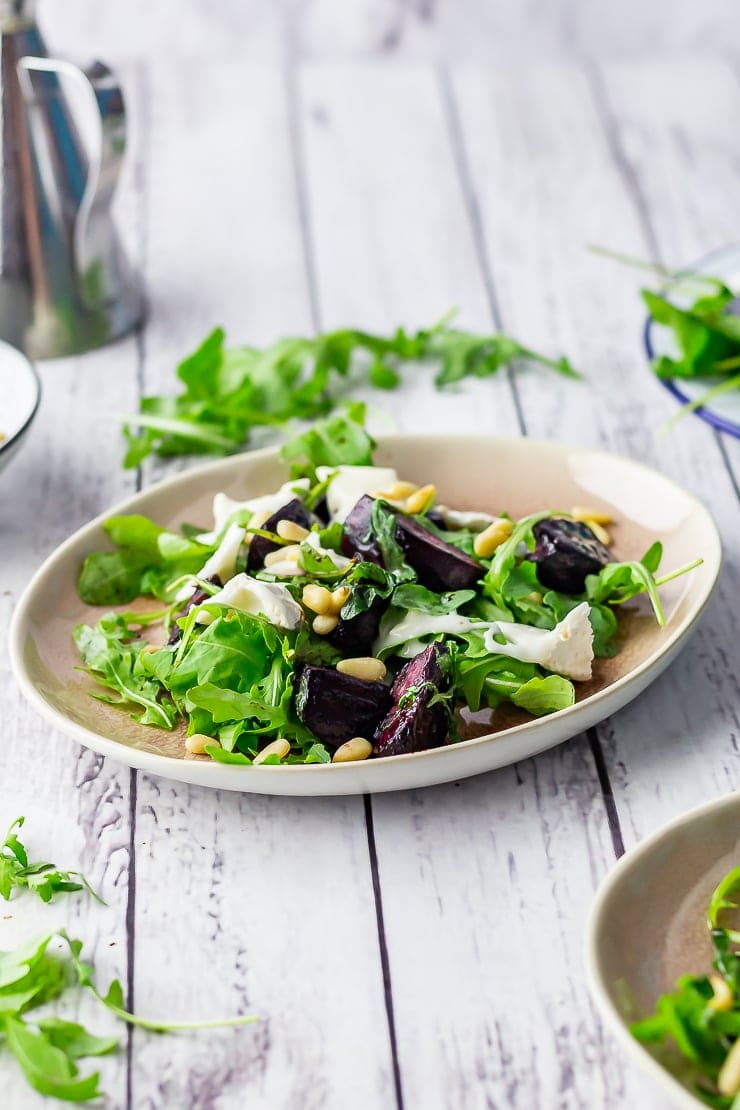 Want more? Get all my other vegetarian recipes before you go!
Keep scrolling to get the full recipe…
WONDERING WHAT TO DO WITH THE LEFTOVER INGREDIENTS YOU'VE GOT FROM MAKING THIS BEETROOT SALAD WITH GOAT'S CHEESE & PINE NUTS?
If you're anything like me then you're always looking for ways to save money and avoid food waste so I want to make sure you've get plenty of ideas on how to use up any ingredients that are leftover from my recipes!
Baked Aubergine with Tahini & Goat's Cheese
This is one of my all time favourite recipes on the blog and the perfect way to use up extra goat's cheese!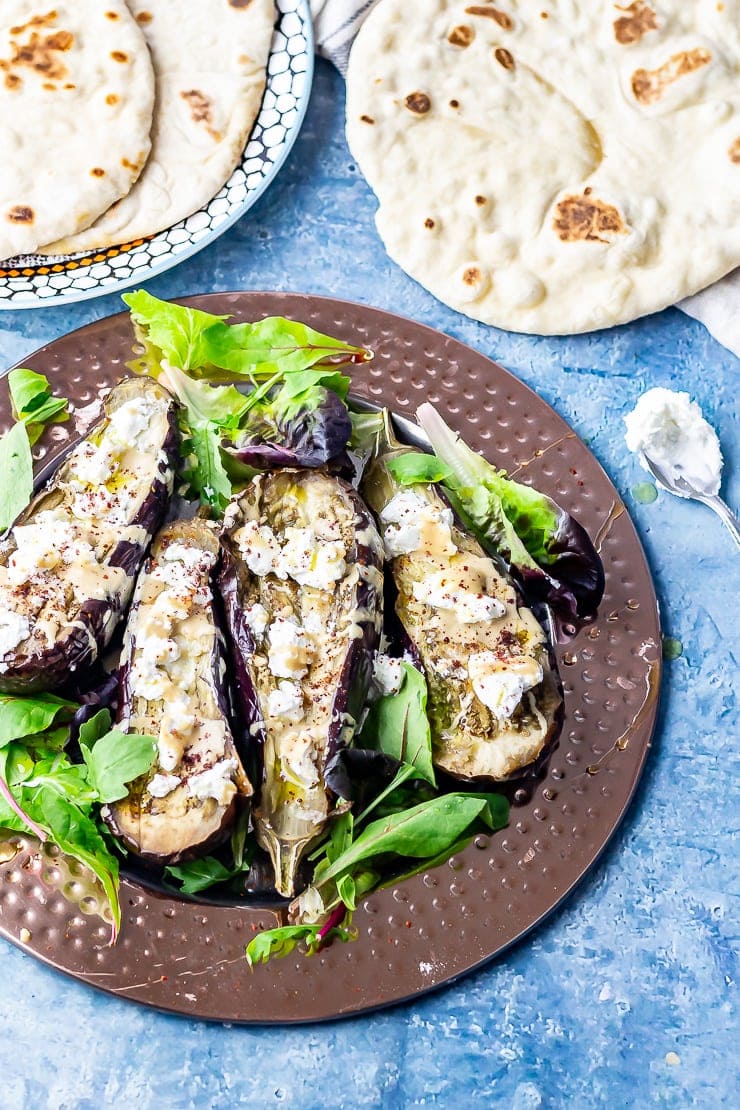 Caprese Pasta Salad with Basil Dressing
We always have pine nuts on hand and they are perfect sprinkled over this simple summer pasta salad.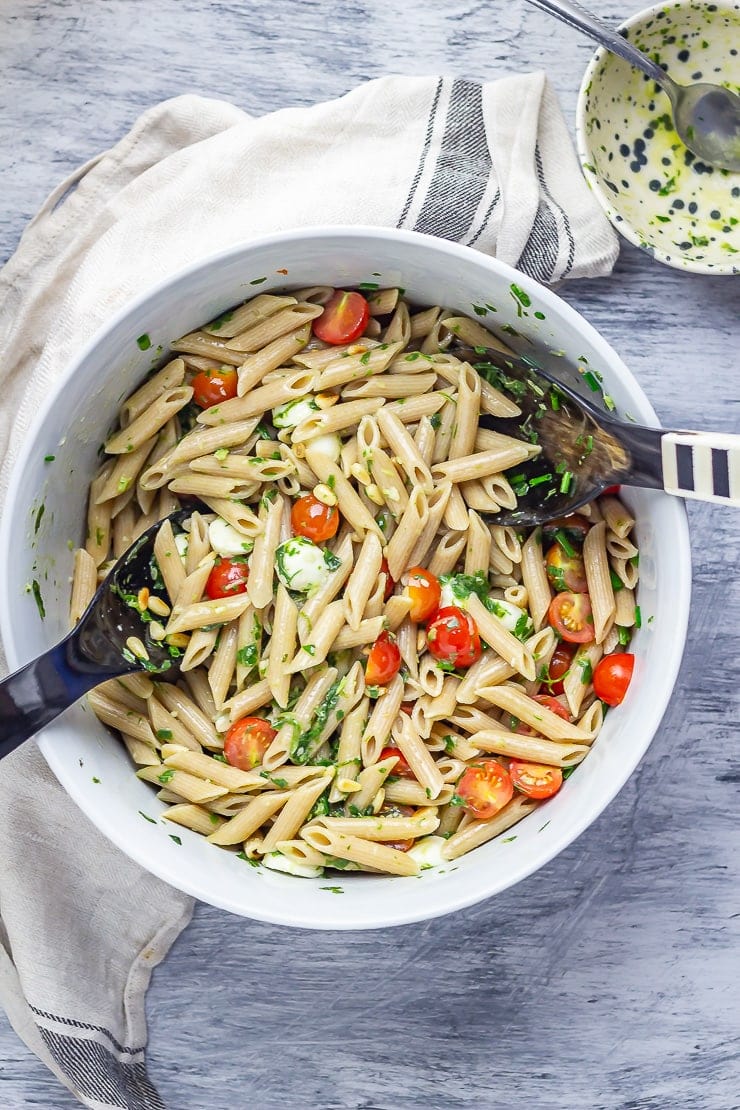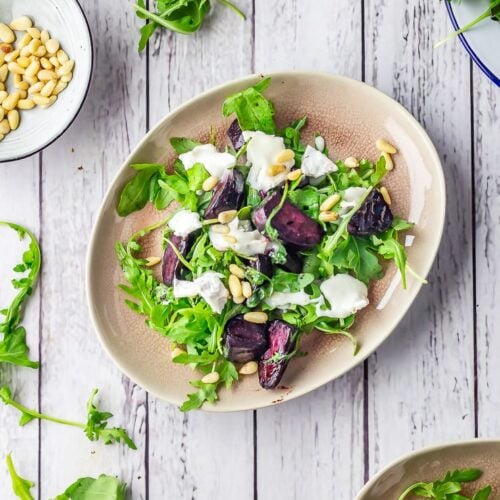 Beetroot Salad with Goat's Cheese & Pine Nuts
This beetroot salad is the perfect way to enjoy beetroot. The sweetness of the beets goes perfectly with the salty goat's cheese, peppery rocket and pine nuts!
Print
Pin
Rate
Ingredients
250

g

Beetroot

2

tbsp

Olive Oil

1

tsp

Balsamic Vinegar

1

tbsp

Honey

70

g

Rocket

100

g

Goat's Cheese

Handful

Pine Nuts
Instructions
Preheat oven to 220°C/425°F. Peel and slice the beetroot. Place in an ovenproof dish and pour over the olive oil, honey and balsamic with a sprinkle of salt. Place in the oven for 30-40 minutes until the beetroot is soft.

Toss with the rocket and include the sticky juices from the pan. Sprinkle over the goat's cheese and pine nuts. Serve with bread and plenty of extra olive oil.
Nutrition Facts
Beetroot Salad with Goat's Cheese & Pine Nuts
Amount Per Serving
Calories 352
Calories from Fat 216
% Daily Value*
Total Fat 24g 37%
Cholesterol 23mg 8%
Sodium 292mg 12%
Potassium 535mg 15%
Total Carbohydrates 22g 7%
Protein 12g 24%
* Percent Daily Values are based on a 2000 calorie diet.
---
Equipment you need to make this recipe…
Products from Amazon.co.uk
‹
›