Disclosure: This post may contain affiliate links, which means we may receive a commission if you click a link and purchase something that we have recommended.
Halloumi Recipes
Halloumi cheese is a delicious addition to all kinds of dishes. Include it in sandwiches, curries, salads, wraps and all kinds of recipes! Find loads of halloumi recipes right here.
Halloumi Recipes Collection
What is halloumi?
Halloumi is a semi-hard cheese used in Turkish, Greek and Cypriot cuisine. It's most commonly fried but can be prepared in other ways, check out this post for tips on how to cook halloumi.
Is halloumi cheese good for you?
As cheeses go, halloumi is quite good for you thanks to having a high level of calcium. It does, however, have a high amount of salt so that's something to consider if you're watching your salt intake.
Can you eat raw halloumi cheese?
While you're able to eat halloumi cheese raw it's much much tastier if it's cooked first. Normally it would be fried but it can be baked or grilled instead. Keep scrolling for some amazing halloumi recipes.
Is halloumi a hard cheese?
Halloumi counts as a semi hard cheese.
What milk is halloumi made from?
Traditionally halloumi is make from a mixture of goat's and sheep's milk but now cow's milk is often used as well.
How do I cook halloumi cheese?
I've listed all of my favourite halloumi recipes below but I've also created a guide for how to cook halloumi which includes tips for grilling, frying, baking and barbecuing halloumi!
What does halloumi cheese taste like?
It's actually quite hard to describe the taste of halloumi and do it justice. It's probably most similar to feta but when it's cooked it's got a much milder saltiness than that. The combination of the salty flavour and squeaky firmness is one of my all time favourite things.
Tips for cooking with halloumi
Be careful how thinly you cut the halloumi slices. If they're too thin they'll end up too crisp and falling apart when you fry them
Halloumi is normally packed with a small amount of liquid so pat the slices of halloumi down gently with paper towels before cooking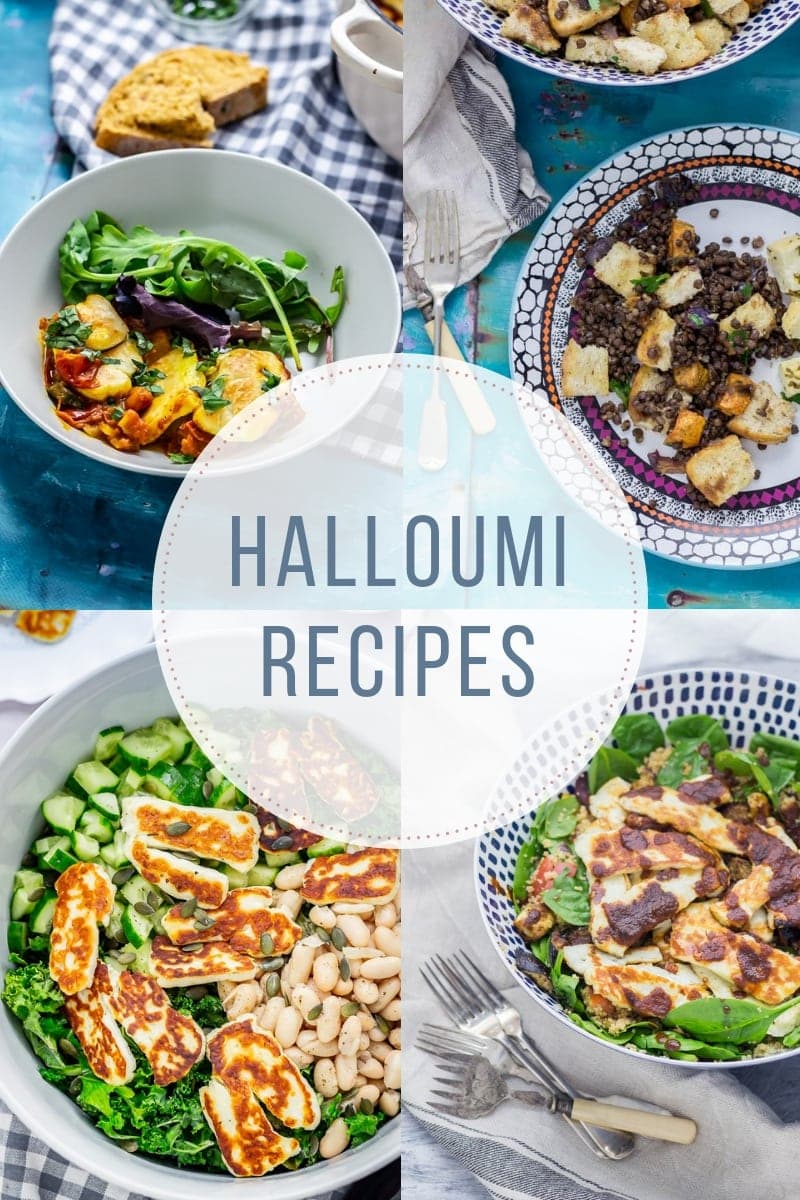 ---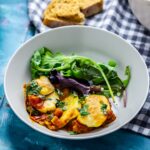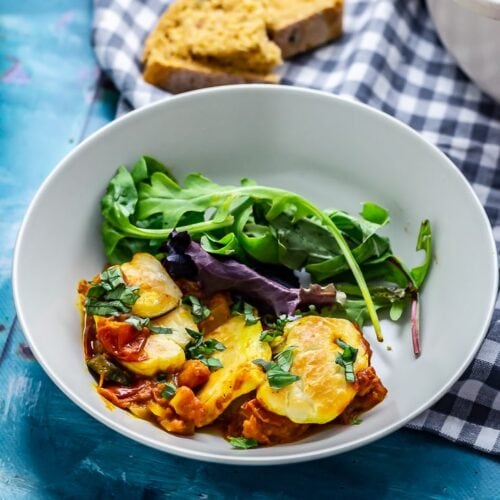 Tomato and Halloumi Bake with Courgette
This halloumi bake perfectly combines the healthy freshness of vegetables with the chewy, salty halloumi for a delicious vegetarian dinner.
---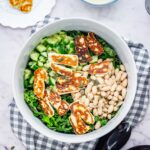 Halloumi Salad with Kale and Tahini Dressing
This halloumi salad is made up of a few simple ingredients including kale, cannellini beans and cucumber and it's drizzled with a tahini yoghurt dressing for a light and healthy lunch or dinner.
---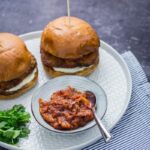 Panko Halloumi Sandwich with Kasundi
This halloumi sandwich is the perfect combination of crunchy and chewy. The sweet and spicy kasundi tastes amazing with the panko coated cheese for a filling vegetarian meal.
---
Halloumi Curry with Spinach Cashew Sauce
This super creamy curry sauce works perfectly with the salty halloumi. With hidden veggies from the spinach in the sauce this halloumi curry is a healthy vegetarian dinner that works for weeknight or a special occasion! 
---
Baked Halloumi with Winter Panzanella
Halloumi is the perfect addition to a meat free meal! This baked halloumi is cooked with loads of herbs and served along side this filling winter panzanella style salad for your next vegetarian dinner. 
---
Harissa Halloumi Salad with Couscous
This harissa halloumi salad is so quick to make and is bursting with healthy ingredients! The salty halloumi is the perfect addition to this vegetarian dish. 
---
Halloumi & Chorizo Wraps with Broccoli Slaw
Halloumi & chorizo wraps are such a tasty lunch or dinner. The halloumi & chorizo are wrapped with a fresh broccoli slaw and a sprinkling of nuts and seeds.
---
Halloumi Tacos with Red Cabbage Slaw
These halloumi tacos are beautifully spiced and topped with a fresh and healthy cabbage slaw. An ideal vegetarian Mexican dinner!
---
Halloumi Curry with Cashew Nut Sauce
This halloumi curry with a creamy cashew nut sauce makes a tasty change from a traditional curry. Sprinkle with a handful of whole cashews for an extra crunch.
---