What is halloumi?
Halloumi is a semi-hard cheese used in Turkish, Greek and Cypriot cuisine. It's most commonly fried but can be prepared in other ways, check out this post for tips on how to cook halloumi.
Is halloumi cheese good for you?
As cheeses go, halloumi is quite good for you thanks to having a high level of calcium. It does, however, have a high amount of salt so that's something to consider if you're watching your salt intake.
Can you eat raw halloumi cheese?
While you're able to eat halloumi cheese raw it's much much tastier if it's cooked first. Normally it would be fried but it can be baked or grilled instead. Keep scrolling for some amazing halloumi recipes.
Is halloumi a hard cheese?
Halloumi counts as a semi hard cheese.
What milk is halloumi made from?
Traditionally halloumi is make from a mixture of goat's and sheep's milk but now cow's milk is often used as well.
How do I cook halloumi cheese?
I've listed all of my favourite halloumi recipes below but I've also created a guide for how to cook halloumi which includes tips for grilling, frying, baking and barbecuing halloumi!
What does halloumi cheese taste like?
It's actually quite hard to describe the taste of halloumi and do it justice. It's probably most similar to feta but when it's cooked it's got a much milder saltiness than that. The combination of the salty flavour and squeaky firmness is one of my all time favourite things.
Tips for cooking with halloumi
Be careful how thinly you cut the halloumi slices. If they're too thin they'll end up too crisp and falling apart when you fry them
Halloumi is normally packed with a small amount of liquid so pat the slices of halloumi down gently with paper towels before cooking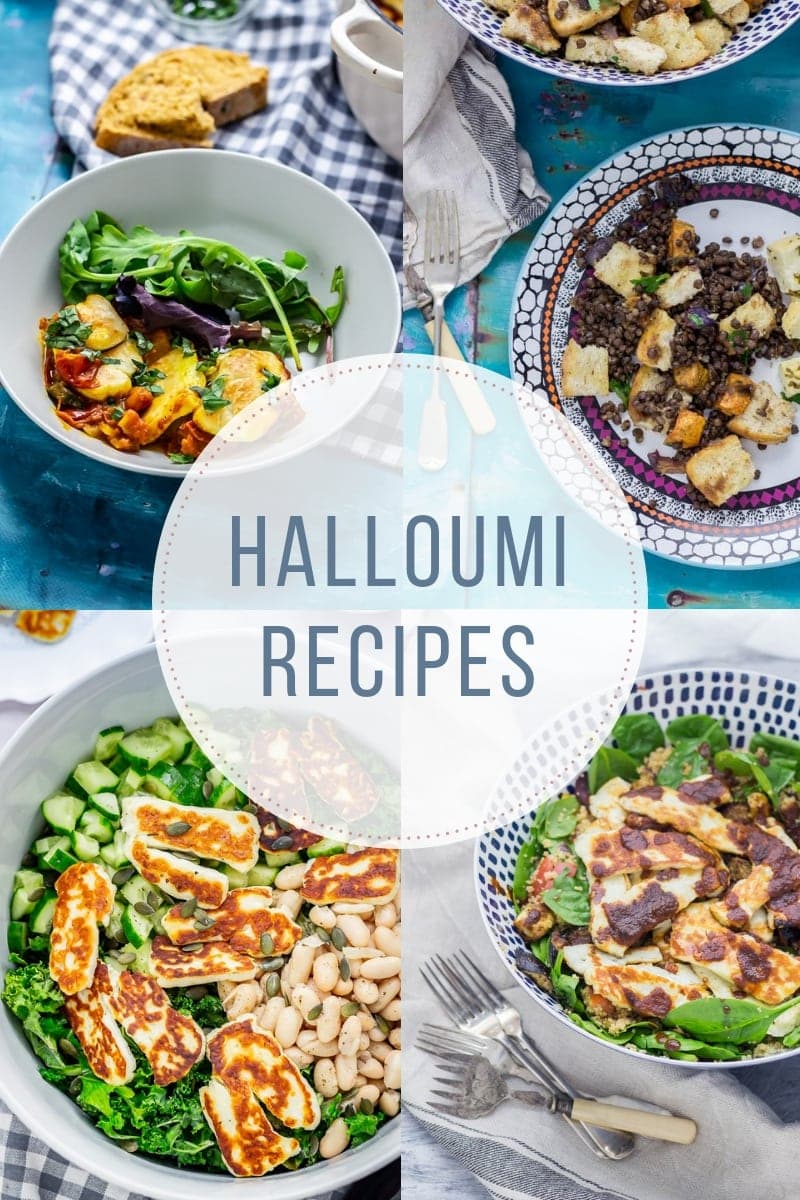 1. Tomato & Halloumi Bake with Courgette
2. Halloumi Salad with Kale & Canellini Beans
3. Panko Halloumi Sandwich with Kasundi
4. Halloumi Curry with Spinach Cashew Sauce
5. Baked Halloumi with Winter Panzanella
6. Harissa Halloumi Salad with Couscous
7. Halloumi & Chorizo Wraps with Broccoli Slaw
8. Halloumi Tacos with Red Cabbage Slaw
9. Cashew Nut Curry with Halloumi & Broccoli
10. Grilled Halloumi Salad with Herby Tomato Salsa
11. Healthy Halloumi Bake with Aubergine
12. Potato, Courgette & Halloumi Hash with Tomato Sauce
13. Griddled Halloumi with Herby Barley & Roasted Veg
14. Halloumi, Sweet Potato & Bulgur Wheat Salad
15. Broccoli Cheese Soup with Halloumi Fries